There were three seasons in the late sixties running into 1970 that dictated what sort of Cardiff City fan I became. The outlandish run to the Semi Finals of the European Cup Winners Cup in 1967/68 started the process and then there were the two seasons which followed when, for the first times in my City supporting life, promotion to the top division seemed a realistic prospect.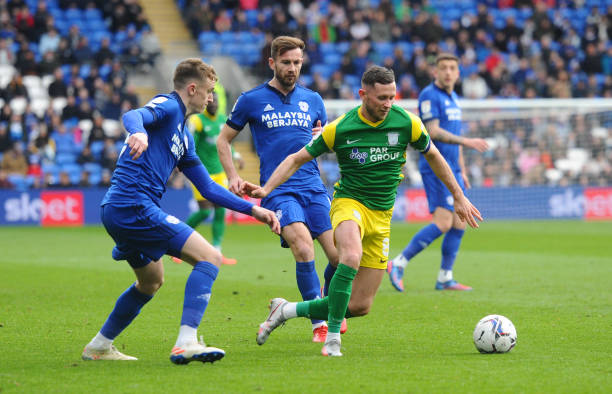 Before those three seasons, I was a supporter of the club, but not what I'd call a diehard supporter – for example, I found the 9-0 defeat at, appropriately enough, Preston North End in the last game of the 65/66 season for from the disaster that got adult fans so annoyed, in fact, it made the ten year old me laugh.
City losing wasn't too hard to take for me in those early years – it happened quite a bit more than us winning, but after those three seasons, my mood for the weekend was shaped by what happened to us on a Saturday afternoon and that continued into adulthood until I reached a stage somewhere in between those two extremes which I maintain to this day.
Anyway, to go back to the point I'm, laboriously, trying to make, although I was more committed to the Cardiff City cause in 68/69 and 69/70, I learned something at the back end of those two seasons that has held true for the next half a century and more.
In both of the seasons I mention, our promotion bid ran out of steam in the final few matches and so we had one or two home games with nothing riding on them. From memory, nothing games against Huddersfield in 68/69 resulted in a 0-2 loss and a year later, Oxford United and Millwall were the opposition for a couple of goalless stalemates, the second one in front of a crowd of under nine thousand – City just weren't the side they'd been for most of the season in those matches and, eventually the penny dropped with me as to why that attendance was so much lower than normal.
The fourteen year old me cottoned on to the fact that if your side has nothing to play for and they are up against opponents in the same position, the football classic that some insist will result as sides can fully express themselves with no real pressure on them is far rarer than the snooze fest which tends to result when the intensity and pressure drops in a professional game.
In some ways, I should have seen today's boring (to use Steve Morison's word to describe it) 0-0 stalemate between the 2022 versions of Cardiff City and Preston North End coming, but I fell into the trap that I described earlier in that I looked at an encounter between two in form sides that had an outside chance of a top six finish in Preston's case and a very small chance of going down in ours and was thinking in terms of an entertaining tussle. After all, Preston had lost just once in ten Championship games and our nineteen points from the same number of matches was almost top two form.
The mistake I made was in thinking that, with all of the nothing to play for, half hearted, miserable messes I'd seen down the years taking place in April and May, it would be different in early March with ten matches of the season still to go.
I was wrong though. Looking at it from a City viewpoint, that was a performance today of a team that is no longer thinking about the possibility of relegation. I used the term "half hearted" earlier, but I'd be wrong to apply it today's display, the effort was there, but there was a carelessness with basics of the game suffering because of a slight drop in mental intensity.
Now, I can imagine some regular readers thinking what's he talking about, he's always saying that Cardiff are worse at the basics like control and passing than most of the sides they play. I'll plead guilty to that, but I think what I'm trying to say is that it wasn't "the usual suspects" who were the culprits today, it was players such as Cody Drameh, Ryan Wintle and Tommy Doyle (the last named was unusually slipshod with his passing and crossing).
I find it hard to be too critical though because this team has put an awful lot into the last ten matches and, in a way, have earned their right to an off day like today because they're well ahead of schedule in how most of us thought a successful relegation battle would pan out – Steve Morison said that he wanted to avoid "testimonial" type performances between now and the end of the season, well he got one today and I think he and his staff will be drumming into the players that there is still much to play for -contract offers for a start in some cases.
It wasn't all bad, Alex Smithies made a fine close range stop to deny Daniel Johnson, the best player on the pitch in my view, from close range and all of the back three had strong matches as we again showed how much we've improved in that area in recent weeks. A word too about Uche Ikpeazu who was almost entirely responsible for our worthwhile attacking play – we'd shown absolutely nothing as an attacking force going into the last ten minutes and then, almost by sheer force of will, he got us playing a bit by forcing Preston keeper Daniel Iversen into two smart saves. The first came from a placed effort from twenty yards and the second was more of a thump from fifteen – they were both saves that Iversen would have expected to make, but they were still good saves, especially when concentration levels might not be as high as they couldt have been having had so little to do.
As someone who has been quite critical of Uche in the past, I must say I was very impressed by him today, although, ironically, he became the villain of the piece late in added time when Jordan Hugill volleyed home Mark McGuiness' headed flick on only for us to be denied a win we wouldn't have deserved for a foul by Ikpeazu as the ball came in.
It was a little annoying though that referee James Linington put the whistle to his lips this time when he had been so reluctant to do so during the ninety minutes plus beforehand. Usually a referee who "lets the game flow" gets a thumbs up from me, but Mr Linington let too many clear fouls go on both sides and it goes without saying that Uche's offence would never have been penalised if he had done the same thing in the City penalty area while defending a corner.
There's not really much else to say about a game which I thought Preston edged from about the midway point of the first half onwards until the last few minutes – I just hope that we don't have to go through nine similar such "wind downs" as our season runs out.
https://mauveandyellowarmy.net/