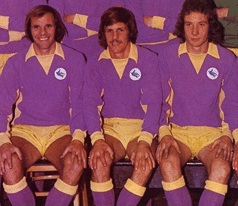 I must admit to getting annoyed when, as has been happening with some supporters in recent weeks, the 2012/13 promotion is under mined and written off as not quite being the "real thing".
That annoyance is felt not because an owner who made a major mistake from which the club has still not completely recovered or a manager who it turned out was shown to have feet of clay have never received the credit they were due. No, it is felt because a group of players, who did the supporters and club proud by comfortably winning the title (what else could they have done better than that?), have tended to be under appreciated because of all of the hoohah about the rebrand and the dispute between Messrs Tan and Mackay.

Those players were placed in an awkward position by Vincent Tan's decision to change the colour of the club shirt, because they were hardly going to start biting the hand that feeds them. The large majority of footballers are, essentially mercenaries – you get the odd ones who end up playing for a club that means an awful lot to them, the club they supported when they were a kid, but, essentially, they are guns for hire.

That's not to say they cannot become supporters, as well as employees of a club (Kevin McNaughton and Andy Campbell made long journeys from the other end of the country to be at yesterday's match to prove that), and I think it is one of the great plus points of Cardiff City that so many of our players retain an affiliation and an enthusiasm for the club when they become ex players of ours.

I can think of a few members of the 12/13 squad who have felt able to say what they really felt about the rebrand once they became former Cardiff City players (and there was the occasional hint from one or two of them while they were still here as well), so I'll never stop giving them the credit for what they did five years ago and will always try to fight their corner when there are any comparisons being made between them and the current day squad.

However, I'd be lying if I didn't acknowledge that the promotion achieved yesterday with a 0-0 draw with Reading at a packed Cardiff City Stadium has a better "feel" to it than the one half a decade ago. True, there are still those for whom the break they made with the club in 2012 has been a permanent one, but City has felt like a united club in a way it has not been for years this season – the absence of sub plots about the colour shirt we are wearing and off field personality clashes has ensured that, everybody has been pulling in the same direction this time.

I suppose, in an ideal world, promotion would have been achieved with a vintage performance and a win, but there seems to have been a tradition established in the last twenty years whereby if we get promotion confirmed in a home game, it has to be that it ends in a nondescript 0-0 draw.

I can remember a goalless draw with Scunthorpe in 98/99 when we made it out of the old Fourth Division which at least had some goalmouth action to it, but yesterday's game was like the one against Charlton in 2013 – virtually incident free, except that it was even less of a spectacle in terms of what happened on the pitch.

I was going to say that I'll waste little time on the ninety minutes of tedious football that had to be endured before we could start really celebrating, but I will go into some analysis of the game and how it was shaped by the crowd's reaction to it. Now and again, the quality, or lack of quality, involved in what's happening out on the pitch has little bearing on how it is a game is remembered – when a match makes the transition into an occasion, as this one did, the football almost, but not quite, becomes irrelevant.

The fact of the matter is that, with a draw being enough to suit either sides needs if events went a certain way elsewhere, there was always a chance that yesterday's encounter might develop into one where neither side was exactly busting a gut in chasing the win.

It would be wrong for me to say that I first became aware of Neil Warnock the manager when he was with Bury in the late nineties. he had already been in the managerial game for almost twenty years then and had carved out a reputation for himself at clubs like Scarborough, Notts County and Plymouth. However, it was definitely at this time that I used to think of him as football's 0-0 king. If your team needed to achieve a goalless draw in any given game, then you could do no better than have Neil Warnock in charge for it – our manager has moved on since then and our promotion was certainly not achieved on the back of stacks of 0-0s, but the knack of being able to ensure that a game doesn't produce a goal is something that I don't believe he has lost completely.

Similarly, Paul Clement really needs to make a success of the Reading job if he is to maintain the status of a good, or possibly great, manager in waiting which he enjoyed when setting out on his managerial, as opposed to coaching, career at Derby. He is still at a stage where he is being hired for his promise rather than his achievements, but he has shown something of a talent, particularly at Swansea, for getting unexpected 0-0 draws away from home.

So, we had a contest between two sides managed by men who would appear to be pretty adept at making sure their side doesn't lose if that is all that is required – given how things panned out, is it really that much of a surprise that the game turned out to be such an insipid one?

Certainly, Reading, knowing that a point would be enough for them, made it clear that was the limit of their ambitions from the start. The game stats from the BBC make for interesting reading for a few reasons, not least that, almost uniquely this season, we dominated possession against a team that it was almost impossible to get the ball off last season, by 54/46!

Leaving aside for now the possibilities raised by letting us have more of the ball in the belief that our lack of creativity would ensure a pretty easy ride for any opposing team, the stats also show just the one goal attempt by Reading and it wasn't on target. Of course, there is always the dread that your opponents might conjure up a goal out of nothing, but, honestly, the only time I truly feared we might concede was when it seemed for a split second that one of their players was going to get a free header from a second half corner, but, in true City style this season, someone from our team got in to divert the ball behind.

With their time wasting started from the first whistle, Reading's sole concern was denying us the win that we went into the game needing. Well, once we got our usual first few minutes of giving our opponents all of the possession of the ball they wanted out of the way, we looked like a team who were looking for nothing less than the three points. It didn't stay that way, but fifteen goal attempts is a decent figure – even if only three of them were on target.

Truth be told, it was a day for scuffed and scruffy shots from City – I can only remember a first half effort by Junior Hoilett that flew not far wide as an example of a well struck shot all afternoon. For the rest, even the one from Kenneth Zohore that was cleared off the line by Liam Moore late on, it was a case of players not catching the ball right resulting in a series of tricklers which rolled wide or, very occasionally, gently into the arms of Vito Mannone.

Was it the tension of the occasion that made our shooting so poor or, to come at it from a completely different angle, was it that, for much of the game, the players concerned may have known that it didn't really matter much whether their shots went in or not?

I can't answer that question with any certainty, but, I can apply how I felt for about two third of the game to this and so I would say it was because of the latter of those two options.

I'm not technically minded at all when it comes to these things, but it is a constant source of frustration to me that, while people in other parts of the ground appear to be able to get a decent signal for their phones when there is a good crowd at a match, I never can. With the same applying to those sat around by me at the corner of the Canton and Ninian Stands as well, I was forced to rely on crowd reaction to find out what was happening at St Andrews where Birmingham, level on points with Reading, but with a much worse goal difference, were entertaining a Fulham side who knew they were up if they got a better result than us.

It became quite enjoyable trying to glean what was happening in Birmingham – not being big headed or anything, but I was pretty good at it. Sometimes it was easy – for example, when the Canton Stand erupted around the fifteen minute mark when there was nothing happening on the pitch to justify such a reaction (take it out of it's context, and barely any of the football played by City and Reading merited an enthusiastic response!) and when something similar happened around the eighty seven minute mark, it was clear that either Birmingham had scored or the final whistle had gone at St Andrews.

On the other hand, when a chant broke out from a section of the Ninian Stand of "three nil to the Birmingham" just after half time, it didn't have the ring of truth to it for me and so I disregarded it. Similarly, I guessed correctly when what had been a continuous chant about us going up gradually changed into "all we are saying is give us a goal" – Fulham had scored at least once.

In the eight days since we won at Hull, I'd read and heard so much about had tense it was going to be during the Reading game, but, apart from about ten minutes when it turned out that the score at Birmingham was 2-1, it never got anywhere like that for me, because it seemed fairly clear that Fulham were not going to get the win they needed and, with Reading showing little or no attacking inclination, a draw always looked well within our capabilities.

Indeed, such is the faith that I have gained in this manager and squad of players that, even if Fulham had got it back to the situation whereby nothing but a win would do for us, I think, by hook or by crook, we could have come up with that goal because that's what we've tended to do in home games against sides from the bottom half of the table all season long.

A win would have been nice and I certainly could have done without the moronic pitch invasions and flares. I also would have preferred it if the closing minute or two didn't include Gary Madine pretty obviously telling Mannone to take his time when he had the ball and the sight of City players standing about on the half way line, while Reading knocked it about thirty years away. That was all a bit West Germany v Austria 1982ish to me, but, so what? Events elsewhere deemed that nothing that was happening was worthy of further investigation, it was simply what was bound to happen in the situation that City and Reading found themselves in at that time.

A perfect day ended with the Supporters Club Player of the Year do (apparently it was £72 a head, so you'll be getting no eye witness account from me!) and perhaps the best tribute this group of players could receive is to think of the number of genuine contenders for the main award this season.

Sean Morrison was a deserved winner the Hull game clinched it for me), but he only finished one per cent ahead of Sol Bamba. Joe Ralls' cause was not helped by his late season injury and Junior Hoilett's slight slipping of standards in recent weeks (completely excusable given his workload over the past ten months or so) probably scuppered his chances. Besides that, you have the underrated contribution of Neil Etheridge (a remarkably good Bosman signing from a League One club), Joe Bennett's development into a top quality Championship left back and Callum Paterson's goals and infectious attitude.

However, it's when you consider all of those who have had what I would call good seasons, yet were no more than also rans in Player of the Year terms, that it sinks in just what an amazing season we've had – Lee Peltier, Bruno Manga, Aron Gunnarsson, Danny Ward, Nathaniel Mendez-Laing, Kenneth Zohore and Jazz Richards all fall into that category for me and I'm sure there are one or two others I've forgotten there as well.

I could go on at great length in a tribute to all involved, but I think it's better I leave it to the man himself – Neil Warnock, the man who, more than anyone else, made our promotion possible – to do that. Here's what he had to say at the Player of the Year do

"Vincent has told me how to manage my team this year… I'm going to tell him how to run his businesses next year!

But the biggest thing is that he cares, and not many people are daft enough to put the money in that Vincent has put in.

I have to mention Callum Paterson, the young player of the year, and he must be the youngest 45 year old I've ever seen!"

and

"It's been great to be in charge of such a great group of lads, when I look around the characters – all of them.

People take a lot for granted in football and some people don't get a lot of credit. I want to thank people like Neil Etheridge, who's come from Walsall, Brian Murphy has been unbelievable.

All of the defender s, Jazz who has come back from injury, Pelts never stops moaning, Benno one of the best full backs I've ever managed, Bruno who would probably be the best player in our team next year. I've got big Sol, who we had to rescue today, along with Junior Hoilett – who both show what you can do with application. Bamba has done it all season.

The unsung heroes… I would play Matthew Connolly tomorrow if I had to. I've got my skipper, who could have gone to Sheffield Wednesday if he wanted to. That was great to have kept Morrison, who has ended up as good a skipper as I have had in 38 years.

I'll probably forget somebody but my wife absolutely loves this bald headed, bearded viking – who has got a chance for the World Cup – and we all wish him every success. Incidentally, he couldn't get in the team before I came.

You've got a young lad, Joe Ralls, who has been unbelievable since I've come and will only get better. If we hadn't got promoted, we wouldn't have seen Joe Ralls because he'd be in the Premier League.

I'd like to thank two loan lads who have done brilliant, Marko from Liverpool and Bryson who has got unbelievable energy.

Two unsung heroes for me are Loic Damour and Greg Halford, thank you to both of you.

Onto the forwards, Ken Zohore has been our mainstay.

The pleasing thing for me is people training hard when you can't play them. People like Pilkington have been different class.

I'd also like to thank a player who has made me enjoy my trip to Nottingham Forest this year. Danny Ward.

Then we've got another one. Vincent mention Mahrez for £450k. But I get them from Rochdale for nothing! A massive thankyou and well done to Mendez-Laing. Also a big thankyou to people who came to help us out on loan, like Liam Feeney and Jamie Ward, alongside Armand Traore. Kadeem has trained relentless but not had a look in, but well done. And obviously Junior… I took him off the scrapheap and told him I'd get a club. When I went to QPR, he'd been thrown into the under-18s and I told him he could play straight away. I know what I'm getting from Junior and it's a tremendous accolade to get the players' player."

Thanks to all of those mentioned and to the likes of Mehmet Dalman and Ken Choo, but, most of all, thank you Neil Warnock – I might knock the way your team plays the game at times, but you've been amazing for this club and I've not seen a better manager in my time supporting City.