I don't think of myself as much of a traditionalist, but when it comes to cricket, I am one. It's very much the five day or four day stuff for me, so, with my season ticket still not having turned up, it says something about how I feel about my football club currently, that it was almost a toss of a coin job as to whether I went to Cardiff City's game with Bournemouth today or stayed home to watch T20 Finals Day with that highlight of the sporting year, David Lloyd's commentary on the race of the mascots as the cherry on top of the cake.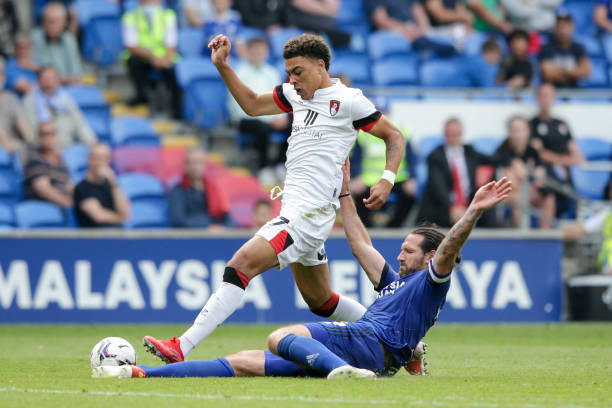 In the end, as I knew I would, I decided to travel down to Cardiff for the football. With the club not putting anything about entry arrangements for what seems a substantial number of people still awaiting their season tickets on their website or Twitter account and phone lines down yet again yesterday, it did feel like something of a journey into the unknown as I presumed the ticket office would be open when I got there.
Thanks to Covid, I can't see me travelling to games on the train for some time – it's not the trips to Cardiff that put me off, it's the return journey with people packed into coaches like sardines that I don't fancy.
It's the opposite way around I'm finding when it comes to the car – getting out of Cardiff after games isn't bad, but, having now tried three different routes this season, I'm finding that I may as well reconcile myself to being stuck in lengthy traffic jams on my way to the stadium whichever way I approach the ground from.
Today I tried a down the A470 route and all was going well until I got to Manor Way by the golf club where a queue of traffic began which, more or less continued all of the way along Western Avenue, down Cowbridge Road and into Landsdowne Road.
So, having decided to leave early because of the situation regarding my season ticket, it meant that at least I didn't face the prospect of still waiting for a ticket as the game kicked off. As it was, the queue for the ticket office took half an hour and then it was what has become the usual fifteen minute wait this season to get into the ground with the thought that this is an experience that also leaves you with a fair chance of catching Covid never far from your mind.
The point in all of this is that just getting into the ground is a chore these days. Yes, I know no one forced me to live up here at the top of the Rhondda Valley, I chose to do it and Covid is just one of those things that no one could see coming, but, even so, it feels like the club is contributing to the whole affair these days, with, first, the farce that was season ticket sales and now the shambles that sees people waiting for their tickets some six weeks after our first home game – my sympathy goes out to the ticket office staff who are a kind of front line carrying out instructions from generals who, of course, keep themselves well clear of the "heat of battle"..
So, having finally got to my seat at about ten to three, what I really needed was a good old entertaining game of football to take my mind off the previous two or three hours – suffice it to say for now that has been something of a problem at Cardiff for most of the past few years!
It seems to me that Bournemouth have been a "nice" side to play against in the past two seasons, the sort of side we can bully to defeat on a good day – that's certainly what we did at whatever Dean Court is called these days six months ago, but it never looked like happening here.
At this point, I face two choices, I could go off on one and post plenty of paragraphs saying things that I've said plenty of times before over the past few years or I could do what I'm going to do, post a few bullet point type observations on a game that was, I'm afraid, pretty predictable throughout.
I set out my feelings on the current situation at Cardiff in my piece on the Coventry game and another 1-0 defeat today has not changed them one iota.
For me, Jason Perry's diagnosis of the maladies at City on the Call Rob Phone in tonight was spot on.
Having watched them for ninety minutes today, I don't know how good this Bournemouth side is, but they were comfortably good enough to see off our, very limited, challenge.
Aided by some dozy Bournemouth mistakes, City started quite well, but Leandro Bacuna couldn't come up with a good enough pass when finding himself free on the right of the penalty area twice in the opening few minutes.
When City finally did work an opening where we could have got a player in at the bye line, our best passer of a ball, Marlon Pack, wasted it by over hitting his attempt to find Will Vaulks, if one incident illustrated how limited we are creatively, that was it.
Bournemouth's yellow card accumulator Jefferson Lerma was lucky to avoid a red one today for a second half challenge on Ciaron Brown – referee Josh Smith (a new name to me and one that I hope doesn't take charge of one of our matches again any time soon) deemed it only worthy of Lerma's 557th career booking (I've taken a bit of artistic license there!).
It's a mystery to me how Vaulks, a player who neatly encapsulates so many of our shortcomings when he is playing poorly, as he is now, has played all but nine minutes of our three games this week.
I thought Rubin Colwill and James Collins, who were introduced for Mark Harris and Tom Sang around the hour mark, improved us. The later introduction of Joel Bagan for Brown made sense as well, but moving Curtis Nelson to right wing back seemed bizarre at the time and still does now.
Is Keiffer Moore struggling because he has had a such stop start beginning to the season or is his failed move to Wolves affecting him?
I didn't think Tom Sang and Ciaron Brown played as true wing backs today, they were a pair of full backs – something Mick McCarthy could be said to have confirmed with his "We had set up to frustrate them," post match comment.
There is a tendency to wonder about the goalkeeper when he stands stock still when the ball goes past him into the net like Dillion Phillips did today – I didn't have the best view from my seat about one hundred yards away, but it seems to me he knew he had not chance of saving Philip Billing's shot.
Today's selection was so predictable as the youngsters were blamed for Wednesday's debacle – managers have been doing this for decades, Mick McCarthy is just the latest in a very long line.
To further develop point 12, I'll repeat a strange line of argument our manager came out with in his media briefing on Friday. It went along the lines of the older players take on the youngsters on the day before every first team game and prior to yesterday's inter squad match, the youngsters had won the last three. According to McCarthy, the seniors were determined not to lose again and were very serious in winning 5-2 in a match where he could see a lot of the younger heads dropping as they fell further behind..
I'm assuming that this story was delivered to justify the sticking with experience line up today, but I couldn't help wondering, firstly, what was Mick McCarthy thinking about the seniors when they were being beaten by the kids in the previous three games? Nothing presumably, given his faith in some of the limited senior pros he keeps on picking.
Secondly, I wouldn't be too bothered if any team I was connected with would win three consecutive matches before being given a hiding in the fourth one if that sequence could be continued – the story hardly works as an example of why you shouldn't continue to pick youngsters if that's what he meant it to be.
To finish on a positive note, the Welsh Ladies team beat Kazakhstan 6-0 at Llanelli in their opening World Cup qualification group fixture on Friday and it was a pleasure to watch very good long passes, not hoofs, being hit from flank to flank. Although it wasn't the sternest of tests, it sounds significant that Wales were only able to scrape a couple of 1-0 wins over the Khazaks when they played them a few years ago in a European Championship qualifying procedure – Rachel Rowe's goal is well worth a look.
It's the time of year again when I ask readers of Mauve and Yellow Army to make a contribution towards its running costs. Before I go into detail about this, I should, once again, offer my sincere thanks to all of you who have helped ensure the future of the blog over the past three years through a mixture of monthly payments via Patreon, monthly Standing Orders into my bank account and once a year payments via bank transfer, PayPal, cheque and cash.
The first time I made this request for assistance, it was prompted by a need for funds to pay for three yearly web hosting costs which, frankly, I was in no position to meet following my move of house a few months earlier. However, I'm pleased to say that, this time around, the web hosting bill was settled back in June with none of the problems there were back in 2018.
Therefore, any monies received this year will go towards other running costs and, although it's too early yet to make any formal commitments despite so many of the pandemic restrictions in Wales being lifted recently, I am minded to do another review of a season from the past book to follow on from "Real Madrid and all that" which looked back on the 1970/71 campaign. At the moment 1975/76, the first promotion season I experienced, looks to be favourite for the book treatment, which would mean a lot more trips back and forth to Cardiff than my finances have become used to over the past year and a half – hopefully, the majority of them will not have to be made via Radyr Cheyne!
As always, the blog will still be free to read for anyone who chooses not to make a donation towards its running costs and, apart from the one in the top right hand corner which is to do with Google Ads, you will never have to bother about installing an ad blocker to read this site because there will never be any.
Finally, as mentioned earlier, donations can be made through Patreon, PayPal, by bank transfer, cheque, Standing Order/Direct Debit and cash, e-mail me at paul.evans8153@hotmail.com for further payment details.