https://mauveandyellowarmy.net/
My immediate reaction to Cardiff City going behind to the solitary goal that cost us our unbeaten home record today as Bristol City helped to push a top six place further into the distance from us was that we were very unfortunate to be trailing.
When you consider that we hit the woodwork three times and the wurzels' goal came from one of only two on target efforts they had all game, then it's tempting to stick to that line of thinking, but, in truth, by defending efficiently and being organised when we had the ball (and, believe it or not, we has 52 per cent possession today), Bristol did to us what we did to many Championship sides two years ago.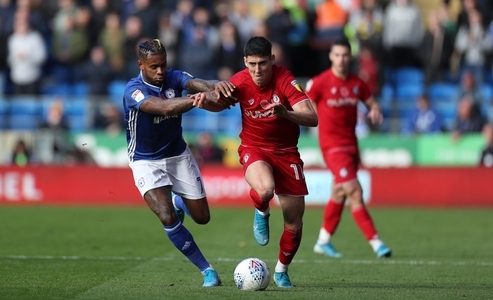 According to the BBC website report, Aden Flint shouldered a second half effort from a Marlon Pack corner on to the bar, but I must admit that one passed me by, so, as I was leaving the ground, I could only point to two moments of quality completely out of keeping with most of what we produced going forward to justify my thinking that we were robbed somehow – long distance shots from Junior Hoilett and Leandro Bacuna that both struck the crossbar with the first of those efforts especially being goal of the season material if it had gone in.
Unfortunately, Bristol came up with a goal of the season contender of their own as Josh Brownhill's twenty five yard effort flew past Neil Etheridge in the sixty seventh minute. When a goalkeeper is beaten from that range and the ball ends up some way from the corners of the net then there is a temptation to believe that it should have been saved, but, having seen the goal in Sky's video's highlights of the game, I believe the scorer should be praised rather than the goalkeeper blamed.
Anyone who who missed watching the game live may feel that whoever put the highlights package together was being a bit unfair in restricting it to just four pieces of action (one of which hardly qualifies as a moment when the Bristol goal was really under threat), but, believe me, there was not a great deal worth recording besides that.
There's the effort with Flint's shoulder I mentioned earlier of course and Andreas Weimann forced a diving save from Etheridge shortly after the goal with the visitor's only other on goal effort, but, apart from that, it was all about good defensive blocks and wayward finishing really – that fairly routine save by Etheridge mentioned above was probably the best one of the game.
Looking at the match from a purely Cardiff point of view, if last week's against the odds win over Birmingham could be seen as a step ot two forward, then today marked a backwards movement by at least the same amount.
That possession figure mentioned at the start of this piece was both a novelty and a concern. A novelty because that 52 per cent is the highest amount of possession of the ball we've had all season (only at Hull, where we had one per cent less have we had over 50 per cent possession) and a concern because it rather brought home how little we can create when we have the sort of share of the ball that people like me would like to see us having week in, week out.
I've touched on this subject before, but, for me, today ended up being an illustration of how hard it is for this squad, put together at great expense, by Neil Warnock to create chances from open play.
Firstly, there is an insistence on playing with two wingers which means that what could be described as an attacking 4-3-3 (I think in reality it's a 4-2-3-1) still has a single out and out striker who usually has no blue shirts within at least ten yards of him when he receives the ball – it should also be said at this point that the poor positioning of those wingers when crosses come in from the opposite flank offers another reason for our lack of potency from open play.
Depending on who the third man is for us in central midfield, we play with three or four who could be regarded as primarily attacking players. For example, last week we had three because Joe Ralls was the third man and today we had four with the third man being Lee Tomlin because of Joe missing out through injury.
Obviously, the fact that we scored four last week and none this week shows that it isn't as straightforward as just picking four attacking players rather than three, but, in essence the attacking four today were greatly reliant on the service they received from those behind them.
Well, with us making another of our all too frequent cautious home starts which see us setting up like an away side by allowing our opponents on to us, one of those pitch maps showing areas where certain players touch the ball would have had less than ten lit up if it had been trained on our front four over the first quarter of the match and none of them would have been within reasonable distance of the Bristol goal!
Okay, I accept I'm taking a bit of what is called artistic licence there, but it does illustrate the problem we seem to have in moving the ball up the pitch while keeping it under some sort of control.
I heard some analyst saying yesterday that the thing which impresses him most about Frank Lampard's young Chelsea side this season is that they are playing attractive, passing football despite their first instinct always being to move the ball forward.
It goes without saying that we do not have the quality available to us that Chelsea do, but the point I want to make is that this strikes me as not a very easy thing to do and when a team with as many players in the side who are not comfortable in possession as we have try to pass, as opposed to hoof, the ball forward, it really does bring home how hard it is to do.
With our fifty two per cent possession today, we were less direct than usual, but all that this tended to show is that we would probably need a pretty radical overhaul if any new manager came in and tried to alter the way we play.
However, if we do have a dearth of real creativity in the middle of the park, I'll repeat something I said a week or two ago on here in that I don't think their task is made any easier by the lack of good and instinctive attacking movement in front of them.
With today's front four, Junior Hoilett again stood out for me as the only one you can consistently rely on to produce quality crossing, passing and shooting – especially at this level. For all that the fans are on his side, Lee Tomlin really needs to get on the ball more than he does when he starts matches for us – the way he tracked back today to mop up what looked like a dangerous Bristol counter attack just before he was subbed illustrates his attitude is good this season, but a way has to be found to make him more influential.
Sadly, although we know he can be devastating and unplayable at times, especially at this level, Nathaniel Mendez-Laing is too hit and miss (a criticism I feel could be aimed at both Gavin Whyte and Josh Murphy as well this season).
As for Omar Bogle, he's a trier and he has shown he can finish, but I thought he struggled badly today. What needs to be said though when it comes to anyone who plays central striker for us is that it's a truly thankless task under this manager.
Back all of this up with a defence which is struggling at this level more than i expected it to (although the composed Curtis Nelson again looked at home at Championship level today) and it has to be said that we are looking a long way off top six standard at the moment.
The Warnock way worked two years ago despite many of the imperfections that people are picking up on now, but it's beginning to look like it might have been a time and place thing. I think the Championship is that sort of league in that it has so many sides that are very similar to each other in terms of quality and this means that almost any side can sustain a promotion challenge if they get the sort of early momentum that we managed in 17/18 behind them.
We would have won that game today two seasons ago – in fact, the home match against the wurzels that year was quite similar to today's in ,lots of ways except we found a way to score a goal, which was much scruffier than the one which won today's game.
Two years ago, our front four were coming up with moments of individual magic which could turn games in our favour, now, we still see them from time to time but they are much fewer than they were. We're also not as much of a threat from dead ball situations as we were , so, although twenty three goals from sixteen games is not a bad return really when you consider these factors, it's also true to say that our much worse goals against record means that we need to be scoring at above 17/18 levels if we are to starting climbing the table.
Great goal though it was, if Brownhill had hit exactly the same shot two seasons ago, would there have been a Sol Bamba or Aron Gunnarsson busting a gut to get a successful block in? I think there might well have been because 17/18 was our time and our place – we've played sixteen games now and, apart perhaps from last week against Birmingham, 19/20 has never felt like it was our time and place again.
We are currently in fourteenth position with five wins and five defeats, we've scored and conceded the same number of goals and we lie seven points outside the top six and eight points above the bottom three.
We're almost as mid table as it's possible to get and while, as a recently relegated club, it is natural that we concern ourselves more with debating how we can make up the ground on those above us, the truth is that, based on our general level of performance over the past three months or so, our current position flatters us a little.
Yes, we may or may not been unlucky today, but can anyone really argue in all honesty that our performances in our first seven home matches merited us taking seventeen points out of a possible twenty one?
We've got three matches left this month. Ordinarily, you'd like to think that we could go to a Charlton side now finding life more of a struggle after an excellent start to their campaign and win. Similarly, we have a brilliant record against Nottingham Forest in recent seasons, so three points there would be a realistic target as well, but the reality is that with only four points from a possible twenty four on our travels this season, we can't go anywhere in this division with an expectation of winning – realistically, two points would be a good return from those games given how we're performing away from home.
Stoke visit Cardiff City Stadium in our remaining November home match and, with a respected new manager in place and a squad which, on paper at least, looks way too good for their current league position, I'm certainly not counting any chickens there.
It;s hard to see us being much more than the mediocre mid tablers that we are now going into December, so would we then be in a position where Neil Warnock's pre season talk about maybe looking at things again if we're not threatening the top six come Christmas begins to apply?
If it does, then I suspect any ending of our manager's tenure at the club would be prompted by the man himself, because the silence from the Boardroom regarding what they have to see as a disappointing outcome so far this season is deafening.
With Blaenhrhondda and Ton Pentre's matches falling victim to the weather, I only have the Under 18s match at Colchester yesterday morning to comment on and the Academy lads were able to end their run without a win with a big, rugby like, scoreline. Keiron Evans with two, Siyabonga Ligendza, Josh Rippon, Isaak Davies, Sam Parsons and James Crole all finding the net in a 7-3 victory.