Cardiff City did not deserve to lose 1-0 at home to Bristol City. The BBC's stats showed that they had seventeen goal attempts to four and five on target efforts to just the one by their opponents and those figures were a fair reflection on the flow of a game where the ball was heading towards the wurzels goal for much of the time.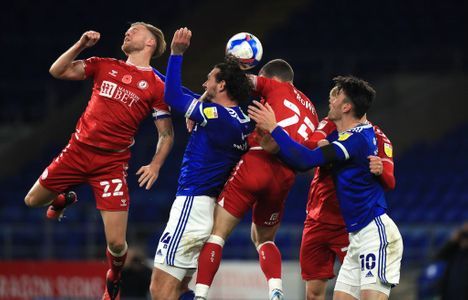 In some ways, City played as well as at any time this season, some of the build up play was not just effective, it was easy on the eye as well and, having whinged fairly consistently about our central midfield over the past few weeks, I must say I think it's been a good couple of games for the Marlon Pack and Joe Ralls combination.
On Tuesday Pack and Ralls were together in the sort of 4-4-2 formation which used to see City City midfields of five and ten years ago outgunned because they were outnumbered three to two, but our pair were dominant against Barnsley's three, while tonight, with Neil Harris switching back to the usual 4-2-3-1, they had some support from Harry Wilson, but, with City forced to chase the game virtually from the word go, it was again more a case of two against three – our defeat certainly couldn't be put down to us being outgunned in central midfield though.
If you were to distil the whole game down to just the goal which decided it, you could say that our left side, which was so good on Tuesday, lost it for us because, with little over a minute played, Joe Bennett's careless pass presented Bristol with an opportunity to break and they did so intelligently and well as they switched the ball from their right out to the left and then back again to leave an overload which left Bennett exposed with Junior Hoilett nowhere in sight. Former Newport County loan man Antoine Semenyo got to the bye line and pulled back a low cross which Chris Martin knocked in from inside the six yard box with something like a hundred seconds played.
A simple finish then to end a well constructed move, but Sky's cameras were later able to show that the reason Hoilett was absent from defensive duties was that he and Sheyi Ojo, our other winger, had got well ahead of the ball when Bennett's pass went astray and neither of them were therefore able to shut down the space on either flank that Bristol were able to exploit.
As someone who has watched plenty of Bristol City Academy sides being beaten at places like Leckwith and Treforest, I must admit that I find it galling that Semenyo is just one of a number of players in those teams we've beaten who has made their way into the Bristol City first team and, in some cases, been sold for big fees. I'll add the usual caveat about results not being so important at youth level here, but I do find it odd that while we've consistently been getting the better of them at age group level, it's they who are producing the first team footballers, and often good ones, while we tend to send our youngsters on loan to places like Weston, Hereford, Barry and Bridgend and then release them.
Anyway, having got that off my chest, back to tonight's match! So, after the blip that was the Barnsley game, things returned to normal as we yet again made life difficult for ourselves by conceding the first goal and, this time, while credit should go to our opponents for the way they exploited the opportunity we gave them, those words "we gave them" tell a too familiar tale as to why 20/21 is turning out so disappointingly so far.
Bristol scored from their one goal bound effort and, thereafter, had the occasional dangerous attacking moment, but in many ways, it was a holding operation for them after that. Actually, the words "holding operation" are suggestive of them just sitting back and defending, but that's not true, I thought they did try and get forward when they could, but, for the most part, they were forced back by us.
Unfortunately, it too often was a case of us doing well until we saw the whites of our opponents eyes – smooth build ups would come to nought because of a lack of composure or not quite enough quality on the final ball or, when we got that part of the game right, the finishing wasn't.there.
As so often with Cardiff though, it was set pieces which told the real story – there were some terrific dead ball deliveries by Pack especially which saw Keiffer Moore, first, force a fine save from David Bentley (it seemed to me that the striker's header was destined to hit the post rather than the net though) soon after the goal and then around the half hour mark, Moore should have done better than head over from six yards. There was also a free kick from Pack in the second half which eluded the three City players who had got free of their markers and a cross in open play from Wilson that Hoilett could not convert from point blank range, with Ralls unable to keep his hooked effort when the ball broke to him low enough.
There were plenty of other half chances for City, but the efficiency Bristol showed when scoring was never really there for us and so we've now lost three out of six at home and go into the November international break spluttering along in lower mid table.
This, plainly, isn't good enough for a team which were in the Play Offs last season and, to my mind at least, has a squad which is technically better when it comes to attacking than last year's group. However, for all of that ability, our goalscoring record would be feeble without those three on Tuesday. At the other end of the pitch, we aren't defending as well as we were doing post lockdown either – having full backs injured so often isn't helping, but that's not the sole reason for it. For example, we're worse at defending set pieces than we are when we're attacking from them at the moment and you don't get to say that too often about modern day City teams.
Can I also remind you about my recently published book Real Madrid and all that which is available in e book and paperback formats and can only be purchased from Amazon.