https://mauveandyellowarmy.net/
I usually try to make these post match pieces a minimum of one thousand words long, but I think I may struggle to manage that tonight because I honestly do not have much to say that doesn't fall into the bleeding obvious category about Cardiff City's 1-0 home defeat to Nottingham Forest.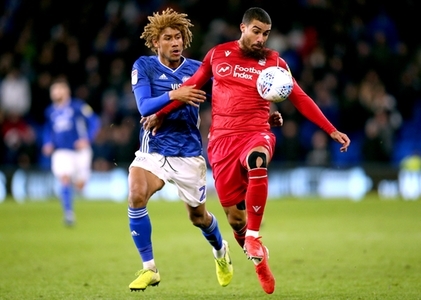 In many ways, it was a case of for Forest, read Stoke because the clear deficiencies laid bare by the absence of Lee Tomlin on Saturday were there again for all to see. The frustrating thing is that you don't need to be a genius to know what would happen as soon as Tomlin wasn't available because the rest of the squad are just confirming what has been clear all season – there is a lack of creativity, incisiveness and decisiveness in the final third which is hardly helped by not having a striker that is convincing in front of goal. Therefore, I repeat something that I said on Saturday, it should never have been allowed to get to the stage where an injury to one member of the squad means such a drastic reduction in its capacity to do the unexpected or provide that X factor that provides something out of nothing.
Although I was saying that tonight was a rerun of what happened on Saturday, that's not quite true, because this was definitely better than the limp showing at Stoke in terms of attitude and attacking intent, but it was still hard to escape that feeling that the belief wasn't quite there that the team could unlock defences without their most creative player.
Maybe that's a bit harsh on reflection, because there wasn't really a lack of players willing to take on responsibility when it came to that final ball, incisive cross or shot from distance, but, sadly, the quality was lacking – the word that kept on coming into my head as I watched us huffing and puffing to no real effect as we put Forest under pressure in the search for an equaliser was conviction.
I'm afraid there was a lack of it in almost everything we tried to do in the final third, whether it be passing, crossing or shooting.
When it came to the latter, the only shot I can remember from us that was truly struck in the manner that the player was aiming for was a twenty yard effort by Robert Glatzel that provided Forest keeper Samba with one of his few awkward moments of the night as he dived to turn the ball aside for a corner.
As for the rest of our goal attempts, they weren't all totally undermined by poor technique, but many of them were – too many for a side which seriously believes it can be involved in the end of season hunt for that final promotion place.
At least there was one shot that almost brought about the desired effect, that was not true when it came to crosses – I did not see one which seriously inconvenienced the Forest backline and keeper, they were of a generally poor quality and gave the impression that they were just being aimed in the general direction of a blue shirt.
With the delivery from free kicks and corners also being pretty ordinary, City, as they do too often lately in home games became over reliant on Will Vaulks' long throws, but even they were not as effective as normal – something which a resolute and well organised Forest defence should be given credit for I suppose.
Although Junior Hoilett did some good things in defence and always showed for the ball in attack, I I do find myself wondering why wingers are considered automatic selections under our last two managers when they too often prove to be utterly ineffective when it comes to crossing and cutting in from your wing to shoot.
On the other wing, the best word to describe Josh Murphy's contribution is exasperating. In the last month or so, he has upped his game and, in a different way to Tomlin, suggested he could be a catalyst for the lift off the team has been needing from the start of the season. Unfortunately, tonight was more like the pre Christmas Murphy – I hesitate to say he wasn't trying, but to use a term that we hear an awful lot of these days, his body language was terrible.
Murphy had already lost a ball weakly in midfield in the very early stages of the second half to set Forest on a dangerous attacking raid, when he erred again in the same manner to present Forest with a chance to counter attack from around the halfway line and Lewis Grabban and Tiago Silva combined with such good effect that the latter was soon celebrating a well taken and decisive goal.
Murphy's final contribution was.to send in a free kick from a dangerous area out on the left so poorly that it barely ever got off the ground and so it was no surprise that, just as against Preston shortly before Christmas there were cheers when his number was held up within seconds as one of those to be withdrawn.
With both wingers under performing and Callum Paterson quiet as he returned to his highly unorthodox interpretation of the modern day number ten roles, the bulk of the attacking responsibility fell on Glatzel who responded to a surprise recall to the team after having not been used at all from the subs bench in recent games with one of his better showings in a City shirt as he showed a strength which has not been too apparent up to now – his hold up play was good and he won the team a lot of free kicks as well because of his ability to keep the ball just as he looked to be on the point of losing it.
Of course, that shot I mentioned apart, Glatzel never really looked like scoring because that is the lot of a striker at modern day Cardiff City – given what's behind him in terms of inventiveness and flair, you'd have to be another Harry Kane to get to ten goals a season for us!
Glatzel was one of the night's plusses, as well as Alex Smithies who was worked a lot harder than his opposite number, a fact which tends to prove that Forest were, by not too big a distance, the better side and, although he didn't do anything brilliant, I thought Dion Sanderson, in for Jazz Richards, added pace and some urgency to our attacking game on his debut. Certainly, I don't believe he deserved to be taken off in a substitution that I thought smelt of management by numbers – you know, the youngster has to be taken off no matter what and I thought there was an element of getting your just deserts as Sanderson's replacement, Leandro Bacuna was booked within thirty seconds of coming on as he struggled for defensive pace in a way that the man he had come on for may well not have done.
A word to for Joe Ralls who came on for the last twenty minutes and definitely improved the team's level of performance – he really should be in from the start every week if available.
One last thing, Murphy's miserable showing did include one major talking point when he went down in the penalty area under challenge from Forest's Matty Cash just before half time for what to me, admittedly from the opposite end of the pitch, seemed a clear penalty, but referee Steve Martin, another weak and inefficient official to follow on from John Brooks in the Wigan game, thought otherwise. .
Well, that's it, sorry for a shorter reaction piece than normal, but it's hard when it's so clear what is wrong – if I'd done, say, another thousand words, I would only have been trying to find different ways of saying the same thing and I fear this is going to be a problem I'm going to have to wrestle with for the rest of the season.