With nine wins and six draws to show from their nineteen away matches, Cardiff City have shown top six, if not top two, form this season, but at home it's been an impersonation of a relegation fighting team. Today, we got yet another example of why the odds remain firmly against City making it into the Play Offs as they lost for the ninth time in 20/21 on their own ground – Nottingham Forest, the team we always used to beat, gaining their third win in the last four meetings between the teams.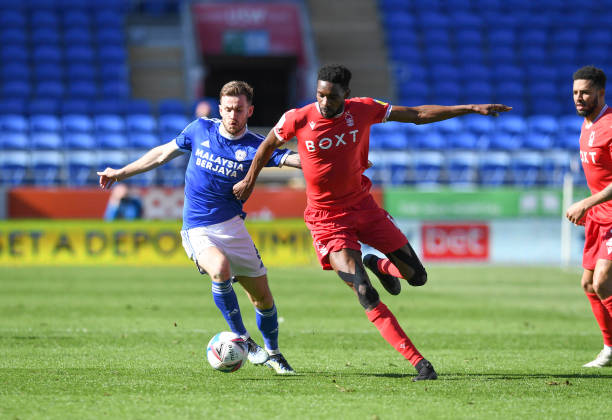 Chris Houghton, the Forest manager, has built his reputation on solid defences and his current side's position too near to the relegation places for comfort is firmly down to a lack of attacking punch rather than any weaknesses at the back, they average just about a goal a game conceded away from home.
https://mauveandyellowarmy.net/
Therefore, given, City's bizarre pre conditions for victory at Cardiff City Stadium, the chances of them recording what would have been win number eight looked remote.
City are great fun on the too rare occasions when they win on their own patch, because it means they must have scored three or more goals – failure to do that sees them gain the, very, occasional draw, but far more often it means they lose.
Tonight I find myself feeling much the same as a Swansea fan must have after their derby day defeat a fortnight ago. There were a lot of similarities between the two matches in that the away side were slightly the better in the first half, got their goal (in Forest's case from their only on target effort of the match) and then spent the second period defending manfully in the face of pretty relentless pressure and, at the final whistle, I feel both sets of home team supporters could feel hard done by at their side not coming out of the match with a draw.
With Sean Morrison having not recovered from the injury he received in the Swansea match, the fit again Curtis Nelson replaced him in the only change from the last game. Mick McCarthy clearly felt that the players that won the derby had earned another chance for themselves, but, given the lack of experience Tom Sang and Joe Ralls had in the wing back role, it seemed an unnecessary risk to me given that Perry Ng was fit enough to be included as a substitute.
However, City's problems today were not in the wing back positions. In fact, Sang and Ralls were among our best players.
To me, there was more evidence that the high intensity and pressing which was so important in keeping the fine run following McCarthy's appointment going is fading because the effects of a season where the games come around quicker than usual are combining with consequences of the way we have played the game under the current manager to ensure that our players are close to being out on their feet.
There had been hopes that the international break could lead to a recharging of the batteries for at least some of our team, but there was little evidence of that. This was a tired performance by our attacking players, in particular Keiffer Moore who didn't seem to have benefited from only playing about ninety minutes in total for Wales in the three games they played in the past fortnight.
It's also a concern that Sheyi Ojo came up with another inconsequential appearance off the bench and one cross which led to our best chance of the afternoon apart, "inconsequential" described Josh Murphy's contribution as well.
Jonny Williams was introduced along with Ojo and Murphy, but it was no fault of his that City produced very little which suggested an equaliser until the introduction of Rubin Colwill and Mark Harris inside the last ten minutes. Williams stood out of as someone who is well grounded in the basics of the game – that shouldn't by enough to earn any particular praise normally, but in this team, which so often makes joined up football look almost an impossibility, it does tend to stand out.
To be fair though, City although again displaying their limitations when trying to find another blue shirt, we're not as bad as usual at passing the ball and the BBC's stats show that they shaded the possession fifty one to forty nine. However, one of the lessons of this season is that the more we have of the ball, the more our lack of creativity from open play is exposed.
Indeed, City's best bit of incisive and creative football came in the first ten minutes when the front three combined well to set up Leandro Bacuna with a shooting chance that presented Brice Samba with just about the only save he had to make from a goal attempt – it was a decent piece of goalkeeping but that's all it needed to be and if you combine that with the fact that Dillon Phillips couldn't stop the only on target shot he faced all afternoon (he made a diving second half save from a shot which looked to be going wide), it rather tells you what a poor spectacle the game was.
The only goal was well worked by Forest as they made ground down on our left, got to the bye line where a cross was pulled for Manchester United loanee midfielder James Garner to sweep in from about fifteen yards. Now, the club website commentators made great play out of Joe Ralls' positioning for the goal and how he had not got much help from his team mates, but I was left thinking that if, say, Will Vaulks was told to get himself on, our close to, the penalty spot every time the opposition were in our final third from open play, we'd end up conceding a fair few less goals than we do.
Going back to City's lack of an end product, that Bacuna effort apart there was only a Sang header not too far over from a good Ralls cross in the best example we came up with of what a pair of wing backs can give you in an attacking sense and one of those long distance Vaulks shots that he occasionally catches so well (this one flew narrowly wide with Samba looking beaten) to get excited about in the first half.
After the break, Forest were able to get in the block that we couldn't when the ball was turned back towards the penalty spot and so Moore was denied his seventeenth league goal of the season.
Besides that, it was only when we went for the usual aerial bombardment in the closing stages that Forest were seriously troubled.
Stand in captain Aden Flint was unmarked to reach a fine Murphy cross some five yards from goal, but I'm afraid it was the 19/20 Flint that turned up today when it came to his defending and passing, but not when it came to his work in the opposition penalty box, so the header flew over the bar and then Ciaron Brown got a firm header on a Murphy corner only to see the ball hit Forest's Cafu and, very luckily, lob gently up into the air to Samba who was left with a simple catch to make.
Elsewhere, Barnsley and Reading drew 1-1 to make it a very good day for Bournemouth who were 3-1 winners over Middlesbrough, so the gap to sixth is now five points. That's not insurmountable, but we haven't been playing well for a few weeks now (a big win over a dreadful Derby and a gutsy and, but pretty fortunate, win at Swansea apart, we've played poorly since our awful showing at Middlesbrough) and I think we really miss Morrison when he's not there. Apparently, he's almost certainly out of Monday's match at Sheffield Wednesday and is considered a doubt for next weekend's match with Blackburn – I fear we'll be in a position where we will have to take something like thirteen points out of fifteen by the time he comes back to stand a chance of making the top six.
Just a few words about a couple of widely contrasting results for City at age group levels in midweek. On Tuesday, the under 23s got back on the winning trail with another big win at Leckwith. This one was by a season's best score of 6-1 over Wigan with Rubin Colwill scoring a hat trick – other goals came from Roland Idowu, Isaak Davies and there was another lovely strike from distance by Keenan Patten for a City team that were 4-0 up at the interval.
On Wednesday, the Academy team travelled to West Brom to play their long delayed Fourth Round Youth Cup tie and came out on the wrong end of a 2-1 scoreline. In a previous visit to the Hawthorns in 13/14, the first team came back to gain a 3-3 draw after conceding twice in the first ten minutes, but the youngsters were unable to do the same as their seniors.
When they found themselves 2-0 down in nine minutes it looked like being a very long evening indeed for City, but, they worked their way back into things to such an extent that, once Tom Davies had reduced the deficit about midway through the second half, they had West Brom rattled for much of the remainder of the game as they finished very strongly, but they just couldn't find the goal to take it into extra time.