Did that Huddersfield game happen or what is a dream? I ask because it just seems so out of sync with what a 21/22 Cardiff home game should be like. Yes, there was the usual absolutely dreadful goal conceded in the first half, but rather than settling the game like it usually does, we came up with two of our own from somewhere – after watching the truly miserable 1-0 defeat by Hull tonight, you even start wondering if we used up our allocation of home goals this season once Keiffer Moore's late winner hit the back of the net in our previous home game.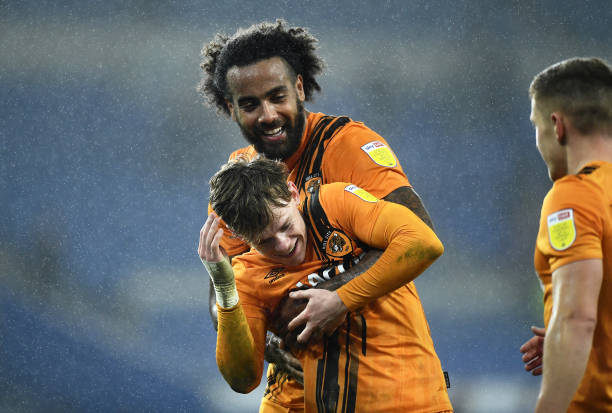 Tonight was back to the truly awful stuff we had to endure during the agonising final stages of Mick McCarthy's stint here right down to the over cautious and baffling team selection.
As soon as I saw the names Vaulks, Bacuna and Pack in the starting eleven with no Colwill, I groaned and started expecting the worst. There must be games at some time in the past two and a half seasons it almost is now when those three have been our midfield and we've played well, but none spring to mind for me at the moment.
This was a selection which ignored the positivity which should have been provided by consecutive wins as Isaak Davies and Keiffer Moore (back after missing the Preston match, but some way short of full fitness on this evidence) were left to fend for themselves up front and the reward for James Collins and Rubin Colwill for match turning second half contributions on Saturday was a place on the bench – a truly baffling decision in the case of the latter in particular.
Although there was little to show for it in terms of a final product, Davies showed as much urgency and desire as the rest of his team mates put together in yet another woeful first half showing.
City sauntered through the opening forty five minutes slowly passing the ball sideways and backwards to no effect whatsoever until someone lost patience and whacked it forward to invariably lose possession – Steve Morison has got a lot of praise for what he's done since he took charge and much of it has been deserved, but this was a night where questions can legitimately be asked about aspects of his approach.
The praise he's been getting stretched to his handling of the media in his pre match briefing on one the messageboard's I use, but I thought it was a tetchy and unnecessarily aggressive showing by the manager in which he said he wasn't bothered by the ridiculous lack of goals from the side in the first half of matches as long as we keep on scoring in the second half, but, surely, it's clear that we're not scoring enough second half goals to make up for the total lack of first half ones – it was unconvincing stuff and I'd be surprised if it fooled anyone.
Steve Morison has shown he can use the half time interval to get better performance levels from his team (he did tonight, but to no avail), but, apart from QPR where we started fairly well, we've been slow out of the blocks from the start of the game in every one of his five matches in charge and tonight Hull we're given a gentle settling in period as they enjoyed plenty of possession and forced a few corners while never looking too dangerous until they got a so simple match winning goal from one of them after fifteen minutes.
Strangely, I found myself thinking of a game I played as a kid as I watched the goal – if I remember rightly, you could only move while the person who was "on it" spelt out the word London, once they finished shouting "L O N D O N, London" you had to stop moving. Well, the BBC website describes Hull's goal as "well worked", but it must have helped them greatly that the City team were playing "LONDON, London" as Honeyman took the corner and, presumably captain Pack must have just finished his oration as boot made contact with ball because everyone in blue stood like a statue as Longman ran unhindered to the near post to glance on a header which was turned in from six yards by an unmarked Lewis- Potter.
Seriously, this was the latest in a long list of absolutely shocking goals we've given away this season – clearly, whoever was supposed to be marking Longman and the scorer have to take a share of the responsibility for it, but no one seemed alive to what was going on.
I'm not going to waste my time going into a great deal of detail on the rest of the game – Bacuna, in his only match affecting contribution carelessly lost possession which led to the corner from which Hull scored and Vaulks threw the ball into the net for his only contribution that I remember and that was as close as we came to scoring in a woeful first forty five minutes.
It was better in the second half and, by the end, I think we'd done enough to deserve a draw. Much of the improvement came from the introduction of Joe Ralls for Vaulks at the break and, surely, one of the messages from tonight has to be that if Ralls is fit enough to make the eighteen, he has to start (the same applies for Sam Bowen as far as I'm concerned) – while Ralls is one of a midfield four which I believe is at the root of our problems, he made more passes which caused Hull a problem than the three that started did put together – the movement in front of the starting three wasn't great in the first half, but it cannot solely be down to the players in front of them making runs for Ralls and not for the other three, it was more to do with only one of the four I referred to earlier playing any successful, penetrating passes.
Ralls forced a save out of the under employed Hull keeper Nathan Baxter and there were headed chances for Mark McGuinness and Bacuna from which they should have done better, while this definitely applied as well to sub Collins who headed against the post in stoppage time after a Pack long throw had been deflected to him. Moore was inches away from connecting with a Ryan Giles (I thought he had a very good second half) cross and there were plenty of scrambles and shouts for penalties from the frustrated crowd as the ball bounced around in the Hull box late on. City were unable to come up with an equaliser though and I'm afraid Steve Morison is probably the latest of a long line of City managers who've talked about making our home ground a "fortress" who'll not get to see his wish come true – certainly, we're as bad at home this season as we have been in decades.
On a more positive note, the under 23s stretched their lead at the top of the table to six points while recording their ninth win in nine matches at QPR on Tuesday, James Crole opened the scoring from the penalty spot and captain James Connolly came up with a couple of second half goals after the home team had equalised to further emphasise the huge difference in fortunes there is at City between the age group sides and the first team.
Quite what Frank Burrows would have made of City's home performances this season, I dread to think. It's a close thing between him, Jimmy Scoular and Eddie May out of the managers I've seen as to which one I'd least want to get on the wrong side of. Burrows, whose death at the age of seventy seven was announced today was, like May, a no prisoners taken type centreback who was in the Swindon side which stunned Arsenal in the 1969 League Cup Final and his management style was an extension of his approach when playing .
Burrows, who had spells as City manager in the eighties and nineties (the second one just about made it into the new Millennium) won a promotion in both of them and the 87/88 and 98/99 sides that went up to the third tier did so while playing some entertaining football. By and large, Frank Burrows was a good wheeler/dealer in the transfer market as well – Jimmy Gilligan was sold at a very large profit, as was Kevin Bartlett and perhaps his most impressive achievement was to sign Mark Delaney (who would have upped City's dynamism ten fold tonight if he had been playing!) from Carmarthen.
RIP to Frank Burrows who I rated in the top ten managers I've seen at the club and possibly in the top five.