Isn't it just typical, Cardiff City get some feelgood factor back by coming back from 3-0 to gain their first point since Lord knows when, everything's a bit more positive and there's a feeling we might be at least beginning to turn a corner and then the realisation strikes – bugger, we're playing at home in our next game, oh well, the wait for a win, and a first half goal, will have to go on a bit longer then.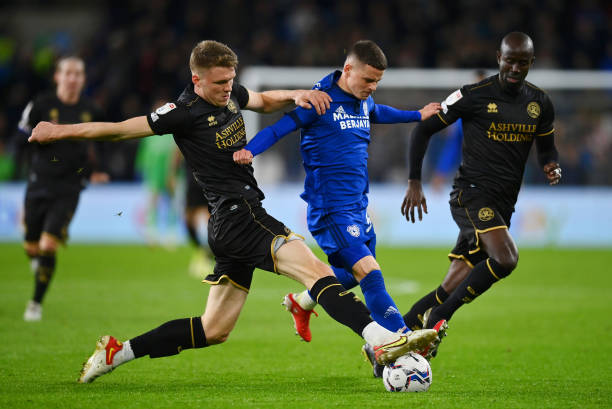 Why are we so crap at home? Last season, for reasons I still can't understand, the pandemic worked in favour of away teams and City were one of a number of outfits to suffer on their own pitch as a consequence. Curiously, when we did win in 20/21 we tended to win big at Cardiff City Stadium and, maybe, those three and four nils made it easier not to grasp quite how poor we were at home last season, but eight wins and nine defeats at home was probably the biggest single reason why we failed to hit the Board imposed target of a top six finish.
This time around was supposed to be different. Supporters were back and there was talk of Cardiff City Stadium becoming a "fortress" again. Quite why anyone should think that I don't know, the only time I can think of when that word could be justifiably applied to the new ground in my view was when we won the Championship title in 12/13 when we only lost two league matches on our own patch, apart from that, we've hardly been all conquering..
However, it is the norm in football that you do better at home than you do away and when we took four points, and scored four goals, in our first two games at Cardiff City Stadium, it was a promising start to the campaign. At that time, the line that there had been some sort of bounce because the fans were back could legitimately be applied.
Since Sean Morrison headed us 3-1 up against Millwall on 21 August though, the only goal City fans have had to cheer is one which went in off the Bristol City keeper's head the following week, so it is now over two months since Cardiff fans have had a home goal to celebrate! If you add in the 2-0 home loss to Brighton four days after the Millwall match, it is now six hundred and thirty seven minutes since a Cardiff player scored on our own ground.
Clearly, that's a dreadful stat in a season that is full of them if you're a City fan, but if there was the occasional 0-0 during that time, that would soften the blow a little, but there hasn't been, there's been six defeats and in only one of those, Reading, can we claim to have been unlucky.
Tonight's 1-0 loss to QPR was, possibly, the second best performance from us in the sequence of six losses, but that's not much of a compliment. Like most sides we play these days, QPR generally controlled the game and, although, they didn't really threaten to add a second goal too often, they didn't need to because we looked and played a side that had not scored a goal in their last four home games.
So, I ask again, why have become so poor at home since the end of the 19/20 season? I can't answer that question, but it doesn't feel like it can all be turned around with a couple of fairly minor tweaks.
City made a misleadingly bright start. You can clearly see that there is a desire to pass it more under Steve Morison and, for a short while, we did that pretty well, especially when some neat play by Keiron Evans freed Ryan Giles down the left and his pulled back cross from the bye line found Perry Ng who shot no more than a foot or two wide from the edge of the penalty area in the fifth minute.
Sadly, apart from a couple of late efforts by visiting centre back Yoann Barbet that flew not far over the bar and not too far wide of his own goal, that was all long suffering City fans saw in terms of serious attempts on the visitor's goal – there were well struck long range efforts by Rubin Colwill and Giles that keeper Seny Dieng dealt with comfortably, but, despite the good intentions and the attacking threat we had posed at Stoke, we were toothless tonight.
Joe Ralls, making a comeback off the bench after missing games with a shoulder injury virtually mounted a one man grandstand finish for the last five minutes or so, as he hit a few crisp passes which only emphasised how plodding we'd been in that department throughout the whole of the second half and the latter stages of the first period and sent in three or four threatening corners.
These dead ball deliveries caused some consternation in the QPR defence, but they defended well or at least, City we're unable to get vital touches in a department of the game which has been a strength of theirs for so long, but, just as we seem a lot easier to play against when not in possession these days, you begin to wonder if the commitment to make that ball yours is as great as it once was as a corner, free kick or throw in is coming in.
QPR did defend well, but it's worth noting that they'd conceded fifteen goals in their seven away matches before tonight, so they've hardly been watertight at the back so far, yet we created so little against them. That's what we're like at home especially these days and, without the dead ball threat that we were over reliant on in the past, it's hard to see how the situation is going to change – it was almost as if Stoke didn't happen tonight.
The goal which decided the goal came around the thirty five minute mark which, from memory, is when we went behind against Reading and Middlesbrough in the previous two matches, and featured the return of an old favourite from early in the season which I'd hoped we'd seen the last of – the single pass through the middle of our back three which leaves a forward with a simple chance.
It was a great pass by Jason's son Andre Dozzell played from just inside our half that left Andre Gray with the easy task of beating Alex Smithies, but it was made all the simpler by the fact that there wasn't a blue shirt within five yards of him. Mark McGuiness was marking Lyndon Dykes, so it's hard to blame him for what happened, but I'm afraid our captain had lost his man completely and, although less culpable, Curtis Nelson was nowhere to be seen. There was also a reminder of an ongoing and persistent 21/22 weakness, the midfield two supposed to be covering the back three were also conspicuous by their absence.
There's not much else to say really about the match when things are so bleak and there's so little to grasp as a sign of better things to come, although I thought Keiron Evans played well and was unlucky to be the one to make way for Mark Harris (Colwill had one of those games which critics say is typical of young players in that they cannot string a consistent run of performances together and, as such, I thought he should have been the one to go off, not Evans).
Apart from that, I thought McGuinness played pretty well, but that's about it really – although I like that we're trying to play a bit more under Morison, we still look too open and naive with the seniors contributing as much towards the second of those defects as the youngsters.
Having slept on it and seen one or two messageboard posts saying that the young players aren't good enough and talking as if there are seven or eight of them in the team every week, I thought I'd point out the following.
Apart from some, not too many, appearances by Dillion Phillips, Matt McGuinness, Sam Bowen and Mark Harris, the starting line up for every match has seen the spine of the side consist of a mixture of the following;-
Alex Smithies 416 career appearances with eleven seasons as a regular selection at Championship level or above.
Sean Morrison 388 career appearances with eleven seasons as a regular selection at Championship level or above.
Aden Flint 375 career appearances with eight seasons as a regular selection at Championship level or above.
Curtis Nelson 396 career appearances with three seasons as a regular selection at Championship level or above.
Will Vaulks 328 career appearances with five seasons as a regular selection at Championship level or above.
Leandro Bacuna 387 career appearances with ten seasons as a regular selection at Championship level or above.
Joe Ralls 301 career appearances with seven seasons as a regular selection at Championship level or above.
Marlon Pack 481 career appearances with seven seasons as a regular selection at Championship level or above.
Keiffer Moore 308 career appearances with four seasons as a regular selection at Championship level or above.
James Collins 483 career appearances with three seasons as a regular selection at Championship level or above.
That's a total of nearly 3,900 appearances and seventy two seasons of experience at Championship level and above available for selection down the spine of the side. Okay, some of them are over thirty now and have seen better days, but most of them aren't. Whatever we might think of them individually, I'd say all of them, to different degrees, have proved themselves to be good enough at this level, bu,t when a side struggles, it's often because its spine is under performing and, by and large, all of those listed have been this season.
To a degree you can understand why Mehmet Dalman admitted to surprise at how much we've struggled in his recent meeting with fans when you look at those figures, but, on a broader front, he shouldn't have been shocked at all.
Certainly, when it comes to the defenders and midfielders listed, there have been persistent criticisms from fans and media alike that Cardiff City sides have lacked creativity and passing skills since our relegation in 2019.
Being generous, all that was done in the summer to try and rectify that fault was to bring in a young centreback who is a bit more comfortable on the ball than his colleagues who play in that position, a utility player on loan and a midfielder who is now out on loan himself earning rave reviews at Blackpool!
Very nearly all of the players who were at Cardiff in 20/21 who you could describe as creative left the club in the summer and the plan seems to be that we would replace them with untried youngsters. The only one out of the younger players who have seen first team action with us this season with a full season behind him of Championship experience as a regular starter is Ryan Giles, For the rest, it's been a case of learning on a job which has been going very badly where the "old hands" have not quite downed tools, but are definitely down on productivity – if we're apportioning blame, the youngsters deserve a share of it I suppose, but far more should be directed towards most of those in the list above.
Even then though, I go back to what I said about players possibly not driving themselves to be first to that attacking dead ball and you wonder if that has something to do with the fact that the seven of them, I make it, who are out of contract this summer have been given some very large hints that they are either not going to be offered a new one or, if they are, then it's likely to be on reduced terms?
One last thing, more than half of those listed were brought here on long contracts by the same manager. Of those I would say only one, Nelson (who didn't cost anything), has justified their fee and contract length. This is one of the reasons why I cannot get as misty eyed about Neil Warnock's time here as some, but you also have to ask what were the other members of the "transfer committee" doing while our former manager was spending the sort of sums that have got us into this mess on these players?
https://mauveandyellowarmy.net/