Well, it was fun while it lasted, but Cardiff City's improbable run all the way through to the Second Round of the League Cup came to an end tonight with a 2-0 home defeat by Premier League side Brighton.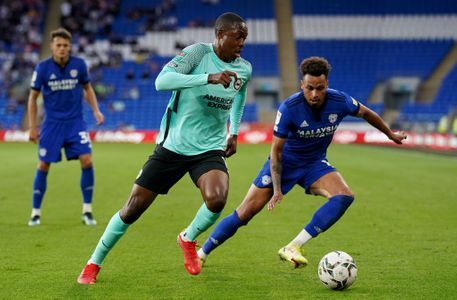 I make no apologies for the somewhat hyperbolic and unjustified language in my first paragraph, my thinking was that when you have a record in the cup competitions like we do since we reached the 2012 Final of this tournament, anything that isn't a First Round exit constitutes a cup adventure!
The truth of the matter is that City made eight changes from the team which beat Millwall on Saturday with only the three central defenders remaining in the starting line up, but one of those only lasted thirty five minutes before he was replaced by a debutant who thus joined two others who were making their first appearances in the senior side, so the defeat was, up to a point, understandable..
To put some names to all of that, captain Sean Morrison went off after being unable to shake off an injury he'd suffered about ten minutes earlier – the Radio Wales commentators sounded pretty hopeful that Morrison's withdrawal was a precautionary measure and that he will be okay for the Severnside Derby on Saturday. Him going off gave a chance to Ollie Denham, the teenage ex Manchester United defender who joined us at the start of last season.
I'm sorry, but I don't know the name of the former Welsh international who was the co commentator, but she was pretty impressed by Denham, as she was with one of the others making a first start, Sam Bowen, who she rated as our best player when she spoke about him about an hour into the game.
Bowen played in his natural position in central midfield, maybe it would have been better though if he had been chosen in the right wing back role he occupied in a couple of our pre season matches. I say that, because the other debutant, Tavio D'Almeida, occupied that position despite him never having played there, as far as I can remember, during what must now be two years with City.
D'Almeida's usual position is deep lying central midfield, but, having been out injured for much of last season, he returned to play as one of a back three for our Development team in much the same sort of experiment that saw Marlon Pack play in defence towards the end of last season. Like Pack, D'Almeida would improve the passing out from the back of the City team if he was used in a back three, but the big question is would his defending be up to the job?
That's why I thought using this game to see how D'Almeida fared at the back seemed a good way to go or, failing that, he could have slotted in there when Morrison went off. Instead, he was asked to make his first team debut in an unfamiliar position and, although he grew into the role as the match went on apparently, he was singled out for criticism for his role in the early goal which ensured the visitors enjoyed a dominant first half in which they were seemingly worth more than a single goal lead.
Having now seen that goal, I think there was, just as with criticism of Joel Bagan following Peterborough's second one last week, an element of blame the youngster going on there when far more responsibility lay with more experienced players. At Peterborough, Perry Ng was at fault first and foremost for being beaten so easily as last man, while last night, the three experienced centrebacks left a huge gap through the middle while also pushing up too far, thereby allowing Polish international Jakub Moder to seize on to a through ball and score easily.
The goal illustrated that while Mick McCarthy has made three at the back work a lot more effectively than the two Neil's ever did and Curtis Nelson's relative speed and good defensive instincts have helped us improve at the back, talk about us having a good defence, which I hear so often, should be qualified to acknowledge that we're strong when dealing with an aerial assault, but teams utilising more subtle stuff like pace and movement, which you find more of in the Premier League, often make us look a lot less secure.
City fared better in the second half, hitting the crossbar through James Collins and forcing visiting captain Jason Steele into some good saves, but, just as in the first period, they conceded a soft goal stemming from them handing over possession (this time Will Vaulks was responsible) to Brighton ten minutes into the half and there was no way back for us from there.
Manager Mick McCarthy was honest in his post match assessment saying City had been "terrific" in the second half, but they had been beaten by a better team. Such a statement would be likely to be heard you would have thought if your team, showing changes galore, had lost to a side from a division above you, but then you discover that Brighton made eleven changes themselves from the team which beat Watford on the weekend.
The Brighton side was a mixture home produced youngsters and players brought in from abroad and it was when the commentator started to say how much these players had cost that I started to get a bit agitated.
There were a few that cost in the region of £5 million, but it was the revelation that Enoch Mwepu had cost Brighton £20 million this summer that couldn't help but make me start making an unflattering comparison between them and us.
My mind went back to what I'm pretty sure was the last time we played Brighton at home in a night match. It was in February 2015 and it was a strong contender for the worst game ever played at our new ground as both sides had a single effort on target in a miserable 0-0 stalemate.
After that match, Chris Hughton, the Brighton manager, spoke of his satisfaction at having gained an away point in their battle to avoid the drop into the third tier of the domestic structure and it's instructive to trace Brighton's progress since then.
Hughton kept them up, got them promoted two years later and he kept them in the Premier League in the next two seasons, yet he was still sacked at end of the 18/19 campaign because the Board at the club wanted to move away from the cautious approach adopted by their successful manager and go for a more progressive style under Graham Potter.
It was a risky move, but it is a gamble that has definitely succeeded because Brighton now have a younger, much more entertaining and successful side that has kept their place in the top tier pretty comfortably and their recruitment is both shrewd and enterprising. They have also been able to bring the occasional player from their Academy through to the first team including Ben White who was transferred to Arsenal this summer at a price that more than pays for the club's summer recruitment.
I'm not telling the whole story there though because in Hughton's last season they came close to being relegated. Brighton we're the one team I always thought we had a chance of overhauling to escape relegation in 18/19. Of course, their supporters will tell me to look at the league table for that season and say to me we were better than you, but I maintain that from November onwards, we were the better side – we did the double over them with a pretty fortunate 2-1 home win and a comfortable 2-0 victory at the Amex after which I was as confident as I ever got that we could send them down at our expense.
The point is though City and Brighton were very closely matched sides a little over two years ago and then Brighton made the most of their escape by making bold and progressive changes. In 2015 we were above Brighton in the table when we played out that awful 0-0 draw and four years later there was very little between the teams.
I just hope that, after watching the latest meeting between the two clubs, City Board members compare their short termism, which never sees them look beyond the end of any season, their cautious managerial appointments and their hit and mostly miss recruitment with the club that beat us pretty comfortably tonight.
Cardiff and Brighton are clubs that strike me as being about the same size and having around the same amount of potential, while I'd say we have slightly the more illustrious history – we could be in the position they are in now with different, more clued in attitudes at the top of our club.
https://mauveandyellowarmy.net/