I'd mentioned before that I thought there were definite similarities between this season and Malky Mackay's first campaign in charge in 11/12 in that I rated the reaching the Play Off's as a real achievement then and had no real expectation of us doing much in them having got there.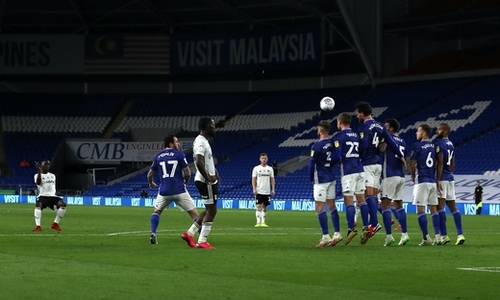 That's how I felt about this season as well – although I'll praise manager and players for what they managed in the final ten league matches they played (twenty two points gained in that time), the truth is that they seldom looked like a potential top six side in the previous thirty six and, as we travelled up to Barnsley in early March to play our final pre lockdown game, I think Neil Harris' report after getting on for four months in charge would read something like "B minus, some slow improvement, but still much to do".
Going back to 11/12, the Play Offs themselves were something of a non event – West Ham kept us at arm's length for a while in the First Leg down here before pulling away to a comfortable 2-0 win and then were even more dominant in the return leg as they racked up a 5-0 aggregate win.
Well, tonight, the similarity with eight years ago was extended further as an admittedly impressive Fulham side achieved an away win by the same score West Ham managed and I for one wouldn't be the least bit surprised if they followed it up with a 3-0 win at Craven Cottage in three days time.
If anything, Fulham's win at Cardiff City Stadium was even more clear cut than their fellow London side's had been in 2012. Like then, City had a bit of go early on and caused one or two problems, but, from virtually the first drinks break onward, they had nothing to offer going forward as their limitations were laid bare by a side that were simply more accomplished than us in virtually every position on the pitch.
Is there a side with a worse home record than us in Play Off matches? I seriously doubt it – although people count the Leicester match in 2010 as a win, we actually lost that match 3-2 and I make it that we have lost six out of the seven home Play Off matches we have played now, with that 1-0 victory over Bristol City in 2003 being the sole exception to what is a pretty depressing rule.+
Neil Harris has progressed us in terms of ball retention since March, but tonight it was no contest between the teams in that department of the game. I'm afraid for all of the good things he has done since taking over (and I would say they well outweigh the bad), he does seem to have a blind spot when it comes to Fulham, because I'm sure I heard the commentator say that he had lost all five of his previous encounters with Fulham as a manager.
That record reads six out of six now and although I daresay there'll be talk of how Northampton were able to turn a 2-0 home loss to Cheltenham into a 3-2 aggregate win in this season's League Two Play Offs from the City camp in the next forty eight hours or so, the evidence of Harris' last three tussles with Fulham strongly suggests it will be seven out of seven soon.
Back in the autumn, Neil Harris' Millwall went to Craven Cottage for a game which set a few records in terms of possession stats as Fulham, with eighty four per cent of the ball, came very close to completing one thousand successful passes as they strolled to a 4-0 win. It wasn't as one sided a few weeks ago when we were beaten 2-0 on the same ground, but there was the same feeling of powerlessness throughout most of the second half as there was tonight as we tried to respond to falling behind to a brilliant Josh Onomah goal.
Our manager just does not seem to have anything that will knock Fulham out of the almost total control they have over his teams once they go a goal ahead – Fulham under Scott Parker have comfortably won their tactical battle against Neil Harris' Cardiff and there can be little doubt that the same thing with bells on applied when Harris' Millwall encountered Parker's Fulham.
I believe our manager has shown himself to be quite a good tactician in his time with us, which makes it somewhat odd that, presumably, he learned nothing from his Millwall team's early season trouncing at Craven Cottage that he could put to use in our loss there earlier this month and then again tonight.
A fine bit of defending by Michael Hector to deny Robert Glatzel what looked to the early goal we really needed bailed out his goalkeeper Marek Rodak after he had made a mess of a decent Leandro Bacuna shot following what was probably our best passage of play all night and there was a chance for the German striker shortly afterwards when he shot too close to the keeper from around fifteen yards. Apart from that, during a completely one sided second half, I can remember an effort from Lee Tomlin which forced Rodak into a save and Sean Morrison wasted a presentable chance when his poor control of a good ball by sub Josh Murphy meant a position which saw him potentially in on goal was spurned.
It was no excuse for what, to be frank, was a pretty feeble Cardiff display, but they weren't helped by a set of officials who favoured Fulham throughout right down to Geoff Eltringham's decision to penalise Morrison and award the visitors the free kick which enabled Neeskens Kebano to curl in a lovely second goal (described as a "kick in the nuts" by Neil Harris after the match) which has all but ended the tie as a contest. The referee had earlier waved play on in the first half for an identical "offence" committed by Hector, who, bluntly, has got away with whatever the footballing equivalent is for murder in the two recent meetings between the sides.
Without that goal, Fulham were in a position where, unlikely as it would seem, they were only one slip up away from losing their advantage, but now I cannot think of a reason why a City side that has only scored once in their three games with them this season would suddenly become capable of finding the three goals they need in one match to turn this tie around.
The three matches City have lost in the post lockdown period are all similar in that fans of the club spent the second half of the games with virtually nothing to cling to in the hope that the way the tide was running against us could be turned around – our opponents' control in the second forty five minutes was almost total and tonight was the most one sided of the three.
For all that I've enjoyed seeing us be more effective in possession lately because there have been tangible improvements in that area compared to what we saw until early March, those three games show that we are still poor by the standards of a league that has moved on in terms of tactical and footballing approach since the 17/18 season where our bludgeoning brand of football proved effective.
Okay, the lower standard of the league this season says that this new, more sophisticated approach is not infallible, but I do feel that our promotion two years ago was something of a last hoorah for the sort of anti possession, long ball game that we played then. It will need a better side than us, at a higher level than us to achieve measurable success by using that way for that style of play to mount an effective fightback.
We've started making what I think are necessary adjustments, but Blackburn and Fulham have shown what others will be probably do as well in the coming months as they let us know that we still have a very long road to travel if we are to get to the level they can reach on a good day.
With that in mind, I wonder about how right match summariser Danny Higginbotham was when he talked during the game about how "working class" clubs such as us, Millwall and Stoke have supporters who demand certain things from their players.
The certain things he was talking about can be put down to effort and attitude essentially in that supporters of these sort of clubs will forgive their players almost anything provided they put in a full shift every game. To be fair to Higginbotham, that is something I've often heard said about Cardiff City and its supporters, but it has always struck me as somewhat patronising and a convenient justification for a style of play which is old fashioned and predictable.
Are clubs like us, Millwall and Stoke more working class than, say, Everton, Newcastle, West Ham and Blackburn all of whom have traditionally expected a footballing approach from their team and have been quick to turn against attempts to inflict a style of play which has almost come to be accepted as the norm at Cardiff on them? I don't think they are.
I watched Fulham for three quarters of this season in their occasional appearances on Sky and was not impressed, I thought they were slow, dull and not making the most of their strengths, but I'm coming around to thinking I was wrong, because, unlike a few of their sides over the past few years, this one does not mind getting their kit dirty as they do what have become known as the "nasty" things in the game effectively.
I've seen some possession teams in the Premier League and Championship being written off as "tippy, tappy" by some City fans – I don't think I need to explain what that means, it is pretty obvious and I would concede that it is a criticism that could be applied to some Fulham sides of recent vintage (last season's for example).
However, one of the reasons why they've been able to make us look so ineffective in possession on a couple of occasions within the last month is because they have worked so hard on the rare occasions when they were not in possession at limiting our options that they cannot be criticised when it comes to effort and attitude.
Yes, our relative lack of technique as a team and the sort of naivety which saw us caught offside so often tonight made Fulham's task easier, but they've managed to be better than us with the ball, as would be expected, and, more surprisingly, without the ball in our two most recent meetings – it's just that they have done it in a manner which is not as blood and guts as what has become the "Cardiff way" is.
Going back to Millwall, Neil Harris' playing exploits for that club probably justify the completely overused title of "club legend" being applied to him and, if this is the case, then it's almost certainly correct to say that their supporters were prepared to forgive him an awful lot when he took over as a manager. However, you look at Millwall messageboards today and while there are still those whose opinion of our manager continues to be an affectionate one, there seems to be at least as many who talk of things going stale on a diet of non stop physical, direct football produced by Harris Millwall teams – it seems some fans of "working class" Millwall want more than "working class" football from their team.
As I have said lately on here, I haven't got the impression that our manager is solely a "Warnockball" man in recent matches of ours (although I must admit I didn't see a great deal that was different from the Warnock approach in his first twenty or so matches in charge for us) and it does need to be pointed out that all of the players we used tonight were signed by other Cardiff managers.
To be precise, the large majority of them were signed by a manager who, almost always, looked for wholehearted scufflers above technicians when it came to midfielders and defenders, while the signing of someone like Gavin Whyte epitomises the Warnock approach to what he wants from his wingers as things such as work rate and defensive responsibility are, seemingly, placed above creativity and attacking flair in a position where fans I would say without exception expect the balance to be more in favour of the latter two qualities I mentioned above the former ones.
Our two wingers were well beaten in their individual contests tonight, as were most of our ostensibly creative players in further proof of my earlier contention that Fulham were a lot better than us at both the "tippy, tappy" stuff and the stuff which is, supposedly, the staple diet of Cardiff fans when we're talking about what they want to see from their players.
I've long been someone who wanted, and appreciated, more from City players than them just getting "stuck in" and have wondered how small a minority I'm in when thinking that way, but the widespread early season criticism of the "Warnockball on steroids" approach had me wondering if there may be more of us than I thought.
What I do wonder about though is how those at the top of the club view those who have devoted years, and, in lots of cases, many decades to Cardiff City, because, for the best part of ten years now, (one soon to be abandoned experiment with a new approach and the Ole episode, where it was well nigh impossible to work out what the plan was, apart), we have favoured managers who have largely produced "get stuck in" teams who have favoured "get stuck in" footballers – is this the policy at the club because they feel it is what us supporters want?
You never know, we might go up to London and win 3-0 on Thursday and, not for the first time, I'll have to eat a large slice of humble pie, but, to be honest, I can't see that happening. Scott Parker, apparently, concedes that Fulham have a weakness when it comes to letting in the first goal in a game (their record definitely suggests they do), but if we were to score first on Thursday, the difference is that Fulham will still be ahead and in a position where their record compares with the best in the Championship. More than possible Fulham weaknesses though, that miserable home Play Off record suggests that, historically, Cardiff struggle when the onus is on them to force the pace and find a way to break down a side content to sit back and defend – you know, situations where we need a bit more than "get stuck in".
+ I'm grateful to the messageboard poster called Eric the Half a Bee who posts on one of the City messageboards I use for this analysis which shows just how awful our record in home Play Off matches is;-
"7 playoff ties at home. Won 1, lost 6. Scored 3, conceded 13.
Where does that stand? Firstly, I thought I'd find out if losing 4 home playoff games on the trot was a record. It is. I didn't have to do much research to find this out. No other side in playoff history has lost more than 3 games at home in total. We've lost 6.
Our home win percentage is the second lowest of any side who have played 5 or more playoff games. Huddersfield have played 9 playoff games without a win, but they've at least drawn 6.
No side has failed to score at home as often as us.
Only one side has conceded more at home than us.
Pretty shit, ain't it?
To rub salt into the wound, Swansea have won 6 and drawn 1 at home in their 7 playoff games…."