Cardiff City's final home match against a top six side ended in defeat, just like the previous five had done. There was the usual bravado from some City fans before the match about how we could repeat what only Manchester City had done so far in the Premier League this season and beat Liverpool this afternoon, but all logic said we would lose again and lose we duly did.

I don't think anyone could really begrudge Liverpool their 2-0 victory, they were the better team throughout and I do believe the winning margin was probably a fair reflection of that superiority.

However, this was nowhere near the meek surrenders we saw down here against both Manchester clubs and Spurs from City. True, it may not have been a Chelsea where I'm still convinced we would have won but for the gross ineptitude of referee Craig Pawson and Eddie Smart one of the linesmen and it wasn't even an Arsenal where, while the better side won, we ran them very close and might have escaped with a draw on another day.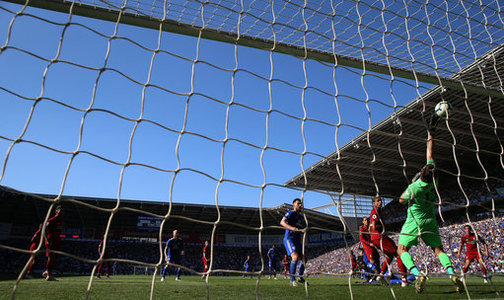 What we saw today was a disciplined defensive effort that was probably doomed to defeat from the start in hot conditions where the team without the ball for three quarters of the time according to the stats(it seemed more than that to be honest!) were almost certain to run out of steam in the last twenty minutes. Given the difference in resources and ability between the two sides today though, it was hard not to feel pride at the way City competed before having to give best to their opponents – in terms of discipline and collective and individual application, it offered proof that we have improved over the course of this season.

In the first half at least, City, mainly through the in form Nathaniel Mendez-Laing (who, to be honest, had the hugely promising Liverpool full back Trent Alexander-Arnold on toast during that time), were able to inconvenience Liverpool at times. A better first touch from Junior Hoilett when a cross from the left landed at his feet pretty close to goal might have seen him seriously testing Allison in the Liverpool goal rather than having his effort blocked for a corner and Oumar Niasse drew a good save from the Brazilian keeper with an acrobatic volley from close in.

Moments when we forced Liverpool back were pretty rare, but happened frequently enough to make you think that perhaps this might be the day when we take our first point of the season off a top six club, but, for most of the first forty five minutes the direction of play was very much towards our goal.

However, apart from once when some superb interplay allowed Roberto Firmino in on goal for a chance he should have buried rather than, uncharacteristically, blaze over the top, Liverpool's main danger for me came on the occasions when they were able to break with serious pace from situations where the home support were allowing themselves to dream that their side might be on the brink of taking the lead.

Far from being situations where we stood the best chance of finding the net, attacking set pieces became reasons for Cardiff to be very wary indeed as Liverpool broke so quickly to create attacks that left our one or two defenders facing a numerical disadvantage as their opponents streamed forward. It was to the credit of the likes of Bruno and Lee Peltier that it was more often good defending, rather than attacking carelessness, that foiled Liverpool on these occasions.

That counter attacking pace was the second most impressive thing about the team that may pip Manchester City to the title for me. Somewhat surprisingly, the thing that I thought Liverpool did better than any other side to have played down here this season was press us really effectively in all areas of the pitch whenever we had possession.

I can remember that when Jurgen Klopp was appointed manager in 2015 it was said that the one big change you'd see at Liverpool would be the aggressive pressing game they'd employ. There were doubts at the time as to whether Liverpool would be able to maintain such an approach towards the end of what would, obviously, be a physically taxing campaign for them, but, over the years, what was called a typical Klopp approach at the time has become less obvious until I for one began to wonder if it had been abandoned.

Well, today Liverpool barely gave us a moment's peace on the occasions when we had the ball or looked to be taking possession of it. The consequence of this was that we were rushed and uncomfortable when we did have the ball and so the opportunities to have a short rest while we were in possession were very few and far between – all of which only added to the amount of energy being used up by Cardiff players as they battled to keep their opponents at bay on a day where the temperatures were even hotter than had been seen yesterday.

In saying that, it wasn't always the Liverpool press that led to City presenting them the ball back at times seemingly even before they fully realised that they had it. One of the consequences of having a manager who, in my opinion, places a good technique lower down on his list of requirements for players than he should do is that we do not have as many in our team with the sort of quick feet that you would expect to see at this level.

Therefore Liverpool could be reasonably confident that the ball would be coming back to them pretty quickly even on the rare occasions when their press was not successful and we seemed to have a bit of room and time within which to play. Usually however, possession was soon turned over because of poor passing or skill levels – the fact is that we are really poor by Premier League standards at this aspect of the game.

We are what we are though. We cannot change things now and it's almost certainly true to say that we are playing the sort of game that gives this group of players their best chance of Premier League survival. However, it is a bit of a what came first, the chicken or the egg situation because we aren't going to play in a different way under this manager and so the strong likelihood is that players with better skill levels and passing ability will not be bought in because that doesn't fit with what he wants, therefore we are going to continue to make the sort of elementary mistakes when in possession that you would not see from other teams at this level.

More than any other match that I've seen us play this season, it felt like our inability to retain the ball was eventually going to cost us because of the physical exertion when not in possession the heat was causing, but when the opening goal finally came in the fifty seventh minute, it was so disappointing and frustrating that, yet again, we were undone at a set piece.

To be fair to City, this was no instance of them being opened up while defending the normal aerial assault type of corner, this was a well worked routine where Alexander-Arnold almost rolled his dead ball delivery into the path of Georginio Wijnaldum who thundered in an unstoppable shot from fifteen or so yards.

It was interesting to learn that Jurgen Klopp said after the game that his players devised the corner routine themselves during the half time interval because it brought to mind a conversation that me and my mate had during the first half as we defended a corner with Sean Morrison and Bruno Manga on the edge of the six yard box, yards away from any Liverpool player. It was obvious that our two central defenders were marking zones rather than particular opponents, but not as clear that the rest of our players were doing the same – we concluded that it might be that we were employing a combination of zonal and man marking methods when defending corners.

Us two "experts" looking on expressed the opinion that we both must have done to each other tens of time before that we favoured man to man marking over the zonal alternative. However, I added that I didn't like the idea of switching from one to another on an almost weekly basis. To my mind, you should decide before a season starts which method you are going to go with, work on it religiously during pre season and then stick with it – I also expressed the view that some sort of hybrid combining the two put together at short notice seemed like a recipe for disaster.

Now, the fact that Liverpool scored by putting a corner into an area where we weren't expecting it to go suggests that our whole team was marking zonally, so I'd say some credit should go to the players responsible for coming up with this plan.

Even so, a set piece it was and we were still caught cold by our opponents like we were at Burnley, like we were against Chelsea (forget about the offside for now, Chelsea were allowed a virtually uncontested header on the near post) and like we have been on too many occasions over the past eight months.

City had one great chance to equalise when Allison missed a Joe Ralls corner only for Sean Morrison to misjudge what looked to be an easy far post header, but, apart from that there was an air of inevitability about Liverpool's win as attention among many of the home supporters switched to a game of spot the Liverpool plastic (probably from the South Wales area) being ejected from the Cardiff parts of the ground – I could get on my hobby horse here and deride people who, when they talk about "we" and "us" are referring to some club hundreds of miles from where they live or were born, but they're not worth the effort.

City's cause had not been helped throughout by the fact that, once again, they were getting virtually no help from the officials. I'm not saying that Martin Atkinson was anything like in the Pawson league here, but, by my reckoning, it took him seventy five minutes to penalise a Liverpool player for a foul when there had been three or four incidents which merited the awarding of a Cardiff free kick before that.

It's easy to claim that this was just another example of the bigger team being favoured again and it can be a convenient excuse to ignore your own side's shortcomings, but, once again, it was hard to avoid the feeling that our big name opponents were being given the benefit of any refereeing doubt far more than we were.

In the event, once Mr Atkinson had given us one decision for a foul, he started giving us one every few minutes, but, I'm afraid he also found time to penalise Morrison for a foul on Mo Salah inside the penalty area as the game entered its last ten minutes.

As it happened at the other end of the ground from me and I've not seen any video of the game yet, I can't really comment much on the decision, but, certainly the consensus on the radio as I drove home was that it was a foul – albeit one that Salah over dramatised as he fell to the floor.

James Milner must have one of the best scoring records from the penalty spot in the modern game and it's an even better one now as he sent Etheridge the wrong way to complete the scoring.

The post match conversation featured the usual Warnock moan about a missed penalty shout for his side (a pull on Morrison apparently), along with, justified, complaints about Salah being a "diver" and what, to be frank, was a load of crap from Mr Klopp about our pitch being "dangerous" because it was too dry and how he didn't like the way City fans jeered at some of his players for mishit and misplaced efforts at goal.

Now I've always liked Jurgen Klopp because of his infectious enthusiasm and humour and there is no doubt that he is a top football manager, certainly one of the best in the domestic game. However, I think he is deluding himself if he thinks it is somehow unfair that a team with our resources and players decides not to make conditions as good as they possibly can be for his collection of world stars and multi million pound players to strut their stuff.

This is especially true when the side playing Liverpool are in the middle of what is probably going to be a relegation scrap that they lose. Surely, you need to try and take every little advantage that you can to try and reduce the difference in quality between the teams and, by the same token, surely the supporters of the team facing Liverpool are going to do all that they can to put the opposing players off their game a little?

Would Jurgen Klopp have offered Bayern Munich a pitch in pristine condition and set of fans prepared to sympathetically clap any mistake by their opponents when he was cutting his managerial teeth at then 2 Bundesliga Mainz if the two sides has met in a cup tie? Of course, he wouldn't – in it's way us "doctoring" the pitch, always assuming that we did, and our fans giving his players a rough time are a compliment to him and his side and he should have taken it as such.

The Premier League's other two games saw a couple of the sides we'll play in our remaining three games in action. Unfortunately, Palace made the notion that they won't be their normal away selves when they come here in a fortnight look a little less likely with a 3-2 win at Arsenal which dented the home sides hopes of a top four finish (although I suppose that it makes it less likely that the Gunners will be able to take it easy when they face Brighton), while our visit to Old Trafford on the final day of the season continues to look slightly less daunting as each week goes by – a 4-0 defeat at Everton was a sixth loss in eight matches for United and the wheels are certainly coming off for Ole currently.