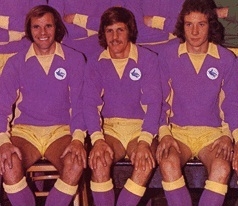 I'm not going to spend a few paragraphs trying to describe what it is that makes those watching enjoy a football game that they will recall with affection in the future, but, despite the presence of one of the greatest Premier League (and old First Division) teams ever, the biggest crowd watching a Cardiff City match in more than forty years and nationwide television coverage on the BBC, our 2-0 loss to Manchester City yesterday in the Fourth round of the FA Cup didn't possess whatever it is that makes a football game great, or even memorable, in my opinion.
I'll accept that this is a harsh judgement, but I came away at the end of it all feeling curiously flat. Manchester City had lived up to their billing and so I suppose they had fulfilled their part of the bargain, so, presumably, it was our contribution which led to my sense of anti climax?
The trouble with being too critical of our contribution towards a game where I found it hard to shake off the feeling that, if we had scored, our opponents would have promptly gone straight up the pitch to restore their two goal lead is contained in those very words – recognition has to be given to a Man City team that were a long way from having the individual and collective off day that was required to make yesterday's game into a memorable occasion, as opposed to the procession it became.
Right from the first whistle, the visitors looked as if they meant business and the warning bells had been ringing even before Joe Ralls was, perhaps harshly, penalised for a foul on Gundogan in the fifth minute. What followed though brought home the size of the challenge facing City as Kevin DeBruyne drilled his twenty yard free kick under the corner of a jumping City wall and into the corner of the net as Neil Etheridge looked on helplessly some ten yards away from the other side of the goal to where the ball entered the net.
In some circumstances, a goal like that would be seen as something of a fluke, but you just knew that it was not bad luck that had undone City, it was a combination of talent and attention to detail that you see only from the very best.
For a start, De Bruyne has form when it comes to scoring free kicks in such a manner – as shown with this one from last season. Secondly, the scorer revealed after the match that Pep Guardiola had noticed during his scouting trip to watch our Third round replay win at Mansfield that all of the players in our wall had jumped when defending a free kick in a similar position.
So, combine an ability to do things with a ball that you don't see from most other sides with a scouting system that picks up the small details when it comes to weaknesses in upcoming opponents play and you get an idea of what City were up against yesterday.
However, it goes further than that. I'd known about Guardiola's "six second rule" and had seen his Barcelona team of around eight years ago (the best club side I've seen) combine amazing talent with an almost fanatical work ethic in their quest to completely dominate all opposition, but it was another thing to be actually at a game to watch how hard they worked to regain possession on the rare occasions when they lost it.
So many of the people around by me would cheer whenever a City player managed to get a toe in to win the ball as, for no more than a second, they sensed that the opportunity was there to put together a swift counter attack, but, invariably, just as quickly as possession had been won, it was lost again as it was our opponents who would be sweeping forward on the counter to threaten our goal once again.
For me, the one thing above all others which makes Guardiola one of the great manager/coaches is that he has a knack of producing sides which combine outstanding football skill with a tremendous work ethic – nearly fifty five years of watching football at all sorts of levels has taught me that you can often get one of those qualities in a side, but it is very rare to get them both together.
Therefore, I went to yesterday's game with the attitude that we would be up against a side that was better with the ball than any team we had faced this season – no great surprise there, but there was a feeling that they may well be the best we had come up against when not in possession as well.
However, it was only when I saw the whole Man City package in action that I fully realised the size of the challenge we faced. Before the game, I had said on a City messageboard that, although I couldn't see beyond a Man City win, I thought we could cause them problems in a couple of areas.
I'll come to one of them later, but the other one was from attacking set pieces where I figured what would be a significant height advantage could pay dividends. However, when we were awarded free kicks in the sort of areas that usually allow us to send Sean Morrison and co up from the back to cause Championship defences plenty of problems, our opponents yesterday simply set their defensive line so high that it became very hard for whoever was taking the free kick to connect with their target in an area which might put the Man City goal under threat.
When it came to corners, I'd read a fans column on Wales Online last week which said that City had a "puncher's chance" of causing an upset. I thought that was quite a neat way of describing our chances of making it into Round Five, but it shows the extent to which we were unable to lay a glove on our opponents that we only gained two corners all game – they came in quick succession sometime around the eightieth minute with the first, taken by Joe Ralls, producing a scramble which led to the obligatory shout from the Canton Stand for a penalty for handball whenever the ball goes anywhere within yards of an opponents arm and the second was carelessly wasted by Junior Hoilett.
Morrison and Callum Paterson were able to get their heads on the odd long throw and occasional free kick to provide a hint of what might have been, but, generally speaking, the visitors were just too canny for us in the way they went about defending their goal.
So, all of the above needs to be borne in mind in any assessment of our performance yesterday – various people (including our manager) had called Man City the best club side in the world in the build up to the game, but I can't say that with any certainty, just as I can't state categorically that they are the best in Europe, but what I am clear about is that they are the best, by some distance, that this country has to offer, so, inevitably, they should have been too good for us.
Yet, I just cannot shake this feeling that not only did we make it easy for Man City to slip into their rhythm right from the first whistle, but also that the way we went about trying to recover from conceding that early goal played right into our opponent's hands.
Yes, I know the challenge facing us was about as tough as it gets, but there are precedents out there involving teams from our division that show that it is possible for a Championship side to give Man City the sort of testing encounters that they so manifestly didn't get yesterday.
Early in the season, albeit in a game between two under strength teams, Wolves took Man City all of the way at the Etihad in the League Cup before succumbing in a penalty shoot out following one hundred twenty minutes of goalless football. More relevantly, just as in the first leg, it took a goal in added time to separate Guardiola's team and Bristol City at Ashton Gate last Tuesday as they clinched a 5-3 aggregate win against opponents that had shown the temerity to "have a go"at their betters both at home and away.
Sadly, we started the match in a manner which reminded me of the recent game at St James Park where Newcastle sat with ten men behind the ball from the off as they tried to bore Man City to distraction (it didn't work, they also got beat 2-0) – Neil Etheridge had already been forced into the first of a string of good saves before DeBruyne's early strike.
I found myself comparing our timidity in those opening minutes to what we had seen from Newport County as they more than made up the huge gap (bigger than the one between us and Man City I'd say) in terms of league position, playing strength and resources to come out of their game with Spurs at Rodney Parade on Saturday disappointed to have only drawn 1-1.
It did look as if we had found some of Newport's boldness for a while as Hoilett's long range shot was grabbed just before it crossed the line after it had been fumbled by keeper Bravo and Joe Bennett did very well to get clear of his marker to whip in a beautiful cross that Paterson was very close to nodding home, but, largely, the second of the two things I thought we needed to do to cause our illustrious opponents defensive problems refused to happen.
I'm referring to rediscovering Kenneth Zohore's attacking mojo. I thought he showed up pretty well at times as he held on to the ball when under pressure and was able to bring team mates into play, but his hesitant response when played into the sort of areas where he could have stretched Man City's full backs and central defenders was very telling.
The Zohore of the second half of last season and the early part of this one would have used his pace and power to drive at his opponents in a manner which would have got a crowd that was desperate to applaud anything that their team did even adequately involved, but, instead, Zohore's response appeared to betray someone who is going through something of a crisis of confidence when he gets into the sort of situations that he was relishing a few months ago.
Also, unfortunately, yesterday's match only reinforced something that I think was generally accepted by City fans – we are very poor at passing the ball for a team that currently sits third in the Championship.
Of course, given what I've already said about how difficult Man City make it for you to retain possession, you could hardly expect one of the poorest sides in the second tier when it comes to keeping the ball to suddenly start popping it around like, say, Fulham on a good day, but the fact that we barely seemed to try to pass the ball in a half decent fashion before someone resorted to lumping it was still disappointing.
This season especially, the Championship seems a league where more sides are resorting to a long ball game and, with so many of our recent signings being six foot tall or above, we very much seem to be going down the road where we are looking to succeed through power based, direct football.
Although, increasingly, it seems to me that we need to pass the ball better than we do (maybe the, up to now, pretty anonymous Marko Grujic can eventually help bring about an improvement in that department?), we might just have enough to turn our current high position into a top two or Play Off winning one come May – although I can't help thinking that their passing was probably better than ours is currently, there are sides that have made it into the Premier League playing similar type football to us (Sheffield United and Stoke spring to mind).
Yes, I know we were up against the best yesterday and it should not be forgotten that Hoilett was unlucky with a fine shot that flew narrowly over as we managed to build up some pressure towards the end of the game, but, while our present way of playing just might be able to get us promoted, I saw nothing yesterday to indicate that we would be able to survive, let alone prosper. in the Premier League if we continue to undervalue possession of the ball in the way we do at the moment.
I cannot finish without mentioning Bennett's sending off. First thing to say is that the tackles were out of character for a player who had only been shown red twice previously in his getting on for two hundred and fifty senior appearances. At the ground, I thought the full back's foul on Leroy Sane was a cynical one aimed at stopping someone from moving into a goal scoring position that was worthy of a yellow card, but having watched it again now, I thought it was far worse than, for example, the one that saw Sunderland's N'Dong sent off in their recent game down here and so, surely, a red card would have been the correct punishment?
Neil Warnock made a fair point I suppose when he argued that it's hard to get tackles right against players that can move as quickly as Sane does and I completely agree with our manager about Bennett's second yellow card. Having got lucky with the first challenge (as his team did when a goal by the impressive Bernado Silva was ruled out thanks to a very dubious looking offside decision), it's hard to know what went through the full back's mind as he dived into another tackle well into added time which ensured that he will miss next week's game at Leeds. The match was as good as over at this stage and our manager described Bennett's poor second tackle as "absolutely pathetic" and "disrespectful to his team mates".
Bennett's dismissal put the tin hat on an evening that saw a team that has done so well this season cast in a pretty poor light – I had gone to the ground not expecting to see us featuring in tonight's Fifth round draw, but hoping that we would do ourselves justice, I'm afraid I don't think we did.