Cardiff City had never lost eight consecutive league matches or six successive home matches in their history before today, they have now and, watching today's lunchtime 2-0 loss to Middlesbrough, you have to think that these miserable new club records can be stretched a lot further yet.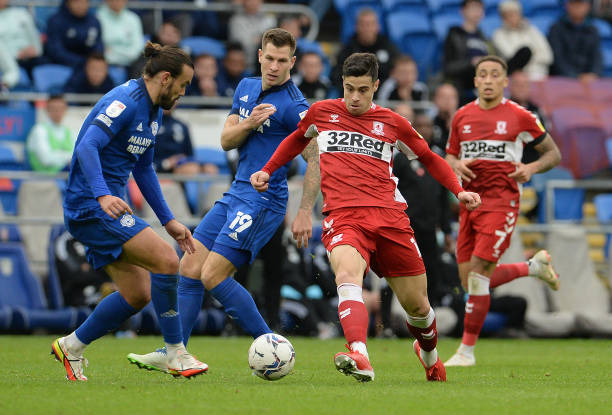 After the Swansea loss last weekend, I said we'd looked like a relegation team in three of our last four matches. Since then, we've been beaten at Fulham where we weren't great, yet there was a degree of improvement, but today it became four out of six matches where we've looked set for the drop – so, when a team gives the distinct impression that they are relegation fodder over a stretch of games that amount to getting towards fifteen per cent of their season, it becomes reasonable to start believing that they'll be in the bottom three at the end of the season.
The truly worrying and depressing thing though is that I'm not really addressing the reality of our current situation by wording my last paragraph as I did, because there was a context behind this latest game that has to be considered when assessing how serious the position is now.
It seems to me that it was the West Brom match when things really started getting awkward for Mick McCarthy – as soon as that team was announced with its back five consisting entirely of centrebacks, his relationship with significant numbers of City fans changed.
A different outcome that night may have ensured that the damage caused to our manager's standing was not terminal, but we conceded a goal virtually straight away and ended up getting thrashed – there were many on social media after that game taking it for granted that he was, indeed, going to be sacked in the morning.
McCarthy held on though, only to repeat the decision which so annoyed supporters in the derby with Swansea where the extent of our ambitions seemed to be to hang on for a 0-0 draw, instead we lost 3-0 with barely a whimper.
If people thought the manager being sacked was inevitable after West Brom, you could multiply that by ten after Swansea as the simple question "has he gone yet?" was asked repeatedly on messageboards and sites like Twitter.
Sunday dragged into Monday though with no announcement of a managerial departure, but what did emerge was a story from a local journalist, who I suspect has a direct line to the club Boardroom, that Mick McCarthy was being given the games against Fulham and Middlesbrough to save his job.
Of course, the strong probability was that in reality this was just one game because the midweek match on the ground of one of the strongest sides in the division was the biggest of home bankers on paper and this duly proved to be the case.
So, if the story from earlier in the week was correct, today was the day for McCarthy – lose and the strong likelihood was that he was out, his job was on the line.
With that in mind, what was the response from the City team as they stared down the possibility of two club record losing runs being set and the manager losing his job? Well, apart from about a ten minute spell just after half time, I would say that, in a season which has already produced it's fair share of truly dreadful Cardiff performances, this was the worst one of the lot.
The coverage on Sky was bigging up Middlesbrough as possible top six finishers and, credit to them, they did look impressive, but I think that people really should hold fire on the praise for our opponents, because, to put it brutally, they had absolutely nothing to beat.
An illustration of how badly things were going for our manager was how it had become a different formation every game as he shuffled the cards constantly, but always came up with the sort of hand which leads to a quick fold.
Today we got good old 4-4-2 for what I believe was the first time under this manager, with Ciaron Brown in for the injured Joel Bagan in the back four, Ryan Giles and Rubin Colwill either side of Marlon Pack and Will Vaulks and, weirdly, James Collins and Mark Harris as the front two – as Danny Gabbidon said when discussing this selection, what Keiffer Moore must have felt like as, after weeks of being completely isolated up front, he was dropped to the bench for the game when we go with two up top can only be imagined!
Actually, this points to what happened to Keiffer at Ipswich under Mick McCarthy. While McCarthy signed him, a record of eleven games and no goals suggests that he was fairly reluctant to play his new striker and Moore only began the transformation in his career which saw him go from lower league journeyman to Welsh international and Premier League club target when he was loaned out to Rotherham and then sold to Barnsley. On the face of it, McCarthy did not play a big part in the Moore transformation and leaving a twenty goal striker on the bench as much he did this season suggests he still wasn't wholly convinced about him.
There's a slight change of emphasis and tense in that last paragraph, because, as I type this, the news has come through that Mick McCarthy and his assistant Terry Connor have left City by mutual consent and Under 23 coach Steve Morison and age group coach Tom Ramasut will be caretaker bosses for the next three matches apparently which would then take us up to the next international break.
Chairman Mehmet Dalman was there today to witness the toxic atmosphere at the ground first hand, but he had plenty to say about the possibility of Morison becoming manager and the club's disturbing financial position beforehand.
Not for the first time, you wonder about the decision making and media approach of the club when the club Chairman writes off the chances of someone becoming manager and then appoints him as temporary boss a few hours later! I appreciate of course that permanent and caretaker boss are two completely different jobs, but it would appear that even if Morison and Ramasut were to take nine points from the next three matches, their chances of being anything more than fill ins are virtually nil.
So, Mick McCarthy's reign, which got off to a spectacularly good start, ends with results having started to take a downward turn as soon as he signed the two year deal the club I think we can now say for definite, foolishly, offered him back in March when the original plan had been for him to stay for the rest of the 20/21 season and then take things from there.
It's always sad to see a manager leave because of bad results and I do have a degree of sympathy for Mick McCarthy because he was given nowhere near the sort of funds that all City managers have had under Vincent Tan with possible exception of Russell Slade, but he had to go.
Neil Harris was sacked after a run of six straight defeats if you include the FA Cup loss to Nottingham Forest, but apart from a 2-0 defeat at eventual Champions Norwich (who we played twice in those six games) all of the losses were by single goal margins.
Contrast that to the current run where we've scored once and conceded nineteen in those eight games – I thought Harris had to go in the end, but can't remember thinking I was watching a possible relegation side in action in the same way I have while watching McCarthy's team in recent weeks.
With this turn of events, I'll not waste much time on or be as scathing as I was going to be about today's game. Instead, here's just a few observations from what was as bad a City performance as I've seen in some time.
First, we looked like a team who were out of practice at playing 4-4-2 because there were disconcerting gaps appearing all over the place in the areas which are called between the lines these days. Middlesbrough really could have scored a hatful today against a team whose confidence was shot and were showing a reaction to playing three games in a week that their opponents weren't.
Collins and Harris were willing runners, but we did nothing up front until McCarthy ditched the 4-4-2 in favour of what looked like 3-4-3 at the break by bringing on Moore for Perry Ng and moving Brown back to left centre back.
Although I thought Moore was as poor as I've seen him in a City shirt when he came on, his arrival did coincide with a big improvement which could not be sustained for anywhere near long enough, but, with Colwill again showing he has a bit of X factor about him, visiting keeper Lumley made a good save from Collins, who still awaits his first Cardiff goal, and Aden Flint headed a Giles corner down into the ground and up onto the underside of the crossbar, but that was meagre fare indeed compared to the number of escapes the City goal had through the afternoon.
That said, Middlesbrough needed a very, very dubious penalty award by Jeremy Simpson to make their superiority into something tangible ten minutes before half time as the official penalised Mark McGuiness for a handball when the ball clearly hit him with his arms by his sides in the manner recommended to ensure a penalty isn't given.
The penalty award was a part of something of a chastening afternoon for the ex Arsenal man who has been playing well lately, but here he was well off the pace and error prone, like most of his teammates, and should really have been sent off after two dodgy tackles following his booking for the penalty incident (the Sky pundits were adamant as well that Pack should have gone for a first half tackle which saw him kick an opponent as he followed through in a tackle – I thought there wasn't much in that one, but the pros know better than me).
This season is shaping up like 04/05 when City, beset by financial problems, faced their only real Championship relegation scrap since their promotion in 2003. That year we were reliant on youth to some degree with plenty of Academy products being given a first team opportunity – two of them in particular in Joe Ledley and Cameron Jerome grasped their chance and were important members of the team by end of that season, while it was a breakthrough campaign for the slightly older James Collins as well who earned himself a move to West Ham in the summer.
With the senior pros being so poor in most cases this season, I think we might have to be looking at three of the current crop of youngsters having to be able to make a similar impact this season if we are to survive. That's a very big ask, but now there is a new factor involved, the prospect of a new manager possibly being able to bring about a transformation in fortunes – although, given the club's record over the past decade when it comes to managerial appointments, I won't be getting my hopes up too much.
Just a few words as well to congratulate Isaak Davies and Eli King who became the latest Academy graduates to make a debut for the first team when they came on for Harris and Vaulks late on. Like all of them who have featured so far, you wish their debuts could have been under better circumstances, but at least they can now say that they are a first team footballer for Cardiff City.
One final thought on Mick McCarthy. Whatever you may think of him, I believe he was regarded as a "safe pair of hands" in Championship terms at least throughout his managerial career before he came to Cardiff.
What has happened to Ipswich since McCarthy left them is testament to how he managed to keep a cash strapped club alive and competitive at this level over a number of seasons and yet it has to be said that, by the end, he had utterly failed at Cardiff.
Did this "safe pair of hands" suffer from the self doubt that, in my experience, becomes more of a consideration when you reach his age or were all of the aspects of his psyche which made him a respected second tier manager not enough to save him at Cardiff because it has become a virtually impossible job? There's no way of knowing the answer to that for sure at this stage, but whoever his replacement turns out to be, they face a hell of a challenge to keep us up.
Away from the travails of the first team, things are currently going swimmingly for the age group sides. The under 18s may have made a stuttering start to their league campaign, but they're on fire when it comes to the PDL Cup, as they followed up their 5-0 win at Bristol City last weekend with a 4-0 triumph over Watford at Leckwith at lunchtime – Cian Ashford, Jac Clay, Caleb Hughes and James Crole got the goals.
http://mauveandyellowarmy.net/