http://mauveandyellowarmy.net/
Well, that was fun! I went up on to my computer at five to three to watch Cardiff City's opening day game with Sheffield Wednesday today having, I thought, sorted out my streaming pass for all of the behind closed doors home matches this season on Wednesday morning. After all, I had received an e-mail confirmation from the club that I had been given a streaming pass following my logging on to my account and doing all of the required things.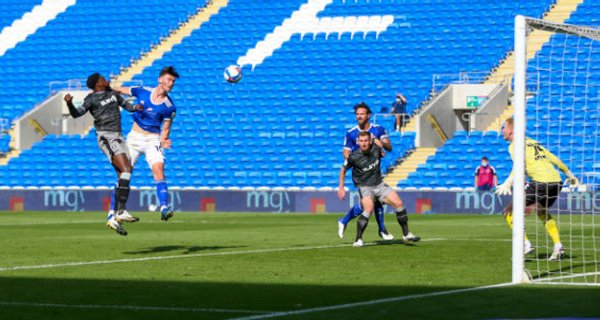 Kieffer Moore with a rare City chance
Now, it is a convoluted procedure which surely could be made easier, but someone on the messageboard I use helpfully put together an illustrated guide on what you need to do in much simpler to understand terms than the club's guidance – it confirmed I had followed all of the required steps. Anyway, I knew I had done so because when I got to the last stage where I had to redeem the streaming pass, my computer had remembered the one I had from last season and I had to replace it with the new one.
Since the game I have rechecked and both of the passes I've been given have been saved by my laptop and they are both telling me that they have already been used.
So, can anyone tell me why, when I tried to go to the game, I was told that I was not allowed to watch it? When I tried to go to the ticketing section of my account to sort out the problem, I was immediately put in a twenty five minute queue and, when I was finally able to get access to the site, it was clear that I had just been put into the same procedure as the one I had gone through on Wednesday morning, and, not surprisingly, the system was not going to allow me to try and get a fresh streaming pass to let me repeat the procedure I had gone through three days earlier.
By the time it became clear that I was not going to allowed to watch what I had paid for through my season ticket, the game was forty minutes old and, as I was certainly not going to give City more money after the way they had messed me around, there was nothing more to it – I decided to listen to the rest of the match on Radio Wales.
I knew we were losing 1-0 because I had been looking at the messageboard for updates and the first thing I heard was a description of Wednesday's second goal – Keiffer Moore nodded just wide shortly afterwards to suggest there was still a way back into the game for his team, but they never came as close to scoring again.
Half time allowed Radio Wales' match summariser Nathan Blake to give his thoughts on what he had seen so far. His view was that it had all been pretty easy for Wednesday so far and that we had contributed to this by having both of our wingers checking inside continuously, thereby making life simpler for the visiting back three. Not only that, Junior Hoilett and Sheri Ojo's preference for coming into the middle was leading to a congestion which was bringing about to a loss of patience in City players which saw hit and hope balls being lumped up to our target man – so it was that Moore was being given an early introduction to what the likes of Kenneth Zohore, Gary Madine, Callum Paterson and Robert Glatzel have experienced for much of the time in recent seasons.
Having seen nothing of what had happened and listened to barely any of it, I can't judge whether that was a fair summation or not, but I would say it had a ring of truth to it based on the experience of watching us play since the days when Russell Slade was manager..
I have now seen the game's two goals. A few weeks ago, Leandro Bacuna gave away the winning goal against Blackburn with a careless and dangerous cross field pass played with very few defenders behind him. Well, he clearly didn't learn his lesson that night, because, just four minutes in today, he did much the same thing in presenting the ball to Josh Windass, who is making a habit of scoring against us on the first day of the season, enabling him to run on and easily beat Alex Smithies.
If anything, the second goal was even worse, as we lost not just the first and second ball, but also the third one to leave Jordan Rhodes with a tap in from inside the six yard box – that is not what an "on it" Cardiff City side is all about, but then when were we last on it? Fulham in the Second Leg of the Play Offs I'd say.
Rob Phillips was the commentator today and I like him for a few reasons, one being that he clearly wants the Welsh sides he commentates on to win, he also is an optimist who naturally tends to look for the good in what he is watching.
Today, Rob Phillips spent the second half trying to find different words meaning "rubbish" when describing our play, while, apparently, Paul Merson on Sky was saying Cardiff are never going to do anything here with about half an hour still to go. Again, not being able to see the pictures, I can't say too much about these views, but I did hear Smithies being much the busier of the two goalkeepers – in fact, I can only recall visiting keeper Cameron Dawson being required to make a save once from what sounded like a none too testing Sean Morrison effort.
What I did hear was Messrs Phillips and Blake in agreement that Bacuna was fortunate to escape a straight red card within seconds of the restart for a kick at Izzy Brown and Blakey say he thought Wednesday should have had a penalty late on for a foul by Morrison.
This all tends to form an impression that we were fortunate to escape a heavier beating than 2-0. Last week, we did get a heavier beating (3-0 at Northampton in the League Cup) and I put that down to the fact that a cup draw which pits a lower division side against Cardiff in its early rounds is tantamount to a bye for them considering the attitude various City teams have shown in such games down the years.
I surmised that it would be different next week when the "normal" Cardiff turned up because there were league points at stake, but I listened to us today in exactly the same disinterested manner as last week – disinterested, because it was clear we were never going to make inroads into the deficits we faced because we were never going to score.
I've only seen us play once this season and we weren't great by any means in beating Cheltenham in our final warm up match, but the league season is only one game old, so this is no time for panic or knee jerk reactions.
However, Neil Harris is fond of saying what a Cardiff City side under him will be all about – essentially the sort of "in their faces" stuff we have a reputation for. Well, I've heard nothing to indicate that sort of attitude from us in our two competitive games so far and I find that concerning – especially when it comes at a club which felt it had to sack a player for misconduct this week.
Of course, I would have a better idea if that concern was justified if I had been allowed to watch a stream of the match by the club, despite me having paid for one and also jumped through all of the hoops imposed by City to enable me to do so. I take some consolation from the unanimous view I've seen expressed on the subject by those who did get to watch it that those who couldn't didn't miss much, but it would be nice to be able to watch the Reading match in a fortnight.
We were told a few days ago that 13,000 fans have committed to buying a season ticket in these uncertain times. I think that's a great response under the circumstances, but there were at least two messageboard regulars who had the same experience as me today, so how many of the 13,000 were also denied their right to watch us play I wonder? Not good enough City, on and off the pitch.
Once again, can I finish by making a request for support from readers by them becoming my Patrons through Patreon. Full details of this scheme and the reasons why I decided to introduce it can be found here, but I should say that the feedback I have got in the past couple of years has indicated a reluctance from some to use Patreon as they prefer to opt for a direct payment to me. If you are interested in becoming a patron and would prefer to make a direct contribution, please contact me at paul.evans8153@hotmail.com or in the Feedback section of the blog and I will send you my bank/PayPal details.