So, the "honour" of being the first team to be "doubled" in the long history of Cardiff v Swansea derby matches goes to Cardiff City's 2021/22 team and so it should as well for their two pathetic performances in the fixture this season – not only did they manage to lose both games, they did so by an aggregate of 7-0 and, in my opinion that flatters City, 10-0 would have been about right.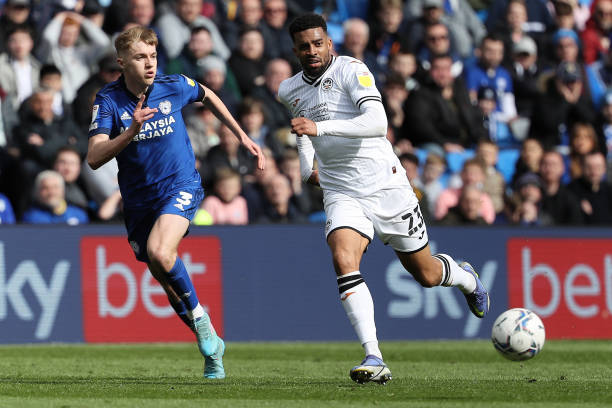 This was no isolated disaster of a season either. This abject humiliation has been coming. In fact, the truth is that this might have been the worst in terms of margin of defeat, but we've also been embarrassed in three of our previous six games with Swansea before today. The 3-0 away defeats in 2014 and 2021, and the 2-0 home loss in 2020 were all utterly one sided and I'm being generous in not including the 1-0 defeat in Swansea in 2019 which was nowhere near as close as the score line suggests – we've been pathetic more often than not in this fixture since the win by Steve Caulker's goal in November 2013. .
Aden Flint is the only Cardiff player to score in our last seven games with Swansea with his header a year or so ago proving decisive to give us our our only win in that time.
Even then, the victory came with us spending the second half booting the ball up the pitch to no one in particular in the face of constant Swansea possession and pressure – calling that typical Cardiff may be a little inaccurate and somewhat cruel, but, over the last decade there's been a Cardiff way of playing and words like flair, panache and style have been conspicuous by their absence in describing us during that time. We have been a boring football team and we were boring that day in winning at Swansea, has their been a more boring Football League team in terms of style of play than Cardiff City over the past decade? Possibly, but I'm not aware of one. .
Let's not forget either, Bristol City were probably deserving 2-1 winners here in August before completing their season double with a 3-2 victory at Ashton Gate which was a lot more comfortable than that score suggests – we weren't quite as dreadful against the wurzels as we were against the jacks, but we were pretty bad.
You want some more stats showing just how much the Cardiff City Stadium crowd have had to suffer in recent derby matches? Our record on our own ground in games with Swansea and Bristol in the last three seasons now reads, played six, won none, drawn one, lost five, goals for one (headed in by wurzel's keeper Dan Bentley!), goals against ten. While I'm on about our dreadful fallibility at home on big occasions, there's also what I believe to be our uniquely bad record in home Play Off matches which has seen us beat the wurzels as it turns out and lose the other six, (okay we made it through against Leicester, but we lost in the ninety minutes).
Someone has started a thread on the messageboard I use comparing today's 4-0 loss with the notorious 5-0 Ninian Park loss to Maidstone on New Years Day 1992. Well, seeing as we had to play more than half of that match with ten men and what today's match means to supporters (seemingly not to our manager and players though), I'd say it was worse.
I'm not going to waste time on a run through of major incidents from the match here, but I do want to talk about Steve Morison who has had a lot of praise for the job he has done in getting us clear of the drop zone and confirming our Championship status for next season (I don't think those words will come back to bite me, but, after today, perhaps I should be more careful!).
Today though I think a few chickens came home to roost as far as our manager is concerned. When he first took over there was a lot of talk about how the style of play would change and it did for a while, but, rather like Neil Harris before him, it seems the desire to change our approach has ebbed away with the realisation that we still have a nucleus of players who it seems are uncomfortable trying to play in a manner which places more of an emphasis on the ability to retain possession, hence requiring a more sound technique.
There were lots of examples today of poor first touches, passes that called for the receiver to deal with the ball coming at them at pace a yard or more off the ground – you know, the sort of thing you see from City sides every week.
I truly believe that less emphasis is placed on technical ability when scouting players at Cardiff than it is at most other clubs, but, not for the first time, I find myself wondering about the whole attitude of mind pervading through the club – this could be seen by how we went about our business today and how we go about it most weeks.
Before developing that line of thought though, I'd like to make a quick point about our start today – I'm not talking about how we gave the jacks a goal after five minutes, just like we did here last season, I'm talking about what was the plan?
What I saw in those opening minutes was, as usual, the opposition dominating possession, and us, not as usual, giving away fouls every time we tried to get the ball off the other team. Was this because we were trying to kick Swansea or because we were too slow with our press? I can't say for sure.Talking about pressing, ours seemed to be half hearted in that only three or four, at most, we're doing it.
I couldn't figure our approach in terms of those sort of things, but, as for the general mind set, it was the same as always – we played "underdog football", like a non league side playing a Premier League team in a cup tie.
Scunthorpe United are ten points adrift at the bottom of League Two tonight with just eighteen points to play for and yet, if we'd been playing them at home this afternoon, I swear we'd have stood off them and let them have more of the ball as we bided our time waiting for a set piece opportunity (we should really have scored at least one today, but, apart from a shot by Perry Ng which went just wide, our only worthwhile goal attempts came from free kicks or corners).
No matter who the opposition are, we play with an inferiority complex and, although they used to drive me mad at times, I find myself looking back nostalgically to the Chopra/Bothroyd teams of the Dave Jones era when we had a bit of a swagger to our play.
The arrival of Malky Mackay saw the start of a process which took us away from the Dave Jones methods and it was probably needed at the time, but it's gone way too far the other way since Russell Slade's appointment and, for all of that early talk of a more attractive style of play, Steve Morison is looking increasingly like more of the same to me.
To illustrate what I mean, look at his, so predictable, handling of Ruben Colwill today. You just knew Colwill wasn't going to be starting (he won't if Tommy Doyle's in the starting line up) when Morison compared himself to Pep Guardiola in the pre match press conference, but you also just knew that when Colwill finally got on the pitch, it would be Doyle who made way for him. Now Doyle was one of about eight City players who were poor today, but when you're losing, surely you should be looking to get more potential game changers on the pitch, not just swapping one for another? Similarly, Isaak Davies and Uche Ikpeazu for Mark Harris and Jordan Hugill were "safe" switches of the type you'd expecting when we were drawing, not losing in what, for many fans, is the game of the season.
I've never felt that way about Swansea myself mind and I'm not as angry as many other fans are tonight (the 2-0 loss to Swansea here last season annoyed me a lot more than this one did), but the reason why I'm not too angry should worry the money men at Cardiff City.
I've been a City fan for fifty nine years and I always will be, but it's very rare I enjoy games like I used to these days and truth be told, that's been the case since we were relegated in 2019. I think I've made it clear on here during that time that I don't like the way we play and, even before today, a season ticket for 22/23 wasn't looking too attractive an option to me – I envied those Swansea fans being able to watch their team play with a majority of composed footballers in their side today, I can't remember when I last was able to say that about my team.
https://mauveandyellowarmy.net/