Go back through the last forty or so years and there have been teams notorious for playing get it in the mixer, physical, percentage football where it seemed compulsory that you had to be over six foot tall to get a first team place – Watford, Wimbledon, Sheffield Wednesday, Sheffield United and Stoke are five that spring to mind to me, but, although the football was, for me, impossible to enjoy, it did have the saving grace I suppose that it could be seen as successful.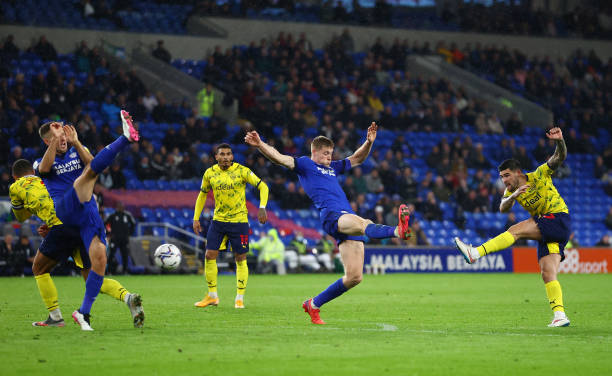 Watford and Wimbledon almost certainly wouldn't have reached the heights they did in the eighties without playing like they did. Both Sheffield clubs were in the Third Division (United dropped into the Fourth for a season) and their climb back to the top flight was built around the style of football described above, while Stoke were in the third tier with us twenty years ago and it was Tony Pulis who was behind their transformation into an established Premier League team within a decade.
Pulis unashamedly picked a back four consisting entirely of centrebacks in the top flight as Stoke survived year after year in the Premier League, with much of their attacking play based on Rory Delap's long throw and high quality set piece delivery – it was the epitome of the type of football fans will put up with as long as you are perceived to be "winning", but woe betide anyone who gets their team playing like that and they end up losing every week!
Tonight, Mick McCarthy with his selection of a back five that were all centrebacks, two players that could justify the description "creative" and one forward for a home game, yes, a home game, took the type of football I described to a new level.
I used to think "poor buggers" about fans of the teams I mentioned above when they were playing badly because there is absolutely nothing to take consolation in if it goes badly, well Cardiff City have become worse versions of the sort of game I was talking about. We're the kings of anti football, no one has taken the game to the depths we are taking it to and, get this, unlike the other five I mentioned, we're crap at it!
We're dire to watch and we don't have that saving grace that I referred to earlier.
As I listened to the usually genial Danny Gabbidon being rendered almost speechless about just how bad and unprofessional we were in losing 4-0 to West Brom tonight, I remembered what Will Vaulks said as a retort to critics of our style of play about six months ago – sides hated playing us according to our midfield man and I'm sure that's been true in the past, but they don't hate playing us any more Will, they don't any more – they look forward to it.
Gabbs, the best defender I've seen play for the club, was aghast at what he was seeing from his former team and referred to the side that teams were supposed to hate playing against as a soft touch – that's certainly what we were up at Blackburn on the weekend and the really concerning thing is that abject defeat has been followed by one that sounded even worse.
After Saturday, I'd made up my mind that I wouldn't be going tonight and the awful weather up here today combined with the petrol situation recently only reinforced my thinking. Although I'd been becoming increasingly disillusioned about my team in recent years, I'm surprised how quickly things have deteriorated this season – I find myself feeling like I did during the Durban years when missing matches became the norm, not the exception.
Looking at the TV pictures on Sky's red button coverage, it seems thousands are feeling the same way as I do – the coverage only has the one camera, so I only really got to see the Ninian Stand, but the crowd looked like the sort you would get for a First Round League Cup tie against a lower league side, if it was the same in the other three sides of the stadium, there were definitely less than ten thousand there.
What was surprising to me about those supporters who had gone to the game was that, for the first time in years, they turned on the manager in particular and the team in general. On a few occasions the "you're getting sacked in the morning" chant could be heard coming from the home fans (the away fans joined in as well and were also quick to remind our manager of the 5-1 defeat by the Baggies which spelt the end for McCarthy as Wolves manager.).
I knew an awful lot of people were pissed off with our style of play, but, even with Saturday's thrashing, it seems odd that the support should turn as quickly as it has – I can only think that the most negative team selection I've seen in my fifty eight years as a City fan has made a large number of fans say enough is enough.
Somebody put up the side that our manager ended up selecting on a City messageboard a couple of hours before kick off and I laughed when I saw it because I took it to be a joke. After all, the plan had been to "frustrate" the opposition in our previous home game, this was taking things to extremes though. Except it wasn't, our manager did actually pick a back five full of number fives, two holding midfielders in front of them, Bacuna playing I know not where and Ryan Giles providing the only support James Collins was ever likely to get in open play.
Well, the master plan lasted all of four minutes as West Brom's Karlan Grant fired home a great shot from twenty five yards. In saying that mind, he did so while being invited by our defence to have one touch, another one and then another one before shooting if you want to – the reluctance of Sean Morrison in particular to close Grant down gave him the chance to get his shot away under no pressure.
I half heartedly watched the next fifteen minutes before I lost the picture for the rest of the match, so I can only go by what I heard on the radio for the rest of the match and it wasn't good. I've heard speculation on the radio that the players are trying to get the manager sacked and conjecture on messageboards that the manager picked that team because he hoped it would bring about his sacking. It has also struck me that it Is possible some senior players have heard their contracts are either not being renewed or they face large wage reductions in any offer of a new deal they may get.
Usually, such speculation is for the birds, but, sadly, this time they all strike me as being possibilities. We're struggling so badly at the moment, not because of the younger players that have been introduced, but because the senior players, many of whom have weaknesses in terms of basics like skill and passing, are performing so badly – these players aren't great and have been found wanting in the Premier League to some degree if and when they've played there, but they're better than they've been showing lately. Something is seriously wrong at City and it appears to have come to a head since the last international break.
As to what it is and why things have disintegrated so quickly, your guess is as good as mine, but what is sure is that City have slipped into a crisis that has been years in the making and it would be naive to think that simply sacking Mick McCarthy will set things right. It won't, because the problems go much deeper than that. Those in charge of the club should be looking at themselves tonight because they've allowed this situation to fester through their arrogance, lack of football knowledge and foresight – we need, and have needed for years, more than your much vaunted (by yourselves anyway) transfer committee, you've allowed the club to stagnate and a huge opportunity provided by Vincent Tan's investment is being missed on a spectacular scale.