Paul Evans gives his thoughts as City suffer big home loss to Man City.
http://mauveandyellowarmy.net/
I may have mentioned before on here that my idea of a good football pundit among the what seems thousands of ex players employed in that role by various media outlets is the one who says something which makes you think, he's right (actually make that he or she's right because there were one or two good female pundits used during the World Cup), I didn't think of that.

Although I didn't believe he was quite at his best in the World Cup when he was loaned out to ITV, Gary Neville of Sky is the pundit that does that most often for me, but there are others who are well worth listening to. Then, at the other end of the spectrum, you get someone like Chris Sutton, who soon has me pressing the mute button on my remote control or turning the radio off – I did manage a whole five minutes of him once, but never again.

That said, I should really give Sutton more of a chance I suppose, because, for reasons explained above, my actual experience of listening to him isn't that great. However, the little I have heard is, almost wholly, based on the maxim "lets just be controversial and hope those listening are put off from noticing that I do not have anything worthwhile to say".

Sutton was running true to form on the opening day of this season when, not only did he say Cardiff were certs for relegation, he also predicted that we would finish up with less points than the Derby County team of 2007/08 which managed to win just the one game while compiling a meagre eleven points.

Unless City give me the opportunity to point out to Mr Sutton that we have avoided relegation by getting something like twenty five points more than he thought we would, my plan is never to mention his prediction on here again after this piece.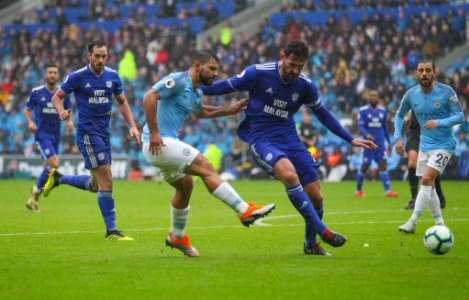 However, after watching City's 5-0 home thrashing by Champions Manchester City today, I must admit to fleeting moments of thinking maybe Sutton has got it right this time – there were certainly times during the game when another ten points this season seemed a long, long way away.

After today, only Huddersfield are below us in the table in alphabetical order.

So, the Champions had already shown that they were well capable of inflicting heavy defeats on some of the lower ranked clubs in the league, despite, for me, not really being at their 17/18 best so far.

A narrow 2-1 home win over Newcastle, a 1-1 draw at Wolves and even their 2-0 win at Arsenal on the opening weekend of the campaign all helped form a suspicion that this Man City team might follow the lead of their two other title winning sides in this decade who were both unable to back it up with another one in the following season.

A limp 2-1 home defeat by Lyon in their first Champions League match of the season on Tuesday only increased this suspicion, but it did also lead to quite a few City fans I talked with before the game sharing my feeling that we could be on for a thrashing from a team smarting from what was a very ordinary display when judged by the standards Man City have set themselves in recent years.

Sadly for City, that's exactly what happened. After doing a pretty good job of containing opponents with an estimated collective transfer value some nineteen times more than ours, the floodgates opened to such an extent in the thirty second minute when Sergio Aguero scored, that City were like a boxer hanging desperately onto the ropes as the bell rings for the end of the round at half time, happy to get the chance to stagger back to their corner just the three goals down.

Man City were irresistible during this period and, although there was deserved praise for the way the crowd got right behind the team in the closing stages at 4-0 down and then as the final goal went in, it's also true to say that the "is this is a library?" chant would not have been out of place from the away fans, such was the quiet that City fans had been reduced to as they watched their team being picked apart in the last fifteen minutes of the first half.

The fact that Man City could leave players such as Kompany, Stones, Silva, Mahrez and Jesus on the bench at a time when they were missing, for example, DeBruyne and Mendy due to injury only empahsises the enormous gulf in resources between the Premier League's biggest and smallest.

Although the Premier League has more "elite" clubs than the majority of European leagues, it is increasingly clear throughout the continent that the league titles are only ever going to be won by one of a small handful of clubs and so the have nots will have to get used to the idea of the haves coming to their ground every now and then and winning at a canter, much like Man City did today.

Therefore, if City were able to defy those pundits and establish themselves as, say, a Crystal Palace type club capable of surviving at this level for five seasons or more, they would still have to accept that, every so often, they are going to get outclassed and heavily beaten, at home as well as away, by one the big boys.

So, in itself, a 5-0 home defeat by Manchester City is not a mortal blow to City's survival hopes, but I'd still say that there were aspects of our afternoon of misery which offer genuine cause for concern – our opponents were good yesterday, but there were times when our ineptitude had as much, if not more, to do with their superiority as anything they were doing.

Post match, Neil Warnock, correctly, pointed out that games against the likes of Arsenal, Chelsea and Manchester City (as well as at Tottenham and Liverpool in October) are not the ones that will truly shape City's season – far more relevant than our last three fixtures were our first three when Bournemouth, Newcastle and Huddersfield were the opposition.

Nevertheless, allowing our opponents to score from short corner routines like we did with their second goal and presenting them with the ball after we had won it in a position close to our goal, which the otherwise good Bruno Manga did for the final goal, only served to emphasise how quickly the defensive organisation, discipline and team work, which played such a large part in our promotion, has unraveled in the Premier League.

What was almost certainly the strongest part of the promotion side's armoury is now looking rickety and disorganised. Sean Morrison may not have been directly culpable for any of the goals, but the man who in so many ways symbolised what made us a promotion team has been having a tough time of it in recent games and Joe Bennett and Sol Bamba were culpable last week when it came to the concession of goals – as was the latter against Arsenal.

Mention of Bennett and Bamba brings me on to another cause for concern. These two were on the bench today as Greg Cunningham came in as a direct replacement for Bennett at left back, while Lee Peltier (whose return for the first time since the defeat at Bournemouth was cut short after fifty minutes when he sustained what our manager believed was a dislocated shoulder injury which was likely to keep him out for months) was the other full back as Manga switched inside to centreback instead of Sol.

Given that they were both named as substitutes, there had to be an assumption that Bennett and Bamba were both fully fit or close to being that way, but the news coming out of the club tonight was that they had both suffered training ground knocks during the week.

So, it would seem that they were not considered fit enough to start, yet still they were selected as substitutes – in a squad where questions are being asked as to whether it is good enough in terms of quality, doesn't such a state of affairs also make you think about squad depth as well?

Further up the pitch, we saw Harry Arter being used as a left winger – completely predictably, he struggled in a position which, it seems to me, he is wholly unsuited for, but one has to wonder, did he play there because there was no one else who could?

It's only taken six games, but I heard the first "Warnock out" text read out on Rob Phillips' phone in tonight – it did sound a little like a wind up mind. More worryingly, there was questioning of our manager's tactics from some of the ex pros on the programme. From my own perspective, Arter the left winger was baffling – I agreed with Jason Perry I think is was who said that we really need to be using three central midfield players because the workload for a central two in a 4-4-2 or a 4-4-1-1 in a squad like ours is too great.

Having decided not to play with a front two in the Championship, it does seem odd that we are now using Bobby Decordova-Reid (who increasingly to me looks like he has the speed, movement and work ethic to be effective at this level if only we could get more players closer to him) and Danny Ward pushed forward -albeit the former does become more of a number ten at times.

Unfortunately, City are finding themselves in that position which struggling teams become familiar with whereby the manager wishes for an extra player in his team – in our case. we need an extra body in central midfield, but that then leaves our target man striker isolated too much of the time.

So far, Neil Warnock's efforts to solve this conundrum look both unconvincing and ineffective, but he has, surely, earned the right to more time to try and get things right – not playing one of the top six every week would be a help!

Before this afternoon's match, I watched the Under 18's in a game against Crystal Palace. Mercifully given the weather conditions, the game was the first one this season to played at Leckwith Athletics Stadium with its covered stand, but in a period where the results just aren't coming at first team, Under 23 or Academy level, it was a second successive loss by a single goal for City as substitute Josh Ajayi's 80th minute header won an entertaining encounter for Palace.

Although the visitors did their share of attacking and were denied at times by good work in the home goal by George Ratcliffe, City, missing the very influential Sion Spence again, could feel hard done by as a succession of saves by Luthera in the Palace goal kept them out. The keeper and his defensive team mates enjoyed the rub of the green at times in the way loose balls in dangerous areas always seemed to land in their favour and City were also left to rue the miss of the match around the half an hour mark when Luthera found himself out of his goal and helpless as Rubin Colwell showed great composure to neatly beat two opponents, but then, faced with just one outfield player on the goal line in front of him, shot over from about ten yards out.

The only thing I could slightly criticise City for was that they ran out of steam at around the seventy five minute mark and were never able to repeat the pleasing and pretty effective passing football that marked them out as slightly the better of two pretty strong sides until that late fade out – I suppose the difference was that Palace were able to score in the one period when they found themselves on top.

One other thing about this game, I don't know if anyone remembers me remarking on the problems James Waite had with taking throw ins when he played left wing back in the Welsh Youth Cup Final with Swansea last May, but I saw someone who was worse at them than him today – Palace's right back got done four times for foul throws and I must say both linesman were pretty charitable in their interpretations of what is legal throw in when watching him on quite a few other occasions as well!

Having kept dry for the Under 18 match, I then got soaked watching the last half an hour of the Under 16s game played nearby on an artificial pitch against the same opposition which, presumably, kicked off a good half an hour or more after the Under 18s game. I'm not sure what the final score was because I was told City were 1-0 up when I arrived by one person and that it was 2-0 by another. Suffice it to say what I do know is that I saw both sides score and so at least one City side ended up with a win, by either 2-1 or 3-1!

Finally, another reminder that you can now become my patron through Patreon by making a contribution towards the running costs of this site. Full details of the scheme and the reasons why I decided to introduce it can be found here, but I should say that the feedback I have got so far has indicated a reluctance from some to use Patreon as they prefer to opt for a direct payment to me. If you are interested in becoming a patron and would prefer to make a direct contribution, please contact me at paul.evans8153@hotmail.com or in the Feedback section of the blog and I will send you my bank/PayPal details.

I should also add that the short term goal of recompensing those who paid this summer's web hosting bill has been achieved and I was able to give those involved a cheque for the full amount recently which came wholly from the donations of patrons – however, there are still the medium and long term goals I outlined on Patreon page.

Once again, my sincere thanks to those who have become patrons already, but its a case of the more the merrier as far as I'm concerned and please consider signing up if you enjoy reading this blog.