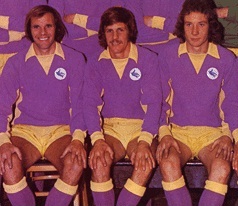 Three wins on the trot for Cardiff City thanks to "Man of the Match" Rhys Healey by Paul Evans
Before yesterday, I must have watched Cardiff City win matches 1-0 thanks to a Rhys Healey goal on four or five occasions. Healey is one of those "fox in the box" players who has a knack of putting himself in the position closest to where the ball breaks within about ten yards of goal and, once there, the finish usually proves to be the easier part of the exercise.
I've always believed that that such an ability can be honed through coaching to some extent, but, essentially, it's instinctive – it's something you've either got or you haven't.
In saying that, this instinct is not something that is there equally for all who possess it. The best instinctive goalscorer I've ever seen I'd say is the West German striker Gerd Muller, who scored four hundred eighty seven times in five hundred and fifty five club appearances in his career – his scoring rate fell away somewhat when he only managed thirty eight goals in his seventy one appearances for Fort Lauderdale Strikers after moving to America at the age of thirty four.
At the highest level though (and it really was the highest level when Muller was playing), he managed an astonishing sixty eight goals in sixty two appearances for West Germany.
It's that record that makes me say Muller was the best instinctive goalscorer I've seen. Domestically, Jimmy Greaves is probably the best in my experience, closely followed by the eighties pair Ian Rush and Gary Lineker (I always rated Rush the better of the two because of the work he put in when the opposition had the ball and because of his nationality!) with Alan Shearer just behind them because, rightly or wrongly, I thought goalscoring was a little easier in his time than it was in his predecessors.
However, there have been instinctive goalscorers who have enjoyed careers with excellent scoring rates down through the divisions. For example, Steve Bull was prolific at Wolves from the Championship down and I can remember Ken Wagstaff of Hull filling his boots at Ninian Park a few times during a career that saw him come up short of First Division standard, while our ex players Phil Stant, Carl Dale and Chris Pike are examples of lower league players who were no strangers to the achievement of scoring twenty goals in a season, but, to the best of my knowledge, none of them ever managed one in the top two divisions.
This brings me back to Rhys Healey, because all of those goals I saw him score in 1-0 wins came at the level below our first team. More often than not I'd say, Healey has scored in the games I've seen him play at Development team level and no one else comes close to his goalscoring rate for what is the closest thing we have to an old style reserve team since the present format was brought in during the season we won promotion to the Premier League. Now, after his goal in added time against Burton Albion snatched another of those 1-0 wins yesterday, Healey can say that, unlike Messrs Stant, Dale and Pike, he has scored for City in the second level of the domestic game.
Of course, none of this is to say that this one goal means that Healey is set for a Cardiff career which will eclipse those of the three players mentioned earlier. For example, my mind goes back forty six years to a truly awful game against another struggling side who played in yellow/amber and black in Oxford United who left Ninian Park beaten 1-0 in February 1971 by a much better City side than the current one, thanks to a tap in goal by Harry Parsons' son John who was on as a sub for his debut appearance in the first team after scoring prolifically at reserve team level.
Parsons junior also scored the following week in a 4-0 win at Sunderland, but, although his total of six goals from fifteen senior appearances for the club in the Second Division, as it was in those days, wasn't bad at all when you consider that he only started seven of those games, he was deemed to be not good enough for City and subsequent spells at Bournemouth and Newport offered proof that he did not quite have what it took to establish himself in the lower divisions either.
Mention of Newport brings me back to Healey who has had a loan spell at County during the first half of this season to follow earlier ones at Colchester and Dundee where his scoring record was hardly spectacular. On the face of it, scoring seven times in twenty three games for Newport wasn't brilliant either, but, given how badly County have struggled this season. a strike rate of almost one in three is good I would say – without Healey's goals, and the ones scored by Swansea loanee, Josh Sheehan, County would be as good as relegated already.
City manager Neil Warnock made mention in his post match press conference yesterday that when he or other City staff members had watched him play for Newport it was, if anything, Healey's finishing that had let him down, but even this offers more proof that the striker has the "knack" when it comes to putting himself into goalscoring positions, the question now is at what level will he gravitate to which allows him to show the gift he has to a worthwhile degree?
What is clear for now is that any further scoring Healey manages at senior level this season will have to be done in the Championship, because Warnock admitted that he was being a little selfish when he brought him on with ten minutes to go against Burton, because the rule about players not being able to turn out for more than two clubs in a season means that he cannot now be loaned out again this season.
One other thing the manager did by presenting Healey with his opportunity off the bench instead of, say Peter Whittingham (who would have been my prediction as to the first sub to be used by City yesterday) is show again his capacity for giving players reckoned by most to be well away from the first team picture at Cardiff their chance.
This is what happened with Kenneth Zohore and, besides Healey, it happened again yesterday when Matt Kennedy was rewarded for his fine performance for the Development team last Monday by, first, a place on the bench, and then being the first substitute Warnock used when Anthony Pilkington's injury forced him off after fifty four minutes.
In the Feedback section on here following my piece on the Bristol City win last week, I mentioned that it had been claimed on a messageboard that Warnock had won us three matches (Wolves, Villa and Bristol) through his tactical skill/substitutions since he had been appointed. Others may feel differently about that, but I agree with it and now I'd say that it has been increased to four – under one or two of our more recent managers, players such as Kennedy and Healey would have, most likely, been nowhere near the bench and, if they had been, they would have been there for "experience".
Apart from when he wasted a great chance (by the standards of this game at least) with a poor cross, Kennedy did okay when he came on, but, of course, it was Healey who captured all of the headlines.
I've already offered one or two hints (some of them pretty heavy ones!) about the quality, or lack of it to be more accurate, of yesterday's match, but, perhaps, the biggest indictment of it is that Healey's ten minutes on the pitch was enough to take the prize of City Man of the Match – it also says so much about what all the others managed in the eighty minutes beforehand.
Just before half time I said that City were playing like a team who thought that they only had to turn up to beat Burton after their consecutive league wins over Villa and the wurzels and my mate who watches games with me replied "just what I was thinking". This was exactly what someone else who we met after the match said as well, but, having heard what Neil Warnock's thoughts on the matter, perhaps our manager's version of events is closer to the truth?
Warnock felt that, while he is confident that we will give high riding Brighton and Reading a good game on their own pitches in the coming week, this is because we will go there not expected to get anything out of either match – we aren't as good when we are favourites to win.
This goes back to the home match with Wigan at end of October which Warnock had always said would be our toughest game so far under him after we had picked up seven points from his first three games against the trio of Bristol City, Sheffield Wednesday and Nottingham Forest who all appeared to offer a far stiffer challenge at the time than Wigan did.
Even as early into his time with us at that, Warnock had worked out that we struggle with the mantle of being favourites and events proved him right as Wigan duly left with a 1-0 win.
Perhaps that's why our manager was so upbeat after the game yesterday? While most, myself included, talked of Healey's goal merely papering over the cracks, Warnock spoke about it being the best three points since he came to the club. At half time he said that he told the team that they had to come in after ninety five minutes or whatever it is with the win – it didn't matter how they did it, or how much the crowd got on their back, it was the three points which counted.
The Wigan match was pretty poor, but we were unlucky and didn't deserve to lose because the chances were there to win it – yesterday's game was a fair bit worse than the Wigan one in my book.
In this case, Sky's highlights package really does what is says on the tin, because I cannot remember anything else happening that merited inclusion really. Burton came into the game on the back of a run of seven defeats in eight matches in all competitions and so it was hardly a surprise that they were quick to get ten men behind the ball on the extremely rare occasions when City suggested they were going to threaten their goal.
Warnock was typically blunt about a first half that I would say was the poorest seen at the ground this season. In particular, he said that he we had only played with eight men because we had three forwards who did nothing, just "stood out there".
I'm not sure who the three were when you consider that, out of the four attacking players we started with, Kenneth Zohore had the poorest forty five minutes since his "reinvention" with that one instance in the highlights package where he showed his strength being the only time he did anything to take the eye, apart from taking some good corners (including the one shown where Sean Morrison looked to held back by Ben Turner), Junior Hoilett had his worst game for us so far. Pilkington supplied the odd isolated moment of quality, but was generally subdued, as was Kadeem Harris whose impact in the first forty five minutes was minimal.
Unusually for this season in a home game, City improved after the break, but all they needed to do to achieve this was look a bit more urgent – Kennedy livened things up a bit and Burton were put under more pressure, but the truth was that their defence, including two returning Bluebirds, were having one of their easiest afternoon's of the campaign until Healey's intervention in the eighty ninth minute when he was fouled just outside the penalty area.
It was the first time City had been given a set piece within shooting range and, as the announcement came that there would be three minutes of added on time, Rickie Lambert sized up the opportunity he had been given.
I can remember Lambert scoring some great goals from free kicks for Southampton, but, this time, true to his muted contribution after he was, surprisingly for me, brought on for Zohore, who was doing better than he had done in the first period, with a quarter of the match left, his effort hit the wall. It was then though that Harris, another who had improved in the second period. took over as he beat his man on the outside and floated over the best cross his team managed all afternoon for Healey to nod into an unguarded net from about five yards out.
Burton introduced another striker, but to no avail. There was not enough time left for the sort of nerves from the stands and defensive attitude on the pitch which can make life so awkward late on when we are trying to hang on to a one goal lead to settle in and City saw the match out comfortably, achieving a fourth clean sheet of the season in the process.
Just four shut outs at this stage of the season is poor by any standards, but three in our last eight league games since November is not bad and emphasises just how poor we were in the first four months of the season. The strange thing is that, just as against Brighton and Villa, the clean sheet was achieved pretty comfortably yesterday with new loan signing from Hull, Allan McGregor enjoying a quiet debut with only one fairly routine shot to bother him all afternoon.
Incidentally, Scottish international McGregor becomes the sixth keeper to be used by City this season and, unless I've made a mistake somewhere, this is a club record for the years since we were elected into the Football League. With nearly four months of the season still to go. there is still plenty of time for that record to be "improved" upon and it only goes to prove further the folly of the short sighted decision to sell Simon Moore and David Marshall just before the summer transfer window closed – it's little wonder that our back four have found it so hard to keep opponents out this season when you consider the amount of disruption there's been behind them (there's been a different man between the sticks for each of those clean sheets!).
Anyway, the most important stats today are that out first run of three consecutive league wins in almost eighteen months has taken us eight points clear of the relegation places with a game in hand over most in the division. It's still way too early to say we are clear from the drop, but with seventeen points needed from twenty matches to get us to the fifty point mark which is generally considered to be enough to keep you up, we should be alright from here, even if we would need to find a better way of coping with the tag of being favourites than we do now for the talk of a top six finish, that is beginning to be heard again, to have even a remote chance of coming to fruition.
*picture courtesy of http://www.walesonline.co.uk/