http://mauveandyellowarmy.net/
In his press conference before Cardiff City's home game with Middlesbrough, Neil Warnock talked about giving the club's supporters something to shout about.
The remark may have been prompted by a start to the season which could charitably have been called low key. Even for a side that struggles to gain plaudits in a world where the media and many supporters feel they play football that is behind the times and compliments on the entertainment offered are virtually non existent, Cardiff's football has been functional and stolid – some may say that if any set of fans were in need of something to shout about this season it was Cardiff's.
So, were they given something to shout about? Well, that's a tough one to answer in many ways. To try and illustrate what I mean, I'm going to put myself in the position of a Cardiff fan who has seen all of our games so far this season apart from this one and is learning of the outcome of the match by visiting, say, the BBC website's report on what happened.
The first thing this supporter would feel would surely be pleasure that City had won, but then as they took in the data which described the nature of the victory, then I'm pretty sure that they would conclude that it was a pretty typical Cardiff City 19/20 game – in short, they would feel they hadn't missed much.
For a start, there was the score – 1-0. Then there was the nature of the goal – an own goal from a set piece in the first couple of minutes. They might then take in the match stats – there would be some surprise that City's possession count was as high as forty six per cent and they may have concluded that the fact that Middlesbrough had eleven shots to our nine and eight corners to our three meant the visitors had done most of the attacking, with the fact that there was only one on target goal attempt in the whole game (the own goal wouldn't count as an on target effort, so I think it must have been a pretty tame effort from about twenty five yards by Omar Bogle in the first half which Darren Randolph in the Boro goal dealt with easily) rather underlining the impression that this was not a bad game to miss.
If by chance, this person then clicked on the link for Sky's highlights of the game, they would have seen a goal nodded into his own net by striker Ashley Fletcher as he guarded the near post from Josh Murphy's corner with no Cardiff player within a couple of yards of him and that was the only highlight worth capturing in the first half according to Sky.
The video included four incidents from the second half – two misses by Omar Bogle (one a header which glanced off the crossbar and over), a shot not too far over by Boro's George Saville and a Callum Paterson header which landed on the roof of the net. It all amounted to one minute twenty seven seconds of video action which, once again conveys a certain message about the quality of the entertainment on offer.
The thing is though, I don't think any of that was fair summation of what I saw today at all. For me, this was City's best display of the season so far and, with the boost of an early goal behind us, it felt to me as if we were in control for the whole ninety minutes.
To try and back up what I say, Alex Smithies, retained in the starting line up despite the fact that Neil Etheridge was fit again after having played in the Development team's 3-2 win at Sheffield Wednesday last Monday, can have had few more quiet afternoons than this one – off the top of my head, I can only think of a dash off his line to dive at the feet of Britt Assombalonga in the first half as a testing moment for the keeper.
Smithies' lack of involvement was a testimony to a defence that were dominant throughout, with Lee Peltier, Sean Morrison and Aden Flint all turning in it does what it says on the tin type performances. Joe Bennett was more lively than he has been and, in the first half especially troubled the club he started his career with as he got forward to good effect – once putting over a low cross which Joe Ralls should have made more of after one of our best passing sequences of the season.
That miss apart it was another seven or eight out of ten type performance from Ralls who has been our most consistent player this season in my view and this time the midfield man's performance was all the more praiseworthy because, according to our manager in his post match interview, he was playing with an injury.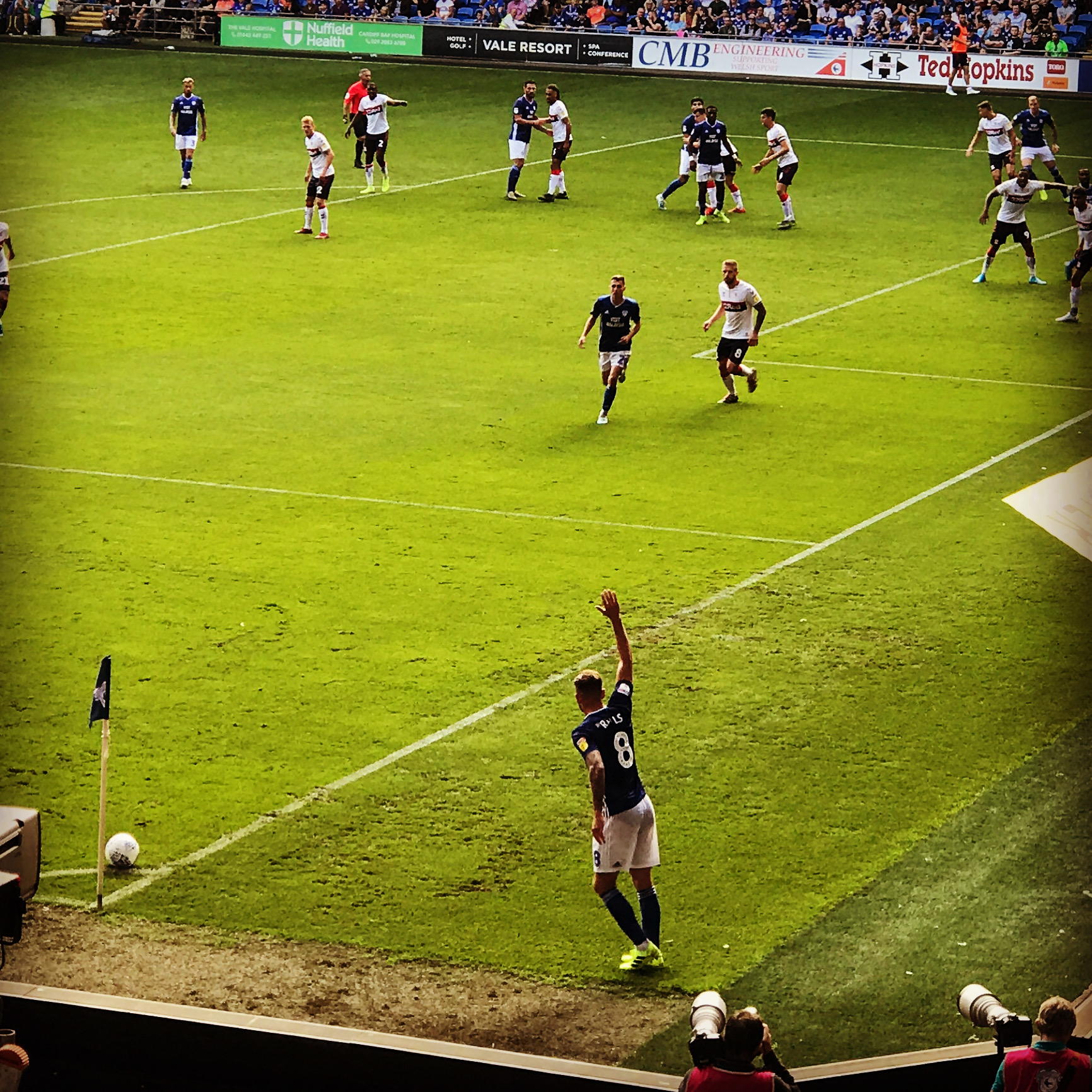 Ralls lines up a corner kick v Middlesbrough
If Ralls is our most consistent player, then Leandro Bacuna has been running him close in recent matches. He and Ralls have been an effective combination since they were teamed up after the Reading game and, with Marlon Pack training again (I wouldn't be surprised to see him play for the Under 23s at Coventry on Tuesday and then, possibly, in the squad for Hull next weekend), Neil Warnock is going to have a harder decision to make than I for one was expecting him to have when Pack is ready for selection again.
On the right wing, Gavin Whyte was a lot of people's man of the match. There was the usual tracking back and unselfish work for the team from him backed up by what for me was his best attacking display so far. For the first time in a game, I thought he showed evidence that he can be a good attacking player at this level and it seemed to me that his crossing was better than it had been. However, despite all of the good things he did, when you think about it, there still wasn't a great deal of effective end product from him, but, at least, today offered hope that this situation can and will change.
Josh Murphy forced the early corner which led to the goal and he could claim an assist for it, but, in truth, I think it was more down to an aberration by Fletcher than brilliant dead ball delivery by Murphy. After this great start, Murphy was, like he so often is, fitful, but, apparently, his substitution at half time was down to him not being well – like Robert Glatzel who had to miss the match, it seems Murphy was suffering from a stomach bug.
In Glatzel's absence, Omar Bogle performed so many of a centre forwards set of tasks well, but should really have found the net from at least one of three very presentable scoring opportunities he had. First, he took too long to get his shot away in the first half, then, surely, shot with his wrong foot soon after the break after being played in by a lovely pass from Ralls and finally when he headed against the crossbar.
That last opportunity came from a fine cross by the man who replaced Murphy, Junior Hoilett who, it seems to me, is head and shoulders above the other wide players we have when it comes to delivering a quality cross,
There were quite a few improved performances from members of the City team, but those caveats I had expressed about how Bogle and Whyte did rather characterises the side in that, for all of the improvement and commitment shown today by them, that little bit of a killer instinct which turns decent chances into goals and promising crossing instances into genuine goal threats is still in very short supply.
It could be that upcoming matches will prove that today's win was not the turning point that I came out of the ground thinking it might be. I say that because the fact has to be faced that Middlesbrough weren't very good today and they should have been put out of their misery by a second goal from City – I just can't help thinking that there are many sides in this division who would have been able to go 2-0, and more, ahead if they were enjoying the same amount of control as City had today.
Although Whyte more than justified his place in the team today, I don't think the same can be said of Callum Paterson who, according to Danny Gabbidon on the Radio Wales phone in today was, perhaps, being played in the number ten role for what he can give to us defensively.
I see the 4-2-3-1 formation we use as allowing us to have four players who are primarily attacking players (or at least that's what happens when it is used by other teams), but is this true when Paterson and Whyte occupy two of those positions given the work they have to do when it comes to defensive matters? I'd say that with us it's more like two or three attackers, not four when the formation is used.
Therefore, when you consider that many sides play with five defenders and two in midfield shielding that back line it's asking a lot for a team fielding just two or three players with a real licence to attack to be prolific goalscorers – it's a case of sheer weight of numbers prevailing.
Consequently, when you consider the lack of numbers we get into the opposition penalty area from open play and the sort of quality of finishing we saw when opportunities did come along, we looked like a team who, really speaking, are only likely to win games by 1-0 yesterday.
No doubt, Lee Tomlin, back today after missing last week with whiplash effect caused by a car accident he was involved in, would have been brought on if we had been struggling for the goal Fletcher, obligingly, provided for us, but it is an indication of the type of thinking that prevails in the dug out at Cardiff that he stayed sat on the bench in a game where we had an early lead to hold on to.
There is a debate to be had as to how effective Tomlin would be if he was given a run of, say, ten matches in the side, but, for now, he is the player we have to rely on as a possible provider of the sort of qualities normally associated with the modern day number ten position.
In his first season with us, Neil Warnock used Hoilett in that role at times with some success, so he would be another possibility, but, increasingly, the signs are that Callum Paterson is his first choice in the role (a situation many fans predicted before a ball had been kicked this season).
Two seasons ago, it could be argued that Paterson's selection in a position just behind our lone striker was justified because of the number of goals he was scoring, but the Scottish international has not scored for us in 2019 and without that ability to find the net with a strike rate of something like one in every four or five matches, it is hard to see how his continued selection there can be vindicated.
The only way I can see for justifying Paterson over Tomlin or maybe Hoilett in the number ten role is that the man in possession of the shirt can defend better than the other two – put Tomlin or Hoilett there and I believe there might have been more chances created for us to get that killer second goal against Boro, but would their presence have decreased our chances of holding on to our 1-0 lead? It probably would have done, but, if Paterson cannot rediscover his scoring knack, we are surely going to need more creativity to start being considered as real promotion contenders.
To finish on an encouraging note though, I described the performances in our last two matches as tiny steps forward, well today I think we took a bigger one – perhaps the description that I heard a fair bit of today whereby our season will be what is being called a "slow burner" is appropriate?
After last week's very good display against Leeds, there was, perhaps, an even more promising one today from our under 18s. Down 2-0 early in the second half at Crystal Palace, City struck back to win with goals by Harry Pinchard, Rubin Colwill and Ntzana Mayembe.