Three goal attempts all game, two of them on target, and one corner forced. On the face of it, those aren't statistics that paint Steve Morison's Brave New World in a good light. Figures like that repeated over a forty six game season will have Cardiff City a lot nearer to the relegation zone, probably in it actually, than the Play Off places, but, if ever there was a case of the stats not telling the full story behind a game, this first Championship match of the season against a Norwich City side tipped by many pundits to win the title was it.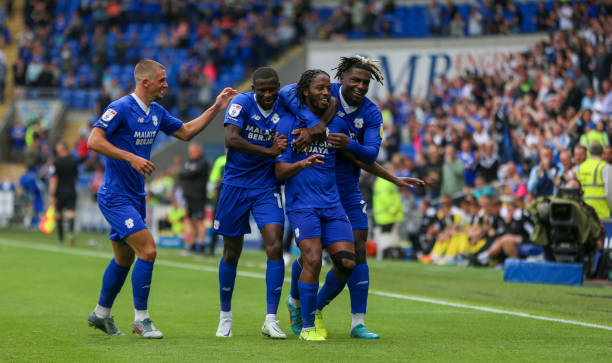 Norwich, for their part, had six goal attempts with just one on target (they did hit the crossbar as well mind) and had seven corners, but in truth, if I was to give a blow by blow account of all of the genuine goal action in the ninety minutes, it'd run to no more than three sentences – there were only three occasions when it really felt like a goal could be scored and, thankfully, the only time City looked like scoring they came up with the decisive strike that earned them three points.
To start this season, which feels like a journey into the unknown, with a team featuring eight debutantes (if you include the previous loanee Sheyi Ojo) while trying to bed in a new way of playing and to come out on top against such a well fancied side is a great achievement-
There was so much of a back story from a Cardiff City perspective that, for this time at least, our lack of bite in attacking areas did not matter – there was still enough going on to make the game a compulsive watch.
I'll come to the other reason why the match was so watchable later on, but, for now, I may as well write those few sentences about the goalmouth action!
Can I just preface this by saying how pleased I am that City are ditching the long ball dross which, for me anyway, has made watching us play such hard work in recent seasons. Today, we played with two centrebacks who are comfortable on the ball and built forward passing moves (I can hardly call them attacks!), it was so refreshing to watch.
However, it's not going to work every time and the only genuine goal attempt of the first half (Ojo had a dribbler of a shot from twenty yards saved easily by Tim Krul from our other on target effort) came about when Perry Ng conceded possession carelessly with an errant pass and the visitors quickly transferred the ball to Todd Cantwell whose well struck twenty five yard effort was superbly turned aside by new goalkeeper Ryan Allsop.
The winning goal came on forty eight minutes when Callum O'Dowda did well to withstand a couple of challenges and feed Romaine Sawyers in a similar position to where Cantwell had been for his effort, but there was to be no save to deny the shooter this time. Sawyers seemed to strike across the ball and send it across the goal and beyond Krul into the far corner of the net. The shot had an unusual trajectory to it and I'm still not sure whether it got a bit of a deflection, but, one thing I'm sure about is that Sawyers was not attempting a pass as Norwich manager Dean Smith, who managed the player at Walsall and Brentford, insisted he was after the game – someone who passes the ball as well as Sawyers does would not overhit a pass aimed for someone about ten yards in front of him so much. Before leaving the goal, a word about Max Watters' most significant moment of a game where he was less involved than he would have wanted to be – his run to become a target for any pass from Sawyers was in Krul's eye line and may have distracted the keeper somewhat. .
Within a few minutes, Norwich came so close to equalising when Cantwell's corner was flicked towards goal on the volley by Kenny McLean and came back off the crossbar.
After this, there were one or two almost moments for City when they could not capitalise on half chances as Norwich searched for the equaliser and some good blocks by City defenders plus some sure handling of a dangerous looking low cross by Allsop, but, in essence, although my three sentences eventually stretched to three paragraphs, it shows how little there was in terms of goalmouth thrills and spills.
So, it was more a case of admiring things like captain Ryan Wintle's mastery of his sitting role in our new, much improved on the evidence so far, midfield, Jamilu Collins' effectiveness down the left (he had one or two problems dealing with Max Aarons late on, but he certainly won't be the only Championship left back you will be able to say that about this season), Cedric Kipre's calm, authoritative defending and, as someone who has always been in the just judge goalkeepers on their goalkeeping camp, how much more Allsop gives us with his ability with the ball at his feet.
I've been likening this season to Malky Mackay's first at the club in 11/12 when wholesale changes in the squad resulted in that start anew feel we have today, but, in terms of a one off game, perhaps it was more like Mackay's predecessor Dave Jones' first home game against Leeds when a City side with plenty of new faces which nobody quite knew what to expect from, beat Leeds 2-1. Okay, Sawyers' goal wasn't quite in the Jason Koumas three minutes after coming on class, but, for me, it was one of the most memorable ones in recent seasons because this is surely a game that is going to be recalled down the years.
Another reason people will remember it is that it was a spicy affair with both sides finishing with ten men. The flashpoint came not long past the hour mark and, ironically, stemmed from City's only corner. As an aside, it was instructive to see Wintle aim the dead ball kick outside the penalty area for O'Dowda to volley in what was clearly a planned move which illustrated how much our aerial threat has declined since the days of Morrison, Flint, Moore etc.
Unfortunately, O'Dowda, who otherwise had a good game, made such a mess of his shot and subsequent attempt to sort things out that Norwich were able to break quickly and Joe Ralls, who had come on as a sub for Sawyers, was forced into a professional foul on a subdued Timu Pukki that he was clearly going to be booked for. However, in the aftermath of the incident, Ng collided with Pukki (I didn't see this) and that prompted Norwich centrebacks Grant Hanley and Andrew Omobamidele to rush to the scene with the first named appearing to shove Ng, but it was his defensive partner who pushed him to the floor.
When the dust settled, Ng and Hanley joined Ralls in the book, but referee Tim Robinson also showed a yellow card to Andy Rinomhota for some reason, while taking no action against Omobamidele whose offence seemed to be the worst of the lot to me – presumably Robinson (it looks like being another poor season of Championship officiating to come based on today's evidence) thought Hanley had been the player who sent Ng to the floor, so you have to wonder why his yellow card was not a red one?
It seems pretty certain that both clubs will face charges of failing to control their players for an incident which developed to the extent that it seemed like all twenty two players rushed to the position just inside the City half where Ng had fallen.
A few minutes later Ng was shown a second yellow card when he brought down Cantwell to snuff out another breakaway threat and, although the foul wasn't a bad one, he couldn't really have any complaints about that caution.
Curtis Nelson was immediately brought on for Ojo to slot into the back four and, although under pressure, City were surviving with few alarms when Hanley brought sub Mark Harris down from behind – that makes the foul sound worse than it actually was, but once the ref had not let what was a promising situation for City develop as an advantage, it was obvious the Norwich captain was going to go for a second yellow.
Having rubbished Dean Smith's opinion of the goal, I will say I have more sympathy with him when he said "The least we should be leaving here with is a point" – I'm not saying Norwich deserved to win, but in a game as tight as this one was, a draw would probably have been fair I feel.
That said, there was a carelessness and a lack of pace in possession for Norwich which I don't feel bodes well for them (they were worse than us in these facets of the game) – they were energetic in their closing down of City players, but it seemed to me that they were more impressive without the ball than with it and I wonder if this might be the season when the visitors' promotion/relegation sequence comes to an end?
City used all five of their permitted substitutions under new rules introduced for this season (Gavin Whyte came on for O'Dowda and Tom Sang for Rinomhota), but their latest signing, Jaden Philogene, a twenty year old winger who joined on a season long loan from Aston Villa earlier this week was not involved. It seems Philogene was impressive in a loan spell with Stoke last season in which he scored against Swansea before suffering an injury which limited the number of appearances he made for them and he should come into the squad for next week's trip to Reading or, if he's allowed to play, the League Cup game with Portsmouth in ten days time.
There was a high profile game for the under 18s last night as they faced Liverpool – there's nothing about the match on the City Academy Twitter site at the moment, but I understand that we went two down early on, only for Cole Fleming and a first year scholar by the name of Tanatsuwa to level things up, but Liverpool then won it with the only goal of the second half.
The under 21s latest warm up match took place at Stoke today and this time they came out on top In a match which finished 3-2 with a couple of goals by Isaac Jefferies and one by Joel Colwill.
Finally, as has been the habit at the start of a new season in recent years, can I ask readers if they're willing to make a donation towards the running costs of the blog. I say running costs towards the blog, but, that's not really true this time because this year any donations will go towards costs incurred in the production and publication of the book I aim to have out for sale by October.
As mentioned this time last year, I decided to do another review of a season to follow on from Real Madrid and all that which was about 1970/71. This one is about the 1975/76 season and will be called Tony Evans walks on water. Currently, I would say I'm about 90 per cent of the way through the writing of the book – I should finish that by mid August and then it will be a question of tidying it up, proof reading, inserting a few photos and designing a cover before sending it off for printing.
As always, the blog will still be free to read for anyone who chooses not to make a donation towards its running costs and, apart from the one in the top right hand corner which is to do with Google Ads, you will never have to bother about installing an ad blocker to read this site because there will never be any.
Donations can be made through Patreon, PayPal, by bank transfer, cheque, Standing Order/Direct Debit and cash, e-mail me at paul.evans8153@hotmail.com for further payment details.
Finally, can I thank all of you who read and contribute towards the blog in the Feedback section, but, in particular, a big thank you to all who have donated in the past and continue to do so now.
https://mauveandyellowarmy.net/