Four matches or three hundred and sixty minutes of football played at Cardiff City Stadium and City have been in the lead for a big, fat zero minutes in them, while I make it they have trailed for something like half of that time.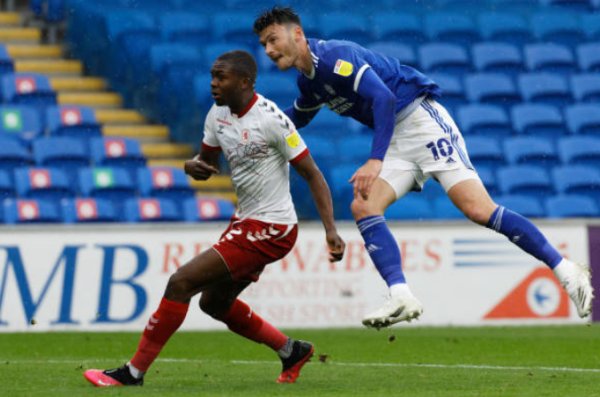 Middlesbrough joined Sheffield Wednesday, Reading and Bournemouth in scoring the first goal of the game at City's ground this season, but, at least, just as on Wednesday against Bournemouth, we were able to avoid the defeats we suffered in our opening pair of home matches.
Nevertheless, although we are currently in an era where playing at home is not the advantage that it has been throughout our football supporting lives, two 1-1 draws on your own ground in the space of three days does rather undo the good work in gaining a draw at Blackburn and a win at Preston. Therefore, with two wins, two losses and three draws with a goal difference of nil, we remain the epitome of a mid table outfit reliant once again on getting wins away from home in the coming week from at least one of the trips to Derby and QPR to become something better than that.
However, my feeling at the final whistle today was much the same as it was on Wednesday in that there was a sense of relief that at least we got something out of a match we looked like losing at half time – albeit for entirely different reasons.
In midweek, a fluent and positive Bournemouth side took us on in a football match and I thought they showed themselves to be a little better at it than us even if we were encouragingly enterprising in the second half and offered a definite promise of better things to come.
I described Wednesday's game as the best I'd seen in the Championship this season (not quite as big a compliment as it might appear to be given how few of them I've watched up to now), but today's match was never going to be a candidate to better the entertainment level of Wednesday – Middlesbrough came to stifle us and for long stretches of the game, it looked like they would succeed in their aim.
I won't be hypocritical and go off on a bit of a rant about how boring Middlesbrough were for much of the time, because I used to praise Neil Warnock's City teams when they went away and did the sort of job on Championship sides that his current team threatened to do on us today.
Neil Warnock will be seventy two in just over a month's time, so he's hardly likely to have a road to Damascus like conversion now when it comes to his footballing philosophy is he? His team looked to slow the game down whenever they could (they were doing this even before they went 1-0 up in the thirty fifth minute) and generally "played" a poor referee to perfection.
Warnock sides are spoilers and after their no show back in July when their phobia about playing on their own ground gave us a big helping hand in the first meeting between the teams since he left Cardiff, you can't help but grudgingly admire the way our old manager has drilled what is a squad which hasn't changed too much since last season into one which seems unlikely to struggle in the same manner as they did in 19/20.
Boro lost by a single goal at Watford in their opening game, but are unbeaten since then and came into today's match having had an excellent pair of results against the teams who were occupying the top two positions in the table. A week ago, they ended Reading's 100 per cent record by drawing 0-0 with them at the Riverside Stadium and then they went to Ashton Gate and inflicted a first defeat on the wurzels as they cashed in on a goalkeeping clanger to score with the only on target goal attempt either side managed in the game!
Boro kept up their perfect conversion rate by scoring with their only on target effort of the ninety minutes today. It came when their match winner at Bristol, George Saville, glanced in a header from the first "normal" corner they tried – they had opted for very un Warnock like short corners before that.
After the game Neil Harris, rightly, bemoaned defending which saw us concede a third set piece goal at home this season – for all of the talk we hear about how dangerous we are from attacking set pieces, we remain pretty poor at defending them given how big a side we are.
With one of our two injured full backs, Jordi Osei-Tutu, returning, Joel Bagan kept his place in the starting eleven while Leandro Bacuna dropped to the bench along with Marlon Pack in what looked like squad rotation type changes – similarly, Robert Glatzel and Junior Hoilett stood down to accommodate the return of Keiffer Moore and a first start of the season for Josh Murphy.
All of this meant that, with Harry Wilson playing in a Lee Tomlin type position, Joe Ralls and Will Vaulks tended to find themselves outnumbered by Boro's trio of Johnny Howson, Sam Morsey and Saville in central midfield.
Although Middlesbrough made little of their extra midfield resources in terms of domination of the ball (not surprisingly given who the opposing manager was, we had fifty nine per cent of the possession today), but they helped ensure there was very little continuity in our play as our most dangerous first half moments tended to spring from things like quickly taken throw ins or individual efforts arising from rare moments when we succeeded in lifting the match out of its slow tempo.
A clever effort by Wilson which glanced off the top of the net, an effort blazed high and wide by Moore and a better attempt by the same player that rippled the outside netting from twenty five yards looked to be the sum total of our first half efforts until Murphy took aim from distance and forced visiting goalkeeper Marcus Bettinelli into a diving save.
The fact that City were unable to build any attacking momentum had me thinking that it would need something special from one of our four front players to get us on terms because we were not forcing corners and the constant, steady rain was not helping Vaulks when it came to his long throws.
A Cardiff equaliser looked a very long way off in the opening ten minutes or so of the second half though as Boro forced four corners without causing too much of a concern from any of them. Still, they were looking much more likely scorers of the game's second goal than us as a lethargic City team struggled to get out of their own half.
When City did manage to put something together in an attacking sense, the result was that Bettinelli was forced to tip over a side footed effort from Vaulks from just outside the penalty area. Having finally got their first corner, City were to have three more in the half an hour or so that remained and, with the rain easing enough to allow Vaulks to get more distance and pace on his throws, we were able to build that attacking momentum – although, as so often with Cardiff, it was primarily set piece orientated.
City players, usually Sean Morrison, were consistently able to get their heads to the free kicks, corners and throw ins that came into the Boro penalty, but co commentator Steve Morrison could often be heard in the background bemoaning the lack of anticipation of our players as they failed to cash in on a series of second balls that bobbed dangerously about close to the visitor's goal.
You could see what Morrison meant on a few occasions when City finally began to put in some quality crosses as Began, Sheyi Ojo and late sub Hoilett all followed Wilson's example with deliveries that might have led to a winning goal which I would say their pressure in the final third of the match merited.
Perhaps the best example of the lack of anticipation that frustrated commentator Morrison arrived when Moore headed across the face of goal from beyond the far post, it would have been a simple tap in for a Chopra, Earnie, Neil Harris or even a Rhys Healey, but we don't have that sort of instinctive goal poacher these days.
It wasn't just in terms of a lack of a fox in the box type that City were found wanting as seventeen goal attempts (a figure like that should have a better reward than just one goal) only produced three on target efforts.
I've mentioned the first two of them with those efforts from Murphy and Vaulks which forced Betennelli into urgent action and the third one was our goal. In typical Cardiff fashion, it came from a set piece as Wilson's corner was met fifteen yards out by an unmarked Moore, once again in a position beyond the far post. The pace Moore was able to get on his header was always likely to cause a problem on the sodden, skiddy pitch and sub Glatzel, who livened up our attacking game, got a touch on the ball before it was turned over the line from about three yards out by Ojo to complete a good week for the winger on loan from Liverpool with his second goal during that period.
Of course, the afternoon wouldn't have been complete without a Warnock tirade against one or all of the officials. I thought ref John Brooks (a new name to me) was pretty poor all afternoon and a lot of the time, it was City who suffered through his inability to notice what were pretty obvious fouls on our players.
However, Warnock surely had a point regarding this game when he spoke of how his team had been robbed of four points in their last three matches because of a goal being disallowed against Reading for offside and now Vaulks' obstruction on Paddy McNair as the corner from which we scored came in – our former manager was railing against "obvious bloody decisions" which had gone against his team.
I thought Glatzel and Moore up front worked pretty well when the German came on for Murphy and it's good to see Ojo turning into a better signing than I thought he would be. Bagan again looked at home at this level and, in the second half especially when he hit some well thought out passes which suggested a quality and vision that some of his more senior colleagues could only dream about.
However, for a second time this season, a full back returning from injury had to go off with a recurrence suggesting they had been brought back too early – Joe Bennett hasn't been seen since he went off with less than a quarter of an hour played at Blackburn and here Osei-Tutu had to leave the pitch with a quarter of the match left to be replaced by Bacuna who epitomized City's desire to win the game by popping up in the Boro penalty area on plenty of occasions.
Unfortunately, it was a fourth straight defeat for the Academy team today at Barnsley and the most frustrating thing about that record is that they have had a half time lead in at least three of them.Today, after missing a penalty, they turned around 2-1 ahead and ended up losing 3-2 with their goals coming from newly signed professional Caleb Hughes from the penalty spot and Taylor Jones.