Well, the banker of the season 1-1 draw ended up…..as a 1-1 draw. Cardiff City stretched their unbeaten run to two games since the appointment of Mick McCarthy as manager as they followed up their 2-2 draw at Barnsley with an oh so predictable one pointer with Millwall at Cardiff City Stadium this afternoon.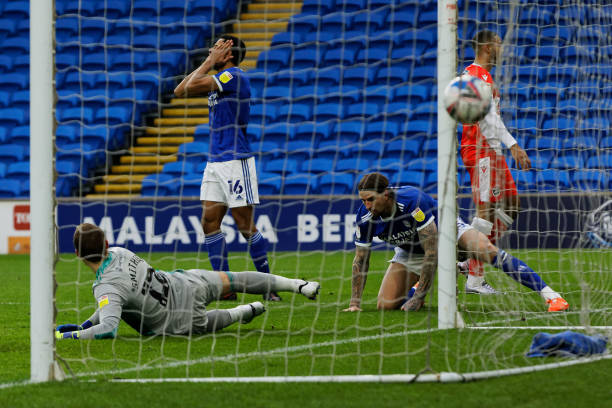 Now, that may come across as a bit sarcastic, but, when you're on the sort of losing run that we were until Wednesday and when you own a home record as dreadful as ours is, a draw doesn't strike me as too bad an outcome.
Besides the negative elements mentioned above, this had me thinking that it was a game that a bang in form City team would have struggled to win because of the history of the fixture. The previous six meetings between us and Millwall had finished all square, as, indeed, had thirteen out of the last eighteen meetings between of two sides that sit beside each other in lower mid table of the Championship with the same number of points from the same number of games.
So, a draw was always a likely outcome and with neither side's record suggesting that they were going to keep a clean sheet or provide plenty of goals, 1-1 was the score I would have lumped my money on if I were a betting man even though it could, and should, have been about 10/1 on!
Before getting on to the match, there's one other thing I'd like to mention. It's bad enough your team losing six matches on the trot, so why do some people, who are either City fans or have the club's interest at heart, want to try to convince the world that we had suffered seven straight losses?
My reaction was to laugh when I first saw it reported on a City supporting website that it was seven, but it's becoming mildly irritating now that Wales Online and our manager have started doing it as well – only at Cardiff eh!
Anyway,on to the game. Having switched to a three at the back formation which brought about an improvement both on the scoresheet and in quality of performance on Wednesday, Mick McCarthy stuck with it today as Sean Morrison returned to the team to play on the right of a defensive trio that had Aden Flint in the middle and Curtis Nelson on the left, while the fit again Joe Bennett played as a left wing back in place of Joel Bagan, with Perry Ng (whose Crewe upbringing can be seen in the calm and assured way he has settled into Championship football) on the other side.
McCarthy opted for the same midfield three of Joe Ralls, Will Vaulks and Leandro Bacuna and with Junior Hoilett dropping out with an injury, City were left with only two what I would call natural attacking players in Sheyi Ojo and top scorer Keiffer Moore.
Harry Wilson and Josh Murphy, who both must have been the most likely candidates to fill the void left by Hoilett in most supporters' minds, were instead consigned to the substitutes bench where they were joined by Rubin Colwill, who was very impressive in the Under 23 team's recent win over Swansea, as he became the latest in a growing number of youngsters at the club to get their first experience of the match day squad.
This has to be a welcome development, but the cynic in me says that this has much more to do with the fact that teams are allowed nine substitutes this season than any serious consideration that any of them will see any game time (to balance that a little, our manager did sound very impressed by what he'd seen from Colwill since he has come to the club in his post match interviews).
Of course, one of the givens for this season is that, no matter how we set up, we concede the first goal of the game and, especially when we're at home, that goal can come very early on in the game and it duly did again today.
As is so often the case these days, it was a very soft goal to concede – in fact, I'm struggling to remember the last time an opposing team scored a goal against us that did not involve considerable help from our players or their general lack of organization (Forest in the Cup?). This time, it was captain Morrison, who never really looked comfortable having to come out of central areas to wide positions on the right, but grew into the role somewhat after the break, who had to carry the can really as, instead of heading a high ball on the touchline out for a throw in, he tried to head inside and keep it in play. Jed Wallace, easily Millwall's most creative player, intercepted and burst past Ng and Vaulks as Morrison gave chase. There wasn't a great deal on for the wide man as he got to the bye line and xo he opted more to play the ball into a dangerous area, rather than look to pick out a team mate and his decision turned out to be a right one – albeit aided by a generous slice of good fortune, as the ball glanced off the covering Flint and past the wrong footed Alex Smithies at his near post for an own goal.
I mentioned earlier that the City starting eleven only had two natural attacking players in it and so I assumed that Ralls would be asked again to fill what was the Tomlin role last season – that's what happened on Wednesday, but this time, it was Bacuna who was used in that position and, for the first quarter of the game at least, he was comfortably City's best player.
Mick McCarthy had deemed Bacuna a "creative midfielder" when he said in his pre game media briefing yesterday that he did not see the former Villa and Reading man as a right back. This caused some comment among some City fans, but, for a while, Bacuna was the only man in blue causing Millwall problems with his driving runs and there were one or two nice passes as well.
However, Bacuna faded to the extent that, just as at Barnsley where he was virtually anonymous, he was withdrawn quite early on in the second half.
Bacuna gradually became one of the twenty two players in two evenly matched teams that, by virtually any criteria you wish to use, essentially cancelled each other out for most of the game. The stats show that City had fifty nine per cent of the ball, had seventeen goal attempts compared to their opponents five, with three to one on target in their favour, so I daresay there will be claims that they deserved to win.
However. in essence, the ninety minutes boiled down to both sides scored and they each missed two great chances – apart from a Moore header from a Vaulks corner that was cleared off the line by Mikael Kieftenbeld during City's best spell in the first half, that was all that happened in terms of real goal threats.
Millwall will be cursing that it was late period at Cardiff Kenneth Zohore who turned up today rather than the very good 16/17 incarnation. The Dane, on loan from West Brom, developed an unfortunate habit of taking air shots at some great chances as he tried to regain his previous sharpness after a period out with injury during our promotion season and while it didn't quite turn out to be one of those at the end of a rapid Wallace inspired first half counter attack, it may as well have been as his scuffed contact from an unmarked position twelve yards out dribbled harmlessly wide.
That would have put the visitors 2-0 up and probably out of sight as would have conversion of the other opportunity Zohore had early in a second half that City started carelessly- Vaulks lost possession deep in his own half and Zohore got himself a yard on Flint. From here, the former City man didn't do a great deal wrong apart from perhaps taking one touch too many to allow Alex Smithies the opportunity to make a fine save as he diverted the shot out for a corner with his foot.
Up the other end, Moore missed the sort of chance you'd expect him to score eight or nine times out of ten when he nodded a Bennett cross over late in the first half and then Bennett himself, who has not scored in over three years, wasted a gilt edged second half chance by heading a good Vaulks cross over.
Neither half contained a great deal of good football, but the second one was generally scrappier and it began to look like that Bennett miss was going to be the only time that Millwall came close to conceding after the break, but the introduction of Harry Wilson provided the attacking shot in the arm that City so badly needed.
There had been a lot of discussion in the press briefing I mentioned earlier about Mick McCarthy's decision to leave Wilson on the bench, and then keep him there, at Barnsley, but, given the chance to show the manager what he could do here, he responded in exactly the manner McCarthy must have hoped he would.
Wilson immediately added some dynamism to City's attacking play and on seventy one minutes, he spun away from his marker and advanced towards the Millwall goal. It seemed to me that he was looking to get a shot away, but, instead, he spotted Moore's intelligent run and played a lovely slipped pass to the centre forward who calmly shot home to level the scores – Moore now has ten goals this season with January not yet finished, that's an incredible figure by modern day Cardiff City striking standards!
It was a piece of number ten play reminiscent of 19/20 Lee Tomlin and, frankly, the sort of thing City fans were hoping and expecting to see more of from Wilson in that part of the pitch when he signed for us, so, in a way, it invoked mixed feelings in me, but, clearly, it was the best piece of football from Cardiff all afternoon by some distance.
Just as at Barnsley, City showed little or no sign that they could win the game after they'd drawn level and it was the visitors who presented what threat of a winner there was with one or two promising looking counter attacks which came to nothing.
So, it was another draw as City look to steady the ship, but, while I'd say two points from two games is a satisfactory start for Mick McCarthy considering where we were when he took over, we still look very brittle defensively and there is definitely still a long way to go before it can be said that City were back on track.
Just to add, the Under 18s finally got around to playing their first match since the Christmas break this afternoon when they won 1-0 at Watford thanks to an early Caleb Hughes goal. It was good to see Taz Mayembe starting for the Under 18s, because the youngster, who had created quite a stir with an impressive showing in one of our pre season matches with Taffs Well a couple of years ago was the subject of some confusing comments from Neil Harris just before he left the club.
Asked about Mayembe's progress, Harris replied that a decision had been taken to take him out of the Under 23 team and put back into the youth side to give him regular football, but his appearances for either of those two sides this season could probably be counted on the fingers of one hand before yesterday – presumably, injuries have been responsible for his lack of game time, but he was back in action as a team captained by Eli King gained what was only a fourth league win of the season.
The Under 18s' best victory so far came in the Youth Cup when they beat Derby 3-2 away in the Third Round in early December. Normally, the Fourth Round would have been played by now, but the fact that the draw paired us with Basford United or West Brom away rather tells the story that, unsurprisingly given the way the world is at the moment, matches have not been able to be played and so the decision has been taken on 12 January to suspend the competition temporarily.