https://mauveandyellowarmy.net/
At half time in tonight's 1-1 draw with Reading, the bloke who always gets very excited about something during the interval said "and now for the first half highlights", eyes turned towards the scoreboard and we waited and waited and waited in vain. Eventually he informed us that they were "not available" and thereby he captured the quandary which manager Neil Harris is faced with when it comes to the current Cardiff City squad.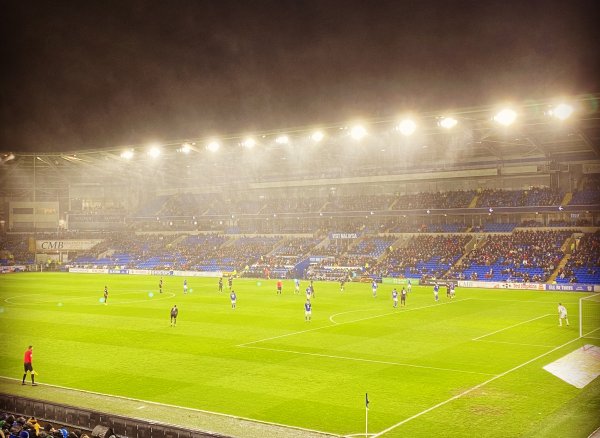 If our excitable friend had said the highlight, it would have made more sense because there had been only one from the home side when Lee Tomlin shot narrowly over from about the same distance out as he was when he scored the winning goal on Tuesday.
That was it though. The poor souls in the Family Stand have not seen their team score at that end since Aden Flint and a Barnsley defender went for a cross and the ball ended up in their net six home games ago with no one certain whether the City man or the visiting player had got the final touch.
The first half highlights package is usually a brief affair these days and this isn't a surprise when you consider how poorly we start matches, but there's more to it than that- our apparent efforts to convert to a more considered passing style with a squad which is it seems even less able to adapt than many feared they would be have not been very impressive have they?
Another early goal conceded to Yakou Meite in the eighth minute, just as in Saturdays game between the sides, was the signal for the visitors to fall back into deep defence and challenge us to break them down – this one was a combination of neat passing by Reading and naive defending by Cardiff,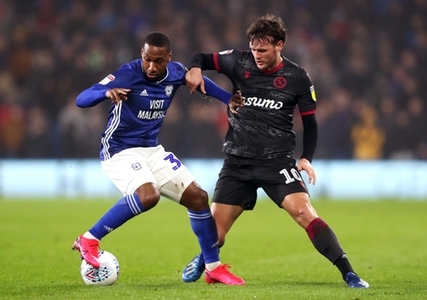 A constant since Neil Warnock took over the management of the club in October 2016 has been the insistence that we play with two wingers. Whether it was three, four or five at the back, there were always two wide attacking players on the pitch – granted, they were used as auxiliary defenders for a lot of the time, but we had two genuine wingers, not wing backs in the team week in, week out.
Neil Harris has stuck with that formula and we've seen Junior Hoilett normally and AN Other operating on the flanks. Wingers are supposed to be exciting, up out of your seat type players, but this season at Cardiff, apart from the occasional flicker from Hoilett, Nathaniel Mendez-Laing and Josh Murphy, there's been little to justify the faith being shown in these players.
Our transfer business today as the window closed offered proof that our manager still retains faith in wingers, but without the signing of Albert Adomah on loan from Nottingham Forest, I think I would be suggesting that tonight might have been the night Harris decided enough was enough.
After all, taking off Hoilett and Gavin Whyte at half time and not replacing them with Murphy looks pretty conclusive and I, for one, had no problem with our manager for making those changes.
To me, there is only one player in our squad who is definitely playing worse under Neil Harris than he did under Neil Warnock – Junior Hoilett. Given the faith Warnock showed in him and the obvious fact that we may well have not got Hoilett if we'd had a different manager, I'd say this is not really surprising, but there's no doubt either that the Canadian is the winger Harris has shown most faith in since his appointment.
Unfortunately, that faith hasn't really been repaid, Hoilett was once again pretty lethargic and there were further signs that he has lost a bit of pace in the last year or so because he struggles to get away from opponents in positions where he once would have been gone!
Although it wasn't spectacular by any means, I though Whyte had one of his better games for us on Tuesday, but tonight was a throwback to the days where you'd wait to see something from him in the attacking third which never came – it wasn't so much that he was playing badly, more that he just wasn't in the game.
So, whether you're a Harris fan or not, I think you have to agree that our manager acted decisively tonight after forty five minutes in which we passed the ball around quite nicely, but too slowly as usual, at times – the approach wasn't working, needed to be changed and our manager came up with something that I've not seen us use at all in recent times.
Replacing Hoilett and Whyte were Leandro Bacuna and Danny Ward and it was a surprise to see Bacuna lining up on the left hand side of the pitch as the game restarted, but it soon became clear that he was left side of a diamond formation. Predictably, Marlon Pack was at the base of the diamond, while Lee Tomlin was at the tip of it as he lent support to strikers Ward and Callum Paterson.
Bacuna was on one side of the diamond and Will Vaulks on the other and, although the former gave City more in the way of energy and the ability to run at defenders than Hoilett did, the ex Reading man and Vaulks were not wingers – they tucked in somewhat.
So, just as at Birmingham and then Reading within the last fortnight, Neil Harris was forced to change his tactics because they had demonstrably not worked in the first half.
Maybe the biggest example of the 4-4-2 diamond formation working well week after week was Nathan Jones' Luton team on their way to successive promotions. That system was greatly reliant on Luton's full backs Jack Stacey (now at Bournemouth) and James Justin (now with Leicester). Although ostensibly full backs, these two were more like wing backs for Luton as they spent as much time getting forward as they did defending.
So, the onus to get forward in wide areas in the second half was more on Jazz Richards and Joe Bennett and, to be fair to both of them, they did try their best to get up and down the full length of the pitch – indeed, as City laboured through the third quarter of the match without any real sign of scoring, it was probably Richards who came closest to scoring when he burst clear down the right and was in on goal, but was unable to control an awkward dipping ball as it dropped.
No, it wasn't until City scored a seventieth minute equaliser that they came alive in an attacking sense. For the second successive match, City scored from a Vaulks long throw as the ball skidded off Reading defender Michael Morrison's head on to the far post and then out to Paterson who crashed the ball home from about half the distance out he was for his goal on Tuesday!
You can look at the three goals he's scored in the last week (and the one against Carlisle) and think that Paterson is a lucky so and so when it comes to the bounce of the ball in the goalmouth, but I think that is to ignore his instinct for being in the right place at the right time – it's a gift that he possesses more than any of our specialist strikers.
After that, City had a right go at Reading and I think they could justly claim to be worth the win given how they battered away at their opponents for the next fifteen minutes.
Richards and Bennett were getting forward a lot during this time and City were playing a very positive version of the diamond system, but Richards on my side seemed to lack the confidence to really drive on to the byeline once he received the ball inside the final third.
For all of their good intentions, there was a familiar lack of penetration to City's attacks – apart from a shot by Ward which keeper Barbosa shovelled out into Tomlin's path only for the fan's favourite to miss badly, it was all high balls into the box from City with a share of what Neil Warnock would call thrills and spills as the ball bounced about in front of the Reading goal at times – if a winner had come, it would, surely, have been with a similar goal to the one we got.
The 4-4-2 diamond can be a modern, progressive method of playing with an emphasis on dragging opponents out of position to create scoring opportunities, but as played by City tonight, it was just more Warnockball. However, although I don't like saying this at all, is there an argument for saying that's the way we should play because it's, evidently, what this squad does best?
So, after the surprise win over the league leaders, it's back on the draw trail for City as we continue not to lose many, but don't win enough. Therefore, I suppose the question is will our late business in the January transfer window today turn things around for us?
There was the promised flurry of departures, as Joe Day moved to AFC Wimbledon on loan, Omar Bogle was loaned to ADO Hague and, most surprisingly for me, Lee Peltier signed for West Brom as his Cardiff contract was cancelled by mutual consent.
I was one of what I'm sure was many City fans who was not excited in the least when Russell Slade signed Lee Peltier five years ago, but I want to pass on my thanks to a player who I think has been our best out and out defender during his time with us – he did us proud and I wish him all the best for the future.
Coming in is Bournemouth's Australian international left back Brad Smith. I can remember being impressed by him when he played in a cup game for Liverpool at Exeter I believe it was a few years ago. Smith also did pretty well in his early Premier League games for Bournemouth after signing for them for £6 million, but he seemed to disappear from view after that. Apparently, he did well in the MLS with Seattle Sounders in a loan spell last year and I think he has to fall into the wait and see category.
The same is true of twenty year old Wolves centreback and right back Dion Sanderson – perhaps it's a bit surprising that he has not been loaned out before, but, again, it has to be wait and see because I'd be amazed if anyone reading this knew anything about him before today.
Albert Adomah is a bit different, he's been a good Championship winger for around a decade, but, having written about how Junior Hoilett seems to be slowing down, it needs to be noted that Adomah, at 32, is three years older than him. In saying that, I'd say Adomah still possess a greater goalscoring potential than any of our other wingers.
So, do we now have a top six squad? Honestly, I don't think we do – tonight was the sort of match we should have won and that's something that's been said too often recently. – too often, being attacked by Cardiff City resembles being mauled by an old, slow dog with no teeth!
Once again, can I make a request for support from readers by them becoming my Patrons through Patreon. Full details of this scheme and the reasons why I decided to introduce it can be found here, but I should say that the feedback I have got so far has indicated a reluctance from some to use Patreon as they prefer to opt for a direct payment to me. If you are interested in becoming a patron and would prefer to make a direct contribution, please contact me at paul.evans8153@hotmail.com or in the Feedback section of the blog and I will send you my bank/PayPal details.