https://mauveandyellowarmy.net/
Another Cardiff City home game, another miserable, moribund and mediocre ninety minutes from them and yet they have taken fourteen points out of a possible eighteen at home so far and their manager was talking about how he thinks his team can go unbeaten at Cardiff City Stadium all season!
Tonight's 1-1 draw with Sheffield Wednesday was the worst home display yet for about eighty per cent of the game, but, funnily enough, the other twenty per cent, which came at the end of the match, did offer the sort of resilience and never say die spirit that top six sides can be built on and put me in mind of our promotion season – very little I have seen from this team has done that.
There is something to be admired in a side that can drag themselves up by their bootstraps to such an extent that, through sheer will and grit, they can salvage something from a match in which they performed so woefully (I don't think that is too strong a word for it) for so long.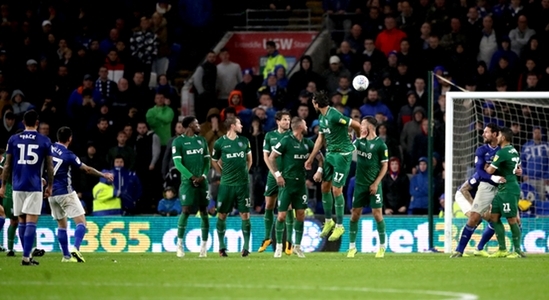 Tomlin scores City's equaliser
I'll look at things from a Sheffield Wednesday angle later, but, for now, I'll stick with City. On a personal note, I'm sad and disappointed that I'm going to spend most of another one of these reaction pieces decrying the team's performance – it's all I seem to be doing this season, but, with tonight's match being televised, I'd like to think those who weren't at the ground to watch it were at least able to see how poor we were.
It's hard to come up with different ways of saying the same thing, but in game after game this season we've not come anywhere near to justifying the faith so many pundits showed in us back in August when, invariably, we were seen as a top six side in pre season forecasting.
Tonight, with Neil Etheridge back for the first time since the opening day of the campaign to replace Alex Smithies, fit again Joe Ralls taking over from Callum Paterson and Nathaniel Mendez-Laing replacing Gavin Whyte, City started with a misleading urgency against a visiting side which had Cameron Dawson in goal as a replacement for Keiran Westwood who picked up an injury in the pre game warm up.
It wouldn't last though as City began to sink into a morass of misplaced passes, cumbersome control of the ball and plenty of pretty poor quality head tennis.
Maybe someone brave enough to sit through the match again could put me right on this, but I honestly cannot remember one City outfield player playing a completed pass of any kind to a team mate between the time I looked at the clock in the ground when it was showing eleven minutes to the moment eight minutes later when German centreback Julian Borner diverted in a Kadeem Harris shot from about eight yards out.
Things improved after that from a City perspective to the extent that they managed to string a few passes together, but it was slow, safe and risk free stuff, whereas a much sharper Wednesday team were often threatening to double their lead.
Harris, who gave Lee Peltier a tougher time than most other Championship wingers have managed to do, came closest to making it 2-0 when his free kick crashed back off the cross bar (did he ever take one in a position like that for us?) , but Borner and Steve Fletcher also could not convert close in chances.
So complete was Wednesday's dominance that Neil Warnock decided to make a tactical substitution as early as the thirty second minute as he withdrew Leandro Bacuna (there were plenty of other candidates!) and brought on Danny Ward who was very unlucky to miss out on a place in the starting line up.
Ward slotted into a number ten like position just behind Robert Glatzel as Neil Warnock came as close as he has done in some time to fielding two strikers in a game. However, it made little difference – just before half time, I mentioned to my mate sat next to me that, although I would not do it myself, I would have few qualms about people booing the side off at the break and, lo and behold, there was quite loud booing to be heard around the ground as the sides went off.
The stats showed City had three first half goal attempts, one of them being a shot which almost hit the corner flag from Josh Murphy, none of them were on target and you could count the number of worthwhile crosses into the opposition box on the fingers of one hand.
All three of the attacking players in the starting line up in what at times looked like a 4-3-3 system and then became more of a 4-2-3-1 when Ward came on were poor in the first half. Mendez-Laing and Murphy were the wingers in the win at Old Trafford which some of us, foolishly, thought pointed the way to how we could be a high scoring side in the Championship. Here, however, one of them looked totally bereft of confidence and the other received so few passes that I genuinely forgot he was on the pitch for a while – when Mendez-Laing was given the ball, it was hard to believe this was the man who was our best player at the end of last season, the man who got the goals at Old Trafford, the man who scored a beauty at Brighton and gave Trent Alexander-Arnold as uncomfortable a forty five minutes as he has had in his career only six months ago.
In front of them, Robert Glatzel offered very little – he played like someone who has become worn down by a combination of the erratic in terms of quantity and downright poor in terms of quality service he has received over the past two and a bit months.
I've mentioned before that Neil Warnock admits his record when it comes to signing strikers is poor, but I would suggest that he may be doing himself a disservice there – could it be that he signs good players, but then sets his team up in a way that means that said strikers would have to be pretty exceptional to look good?
Anyway, I wonder how many of the team feared they would be on the receiving of an epic You Tube style Warnock rant as they left the field with the boos of their fans ringing in their ears? If they were correct, there were no early signs that it had done any good as the clumsy, error ridden stuff continued against opponents who probably couldn't believe how comfortable a ride they were getting.
Yet, almost imperceptibly, things were beginning to change as City very gradually put the Wednesday goal under more pressure. While it was true that they were playing a bit better as Marlon Pack began to become more of an influence, it was hard to work out why Wednesday were having to defend with more urgency because, although City were now getting the ball into their attacking third more often, there was still the marked lack of quality when it came to things like dead ball delivery, crossing in open play and delivery of the final ball.
In these aspects of the game, City were far, far below what you'd expect from a promotion chasing Championship side. In fact, there are probably sides in League One who would be disappointed if they were showing the skill levels we displayed for much of the time in these facets of the game and yet the feeling was growing among the people around me in the ground that, poorly though we were playing, we might still get out of the game with a point.
So, why this tentative confidence? I think the answer may well have more to do with our opponents than us. I'd remarked in the first half that Wednesday were conceding a lot of fouls (one thing Glatzel was doing in the first period was getting fouled a lot) and this trend was to continue in the second period.
In the end, the visitors committed twenty two fouls and while they had to question the decision making of ref Keith Stroud at times, most of the time the official was right – with many of them falling into the needless category, it seems to me that Wednesday need to be looking at themselves as much as the officials (I'll come to our goal shortly!) as to why they did not go home with the win.
That lack of discipline meant that City, in true Warnock style, were able to get lots of high balls into the opposition penalty area and and with their frequency increasing, I thought their manager Gary Monk made a decision which also contributed to his team's travails.
The torrential rain that fell at times throughout the match forced me to move from my normal seat to one a lot further back in the Ninian Stand and, as always when I sit in a position like that, I am struck by how much more complete a view you get of what is happening. For example, Barry Bannan had looked to be having a decent game in the Wednesday midfield from where I normally sit, but, from the back of the stand, I was able to see just how influential he really was.
Therefore, I was shocked to see it was Bannan's number that was being held up as the player to go off as the giant striker Atdhe Nuhiu was brought on. To me Nuhiu's introduction was as much to do with what he could do in his own penalty area as his team came under an increased aerial bombardment as it was to do with what he might contribute up front.
The introduction of Lee Tomlin and Gavin Whyte for Glatzel and Mendez-Laing improved City, as Ward had a snap shot saved and Dawson made a diving save to prevent Massimo Luongo I think it was heading into his own net.
Although it took Tomlin a while to get into the game, his ability to draw fouls was allowing the high balls to keep on coming in, while, Whyte showed the lack of quality that had cursed his team all night when, from a promising position, he produced something which was not one thing or another – was it a shot or was it a cross? It genuinely hard to tell what the intention was behind his lashed and snatched effort.
However, not long afterwards, Whyte produced what I'd say was his best cross for us so far when he picked out Murphy in a crowded penalty area only for the £11 million man to miss his kick completely – a sequence which it seems to me says a lot about Murphy's current frame of mind.
There were just three minutes left when Tomlin was fouled in a central position some twenty five yards from goal – I've not seen a replay of the foul yet, but I note that the Wednesday camp were critical of the decision. However, I think it was what happened next that got the Wednesday contingent really upset.
I say that because Aiden Flint took to jumping up and down and waving his arms around in goalkeeper Dawson's line of sight. Not only that, the centreback was stood a good few yards offside for most of the time.
However, it was when Tomlin's delicious free kick hit the back of the net that the protests began as Dawson ran to berate the linesman who was ideally placed to rule on a possible offside.
The video of the goal I've seen shows that Flint had jumped in the air as Tomlin hit the ball and so I don't see how he cannot be judged to be interfering with play.
The offside law used to be such a simple thing, but now it is like something from the rugby union rule book, so it may be that there is some sub section or clause which justifies the decision not to rule out the goal, but, from my point of view, it just looks wrong to see something like that in a professional game and my instinct is that the goal should be disallowed.
The irony was that Tomlin's free kick was so sweetly struck and so well placed that Dawson would never have saved it – Flint's antics weren't required at all!
Having produced his best cross for us so far a few minutes earlier, Whyte then had his best moment so far in a goal threat way as his first time effort effort was turned aside by Dawson at his near post.
By the end it seemed both teams were happy about the draw and I'm not complaining too much about it either because it was more than we deserved, but Neil Warnock must be concerned that the side he assembled (it's very much his team now) is not gelling,
The season is past its quarter point now and I think, if they are being honest with themselves, manager and team are some way short of where they were hoping to be – it doesn't help their cause either that the football being played is so turgid.
I was asked by a trainee journalist before the match where I thought we would finish this season, my reply was something like twelfth if we keep on playing like we have done, but I was hopeful we would improve and so thought we could end up somewhere like eighth, but, after tonight, that improvement looks further away than ever.