To be fair, there were mitigating circumstances that should be borne in mind when considering Cardiff City's error strewn performance today as their run of four straight home victories came to an end with a fortunate 1-1 draw against a Watford side that were only just outside the bottom three after losing three matches on the trot.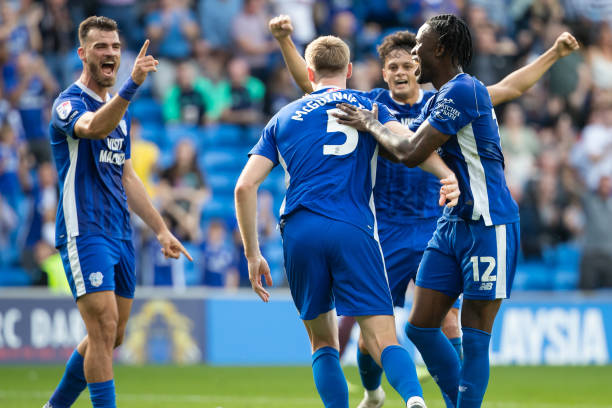 In the period between the September and October international breaks, City played seven matches in twenty two days with four games at home and three very long trips to Sunderland, Blackburn and Middlesbrough with the last two being evening kick offs.
That's a very heavy schedule, more heavy than many in the Championship (e.g. Watford) because we had a Third Round League Cup tie in the middle of those twenty two days, whereas the sides that went out in the first two rounds of the competition had a week off.
We've also had various injuries – Aaron Ramsey, the man who gets us playing according to manager Erol Bulut, and the versatile Callum O'Dowda are out for the long term and, if Rambo does end up needing an operation on his ruptured knee tendon, then we're at a stage where we'd be talking weeks of the season left, rather than months, when we see him again – always assuming he encounters no problems with his rehabilitation.
The injuries to Yakou Meite and Kion Etete are not so serious (a month each for their hamstring injuries to recover), but we have very few options up front now and you get the feeling that Ike Ugbo is going to be a very tired man come the November international break.
On a similar theme, It could be argued that the O'Dowda injury in particular is having knock on effects. By that, I mean that although Jamilu Collins started today after missing the Middlesbrough game in midweek because of the injury he played through against Rotherham last weekend, it was like watching him in the final hour last Saturday today- he didn't look right and looked to be playing within himself. If O'Dowda were fit, I'm fairly sure Collins would have been given more time to recover, but after having played Perry Ng out of position and used Ebou Adams in a position he's completely unfamiliar with in midweek to try and cover for Collins' absence, it seems our manager has decided that he has to play unless his injury is serious enough to risk long term damage to the full back (the non use of Jonathan Panzo, who can play at left back, at Middlesbrough was a mystery as well)..
Therefore, City were hardly likely to be tearing around the pitch and picking up three points by outrunning Watford, but I do think there's a danger of making too much of the tiredness angle.
For example, although I pointed out that Watford were one of a number of Championship clubs that played a game less than us over the past three weeks, there were plenty who played seven times as well. Anyway, let's be straight about this, the League Cup is a bit of a red herring in any discussion about tiredness because most teams in this division do not play their strongest sides in the early rounds of the competition- City, with their eleven changes from the win at Sunderland, certainly didn't at Blackburn.
So, one of those long journeys north for away matches becomes less of an issue than first thought because many of what Bulut thinks of as his strongest eleven did not even make the trip to Blackburn.
As for the other two away games, City have nearly always flown to games at Middlesbrough and Sunderland in recent seasons – I don't know if that was the case this time around, but I'd be pretty surprised if it wasn't.
So, it could well be that these three away trips in such a short space of time which I would have called pretty daunting if they had been by coach were actually nothing of the sort. Instead, they, in all likelihood, were a couple of flights that took, say, two hours at the most and a coach trip that only, maybe, Ollie Tanner out of what Erol Bulut would consider our strongest team actually went on!
So, while tiredness does need to be a consideration when looking at today's game, I'd say it's a fairly minor one and it should not be used to fully paper over the cracks seen in today's game where City seemed determined to hand their visitors the three points.
City went into the last ten minutes at Middlesbrough a goal down and by the time the final whistle blew they'd conceded another one and there could easily have been two or three others – they looked out on their feet by the end and it wasn't too different for the last hour or so today, this has to be a concern because, as I've tried to point out above, a degree of tiredness would be understandable, but not this much.
It was really poor fare today, Watford were better than us, but not a great deal better – I can't remember them opening us up once through their good attacking play, all of their chances, bar a point blank header from a corner which flew well over from what might have been an offside position, came from us presenting them with opportunities.
We had four chances to score in the ninety minutes I reckon – actually it was four in forty five minutes because they all came in the first half.
We did nothing whatsoever in Watford's final third in the second half, but I wouldn't blame our attacking players too much for that, the problem was that we were completely unable to build through our midfield in the second half and we did very little of it before the interval as well.
The reason for this was that it was one of those games where we never seemed to have the ball under full control, passes were not trapped properly or were played in a manner which necessitated too many touches before any thought could be given to what to do next.
It was not that Watford had a particularly effective pressing game, but we were forced to play no end of passes back to Jak Alnwick (interestingly, Erol Bulut thought we did far too much of it, so it would not appear to have been under his orders).
Watford had an early spell where they enjoyed a lot of possession, but this was the precursor to our best ten minutes of the afternoon which culminated in us taking the lead.
Our one effective attacking passing movement of the game ended with Karlan Grant getting away a shot from twelve yards that forced Daniel Bachmann into a diving save (besides the two goals, this was the only on target effort of the match) with Ugbo and Ollie Tanner close to turning the rebound off the keeper in.
The second moment of concern for Watford was all Grant's own work as he won the ball just inside his own half, beat an opponent and had the pace to stay clear of the chasing defenders, but having done everything so well to get himself the chance, he then fired wastefully over the top from the edge of the penalty area.
Ollie Tanner came infield to get away a scuffed shot which rolled a couple of yards wide that the officials decided had got a deflection off a defender and so a corner was awarded. Joe Ralls' inswinger was right on the mark as Dimitrios Goutas glanced a header on to the unmarked Mark McGuinness who volleyed in crisply from six yards.
Soon after that there was a Ralls free kick which Perry Ng bundled about a yard wide and then, there was nothing at all as far as a possible second goal for us was concerned.
There had been signs that Watford could benefit from a City mistake already when Ng made a present of a back pass to Vakoun Bayo who seemed certain to score, but a combination of his hesitancy and Alnwick's vigilance saw the ball rebound out harmlessly for a goal kick.
City had a half time lead, but they'd been far from convincing and the equaliser they conceded nine minutes into the second half was a calamity in keeping with the team's performance. Notwithstanding Bulut's back pass comment, the one McGuinness played shouldn't have been a problem, but Alnwick's first touch was way too heavy and this time Bayo did not make a mess of his opportunity as he scored easily.
The rest of the game was a mess, but a better, more confident, side than Watford would surely have found a way to win such was City's discomfort – as it was, apart from another present gift wrapped this time by Ryan Wintle that sub Tom Ince hammered over the bar, City held out for a point that I suppose was the best thing about the afternoon.
Despite the way they struggled, City only used three subs – Josh Bowler making a first appearance after six weeks out through injury came on for Tanner, Callum Robinson replaced Ralls and Romaine Sawyers (who played three risky backpasses in his first few minutes on the pitch!) came on for Ugbo late on. None did anything of note, but it was tough asking them to turn around a performance that had so much wrong with it.
Nevertheless, it was strange that players such as Adams, Rubin Colwill and Keiron Evans were kept on the bench. Colwill in particular was widely praised for his performance at Blackburn, but Bulut made his misgivings about the player clear after that game and he was at it again today – Colwill does not do enough "going backwards" (that is, out of possession) for Bulut. Robinson's sidelining this season (he looked some way short of full fitness and somewhat disinterested when he came on today I thought) is down to the same sort of thinking it seems.
In Colwill's case in particular, here is someone who is relatively fresh because he's not been getting any game time who can be creative, yet was ignored today when the team was creating nothing – if Bulut isn't going to use Colwill in league games, why pick him as a substitute for them?
It was good to hear our manager say he was not happy with what his team produced in the last hour or so today, he talked of a nervousness which he didn't understand and concerned him.
For my part, I make no apologies for thinking like a fan. Last season, I might have been relatively happy with the outcome given that we were so easy to beat at Cardiff City Stadium. For me at least, Erol Bulut has become a victim of his own success in that, by winning four straight home games (maybe we were a but lucky to beat Sheffield Wednesday in the first of them, but the other three were all deserved) he has got me expecting us to beat a side in the position and form Watford were in.
I'm disappointed that there were so few substitutions when the team were playing so poorly and disappointed because creative players were left sat on the bench at a time when we were creating nothing and hadn't done for a third of the game and more. My strong feeling is that, being a pro, Bulut decided some time before the end of the match that a draw wouldn't be a bad outcome given how his team were playing and so there was little effort from him to try and win the game from about the seventy fifth minute onwards. I emphasise again that I'm speaking as a fan here when I say that while such an attitude would be understandable if we had been playing, say, Leicester, it's a little concerning that he was thinking like that against a team so short of points and confidence.