Based on a quick look at the messageboards after Cardiff City's 2-1 first league defeat of the season today at home against Bristol City, I seem to be out of sync with City fans in my opinion as to the reason for our loss.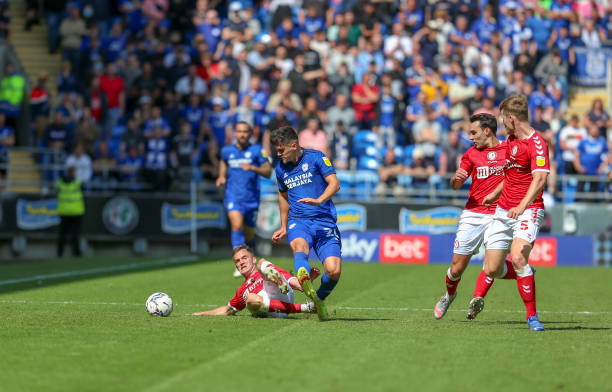 I think it's fair to say the received wisdom regarding the current City side is that we rely an awful lot on height and set piece prowess for our goals, we're hard working in midfield, but lack creativity and dynamism and I'm forever being told we're strong at the back- we're also horrible to play against apparently.
The messageboard I contribute to the most centred on our midfield, and Joe Ralls in particular for criticism today and anyone who has read this blog regularly over the previous two seasons will know that I've been a constant critic of the Pack, Ralls, Vaulks and Bacuna quartet, not particularly on an individual basis, more that I don't believe any combination of them in a unit has worked that well in the past two seasons.
However, I don't think the pairing of Pack and Ralls have done too badly at all in recent games. They have their limitations, so it's certainly not perfect, but I don't think the midfield was the problem today – I'd say we were worse at either end of the pitch than we were in the middle of the park.
For me, we weren't quite sharp enough in front of goal on a day when we created more opportunities from open play than normal – in fact, with sixty two per cent possession, you would expect this to be the case and so it proved, even if there weren't any "sitters" missed as far as I can remember.
Bristol we're able to foil us on a few occasions with effective last ditch defending, but they also were good at coping with the set piece and aerial threat game which has proved so successful lately.
So much of this has been down to fine crossing of Ryan Giles, who Iwan Robert's described as the best in that facet of the game in the Championship this week on the Elis James Feast of Football podcast this week (is it me, or has that become more Swanseacentric this season?).
I've been trying to think of a player from the past I'd compare Giles to and came up with someone from the nineties in former Leicester and England winger Steve Guppy.
Guppy did not see his function as "skinning" his full back, he was all about knocking in good quality crosses as soon as he had the slight amount of room he required to do so. As a typical fan, I much preferred jinking wingers when I was younger and can remember enjoying Peter Beagrie's play as he turned full backs inside out continuously when he first arrived in the top flight, but I always recalled comments from his Everton team mates to the effect that their strikers were always making runs for when they thought a cross was coming from Beagrie but it barely ever did because he would be cutting back and trying to beat his marker again – Guppy was the complete opposite of that and I bet the Leicester strikers loved having him outside them.
Going back to Giles, having set such high standards for himself in his first four league appearances for us, he was always going to struggle to maintain them game in, game out. Today, Giles was still able to work that Guppy like sliver of space for himself to get the crosses over in open play, but the accuracy wasn't quite there most of the time – it wasn't from set piece play either, hence Flint, Morrison and co were not as effective as they had been over the previous ten days.
Anyway, back to our problems at the top end of the pitch. Keiffer Moore isn't quite at his last season best yet, but I thought this was his best game so far this season. For me, there was no sign from him that all of the speculation about Wolves' £7 million bid, which the media are milking to death in the absence of anything much to talk about on the City transfer front despite the fact that the window closes on Tuesday, was affecting him.
Moore had two efforts cleared off the line today and visiting goalkeeper Dan Bentley was certainly a lot busier than Dillon Phillips was, but, not for the first time, I find myself wishing for just a bit more composure in City's play. It's always struck me that Neil Warnock actually discouraged composed football and I'm not sure Neil Harris and Mick McCarthy are great fans of it either!
I must say as well that City's composure levels are hardly helped by our manager's continued preference for Leandro Bacuna in a front three role.
Bacuna had his moments today, for example, he supplied a good cross which Joel Bagan met with his head to force maybe the best of Brntley's saves and then he tested the keeper again with a well struck volley from twenty yards just before half time during what was probably our best attacking spell of the game.
However, you cannot but think that we have better.than Bacuna for the role he is currently filling. Even if Lee Tomlin looks a long way away from the team at the moment, Rubin Colwill showed signs as to why he is rated so highly by his manager when he was eventually brought on for Bacuna and, although Josh Murphy is so frustrating, you'd like to think that seeing the much more limited, in this position at least, Bacuna starting in front of him would present him with a challenge he is capable of rising to if he was a bit more assertive.
If we weren't quite up to scratch in attacking areas, I'd say that defensively we were worse. As I mentioned earlier, I keep on reading and hearing that were strong at the back, but I'm not seeing it this season.
If teams are daft enough to adopt an aerial attacking approach against us, then, Flint, Morrison and Nelson cope quite easily, but, anything else and my view is that we struggle.
When we were conceding soft goals in our pre season matches, you could take solace from the fact that our captain was out recovering from injury and things would be okay when he was back, but it seems to me that all of our back three are struggling against pace and movement from the players they're supposed to be marking.
Now, of course, you could respond with "what's new?" to that last comment of mine, but I'd say that, by and large, three at the back under Mick McCarthy worked pretty well last season with the more mobile Nelson doing a good covering job for his two colleagues. However, while there's been so much comment on what Flint and Morrison have been doing in opposing penalty areas, I'm surprised no one has picked up on the fact that the pair of them are looking like the work "statuesque" was first thought up with them in mind lately and we're looking as secure as we did when those two were teamed up in a back four by Neil Warnock two seasons ago.
Neither goal today was directly down to these shortcomings mind, but our defending for both of them left much to be desired. For the first, a pass into an inside right channel asked a question of our keeper and defence, but it should have been one they were able to answer. Instead, Flint and Phillips left the other one to get on with things (Phillips actually retreated back towards goal), with the result that Andreas Weimann was able to mis control the ball, yet still exploit the mutual hesitancy of the two City players and accept the gift he was offered.
Weimann's winning goal was an excellently hit volley which left Phillips with no chance even though it beat him on his near post. It was a very well taken goal, but, again, he was given a helping hand by a series of challenges City were unable to win on the edge of their penalty area for what seemed about a minute or so before the goal and then Tom Sang ( a mixture of the very good and poor in the right wing back role today) didn't help matters by getting caught underneath a cross so that it just cleared his head to give Weizmann his chance.
City's equaliser was a bit of a mess, but there wasn't much wrong with Pack's neat pass slipped through to Moore or the striker's shot which got a slight touch off a defender to beat Bentley and the ball seemed to rolling over the line until Nathan Baker got back to clear it off the line, only for it then to hit the keeper and go into the net.
So, City have still not scored a first half goal in the league and I'm saying that the ball rebounded in off Bentley's head, therefore we've still only scored headers. If, as I suspect I am, I'm wrong there about where the ball hit the keeper before going in, it surely shouldn't mean an end to the line about only scoring headers this season – we need someone in a blue (or pink!) shirt to score with their feet for that to happen.
Whatever anyone may think of our goal, it remains the only one we've scored at home in our last five derby fixtures against the wurzels and the jacks. We've only taken one point from those five games (the fact that we've lost three consecutive home games now to a wurzels team as poor as they've been in the last two seasons should be a source of embarrassment to our players), that's a truly abysmal sequence iwhich brings to mind our record in home Play Off Semi Finals which I wouldn't mind betting is uniquely poor.
All of this puts me in mind of our days in the old Third and Fourth Divisions in the late eighties and early nineties where we'd always mess up in home games where there would be a larger than normal crowd.
This is looking increasingly like a period of transition for City and, although it's too early to do so yet, it may be that a decision will be made at some point in the new season about whether to persevere with the "old guard", many of whom are out of contract next summer or to look to the younger players now breaking into the squad – there have been times this season when the old guard looks up to the job, but some of them weren't great today and it was a disappointment to see that Sam Bowen did not even make the bench, despite all of the positive things said by our manager about him after the Brighton match.
Moving on from the game, there was a surprising development today with confirmation of a rumour that had begun on Friday – Ryan Wintle only signed from Crewe a couple of months ago, yet he has joined Blackpool on a season long loan deal.
Also, the Under 18s played out that most unusual of things st that level, a 0-0 draw, today at Coventry – this was a decent result, because Coventry are usually strong at age group levels and have tended to get the better of us down the years, yet it needed a penalty save by City keeper Dennis to ensure our point.
http://mauveandyellowarmy.net/