http://mauveandyellowarmy.net/
In my piece on yesterday's Academy match, I
dedicated a few paragraphs to how badly things had gone for the first team in
the afternoon's Premier League programme with wins all of the way for the sides
in danger of occupying the third relegation place instead of us – only the fact
that Southampton's victims were Brighton offered us any small consolation.
My take was that, even if our next two games
(against Chelsea and Manchester City) resulted in the expected defeats, we
needed to ruffle the feathers of at least one of those big teams to carry some
confidence into the matches that would really decide our fate (e.g. Burnley,
Brighton and Fulham) to keep our hopes
intact.
Well, today we certainly did ruffle Chelsea's
feathers as, for the fourth time in four Premier League matches with them, we
scored the first goal and yet we still find ourselves awaiting our first point
against them. Whereas we could have no complaints about the two 4-1 defeats we've
suffered at Stamford Bridge and the 2-1 scoreline at Cardiff City Stadium on
the final day of the 13/14 campaign did not reflect the Londoner's superiority,
today's 2-1 loss feels like a kick in the teeth – we got the performance needed
from the team, but it's hard to see how they can carry much in the way of optimism
into future games when inept decision making by match officials can influence
outcomes to the extent that we saw today.
Once again, there was evidence of the fact that
whether consciously or unconsciously, Premier League "minnows" like us find that
their already sizable task when it comes to staying up is made harder by the
way the Premier League's biggest clubs are favoured when it comes to the most
important decisions in games.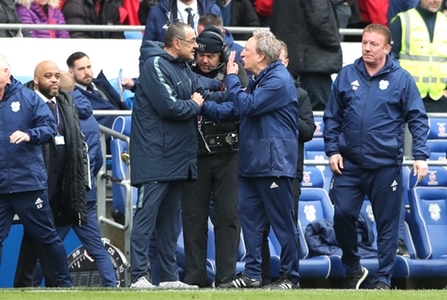 Neil Warnock telling Sarri how many yards it was offside
To a degree of course, struggling sides are
always more likely to suffer at the hands of officials than the better ones are
because the greater control they play with means that they are not pressured
into fouling or breaking the rules in the way that strugglers do, but, even
allowing for that, after more than a quarter of a century of watching on
television how Premier League matches are refereed and a couple of seasons of
seeing my team play in the flesh at this level, I've seen enough to say that
the charge that the bigger clubs get decisions in their favour that the smaller
fry don't tend to is a justified one.
The signs that Craig Pawson and his linesmen
were doing us few favours were there in the first three quarters of today's
match, but they didn't really have too much of an influence on proceedings as
City, with an intelligent tactical display backed up by total commitment and a
bit more ability than they are often given credit for, were getting me thinking
"we can win this".
Chelsea had most of the possession during the first
half, but there was no dynamism to their game and it soon became clear that
they were experiencing one of those awkward away days that have become familiar
to them in 2019. With Eden Hazard and N'Golo Kante on the bench, the London
side were missing arguably their two best players, but there was still enough
star quality in their side to expect more of a goal threat from them – instead,
all we got was slow passing and wayward shooting with only one effort from
Pedro which fizzed not too far over causing any real alarm for a disciplined
and dominant home defence.
Up the other end, City, with Josh Murphy giving
an uncomfortable looking Marcos Alonso a torrid time of it on our right wing, were
doing enough to suggest to fans that this could be the day when we would avoid
defeat by a member of the top six for the first time this season and in the
opening minute of the second half a win that would have totally transformed the
outlook for the club looked possible as Victor Camarasa scored his second best
goal for the club so far (the matchwinner at Leicester being his best) as he
volleyed in a pass from Harry Arter from fifteen yards out with an almost
delicate touch.
It was a lovely goal and it soon prompted the
introduction of Hazard. I had been pretty confident that the Chelsea side which
started the game did not have a goal in them, but from the moment Hazard came
on, he brought a directness, poise and vision which made his team more of a
challenge for City.
Nevertheless, with a lead to hold on to, City
were still resolute and pretty composed in their defending and with a little
bit more accuracy in their passing may just have been able to take full
advantage of one of the counter attacking opportunities which came their way.
Holding onto their lead was going to be that
much tougher with Hazard involved, but with most of the Belgian's team mates
still playing in a subdued manner and showing a strange inability to get their
shots away cleanly, there were definite signs that City might just be able to
record a win which would lift the gloom that had settled over supporters
yesterday.
Sadly, it was at the time when some of the Chelsea
fans in the ground were more intent on calling for Maurizio Sarri's sacking than getting behind
their players, that the officials became more of an influence on proceedings
and there was little or nothing that they did in the closing stages that the
City team or their supporters could thank them for.
When Lee Peltier followed Hazard infield and
towards the Chelsea goal on a couple of occasions, he was penalized by referee
Craig Pawson for fouls, but I couldn't help thinking that the free kick awards
were for who was, allegedly, being fouled rather than a judgment on the
severity of Peltier's challenges – would those free kicks have been awarded if
someone other than Hazard had been the "victim"? Somehow, I doubt it.
They weren't decisions that caused City
major problems because they were both committed well inside the Chelsea half,
but with Harry Arter and Aron Gunnarsson increasingly showing signs that the
prodigious amount of running and covering they had put in was beginning to
catch up on them, the last thing City needed was for the officials to start
making their task more difficult.
With Chelsea's other two subs Rubin
Loftus-Cheek and Olivier Giroud both being an improvement on the players they
replaced and Hazard beginning to enjoy more success in his attempts to create something
other than long range shooting opportunities for his team mates, Chelsea were looking
as dangerous as at any time on the game, but there were only six minutes left
for City to hold on as they scrambled the ball out for a corner after what was
maybe Chelsea's best move of the game so far.
They had been under the cosh for a lot
of the time, but there was a belief and together ness about City which
suggested to me that they could hold on and that was why I was so disappointed
with them when Chelsea equalised from the resultant corner as an unmarked
Alonso glanced on at the near post and captain Cesar Azpicilueta nodded in a
rare goal from close range on the far stick.
My anger came entirely from the fact
that, having defended so well, City had, not for the first time this season,
conceded a cheap goal from a set piece -sat at the other end of the pitch, I
only saw two unmarked attackers getting their heads to the ball from a corner.
To lose the win just at the stage where you had virtually convinced yourself that it could happen was tough, but a draw would still have been have been a very satisfactory outcome. only City weren't thinking like that. The possibility that they could do a Southampton where they snatched a winner after being pulled back level very late on arrived as sub Kenneth Zohore burst on to a long ball and looked to have beaten visiting centre back Antonio Rüdiger only for the German international to bring him down as he bored down on goal.
At first Pawson looked like he was not
going to give anything and that's why I believe that what happened next was
governed by the Fourth Official because, after a delay of what seemed around
ten seconds or more he awarded a free kick and showed the defender a yellow
card.
Having now seen the incident again on television, I think an argument could be made to say keeper Arrizabalaga might have got to the ball before Zohore, but it was a very close call and, on balance, I stick to my original view that a red card should have been shown.
At this stage, I was thinking that there was nothing wrong with Chelsea's equalizer and so thought, correctly I believe, that it was the decision not to send off Rüdiger that was responsible for the storm of boos which greeted Mr Pawson at the final whistle.
After that incident and with Chelsea levelling things up so late on, there was, for me at least, a sense of inevitability about their winning goal when Loftus-Cheek got the better of Peltier to nod powerfully in from a Willian cross to secure an undeserved win for the visitors. Therefore, I was angry, but also had this thought that 1-0 up after 84 minutes to a 2-1 loss was the sort of turn around that relegation sides suffer as I turned my radio on to hear what the media had to say about the game.
For the first few seconds, the talk was
of a dramatic and crucial Chelsea win and the analysis was on whether Rüdiger should
have walked or not. It was only a short while later that the presenter said
something about the Chelsea equalizer having also come from an obviously
offside position of course that I learned for the first time about the really
big officiating mistake of the game.
As I listened to the Liverpool v Spurs
match as I drove home, the conversation frequently returned to the Cardiff v
Chelsea game and how the home side had been robbed of a deserved victory by an
outrageously poor call by a linesman.
Although I had still not seen the goal for a second time, in a sense there was no need for me to do so, because the words I heard for an hour or so after the final whistle had blown made it so obvious that this was no borderline decision that an official had got wrong, but there was still general sympathy shown towards them because it was such a tough decision to make – this was a major howler.
Even so, despite knowing what was to
come, it was still a shock to see just how offside Azpicilueta was when I
eventually saw a replay of the goal – he went from being yards offside when the
corner was taken to being a foot and more offside by the time Alonso flicked it
on! While it does need to be re-emphasised that it was poor defending by City
to allow Alonso to get his head to the ball, you could almost argue that they
were perfectly happy for him to do so because they knew it was such an obvious
offside!
Apparently, the linesman's excuse is
that the corner taker, Willian, was blocking his view of the incident – sorry,
but that is preposterous. Does Willian take corners in a completely different
manner to everyone else which makes it impossible for the linesman close by to
do the job that he is supposed to? Based on the seven corners he took today and
every other one I've seen him take in the six years he has been playing in this
country, the answer is an emphatic no!
The linesman *must have stood over
thousands of corners being taken during his time in the game, so, sorry that
excuse of yours just does not wash – you made a very basic error which would have
looked bad on a parks pitch, to make such a terrible mistake in "the best
league in the world" is disgraceful.
There are those on the messageboards
tonight who are criticizing City for conceding a soft second goal, but I won't
be because, as I said earlier, there was
an inevitability about it and I can't help thinking that some of our players
may have thought the same as well.
Before going on to explain what I mean, I should preface my remarks by saying that I thought Chelsea should have had a penalty from the first corner of the game when there was a clear shirt pull on a Chelsea player by Gunnarsson, but, if you are, say, Sean Morrison and you've played in yet another game where you have been fouled in the opposition penalty area on at least two occasions, can you blame him for thinking to himself here we go again after conceding a late equaliser from a clearly offside position and then seeing an opposing centreback stay on after committing a foul which should probably have been punished by a red card?
No doubt this group of players will lift themselves again for the three successive away matches we now face because that is what they have done for two seasons and more, but they must know that they will travel to the Etihad on Wednesday in particular and not see many, if any, of the big calls which could go either way be called in their favour – as I mentioned earlier, it goes on all of the time in the Premier League, but seldom can the favouristism towards the big boys have been as obvious as it was today.
Finally, I'd like to send my condolences to the family and friends of former City midfield player Barrie Hole who it was announced had passed away at the age of seventy six recently.
Swansea born Hole played over two hundred games in City's midfield between 1959 and 1966 before signing for Blackburn for a fee of forty thousand pounds. After two years at Ewood Park, he moved on to Villa before ending his career at Swansea – he played thirty times for Wales.
To be honest, although I saw Hole play for us on many occasions, I was too young to appreciate what he brought to the team. That said, I can remember my father being a fan of his as he picked him out as one of the better footballers in a team that was generally struggling during the time I watched him play for City.
*Ive watched Match of the Day 2 since typing this and feel even more now that City were robbed by the officials. As for the linesman, Jermaine Jenas named him as Eddie Smart – good on him for doing so, because Mr Smart does not deserve the anonymity that many doing his job get after that howler.