So now it's five straight defeats for Cardiff City and with four of them being in the league, all of the good done by the quartet of consecutive victories which had us closing in on a Play Off place in mid December has been lost – we're back looking like the lower mid table side that the large majority of displays this season have suggested we are.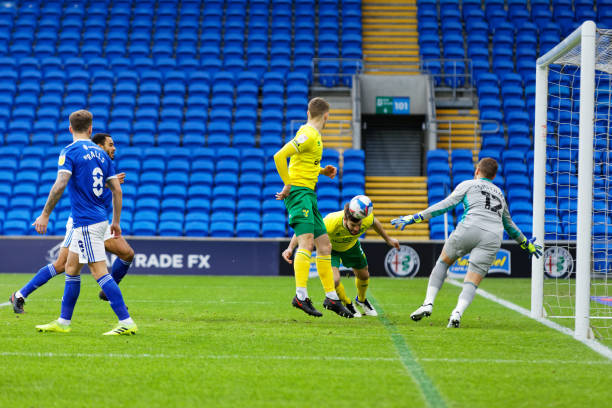 On the Saturday before Christmas, we were comfortably seen off 2-0 by Championship leaders Norwich City at Carrow Road and, in truth, we left East Anglia grateful that the margin of defeat wasn't higher.
Since then, we've been deservedly beaten at home by Brentford, gave a performance in the 2-1 defeat at Wycombe that, in my view, has only Swansea and Coventry as possible rivals for our worst of the season so far and were somewhat unfortunate to be beaten by a single goal in the FA Cup at Forest last weekend.
Today, by a quirk of the fixture list, we faced Norwich in the return fixture at Cardiff City Stadium less than a month after the first meeting and it was no great surprise to see the league leaders leave with all three points – it finished 2-1 and, like all but one of our recent losses, the margin of defeat did not reflect our opponent's superiority.
In City's defence, they had to go in with last week's makeshift defence of Leandro Bacuna at right back and teenager Joel Bagan at left back on either side of Curtis Nelson and Joe Bennett – of those, I would say only Nelson, who has been less impressive this season than he was in 19/20, would be likely to be a starter in our strongest team if you considered them in the positions they occupied today.
It also needs to be said mind that Norwich had issues with COVID (four players out), they had a flu outbreak in their camp and also had top scorer Teemu Pukki missing with injury. Besides this, the visitors had Wales Under nineteen keeper Daniel Barden between the sticks, but City's all too familiar lack of creativity and a very poor referee who saw fit to give twenty six fouls against us helped ensure that the youngster had a pretty quiet afternoon of it.
So, while City had important players missing, the same could also be said about our visitors and, in a completely one sided opening forty five minutes in particular, there was no doubt at all who was coping best.
So much of Norwich's dominance could be put down to it simply being a case of a very confident side facing one that was almost completely bereft of that quality, but it went deeper than that because there were also all of the usual City weaknesses that have been around for so long now and one or two newer ones that have emerged more recently because of the players we now have at the club.
It's quite remarkable in a way that City have been able to maintain their standing as a top half Championship side since 2012 even though for the large majority of league matches during that time, their opponents have looked quite a bit more accomplished technically than them. Indeed, we've won a Championship, a runners up position and a Play Off spot during that time, something which has to be seen as impressive indeed given our shortcomings in the skill department.
When it comes to basic technical skills such as first touch, simple passing and hitting shots cleanly, you could be forgiven at times for thinking that it is a policy at the club to sign players who are weak in these aspects of the game and, furthermore, if they do mistakenly sign someone with highly developed technical qualities, City won't take long to coach them out of the player concerned!
I'm not being serious there, but when you look at Harry Wilson, a player who whatever you may think of him at the moment is above average technically for the Championship, today I'd say it's reasonable to conclude that Cardiff place less importance on technique than almost everyone else in the Championship.
As mentioned earlier, City have made a good job of compensating for these perceived weaknesses in the past by being strong in physical, mental and organisational terms, but this season standards have slipped in these areas – as could be seen today.
For example, the difference in pace between the teams all over the park was marked while mentally, we let in the first goal so often and today, after conceding inside three minutes last week, we did exactly the same as a lack of organisation from a corner caused us to let in a goal of embarrassing simplicity.
Throw in the poor passing (which I moan about every week I know!} which only exacerbates the limitations of many of our players when it comes to their first touch, and is it any wonder that we create so few opportunities in open play?
Although Norwich looked so comfortable for much of the game, it may all have turned out different if Wilson had taken a great chance presented to him within twenty seconds of the start by an effective City press which enabled Robert Glatzel to find the Liverpool loanee in glorious isolation on the edge of penalty area. It should have been a simple chance for someone of his ability and I can't help thinking Wilson would have scored if he had a Hull, Derby or Bournemouth shirt on, but, just like his wild and scuffed finishes respectively when presented wtth two great opportunities within a few minutes at Wycombe, his technique let him down as a poor touch enabled Barden to come out and make a comfortable save.
Within a couple of minutes, City were behind. With their defence lacking a Morrison, Bamba, Flint or Moore to contest things aerially, defending dead balls always looked like an area of weakness and City had already had a scare after Smithies had made the first of what were many good saves (having our keeper looking more like his usual self was one of very few encouraging aspects of the day) after the visitors had, as became the norm, got the first touch on a free kick or corner, but the resultant corner saw Mario Vrancic head on to captain Grant Hanley who couldn't miss from a couple of yards out.
The contrast between the teams was further emphasised when Will Vaulks played a fine pass, reminiscent of Marlon Pack's against Birmingham, inside the left back to put Bacuna clear in acres of space inside the penalty area, only for the full back to come up with the equivalent of a gently rolled back pass which, once again, left Norwich's rookie keeper with a simple save to make.
City were soon punished for a second time for their profligacy – Bennett, who I thought did pretty well in his new position otherwise, missed a through ball and left Jordan Hugill with a great chance, Smithies blocked the shot and was unlucky to see the ball rebound straight into the path of Todd Cantwell who was left with a finish almost as easy as Hanley's.
City were grateful to get to half time just 2-0 down, but made a better fist of things after the break – Keiffer Moore, making his return after the hamstring injury he suffered against Swansea, caused Norwich's centre backs far more problems than Glatzel who is another Cardiff attacking player shorn of confidence. However, apart from when an example of the sort of wandering from Bacuna that I've been critical of saw him turn up on the left wing to provide Joe Ralls with a chance he put away crisply from around twelve yards, it was mostly huffing and puffing from the home team whereas Smithies was called into action on a few more occasions.
You never know, City may have been able to make a grandstand finish of it in the last quarter following their goal because they were having what was probably their best spell of the game then. However, their hopes just about ended when captain Marlon Pack received his second yellow card. Pack could have few complaints with Tony Harrington's decision to send him off, I thought the referee was fussy and pretty awful overall – he gave so many innocuous fouls against us and while we didn't lose because of him, he made life easier than it might have been for Norwich.
After the game, Neil Harris said he was proud of his team, but that struck me as just an example of trying to keep spirits up in what must be a pretty downbeat dressing room. It also seemed to me to be another indication of the sort of underdog mentality that has prevailed at Cardiff for years in that the message was that we almost were good enough to take a point off the mighty Norwich when we should have so many things going for us in this division that we should never consider ourselves as inferior to anyone.
So, no doubt the pressure on our manager will increase as what now seems to me to be a majority of fans would like to see him sacked. Although I'm struggling to stick to what has been my line throughout the season that Harris is still in credit for getting us to the Play Offs last season, what I think is not that important set against the fact that we paid a fee of what could rise to a reported million pounds for a striker today and with talk of a couple more signings, at least, to come before the transfer window closes, these hardly appear to be the actions of a club preparing to get rid of their manager.
The new man is Crawley striker Max Watters who has had a great season so far with sixteen goals to show from his nineteen appearances in all competitions so far. On the face of it, Watters' career is hardly suggestive of someone who can be a success in the Championship – he arrived at Doncaster Rovers via Thurrock, Barking and Ashford United, but was released by them at the end of his two year contract after failing to score in his five league appearances for them. Trials at Maidstone, Bromley and Dagenham and Redbridge followed, before Crawley offered him a contract after another trial.
Since then, Watters has scored goals aplenty including a hat trick against Barrow which helped towards him winning the League Two Player of the Month award for December.
It's worth pointing out that we paid a similar sum for Eoin Doyle on the back of his League Two (Division Four in old money) goals and that didn't work out well. Furthermore, one of only two players above Watters this season when it comes to League Two goals is Leyton Orient's Danny Johnson who was with us early in the previous decade and never made it into our first team.
However, at twenty one, Watters has time on his side and, having seen him for the first time in Crawley's FA Cup win over Leeds last weekend when he made an effective substitute's appearance on his return from injury, I like the look of this signing -after all, the jacks were in for him last week and that suggests he has something about him.
Just to add that it was reported on Saturday night that Bournemouth had accepted an offer of £750,000 from City for their twenty four year old centreback Jack Simpson who is out of contract in the summer. Simpson has made twenty league appearances for Bournemouth, twelve of which were in the premier League, so, in essence we're signing someone who is a reserve at another Championship club. Looked at that way, the fee seems quite a big one and you wonder if Simpson is an improvement on what we have here already, but our need for a centreback is desperate (not as desperate as our need for a right back and a different type of central midfielder to my mind though!), so, as always I'll judge Simpson when he's played a few games for us in the event of him becoming a Cardiff player.