Cardiff City's eleven match unbeaten run under Mick McCarthy came to an end in very unfortunate circumstances today as Watford scored a soft goal in the fourth minute of added time at end of the match to snatch a 2-1 win as the weird stat which says that two goals or below from us in a home game means that we do not win – in fact, as this eighth Cardiff City Stadium defeat of the season suggests, we usually lose.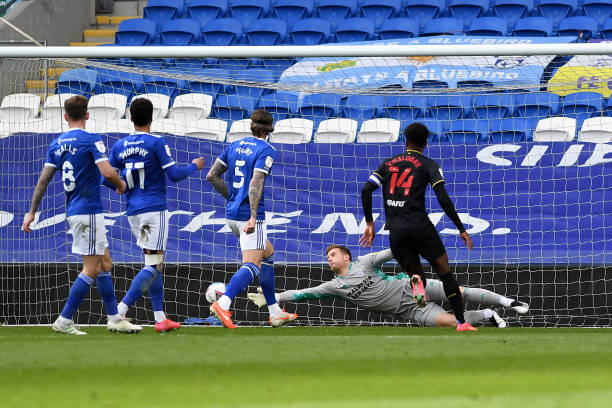 City went into the game with a home win over Derby that was even more convincing than the 4-0 winning margin suggests sandwiched by draws in away matches at Middlesbrough and Huddersfield where luck was on our side.
Now, when a run of six straight wins comes to an end with a draw at the home of a Play Off rival, it's a bit harsh to be critical of the performance, but we were poor at the Riverside Stadium and not much better last Friday at Huddersfield where a missed penalty enabled us to extend our unbeaten run for a while longer.
So, the momentum of February was showing signs of stalling in March before today and, although I thought we played better than we had done in our last two away games, the indication that we have hit the buffers to some extent grew stronger as we now find ourselves seven points from the top six with two matches to be played before the final international break of the season.
For all of the hurt of losing through a preventable very late goal, I thought Watford's win was just about deserved. About ten minutes after the coverage of the match on the club website had finished today, they showed a highlights package that was notable for how much of the action took place in our penalty area – when such a notoriously biased source's highlights reel is so weighted in the other side's favour, it does tend to tell a story!
https://mauveandyellowarmy.net/
Although there was the ever present threat from set pieces from City which led to second half efforts being hooked over the bar by Keiffer Moore and Aden Flint, in truth, Watford seemed to have most difficulty in dealing with long, high balls forward in the first half especially as central defenders and keeper got themselves in a pickle on a few occasions and needed a bit of luck at times to survive.
However, it was noticeable that the City back three, with their distinct height advantage over their opponents were also less commanding than usual when the ball was played high in their direction, so I think it's probably fair to say that the gusty wind which blew throughout was more of a factor at times than the pictures, which often showed, bright, sunny conditions, suggested.
City were also dangerous for a short while during a positive, purposeful start which saw Josh Murphy and Harry Wilson getting more possession in promising areas than in any other game I can remember, but it didn't last and from about the fifteen minute mark onwards, the game was like so many under Neil Harris' management as we struggled to get our game changers into the match.
Murphy especially was prominent for that short while though as a slip by visiting centre back William Troost Ekong allowed him a clear run in on goal which he wasted with a poor touch as he closed in on keeper Daniel Bachmann. Murphy was much more impressive seconds later though when receiving the ball in a similar position, this time he opted to cross low for Moore who would have had a tap in if the ball had reached him, but Francisco Sierralta in trying to intercept turned the cross into his own net from six yards out.
Watford's away record this season features plenty of draws and goals scored and conceded at a rate of less than one a game, so there was a feeling before kick off that goals would be at a premium and I definitely felt that, if we were to get the three points, it would be by rediscovering the lost art of the 1-0 or 2-1 home win.
Unfortunately, any chance of a victory through the first of those options disappeared within about a minute and a half of our goal as Watford showed their attacking teeth for the first time by working the ball into our penalty area to create a chance which we looked to have snuffed out until the ball broke to captain Nathaniel Chalobah who worked the space for himself in a crowded penalty area to shoot low past Dillon Phillips from about fifteen yards out.
Jason Perry on the club website and Mick McCarthy after the match were disappointed that Chalobah was allowed to get his shot away and that is the sort of attitude you'd expect from ex players, but, as a fan, I always tend towards praising the scorer when a goal is as expertly taken as this one was – even when it's against my team.
Watford, with Will Hughes an increasingly influential figure while playing in a manner which you'd never see from a member of our current team, were the better side for the rest of the first half as Joao Pedro's overhead kick was well struck, but flew straight at Phillips and then Ismailia Sarr's shot got a slight deflection which made Phillips' sprawling save to turn the ball for a corner all the more impressive.
With Pedro also flicking just over from eight yards out, Watford could feel a bit hard done by to still be level at the break with their often slick passing only emphasising our shortcomings in that area – I usually agree with what Jason Perry says when he is commentating on one of our games, but when he commented during one of the periods where Watford were particularly on top, that we needed to start passing the ball better to break up our opponent's control, I couldn't help but blurt out "but, we can't do that, haven't you been watching us for the last six months?" – in truth I could have said five years!
To City's credit, Watford, and Hughes, were unable to move the ball about as effectively after the break, but still, the bulk of the best chances were theirs. Sarr had a header saved by Phillips and blazed wide from six yards when he should at least have got his effort on target and rather like in their previous two draws, this became a game where you were hoping City would get in with their point intact rather than wishing for, or expecting, a winning goal.
It was definitely looking like we could do that and make it to a dozen unbeaten when Sarr got the better of Perry Ng, who had switched to the left as part of a rearrangement when Curtis Nelson went off with a calf injury (Ciaron Brown moved into central defence and Tom Sang was introduced at right wing back), and was brought down right on the corner of the penalty area.
Now, I've seen comments to the effect that we didn't have enough men in our wall for Adam Masina's free kick, but, for me, what happened next was a goalkeeping error pure and simple by someone who had been faultless before now since he came on at Ashton Gate to replace Alex Smithies nearly two months ago.
Masina's shot was certainly well hit, but it didn't have much else to make you think it was going to be a match winner and it wouldn't have been if Dillon Phillips had stayed on his feet as it would have been headed straight towards him, but, instead, he went to ground and waved a hand at the ball as it flew over and past him. There was an assumption at first from the commentators that there had been a deflection on the shot, but the first replay knocked that on the head – it was an odd one, maybe a combination of that problematic gusty wind and the modern balls tendency to "wobble" in the air did for Phillips?
So, Watford have three points which may prove vital to their top two hopes come May, not the one they looked like getting. I think that they are probably the team most likely to accompany Norwich into the Premier League automatically, but I hope they don't and I hope they don't make it up through the Play Offs either because I find the modern version of the club a hard one to like with their never ending turnover of players and managers.
Watford boss Xisco Munoz, who appears to be doing a very good job and has his team playing better football than his predecessor Vladimir Ivic, spoke of the need for "humility" after the game which was a bit rich when you consider the antics of him and his bench when the winning goal went in and of some of his team when the final whistle was blown. Also, for all that Munoz has done to get Watford playing in the last few months, you know that two or three defeats as the pressure mounts in the spring may well see their trigger happy owners act again – City are a far from perfect example of how a modern day club should operate, but, for all of their time in the Premier League since 2015, I wouldn't want to be a Watford fan these days.
Just a quick word about Academy. This statement, which was issued by the club overnight suggests that the issue of bullying of youngsters didn't begin and end with the Craig Bellamy issue which caused the club a lot of bad publicity a year or two ago and, although I cannot go into detail because I would be breaking a confidence, it ties in with a few things I've heard since the Bellamy issue – let's hope the club inquiry is a proper and complete one and not a whitewash.