Charlton beat City to win the Development League play off final at CCS yesterday afternoon. Filip Kiss' goal midway through the first half levelled Charlton's first minute opener and it stayed 1 - 1 until full time. That sent the game into extra time and it stayed that way until Charlton scored two goals in the final five minutes of the 120 to take the title back to South East London.
A crowd estimated at approx 2,500 took advantage of free entry and many queue'd for a long time to get their picture taken with the Championship trophy.
Photo's from Jon Candy
http://www.flickr.com/photos/joncandy/sets/72157633456312209/show/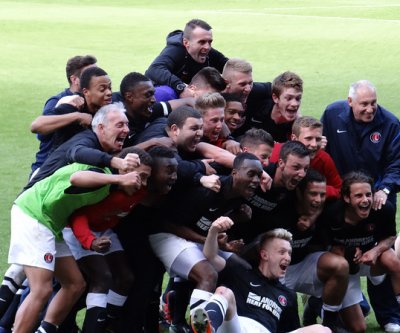 Article from Paul Evans
On Friday I added a footnote to my previous piece on here about yesterday's Development League Level 2 Final with Charlton praising the club for deciding not to charge an entrance fee for the match. That still applies, it was a very good thing for them to do, but it has to be said that, having made the decision, they then went about implementing it in a manner which would have made Fred Karno's Circus look like a model of efficiency!
With all that has happened to Cardiff City since 16 April (incredible to think that it is now almost a month since promotion was confirmed), you would have thought that those responsible for the entrance procedures for a Cup Final involving a team which had just been promoted to the Premiership would have made arrangements which included the probability that a good sized crowd would turn up – especially when you consider that it was the last chance for supporters to see their team perform for a few months.
Not at Cardiff though I'm afraid, what we got was, presumably, the same system that applied for other home Development team games this season whereby the crowd goes in through one entrance where each person is, first, given a ticket for the game by one of two people sat at a table and that ticket then has to be scanned (there's only one scanner available at this entrance) before you are allowed to go into the Stadium. So, it would appear that the club were expecting the same sized crowd as they have got for the Development team league matches this year (an entrance fee was charged for these games) - in my experience we are talking about something like two to four hundred. Instead of that there was a queue trailing from near the ticket office all the way back to the Family Stand and it was only with about five minutes to kick off that a decision was made to open another gate to help deal with demand.
Even when this happened, the queue I was in still stretched back well past the main entrance and it only started moving quickly when the decision was made to stop issuing and scanning tickets and just let everyone in – this, surely, meant that the announced crowd of two thousand five hundred and something was either just the number of tickets scanned or complete guess work. So it was that I finally got into the ground at about ten past three (it would have been at least ten minutes later if they had kept on issuing and scanning tickets), but a look at the scoreboard, which showed 0-0, at least told me I had not missed anything significant – trouble was, when I looked at it again about five minutes later it was showing City 0 Charlton 1 which only confirmed a growing suspicion the club were using less staff at this game than they did for "normal" Development team matches!
Sorry it's taken so long to get around to what happened in the game, but City really do make it hard for themselves at times and yesterday was a further reminder that, while the club makes giant strides on the pitch, they are, in many ways, still the same ramshackle outfit they've always been off it. Anyway, it turned out that the scoreboard was, eventually, correct – Charlton had scored in the first minute, but City were doing virtually all of the attacking in the time since I'd arrived and their pressure was rewarded when a corner by captain Joe Ralls was headed down and Filip Kiss crashed the ball home from close range.
At 1-1 with just under twenty minutes played, it looked like we were on course for an excellent game between two evenly matched sides who had proved themselves the best in the country at this level, but, sadly from a City perspective, this did not turn out to be the case and the brutal truth is that I cannot remember them creating a worthwhile scoring opportunity after that. I don't want to be too critical here, but it seemed to me that the team were set up wrongly to get the best out of what they had. Now, I say that in the fairly certain knowledge that the system we used was the same one which enabled us to finish the league season so strongly that we were only pipped on goal difference for the title by Charlton and it was the one which enabled us to gain that noteworthy win at Leicester in the Semi Final, but it just didn't look right to me yesterday.
I spent a fair amount of time last year, and some of this season, saying that we didn't have the players capable of turning 4-5-1 into an effective 4-3-3 when attacking, but yesterday it seemed to me we had that situation in reverse – we had a 4-3-3 which hardly ever became a 4-5-1 when we were defending or when the opposition had possession. Furthermore, by employing Etien Velikonja quite wide on the right we were giving him less opportunity to show what I reckon is the strongest part of his game, his finishing ability, and he did little to stop the Charlton left back getting forward as often as he could to give his keeper an unmarked target to aim for well up the pitch when clearing. The situation on our right when it came to attacking was not helped by what looked an odd decision to use Josh Yorwerth, not Deji Oshilaja, at right back – Yorwerth didn't do badly in defensive situations in a position I've never seen him play in before, but, with one exception, his crossing when attacking did not trouble the Charlton defence.
It was a bit better on the left where Declan John and Kadeem Harris combined well at times in attack in the first half in particular and, although the latter lost possession plenty of times, he also had his occasional successes when running at opponents – John, like Yorwerth on the right, was left isolated and given little protection by the player in front of him when Charlton attacked though. All of this combined to leave our midfield three of Ralls, Kiss and Theo Wharton to try and cope with Charlton's four (which often became five when their full backs pushed forward without being, effectively, tracked by a member of our front three). The strange thing was though, that although our trio were being outgunned as a unit during the second half especially, I thought that individually they might well have been our most effective outfield players – there aren't many better passers of the ball at the club than Ralls and he offered proof of that yesterday, Kiss went about his business effectively and, like Ralls, would be a member of many Championship club's first team, while Wharton was dogged and determined in his defensive work and also showed some delightful, skillful touches in tight areas.
It would appear that City put an awful lot into the game at Leicester and some of their players looked a bit "leggy" as the game went on (e.g. Rhys Healey) – strange therefore that we didn't see a City substitution until the last ten minutes of extra time, by which time, the game was as good as over. So, it seems to me that City could have been more effective opponents for Charlton, but, to be honest, I'd say that result wouldn't have been too different however we'd deployed our players, because Charlton were simply better than us on the day and the 3-1 scoreline didn't flatter them at all.
With their first team not finishing too far away from the Play Off's, their Under 21′s winning a national competition and their Under 18′s winning their league, Charlton look an impressive and well run club at the moment. With the talent they have coming through, I think we can expect them to make a real challenge for a Premiership place in the not too distant future. In particular, their attacking duo Michael Smith and Joe Piggott, well supported by first team regular Callum Harriott, caused us plenty of problems with all three of them looking fine footballers in the making.
I mentioned about our midfield three being our best outfield players, but City's man of the match for me was keeper Elliot Parish – the game wouldn't have gone into extra time without his contribution and the second half save he made from Piggott was a superb effort.
So, a disappointment on the playing side to finish 2012/13 after all of the celebrations of the last few weeks, but Kevin Cooper and his side deserve plenty of credit for their efforts this season. They've playing winning, entertaining football, and I believe the objective behind this new league has been achieved already in a few cases at Cardiff because the games of some of our players in the 19 to 21 age range have developed a lot more than they would have by playing a series of friendly matches like they did last season.