Cardiff were second class against Norwich. Paul Evans gives his thoughts.
I've only just got in from the game and so have only skimmed through a couple of media articles about Cardiff City's 3-1 home defeat by Norwich City in the Second Round of what I still call the League Cup.
A common theme in the articles was that they both used the word "woeful" to describe City's performance – my only comment to the professional journalists involved is to ask did you really expect anything different?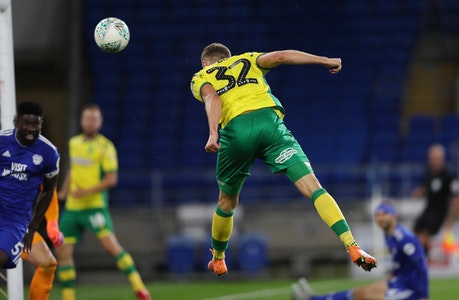 One of the consequences of being a Premier League team is that your defeats in cup competitions are often looked upon as giant killings, but, in recent years at least, Cardiff City can never be described as "giants" when there aren't league points up for grabs – any team under the Football League umbrella (sorry, I forgot Macclesfield there!) should fancy their chances of turning us over if they have the good fortune to draw us.
The game was like so many you see in the early rounds of cup competitions where a side with superior ability are matched with more limited opponents who try to make up for the difference in quality between the two sides by relying on things like commitment, physical force and sheer endeavour.
Usually class wins through in such encounters and so it did tonight as Norwich played pass and move football to a level that plucky little Cardiff just could not come close to matching. I'm afraid this is another one to be put down to experience, another in the litany of truly dreadful cup performances which have become the norm at the club in the last six years.
Since the run to the League Cup Final in 2012 and the heroic performance that took Liverpool to penalties, has there been a cup match played by City when it can be said that we played well? Nothing occurs to me at the moment.
Despite the best efforts of the media to prove otherwise, there was no real disgrace in losing to Manchester City (although the defensive mindset we played with was in stark contrast to one or two other Championship sides which played the Premier League winners last season), going to a Mansfield side in very good form at the time and winning 4-1 was pretty impressive and we did win at Newcastle in Ole's first game I suppose, but I can't think of one cup game since our last Wembley appearance where it could truly be said we played well.
I've had my say about the club's attitude to cup competitions before on here, but it seems my way of thinking is in the minority these days because after each embarrassment (they're an embarrassment for me at least, I'm not sure they are for many other people in our fanbase and at the club mind) we always hear the old line about the cup being a distraction.
Perhaps I'm behind the times with my feelings about City's attitude to modern day cup football – I can accept that if it's true, but what I don't get, and never will get, is the way fringe players at the club repeatedly pass up the opportunity handed them in cup matches to lay down a marker for a place in the starting line up for the next league game.
It needs to be pointed out at this stage that, just like so many of the sides inferior to us in league position at least who have beaten us in the cups in recent years, Norwich were, like us. some way short of what they would consider their strongest eleven, but that didn't stop them from playing with a fluency which we could not begin to match.
Two of Norwich's goals were top class. The first one featuring some slick build up play and a superb finish by Dennis Srbeny. Frankly, Norwich were taking the piss with their third one as they picked us apart with a lovely passing move which ended with eighteen year old Max Aarons scoring easily – imagine that, an eighteen year old playing first team football, will we ever see it again at Cardiff?
As easy on the eye as Norwich's final goal was, they were also helped out by some flimsy Cardiff defending and the same could certainly be said for Srbeny's second goal which doubled his side's lead.
Three down with about a quarter of the match left, City were looking at a thrashing at one time, but they did at least stir themselves into some sort of response and finally ended their goalscoring drought when captain for the night Bruno Mange headed in a Bobby Reid corner – there should be no surprise whatsoever of course that our first goal in four hundred and thirty seven minutes of competitive action (including the goalless draw with Reading which sealed our promotion) came from a dead ball situation!
If Reid's deflected free kick shortly after we scored had gone in, rather than rebound back off the post, then we might have been faced with a very interesting last ten minutes or so, but any chance of what would have been an amazing fightback died at that moment to be honest and the away side had two or three chances to add a fourth.
That they didn't was down in part to Alex Smithies who I thought did pretty well on his debut, while Greg Cunningham was fairly solid at left wing back and Bruno, who was one of three centre backs, along with Matt Connolly and Lee Peltier, put in a decent shift. Danny Ward was pretty lively when he came on and may have played himself into the side to play Arsenal, while Gary Madine won a couple of headers to set up chances for Reid (whose snatched finish from the better opportunity and another one which came along a bit later revealed a lack of confidence in front of goal) and also came as close as I've seen him to registering that elusive first goal for the club with a well struck free kick which drew a good first half save from Michael McGovern.
Sadly though the overriding memories for me from a miserable evening watching another pretty meek cup offering are that our squad depth is not good as we thought it was, that technically we were some way behind a team in the lower half of the Championship and of being reminded yet again that I really should stick to the never again resolution that I've made so many times after watching us in cup competitions over the past six years!
One last thing, well done to Blaenrhondda FC who won at the weekend and last night gained revenge for the defeat I watched last week, by winning 3-2 at FC Cwmaman in the reverse fixture – this win takes them to second in the table, a point behind leaders Treforest with a game in hand, but the main threat looks to be third in the table Porthcawl who are only behind them on goal difference and have played a game less.