After two games where the team responded superbly to the dreadful events of 21 January when they lost the man who was supposed to score the goals to take them to safety, Cardiff City showed why they are still most people's choice to accompany Huddersfield and Fulham (beaten 3-1 at West Ham this evening) back to the Championship tonight with a shambolic 5-1 home defeat by Watford.
Before attempting to pick apart our performance, it's only right to give Watford due credit. Although we have been heavily beaten by five of the big six clubs, I would say that only Manchester City have caused us more defensive problems than them this season. At Vicarage Road in December, they really should have beaten us by more than 3-2 as their pace and quick, neat passing in the area just in front of our back four tore us to shreds at times.
This time, they were more ruthless and consistently troubled us on the break, but it also needs to be said that they were given considerable help along the way – mostly by us, but the ref did his bit as well.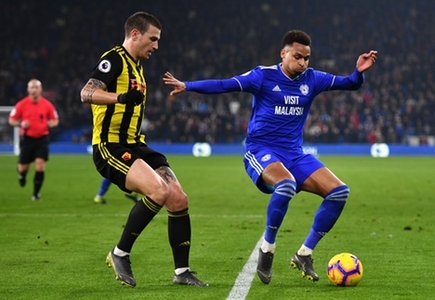 For the second goal of his hat trick, Gerard Deulofeu showed that he is one of the quickest attacking players in the Premier League (and just about the slowest one at returning to his own half after scoring!). His first goal was a placed shot from the edge of the penalty area and his third a cool finish from a one on one – they were all quality efforts, but each of them owed something to careless, clumsy or inadequate Cardiff play.
This was worryingly poor from City and, for me at least, worryingly poor from our manager in terms of our selection, tactics and substitutions – presumably, Lee Peltier and Victor Camarasa were injured, because their absence from our eighteen made no sense otherwise.
Into Peltier's place came Sean Morrison after an absence following his burst appendix last month. It was originally reported that our captain would be out for eight weeks, but, as it turned out, he was back in the side in just over half that time and I'm afraid his performance suggested that he had been rushed back too early. Morrison struggled to cope with Watford's pace and movement and, in some respects, is an easy scapegoat to focus on, but there were others who were just as culpable as him.
Morrison's selection came as a surprise, as did the dropping and non use from the bench of Bobby Decordova-Reid, a player who it seems to me is left out of the team at the slightest excuse – certainly, the standards applied to him seem to be much harsher than the ones applied in other areas of the pitch.
Josh Murphy and Leandro Bacuna came into the
team as well in place of the aforementioned Decordova-Reid and Aron Gunnarsson.
Three changes (one of them enforced it would appear) seemed a few too many when
you consider the magnitude of the win at Southampton in our previous match,
but, more than that, the way our team was deployed struck me as strange.
Peltier had played more as a right sided
centreback in the Southampton match, so Morrison for him made sense in terms of
it being just a straight replacement, but, elsewhere, I must admit to being
stumped by our tactical approach.
Foster behind Janmaat, Mariappa, Cathcart and Masina does not strike me as a defence to rank anywhere near the division's best, but with Doucoure (a top six team quality player for me), Capoue and Hughes in central midfield Watford have a nice mix of steel, technique, guile and mobility that we could not hope to match even if we had not decided to leave them with a man advantage in central midfield. In front of those three, Deulofeu and Pereyra, while ostensibly wingers, are rounded attacking footballers who, unlike our collection of fitful wide men, offer a threat across the full width of the pitch.
Stick the old warhorse Deeney at the top of that team and you have a lot of strength through the middle of the park and yet we went with Bacuna as a kind of right wing back, Joe Bennett as a left wing back with man marking responsibilities, Murphy as a left wing and an often isolated Callum Paterson stuck out on the right as a target for long balls aimed at his head.
All of this left Joe Ralls and Harry Arter to cope with a fluid Watford team that was very effective in an area where we were undermanned.
The feeling that the Warnock, Blackwell, Jepson brains trust was having something of an off day was added to by odd substations that saw Junior Hoilett replace the ineffective Murphy, Nathaniel Mendez-Laing on for Ralls and Kenneth Zohore on for Oumar Niasse. The upshot of all this was to leave Arter as virtually a one man central midfield while it looked like we had five players being used predominantly in wide areas.
As is his wont, our manager blamed the officials
in defeat, but in as far as one incident can define a game in which your team
has lost by four goals, he had a point this time.
I was right up the other end of the pitch when
Janmaat appeared to bring down Murphy in the Watford penalty area just before
half time with City only 1-0 down at the time so didn't have the best of views
of the incident. However, instinctively, you get an idea with penalty claims in
the split second after the incident has occurred and, more often than not, it
turns out to be right. I expected to see ref Simon Hooper point to the spot
after Murphy went down, but, for some reason, he chose not to.
Tellingly, the overwhelming verdict of various
men and women in the media at half time was that it was definitely a penalty
and Neil Warnock even said after the match that Watford players and coaching
staff were admitting that a foul had been committed by their player, so I think
it's fair to say City were cheated somewhat by the official here.
However, it's hard to be overly sympathetic towards a team that presented Watford with their first three goals. For the first one, Bruno Manga made one of those errors he is too prone to when he lost possession of the ball on the edge of his own penalty area. Watford's second goal was gifted to them by a weak Bennett free kick which dropped yards short of its intended targets – so, from a position where we were threatening an equaliser, about seven or eight seconds later the ball was in our net. With the third one, Arter simply passed straight to a yellow shirt when he wasn't under a great deal of pressure and, again, the ball was in our net within seconds.
So, there's something of a back to square one feeling about things tonight. This was our fourth very disappointing display in our last five home league games and if we don't see a big improvement against Everton and West Ham there are, realistically speaking, not going to be sufficient opportunities to pick up points we need at Cardiff City Stadium after that.
Once again, can I make a request for support from readers by them becoming my Patrons through Patreon. Full details of this scheme and the reasons why I decided to introduce it can be found here, but I should say that the feedback I have got so far has indicated a reluctance from some to use Patreon as they prefer to opt for a direct payment to me. If you are interested in becoming a patron and would prefer to make a direct contribution, please contact me at paul.evans8153@hotmail.com or in the Feedback section of the blog and I will send you my bank/PayPal details.