Paul Evans reflects on a night that Cardiff get it right in so many ways as they restore hope
http://mauveandyellowarmy.net/
Cardiff City have had far too much experience of dealing with tragedy in the last three months to the extent that I believe there are some teams who have never experienced anything to match what we've been through since November in the whole of their history.
Granted, it was Leicester City who were the victims earlier on in the season, but I'll always believe that our team were badly affected by the whole feel of that occasion and I'm sure I'm right when I say that the players must have thought something along the lines of "at least we'll never have to go through anything like that again" when the final whistle blew that afternoon.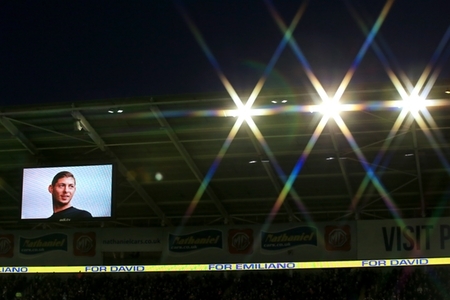 No one could have known that, from a Cardiff City perspective at least, the Leicester experience was just a rehearsal for what was to come. Tuesday at Arsenal was another occasion when the atmosphere among the Cardiff contingent was always going to be far removed from what would be classed as normal for a football match, but the first home game after the disappearance of Emiliano Sala and David Ibbotson was always going to see a ratcheting up on the emotional scale for a club, team and supporters that were feeling somewhat akin to a punchdrunk boxer.
I suppose that when you've had as much experience of getting through football matches while suffering with a sense of grief as we have in the last few weeks, you become better at dealing with it. As the number of games we go through in atmospheres that the media were telling us would be unique when we played Leicester grow, people have a chance to right what they may have got wrong on the first or second of these occasions.
That's not to say that I think City got much wrong in terms of the attitude of the club and supporters in the Leicester and Arsenal games, far from it in fact. However, I think it would be fair to say that, in many respects, we got it right off the field in both of those matches, but the team weren't their normal selves against Leicester in terms of the attitude they showed and while that was much better against Arsenal, the players couldn't give Emiliano Sala the tribute they wanted to because of the result of the game.
Practice makes perfect they say though and tonight's encounter with Bournemouth at Cardiff City Stadium became an occasion that did Emiliano Sala's memory proud as all involved in the club took what felt to me to be significant strides towards the exit of the long, dark tunnel of the past twelve days. That's not to say that the Sala tragedy will now be conveniently put to one side, more that, hopefully, there can be a sense of pride that we got things so right on a night when we really needed to and this can serve us well in the weeks to come.
The distribution of daffodils (Nantes, the club we signed Sala from, play in yellow) for supporters as they entered the stadium was a great gesture by the club and then there were the cards that were under our seats that were used to form a yellow and blue mosaic spelling Emilano's name. A giant banner reading " We never saw you play and never saw you score, but Emiliano our beautiful Bluebird we will love you forever more." was paraded around the ground just before a perfectly observed minute's silence (it was so much more than the "moment of reflection" the football authorities chose to call it – I do think the Premier League have struck the wrong note in some ways in their response to Emiliano's disappearance) prior to kick off set the tone for the night.
Fairly early in the match the first chorus of a song dedicated to Emiliano was heard;-
"Sing a song for Sala, we will never let you go, you will always be at City with me"
and the Canton Stand, who have been superb with their singing throughout this season, surpassed themselves by keeping on going with this refrain for what must have been the final fifteen minutes of the match.
Mind you, it is easier to sing your hearts out like that when your team is doing so much to deserve such support.
City weren't perfect tonight, but they got an awful lot right and, by the end, they had reduced the team that crushed Chelsea on Wednesday night to a mixture of frustration and resignation.
With Josh Murphy in for Harry Arter, who was unable to play against his parent club, as the only change from the Arsenal match and new arrival Leandro Bacuna, who cost a reported £4 million from Reading after signing a four and a half year (yes, a four and a half year!!!) contract, on the bench, City looked light in midfield to me. However, the benefits of having three attack minded players in Murphy, Oumar Niasse and Bobby Decordova-Reid in their starting line up were seen in the opening minutes as we made an unexpectedly forceful start.
Two of the last three sides to visit our stadium were in front within three minutes as if to emphasise how much City have been a long way short of being fast starters in home games this season, but this time it was them who were on the front foot early on as Niasse raced clear inside two minutes only for a poor touch to give keeper Artur Boric the opportunity to come out to block.
For a side that has struggled to create chances as much as we have in recent weeks, letting an opportunity like that one slip seemed like a recipe for another defeat, but within three minutes it was forgotten as Murphy did well to get over a cross that was a tester for the Bournemouth rearguard. Whether it was testing enough to force centre half Steve Cook into handling in his own penalty area is another matter mind – it looked daft and completely unnecessary from my seat at the other end of the ground and it looked the same on the video of the incident that I've just watched as well.
After a hesitation which had me thinking he had missed the blatant offence, referee Jon Moss pointed to the spot and with Victor Camarasa, who scored impressively from a penalty in the heavy defeat against Manchester United, again absent and Joe Ralls having missed with his last one, it was Decordova-Reid who stepped up to take on the chance of putting us 1-0 up in the first half of a home game for the first time this season.
I must admit I didn't fancy our player's chances as he lined up to take the penalty in such a way that it seemed to me that he could only hit the ball to one side of the goal. Whether I was right or not is a moot point as Boruc dived to the side that I thought Decordova-Reid was definitely not going to hit it to and the penalty flew past his feet into the middle of the goal.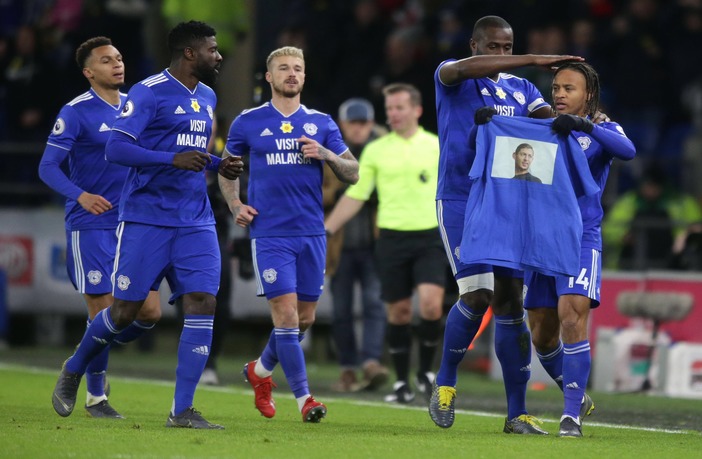 Maybe it was just the change of month that was responsible, but everything was so much more positive last night after a January that had to be one of the worst months in the club's history. Here, in one of several gestures of support for the missing Emiliano Sala which took place on and off the pitch, Bobby Decordova-Reid displays a shirt with our record signing's image on it after scoring the penalty which gave us a 1-0 leaf in the fifth minute – we almost managed to double the amount of minutes we've been in front this season in one match last night!
I must admit that what followed that goal had me concerned, because Bournemouth, despite missing Callum Wilson and David Brooks through injury, still had an awful lot of attacking pace and there were instances of their players storming past the likes of Aron Gunnarsson and Joe Ralls as if they weren't there. My pessimism grew as City continuously gave the ball back to their opponents on the rare occasions they were able to get a foot to it and it definitely felt to me as if we were hanging on for much of the time during the first half an hour or so.
However, thinking about it now, I'd say that was a harsh judgement because for all of Bournemouth's buzzing around our penalty area, we defended well. We all know Lee Peltier is going to contribute little in attacking areas, but he rarely makes mistakes at the opposite end of the pitch, Joe Bennett, as often happens these days, was given a man marking job and coped with Junior Stanislaus well. As for the centrebacks, Bruno Manga's distribution may not have been as good as it can be, but he was a lot more disciplined that he had been against Arsenal and Sol Bamba was in one of his inspirational moods where he almost becomes a force of nature, but it did need sympathetic refereeing from Mr Moss for him to stay on the pitch after a couple of second half fouls following a yellow card.
With Decordova-Reid, Murphy and Callum Paterson all willing to muck in defensively, for all of Bournemouth's domination of ball and territory, they only had a shot by Andrew Surman from the edge of the penalty area which was touched on to top of the bar and over in Neil Etheridge's one difficult save of the night to offer as a serious threat on our goal.
Up the other end, our swift counter attacks caused the visitors problems as we looked to exploit the gaps in behind their square looking back four and there were a couple of occasions at least where slightly more composure ot better technique could have seen us doubling our lead.
So, City were able go in at half time ahead and, incredibly, with our campaign having started almost six months ago, this was the first time we had been able to do that this season.
All of the indications were that it would be a nervy second half as City would be forced to soak up lots of pressure as they fought to preserve their narrow lead, but that line of thinking went out of the window somewhat as, amazingly, we doubled our lead without a Bournemouth player touching the ball after the restart.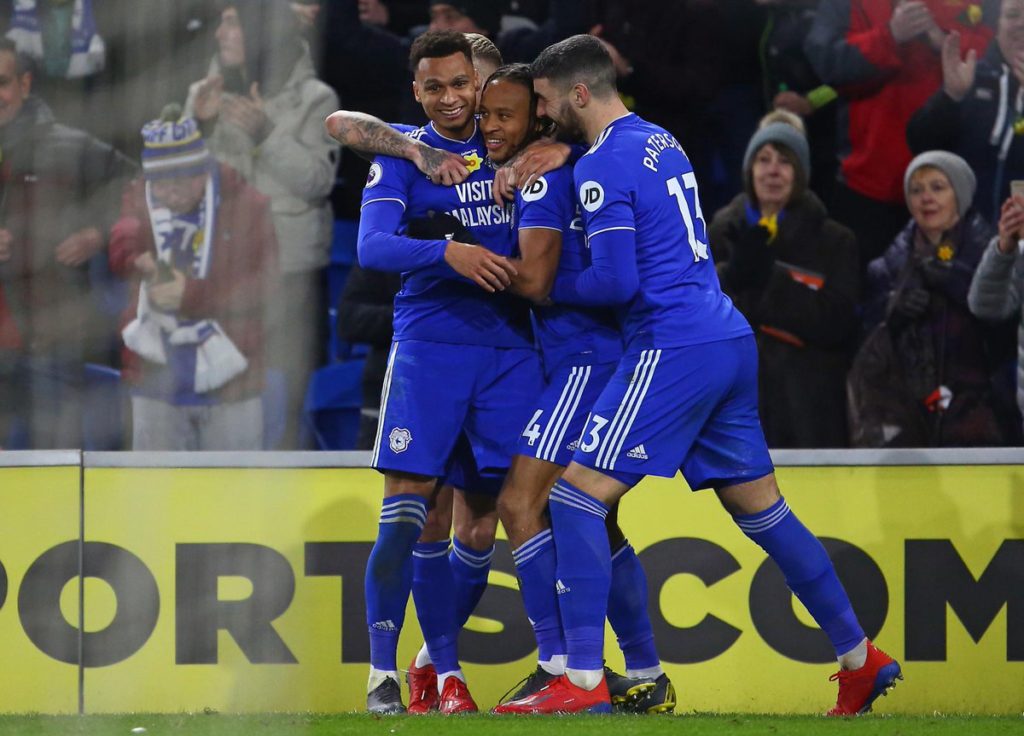 Decordova-Reid is congratulated by Callum Paterson and Josh Murphy after doubling our lead with a goal which came so quickly after the start of the second half that Neil Warnock had not taken his place in the dugout when the ball hit the net.
It took only fifteen seconds for City to get their second goal as Aron Gunnarsson sliced the visitors apart with what looked like a sliced pass to Decordova-Reid. The attacking midfielder said after the game that he thought he was offside, but television showed that Nathaniel Clyne was probably just about playing him on and he was able to knock the ball past Boruc, who had come charging headlong out of his goal in a manner which, for me, helped Decordova-Reid, and score easily to double his tally of goals for the season to four.
City took great heart from this goal, while Bournemouth heads dropped with the realisation that a seventh consecutive away defeat was staring them in the face and, although, just as in the first half, the ball spent far more time in our half than theirs, there was a degree of control in City's play which had not been there earlier.
With Ralls and Gunnarsson doing better and more second balls being won, City were not what you would call dominant, but they were looking quite comfortable and with the crowd right behind them, it had the feel for me of one of those too rare occasions where you just know we are going to be alright.
Bournemouth used all three of their substitutions quite early, but to no avail and I can only remember a Nathan Ake header which flew just wide from a free kick as a moment when we were picked apart by our opponents, while there was still always that threat when we got the chance to counter.
There was also a bit more composure to our passing and the support offered to the man in possession was better – I've rarely been able to say City have been in control of games this season and it would be over egging things somewhat to say that we were here, but it was great to have a two goal lead with not too many signs that our opponents were going to reduce their deficit any time soon.
At this stage, a mention for the three players substituted today. I've noticed that even in shockers like the one against Huddersfield there are always some fans who get to their feet to applaud the City player being taken off, but, this time, the standing ovation all three of them got was thoroughly deserved.
Niasse followed up his promising showing on Tuesday with a mightily effective one here as his movement and unselfish attiude caused Bournemouth central defenders a lot of problems. As for Murphy and Decordova-Reid, the two big money signings of the summer have spent much of the time out of the team, but I thought they were both excellent today. Murphy defended with a discipline and physicality which came as a pleasant surprise to me and I suspect to his manager as well – I think it's fair to say he had the better of his duel with Clyne at both ends of the pitch.
Decordova-Reid was my City man of the match, not only for his goals but also for his cleverness and alertness – these are two qualities which I strongly believe we should have made more use of, but he must surely have done enough today to have earned himself a run in the team now.
There was time for a quick look at Bacuna and Kenneth Zohore appeared to be more "at it" again when he came on, with only a good late save from Boruc denying him a goal as City wound the game down with few problems.
The final whistle saw an emotional Neil Warnock saluting the fans and our manager summed up what the day meant after the game when he said ;-
"Knowing Emiliano the lad as I did, he would have been with us today and I said to the lads: 'You have to perform.' I thought today the whole club was amazing; I was the proudest man to be manager of the whole club. The noise volume, I've never heard anything like it. Ever. I'll remember it for the rest of my life. I felt immensely proud of everybody. It was as if we had to show our support for him and coming back to the main stand to see my wife and my kids up there it just hit home that we done him proud. It was almost like we couldn't be beaten today – the crowd wouldn't let us be beaten. I'm really proud and I'm sure he [Sala] would have been."
I think those words " It was almost like we couldn't be beaten today" captured the essence of a memorable and poignant day perfectly.
Once again, can I make a request for support from readers by them becoming my Patrons through Patreon. Full details of this scheme and the reasons why I decided to introduce it can be found here, but I should say that the feedback I have got so far has indicated a reluctance from some to use Patreon as they prefer to opt for a direct payment to me. If you are interested in becoming a patron and would prefer to make a direct contribution, please contact me at paul.evans8153@hotmail.com or in the Feedback section of the blog and I will send you my bank/PayPal details.FacebookTwitterGoogle+Share