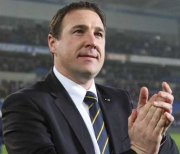 "It was very difficult," Malky Mackay said after the game. "We were playing against a team who came here and absolutely tried to win the game. Derby are a good team, they've been on a good run of late. It was always going to be a tough one and we're delighted that we've won.
"You're never comfortable at 1-0 and they were dangerous on the break. They had pace up-top and it's something we had to be guarded against.
"I thought our defence and goalkeeper were very calm and assured in their defending and allowed us the chance to go into the second-half, get our foot on the ball a bit more and get the second goal."
On Joe Mason's goal Malky said "Kenny struck his shot really well, it hit the inside of the post and it came out to Joe who was very calm with his finish. I think it's now the most goals he has ever had in a season."
And then Malky had this to say about Mark Hudson's effort "It was a fantastic strike. He meant it; I've looked at it three or four times and he's looked up, stepped onto it and gone for it. I thought his performance tonight was fantastic overall and his goal was exceptional. I'm delighted for him."
Derby manager Nigel Clough had this to say:
"I've said we need to be more clinical and this game demonstrated that more than ever.
"To control the game as we did and control it with some exceptionally good play at times, we can take so much encouragement.
"If we can get somebody to put the ball in the net, who knows where we can go?"
"There is not too much wrong in the back four or midfield," Clough continued.
"We had enough chances – Paul Green could have had a hat-trick.
"We just need somebody to get us the goals. It might be a midfielder but predominantly it has to come from the strikers.
"We feel a little bit unlucky with the two goals," said Clough.
"The first has come back off the post, hit Tom Naylor who was lying on the ground and rolled into the lad's path six yards out.
"On the second, Frank should have played it shorter first of all, he knows that, but for a centre-half to smash one in from 60 yards probably sums up our night."