https://mauveandyellowarmy.net/
I would have thought many of those reading this will have seen the new version of football that we are facing for the foreseeable future before this lunchtime's Cardiff City Stadium encounter between City and a Leeds team that lost their place at the top of the Championship table yesterday when West Brom were held to a goalless home draw by Birmingham – that point being enough for the Baggies to lead the table on goal difference.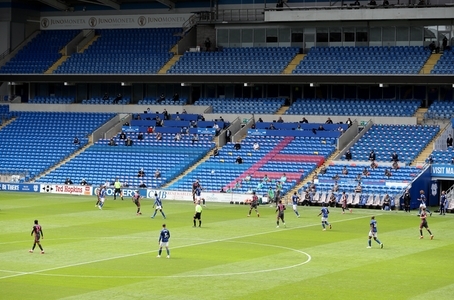 I think I'm probably more enthusiastic about football behind closed doors than most and this may have something to do with the fact that I thought many of the German games I watched in May were entertaining affairs that had enough going for them to make the lack of atmosphere less noticeable.
By contrast, the Premier League games I've watched thus far have been tough viewing, but a series of great goals have helped justify at least some of the inevitable pre restart hyperbole. The Championship, or at least the two matches I watched yesterday, offered some pretty turgid stuff as well that justified the poor press the 19/20 second tier has attracted since August save for two very late goals by my automatic promotion contender dark horses Brentford that did Leeds a favour by winning at a Fulham side who just don't impress me at all whenever I see them this season.
Today though was different, because, for the first time in almost three and a half months, a football game was played which featured a team I was really rooting for!
Was today's City v Leeds game any better than the West Brom /Birmingham and Fulham/Brentford ones? I'd like to think that a neutral would say that it was for no other reason than it offered a total contrast in styles – of course, the fact that City won and I'm completely biased may have something to do with my high opinion of the game!
That contrast of styles could hardly be better illustrated than by the graphic regarding five different passing statistics that Sky showed before kick off. Leeds were either first or second out of the twenty four Championship sides in each category, while City were last in all of them except for possession where there is one side, Millwall, who have less of the ball than us – although, that situation may have changed after our 31 per cent possession figure today.
I'd touched on the fact last week that away sides were doing so much better than home teams in the Bundesliga since games were being played in virtually empty stadia and, to a lesser degree, the same can be said in the Premier League, while one home win in eleven in the Championship before we played rather told its own story.
Therefore, it was a tactical master stroke today by Neil Harris to send us out to play like an away side and, possibly, the lack of fans may have helped in that regard.
I'm not being wholly serious there mind. The truth as I see it is that if the match had taken place back in March in front of, say, 25,000, about eighty five per cent of which were City fans, and the result had been the same, the nature of the contest would have been more or less identical to the one we saw today – City would have spent most of the game defending as Leeds dominated possession.
That's what Leeds do under Marcelo Bielsa and while some teams would have conceded territory and possession to them because they figured that was the best way to get a result against them – the brutal truth about City is that we have no choice in that matter because we pass the ball so poorly.
The long break without games made me forget some of the certainties about our season, but, after a positive first ten to fifteen minutes when we pressed Leeds effectively and forced what was a quick pace considering this was the equivalent of a first day of a campaign with only a couple of weeks of normal pre season work and very little in the way of warm up matches, our inability to retain possession came to the fore.
However, it wasn't all like what we had seen from August to early March. For a start, we actually won a match in front of the Sky cameras, but, more important than that, we also defended perhaps as well as we've done all season and, additionally, displayed a potency in front of goal which saw us ruthlessly convert two of the three scoring opportunities we had all game.
Judging by what I've read, seen and heard through much of this season, I'm one of a large number of the club's supporters who has grown tired of watching us play a certain way in the past six years.
However, those of us who whinge at our physical, set piece orientated, direct, counter attacking game have to concede that, in spite of obvious limitations within the team, we have been pretty effective at it for much of that time.
Today was one of the better days, in that the ten outfield players all contributed fully in making it a pretty quiet day for goalkeeper Alex Smithies, but when he was required, he made one superb save and one or two other confident and decisive contributions.
Hardly surprisingly, Bielsa claimed his side should have won because they were the better team and City had scored with their only two shots (not quite true that) which were both presented to them by Leeds mistakes.
Such comments were understandable and, in some respects, justified, but I don't recall him saying City were lucky because we weren't. Actually I'll qualify that to say that there was once when Patrick Bamford got in the way of a Jack Harrison shot that Smithies may or may not have reached, but there was nothing lucky about the last ditch overhead kick clearance Will Vaulks came up with when centreback Ben White dangerously flicked on a near post corner.
Both of those first half escapes came during a period when City's passing was even more ragged than normal and I certainly had that feeling which, now and again, is proved correct that a goal was coming and today it duly came.
Where I was wrong though was in the identity of the team who scored. Up until the thirty fifth minute, the sum total of City's attacking threat had been a shot drilled not too far wide by Junior Hoilett, but the Canadian did better this time when Leeds' Kalvin Phillips carelessly presented him with the ball just inside the visitors' half. Phillips had to carry a large amount of the responsibility for what happened next, but he had a right to expect better from his defensive colleagues, some of whom were playing when Leeds conceded a similar goal to Hoilett in their visit here in 17/18.
The Leeds defence backed off and backed off as Hoilett ran about twenty yards with the ball and in some ways made up the City man's mind for him as he got off a twenty yard left footed effort that Sky's studio guest, Jimmy Floyd Hasselbaink, thought keeper Ilan Meslier could have done better with – the former Leeds and City striker may have had a point.
There was a nice touch in the celebration of the goal as Hoilett held up a blue number seven shirt with the surname Whittingham on it in a tribute to a man about whom it's still hard to come to terms with the fact that he's no longer with us.
Leeds' response to going behind at a time when they must have thought they were controlling the game was impressive in so far as they stuck to their patient approach and continued to force City back, but it was also apparent why a pretty consistent criticism of them this season is that they lack a clinical finisher.
City got to half time with their lead intact and, as with the opening period, were the quicker out of the blocks when the game resumed, but the familiar pattern of Leeds pressure being contained by solid and accomplished home defending only for hard won City possession to be surrendered too easily continued.
However, when Callum Paterson glanced a header from a Joe Ralls cross wide and the midfielder then shot hurriedly and inaccurately after being nicely set up by the recently introduced Robert Glatzel, it occurred to me that, whereas we were having some decent chances despite our limited possession and attacking, Leeds, for all of their possession and pressure, had only once really threatened a goal since the restart.
This happened when Bamford got above Joe Bennett to head across goal to where Tyler Roberts, who I thought was one of Leeds' best players as he was deployed in a number ten type role, looked all set to apply a finishing touch to as he arrived unmarked just beyond the far post, but Smithies spread himself bravely to make a marvelous close range save.
It might well have been around then that Leeds thought this is the team that have an Indian sign over us, the team we couldn't beat even when we were 3-0 up at home in December and they're going to do us again!
If Leeds were thinking that, then their spirits would have sunk even further when their captain Liam Cooper, deep inside his own half, passed straight to Nathaniel Mendez-Laing, a lively substitute for the largely ineffective Albert Adomah. The fit again winger immediately fed Glatzel whose control and instant dispatch of a shot into the net via a post from the edge of the penalty area for his first league goal at home was an indication as to why some of us think there is a lot more he could be providing for City with better service.
A few minutes later, Glatzel wasn't so impressive when he didn't seem to realise what a great position he was in when found again by Mendez-Laing and, instead of shooting, looked to set up a colleague, Leandro Bacuna, as a very promising situation rather petered out.
City didn't offer a great deal in attack after that, but they didn't really need to as an increasingly frustrated Leeds came to terms with the fact that they were going to lose to Cardiff in South Wales yet again.
Even in 2002 when third tier City turned over the Premier League leaders at the time, I don't think Leeds had as much of the possession and territory advantage as they did today, but, with Sean Morrison clearing a loose ball a yard or so from the goal line late on, it was all for naught and, notwithstanding the comments of his opposite number, you could understand why Neil Harris said he was proud of his team after the game and why he thought they had deservedly beaten what he called the best team in the league.
Jimmy Floyd Hasselbaink agreed with Harris as well and paid City the huge compliment of describing them as being fitter and better prepared than their opponents – praise indeed when you consider how Bielsa teams traditionally begin a new season.
Okay, I know this is not a new season as such, but there are so many similarities between the current situation and what we see each August and, with us now out of the top six only on goal difference, the nature of this win has given me more grounds for optimism than any of the scrappy, ground out affairs we have come out on top in so far this season.
Yes, it was attritional and it was backs to the wall, but the players should take enormous heart and belief from what I'd say was our best result of the season – everyone played their part, but I'll single out two unsung heroes in the dependable Curtis Nelson and Bacuna who I thought was increasingly influential and effective in the middle of the park – it was as good as I've seen him play for us.