I found this afternoon's game between City and Rotherham at Cardiff City Stadium a frustrating watch. Erol Bulut's team selection struck me as cautious against a team with a one hundred per cent losing record away from home, some of our most important players were below their best, we were careless in possession at times and the match was a bitty, stop, start affair.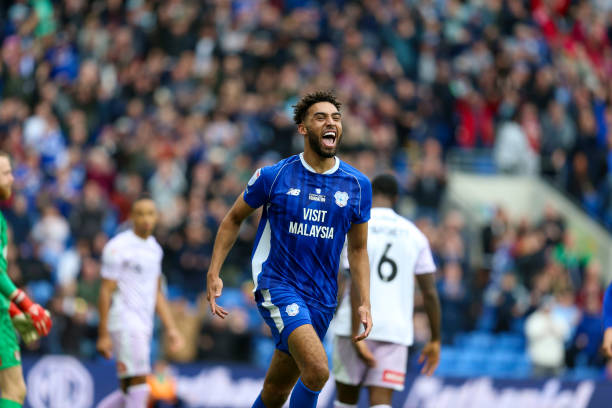 All of this helped to consign the match to being a distinctly ordinary affair in terms of excitement with Rotherham happy enough to concede possession and territory to us, pretty safe in the knowledge that we weren't showing the wit to break them down.
Yet, the thing is we won, just like we did in our three previous league matches, Not only that, after our early defensive problems, we kept our third clean sheet in four matches.
Perhaps the way to put my whingeing into context is to say that I would have given anything for what I'll call a routine 2-0 home win last season. Only once did we win at home by more than a one goal margin in 22/23, that was against local rivals Bristol City and, given how much we struggled on our own ground during the season, it felt anything but routine at the time.
It's become a cliche, but people within the game started to say that the league table began to reflect the true merit of the teams within a division after ten games have been played because it tends to be true. If City can make it five straight wins on Tuesday when they go to a Middlesbrough side showing signs of recovering from their dreadful start to the campaign, then, barring a big win for Norwich, we'll be in a Play off place after ten matches.
I say that because we're in sixth position after nine matches and the two teams immediately above us, Sunderland and Hull, are, like us, on sixteen points, so the right results in midweek could see us as high as fourth.
Five months ago today we played Neil Warnock's Huddersfield at home, I know we were already safe by then, but we were a shambles that day as a team that could still go down swarmed all over us. It was embarrassing and if anyone had said to a City fan that day that their under a transfer embargo team would be in the top six two months into the following season, they would probably have assumed we'd been the victims of a yet to be announced points deduction and had gone down after all!
That is the measure of the job Erol Bulut has done in the early months of his time at Cardiff City. I know people get all "don't say that" about such things, but, as the month comes to an end, Erol Bulut really should be named as Championship manager of the month for September.
Ipswich's Kieran McKenna will probably win it because the two points they dropped today at Huddersfield represented the only time they failed to win during September, whereas we lost three in our defeat at Portman Road four weeks ago – I maintain we were very unlucky to lose that day though and, ironically, I believe the manager I'm praising so much now had his poorest ninety minutes so far that day..
However, I go back to all of the pre season predictions I saw and read from a variety of professional pundits and supporters making their own You Tube videos. So many of them had Ipswich finishing in the top six and, while there weren't many tipping us for relegation, nearly all of them had us in the bottom six- in the opinion of those who were only too pleased to give us their opinion in August we have to be viewed as serious over achievers and our results in September should be seen in that regard when deciding who has been the top manager this month.
I mentioned earlier that I was disappointed by the team selection today as we went for the same side as at Sunderland apart from at centre forward where Kion Etete was rewarded for his fine showing at Blackburn in midweek as Ike Ugbo dropped to the bench.
My disappointment probably sprang from my hope that we could make a statement with a big win over a side that had not just been beaten in all of their away matches so far, they'd been well beaten.
Such thinking ignored that Rotherham had beaten Norwich and ended Preston's winning run in their last two home matches. Also, they'd had a week to work on their approach to away matches as they'd been knocked out of the League Cup in the Second Round. In truth, although we didn't stun people with our glorious attacking football, if we've had a statement win so far, it was at Sunderland last weekend.
Given the inadequacies shown in their away games beforehand, Rotherham would have been happy with their first half showing today. We may be in our best home sequence in ages with today's fourth consecutive league win meaning it's twelve points from a possible fifteen at Cardiff City Stadium so far, but it's just one goal scored during the two hundred and twenty five minutes of first half action and it's still turgid stuff for those sat in the Family Stand to watch in front of them.
To be fair, City were disrupted by injury in the opening half as Yakou Meite did himself some harm in getting in a scuffed shot that was easily dealt with by the visitors. After about five minutes of trying to run it off, Meite was forced to accept that he couldn't continue and was replaced by Ollie Tanner.
Shortly afterwards, Jamilu Collins needed treatment on his knee and, given what happened to him last season, that is always going to be something that gets the medical staff at the club concerned.
In the event, Collins was able to carry on for the full ninety minutes, but he didn't seem quite right to me after he returned to the fray and showed little inclination to get forward.
If Collins was somewhat short of his normal standards, the same could be said of Manolis Siopis who had his worst game for City so far. It was hardly a stinker of a performance by the Greek international mind, but he was robbed of possession twice when he came back into a deep position to help City build from the back..
Sipios had not been caught in possession in such a manner at all in his City career until today. The first time it happened, he got booked for a clear foul on the Rotherham player who robbed him and the second time the visitors came as close to scoring as they did all afternoon until they hit the crossbar in added time at the end of the game.
Sipios was indebted to Mark McGuinness for a fine block of Olly Rathbone's shot which sent the ball out for a corner.
Arvin Apiah made you wonder why he hadn't started the game for Rotherham as he made a lively contribution after coming on for the last twenty minutes or so with a shot not far over the top and an angled free kick which beat Jak Alnwick and came back off the crossbar, but that was the sum total of Rotherham's goal threat.
City were hardly peppering their opponents' goal either, but Ryan Wintle offered hope of better to come after the break when he was played in by Sipios and got in a low angled shot that forced Viktor Johansson in the visitors' goal into his first serious save of the afternoon in time added on at the end of the first period (he'd earlier held on to a shot from Etete which was well struck, but straight at him) .
City have now scored ten times in five home games and, apart from Dimitrios Goutas' header against Coventry, they've all been scored at the Canton Stand end. That stat only backs up what is obvious to anyone who has watched our home games this season – we're much more dangerous in the second half when attacking the Canton end.
City's improvement coincided with Tanner's more prominent role in proceedings. For me, he has a better and more reliable technique than many of his more senior team mates, he's strong, quick, is willing to work hard for the team and I feel his awareness in terms of when to pass and when to run at his full back is improving.
With Etete currently looking the best attack leader at the club * and, despite a pretty lukewarm assessment of his showing at Blackburn by his manager, Rubin Colwill (who didn't get on from the bench today) playing better than he did at any time last season, we have three young players making a strong case for inclusion to a manager who tends to favour those closer to thirty than twenty.
It wasn't all down to youngsters Tanner and Etete on the attacking front mind. After an erratic first half when he had me pulling some of the rapidly declining number of hairs on my head out when he got to the byeline and then blasted a wild cross out for a throw in on the opposite side of the pitch, Karlan Grant did well out on the left in the second period as he provided an assist for the first goal and then crossed to Tanner whose half volley flew a yard wide.
Goutas glanced a header from a Joe Ralls cross just wide as well as City reasserted their control of the first half an hour, but, unlike earlier, it looked like we had goals in us second time around.
The first one arrived on fifty six minutes when Ralls fed Grant whose deep cross was met on the far post by Etete as he outmuscled his marker and planted his header from six yards beyond Johansson.
City came through a concerning period inside the final fifteen minutes when they looked to be sitting back to protect their narrow lead, but, with the ninety minutes up, Callum Robinson on as a sub for Ralls, crossed for Ugbo, who'd replaced Grant, whose header was blocked by Johansson, Etete looked like he had to score as the ball dropped to him eight yards out, but thirty six year old Lee Peltier, who played the last twenty minutes or so, did well to block Etete's effort only for the rebound to fall into the path of Ng who swept in a low, left footed shot from the edge of the penalty area.
City's under 18s were able to record their first competitive win of the season when they won 5-1 at Bournemouth today – sorry, but as tends to be the case these days, there were no details of goal scorers on the Academy Twitter site.
https://mauveandyellowarmy.net/