This time last week I was writing a piece about Jonah complexes as I, semi seriously, suggested that the continuing poor spells of all of the four teams I had been supporting during that day could be put down to me. The gloom continued in midweek as Cardiff City were beaten 1-0 by Swansea in a Welsh Youth Cup Semi Final – a result which, by all accounts, was a fair reflection of how the match went as the jacks ensured that they would, almost certainly, take the time they've been holders of this cup beyond a decade – a state of affairs which cannot be seen as anything but a big embarrassment for a club like Cardiff City which likes to think of itself as the best in Wales.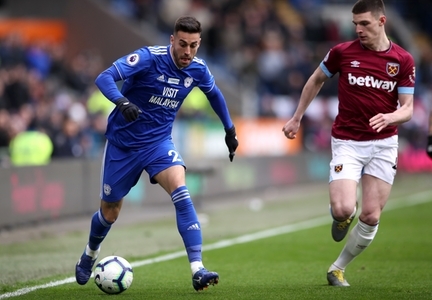 Victor Camarasa, influential as City pick up three points
Therefore, with Neil Warnock having to deny claims of splits in the dressing room in his pre match press conference yesterday, it is true to say that I have traveled to Cardiff City Stadium in more optimistic frames of mind than I did for today's match with West Ham.
When you add in the fact that I had only seen us beat the Hammers once in Cardiff in the five and a half decades I've been supporting the City is it any wonder that in a question and answer piece I did for a West Ham website this week, my prediction for today's game was one of the easiest wins of the season for the Hammers, by 2-0, as long as their occasional inconsistency didn't rear it's head.
Now, given the way that social media works, there are probably one or two people online at this very moment telling the world how they knew that City were going to win today and not only that, they would win by putting in their best performance of the season – I think anyone reading the first few paragraphs of this piece will realise that I'm, most assuredly, not one of them!
However, where I would agree with those Internet know it all's with 20/20 hindsight vision is that in beating West Ham as comfortably as the 2-0 final scoreline sounds, City probably did put in their best performance of the season.
The amazing thing about that last statement is that this best display of the campaign came from a starting position which was the worst of the season as far as recent performances and the public perception of what was going on behind closed dressing room doors was concerned.
All season long with Cardiff the story had been one of yes they're probably going to be relegated, but their excellent spirit gives them a chance. However, that had changed lately because of a record of three consecutive defeats, two of them at home, with just a single, meaningless, goal scored and ten conceded – moreover, the player who I have always seen as the heartbeat of the team picked up an injury which ended his season in the last of those losses.
So, quite where City dragged up the compelling performance they gave today from I don't know, but it has to be conceded that they did receive quite a lot of help along the way from their opponents.
I mentioned earlier about West Ham's inconsistency and how that probably represented our best chance of getting an unlikely one or three points, but our opponents were a lot worse than the sort of shortcomings suggested by the relatively mild word "inconsistent".
Back in the 60s, there was a comedy programme called Till Death Us do Part which would never have got to see the light of day in these times when you have to be so wary about offending anyone. The main character, called Alf Garnett, was a West Ham supporting bigot whose views were the butt of the joke throughout as they were exposed for what they were by the rest of the cast through the words of a writer whose political opinions were the exact opposite of the character played superbly by Warren Mitchell.
Anyway, Alf Garnett had a Liverpool supporting son in law who would rib him relentlessly about his team's shortcomings as he frequently taunted him with the line that they were typical "southern softies" who fell apart as soon as they went north of Watford.
If you swapped west of Slough for north of Watford, then today's West Ham team were following on in the tradition of the Moore, Hurst and Peters side of Till Death Us do Part fame, such was their lack of fight, application and morale in their ranks. It was as if the icy wind that gusted pretty strongly throughout the ninety minutes was too cold for some of their team to be expected to perform in.
Of course, having watched, I make it, eleven City v West Ham games in Cardiff before today in my lifetime, I know that my west of Slough jibe just isn't true. The Hammers had won seven and drawn three of those eleven games, but it's strange that the two defeats they have suffered down here in that time were ones in which they were pretty thoroughly outplayed with today's victory being almost as one sided as the 4-1 defeat a Gary O'Neil inspired City inflicted on them in November 2004.
Today's win had more to compare it to our last home victory over Bournemouth than just the scoreline. Just like in that game, we scored early on in both halves and there was a resolution to our defending that meant I could look on feeling relatively sure that we had the game won as soon as the second goal went in.
However, whereas there weren't too many chances for us to add to Bobby Decordova-Reid's brace against Bournemouth, City could easily have managed to double their goal tally today. Oumar Niasse again showed good movement and a fine work ethic, but might have done better with a first half opportunity he lobbed just wide and he should have scored when he burst past the West Ham defence only to slice wide badly when just keeper Fabianski to beat, while the former jack did really well to block another Niasse effort and then keep out the follow up by Victor Camarasa.
West Ham did come to life somewhat late on when the talented Declan Rice smacked a shot from twenty yards against an upright and Neil Etheridge responded in impressive fashion to his one really challenging moment in the match when he turned sub Marko Arnautovic's shot around the post for a corner. However, it's now just one draw in their last six Premier League away games, as well as an FA Cup loss at League One strugglers AFC Wimbledon, for a club that spent over £100 million on new players while appointing a manager who would certainly have not come cheap last summer. Although they could still get the seventh placed finish which I reckon would represent a satisfactory return on all of that investment, they could just as easily find themselves somewhere like thirteenth come May.
There have been a few times this season (Leicester away being the most obvious one) when I have felt City could well survive if they could play this well a bit more often and this was another of them. We all know what City are about and the majority of their eight wins (one more than we got in the whole of our previous season at this level in 13/14) have come thanks to graft, tenacity and a little bit of luck and skill, but there was also a bit of style on show today.
Much of it came from Victor Camarasa, whose driving run on four minutes helped open up West Ham for the first time as he fed Josh Murphy who crossed first time for Junior Hoilett to score on the near post from inside the six yard box. The same three players then combined seven minutes after the break with Hoilett crossing this time to Murphy who showed awareness and composure to pick out Camarasa with his head and the Spaniard bundled the ball past Fabianski to double the lead.
Neil Warnock's public dissatisfaction with the way Camarasa's calf injury, which had dogged him since around Christmas time, was being treated by the player's Spanish doctors was another thing those citing dressing room problems could draw on – especially when it was remarked that Camarasa's celebration of our winning goal, which he helped create, at Southampton looked pretty half hearted. However, today Camarasa was one of several players who made suggestions of dressing room problems look rather silly because their attitude was spot on – the Spaniard could be such an important player for us in the coming weeks if he can stay fit (he was replaced for the last quarter of the game today by Joe Ralls after suffering an injury).
Harry Arter, back to his best after, surprisingly, being left out for the past two games, refuted claims of problems behind the scenes after the match, as did Neil Warnock. However, the nature of our performances against Watford, Everton and Wolves in terms of spirit and application were so unlike what supporters have become used to seeing from this group of players that something just looked wrong to me and I don't blame those ex City players in the media (Danny Gabbidon and Nathan Blake) for jumping to the conclusions that they did.
The only bad thing about the day was that Southampton (coming back from 1-0 down at half time to Spurs), Brighton and Newcastle all won so you could definitely say that the West Ham match really did turn out to be the must win one that I thought it was beforehand. So, although we still find ourselves two points from getting out of the bottom three, what we have done is keep close enough to clubs who would have been thinking that they were virtually safe now. We prevented a situation where we were only looking at the possibility of there being just one or two sides we could possibly overtake and now, suddenly, Burnley especially, who go to Liverpool tomorrow, find themselves right back in the mire.
If you read one of my answers in that piece from the West Ham site, you will see that I was arguing that this summer might be a good time for Neil Warnock to step aside from the manager's job. I'm not going to change my opinion on the evidence of one game, but today did offer a timely reminder o those of us who would countenance a change at the top this summer of what we would miss if there was no Neil Warnock around any more. The arch motivator proved today that he still has it in him to fire up so called inferior teams to the extent that they can compete with and beat their betters – we would do very well to find anyone who could equal him in that department if there were a change of manager during the close season.
So, I feel in a somewhat apologetic mood tonight after being so doubtful about my team – sorry for that and sorry too to our Under 18s who I said this morning were in danger of "doing a Cardiff" after a run of a disappointing draw and two defeats, both in very big games.
The Academy team showed a fine combination of grit and talent this lunchtime to turn a 2-1 half time deficit into a 3-2 win over a Nottingham Forest side that sat in third place in the Northern Section table. I got to the game a quarter of an hour late and City were a goal down by them as they played into the strong wind in the first half and much of the early play I saw had us defending against a team that had size as well as the elements in their favour.
However, Isaak Davies, making his way back after an injury which kept him out for a couple of months, was looking back to something like his best and when he ran past a couple of defenders and went down following a challenge by a third, the ref blew for what looked a like soft penalty to me which was only confirmed after a consultation with his linesman. Sion Spence confidently slotted in the penalty and was promptly fouled soon after the restart for an injury which required quite lengthy treatment. When play eventually restarted, City.s back three (featuring just one specialist in the position on the day) went missing as a free kick was played through to an unmarked striker who was foiled by a fine save by Jordan Duffey, the follow up effort was also blocked, but when Forest's Ogunseri managed to get another shot away from the edge of the area, it was fumbled by Duffey and rolled slowly into the net.
From what I saw, City couldn't really have many complaints about being behind at half time, but they were much sharper after the break. Davies got the goal his performance deserved when he fired home from eight yards within about ten minutes of the restart. Then, on the hour mark, Keiron Evans, who has been playing so well recently, got what turned out to be the winner froma similar distance after he was set up by sub Connor Davies.
City were forced to defend well at times after that but I thought they deserved their win at the end of an entertaining and competitive encounter which was just another of many fine adverts for the game at this level that I have seen this season. Ipswich beat Bolton 6-2 to keep up the pressure on us at the top as they stayed four points behind in second place, but the good news on a day which went a long way to restoring my faith after last week was that third placed Millwall were held 0-0 by Burnley which means that they are now nine points behind us.
Once again, can I make a request for support from readers by them becoming my Patrons through Patreon. Full details of this scheme and the reasons why I decided to introduce it can be found here, but I should say that the feedback I have got so far has indicated a reluctance from some to use Patreon as they prefer to opt for a direct payment to me. If you are interested in becoming a patron and would prefer to make a direct contribution, please contact me at paul.evans8153@hotmail.com or in the Feedback section of the blog and I will send you my bank/PayPal details.