Blogger Paul Evans offers his thoughts on City's huge win over Brighton.
http://mauveandyellowarmy.net/
I mentioned in my reaction piece to Cardiff City's 1-0 loss to Leicester last week that, while they could point to a very tough start in which they faced the five sides who look set to dominate the Premier League this season in their first ten matches, what follows brings a different kind of pressure.
The pressure City suffered from while they were facing the Man Citys, Chelseas and Liverpools of this world came from the fact they were not winning any points in these matches, but then, apart from the 5-0 home trouncing by Pep Guardiola's Champions, it was possible for us to take positives from the matches with the other four which enabled you to think that things would get better a bit further down the line.
For example, my piece following our defeat at Liverpool in our last game against one of the top five until we entertain Spurs on New Year's Day was pretty positive considering that we had only picked up half a point a game from our first ten fixtures. The reason for my glass half full outlook was that we were now into a run of winnable fixtures and we entered it still well in touch with the sides just above the relegation places.
Of course, allowing yourself to start getting even slightly optimistic about how your team can fare in their coming matches only brings an increase in pressure on them because it creates a sense of expectation even for a team that has been as consistently written off as City have been this season.
This was reflected in the reaction by some to our loss last week – in fact, forget the use of the word "some" there, because, in reality, I'm only thinking of myself!
Last week, I described our performance for the last two thirds of the Leicester match as rubbish, but felt a little guilty about being so scathing because, although the attention was focused far more on our visitors, just being the side Leicester faced in their first game since the tragedy which hit that club could not have been easy for our players. Perhaps, "rubbish" was too strong a word to use about our general performance, but I do think it could be applied to how we tried to get on terms once we had fallen behind.
Anyway, I think the point here is that the way a team is perceived by their own supporters can have a great deal to do with what the expectation levels of those supporters. Much has been made of the great support the team has got so far this season, but I would argue that in some ways it's down to a kind of us against the world outlook – would the type of support we've been getting change if we started winning a few games?
Just having some matches that are considered winnable makes the consequences of failure in such encounters harder to take for supporters desperate to see signs that their team can beat the doom laden predictions of the media men and pundits.
Therefore, the pressure on the team this afternoon when opponents Brighton were reduced to ten men with fifty five minutes left and the score 1-1 was ratcheted up by quite a few notches. It's one thing being involved in matches that are considered winnable, but another completely when a win is expected from you.
There are going to be very, very few occasions this season when we could say City were expected to win. I suppose the early season encounters when Newcastle and Huddersfield were reduced to ten men might qualify, but they were played at a time when the league was in its infancy and I don't see how any match in August can be described as one that has to be won.
That is exactly what I heard at half time today though when I tuned into Radio 5 – the consensus was that this was a game where nothing but three points would do now for Cardiff.
To be honest, I hadn't seen a great deal in the first forty five minutes to suggest that win would be forthcoming.
City, with Greg Cunningham in for Joe Bennett, Kadeem Harris replacing Bobby Decordova-Reid and Joe Ralls, fit again following his ban for the sending off at Spurs, taking over from Harry Arter, who was ruled out after accumulating five yellow cards, seemed to have settled into things quire well when they conceded another early goal -we've let in a goal inside the first ten minutes or so in four of our last five games now.
The galling thing about Lewis Dunk's sixth minute header was that I believe this was another goal which we would not have conceded last season. Yes, I appreciate we are in a league now where the opposition are of a calibre whereby they can punish you through their own brilliance, but there was nothing in the construction of Brighton's goal to suggest we had been undone by high quality play. Granted, Solly March's free kick to the far post was accurate and had pace and Dunk's header was well directed, but the fact that the ball ended up in our net was, first and foremost, down to rank bad defending.
After the game, Neil Warnock said that Sol Bamba had accepted responsibility for letting Dunk go to the extent that the defender called into the England squad this weekend was free to guide his header past Neil Etheridge – it was a situation that needed nothing better than the sort of defending that was commonplace from us last season, but, not for the first time, it was absent this time around.
The noises we hear coming out of the club are that the team spirit, which was such a feature for us last season, is still strong, but, for me, any group has to suffer when they are being defeated as frequently as we have been this season.
Certainly, while there weren't many signs of heads dropping after the concession of the early goal, there was a lack of composure in our passing and shooting which was indicative of a team struggling with their confidence.
City's lack of poise was thrown into sharp focus by how the goal seemed to settle Brighton. The visitors threatened down our left on occasions as Harris, who had started on that side moved over to the right, but Josh Murphy (some way short of the form he has shown in recent home games) looked to play more of a floating role with the consequent that Bruno had to fight something of a lone battle at times on our right.
Injury didn't help his cause, but, given how small a part he played in our promotion, I think it's fair to say that there was general surprise when Kadeem Harris was given a place in our twenty five man squad for the first part of this season and that was certainly the view of many when they learned of his inclusion today.
However, right from the start, he looked the City winger more likely to create something. Nothing much had come off his prompting until the twenty eighth minute when his run and cross from the right opened up the Brighton defence – luck played a part as well as a slight deflection off a defender saw the ball loop towards Callum Paterson who netted easily with a far post header to record his third goal in five matches since taking on the attack leader role and it could be argued that we deserved that little bit of good fortune after what Neil Warnock claimed after the game was a sixteen pass move where everyone in the team had contributed.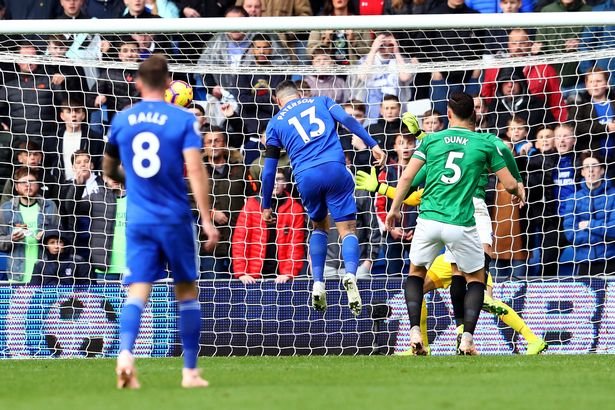 City's goal came somewhat out of the blue, but they were now warming to their task and they were having their best spell so far when Brighton midfielder Dale Stephens was shown a straight red card by ref Martin Atkinson for a foul on Cunningham in the thirty fourth minute.
Now, I know we're all completely biased around where I sit, but there was general agreement that the official had made the correct decision – from where I was sat, it looked like the sort of out of control lunge that is very much frowned on these days.
I was, therefore, surprised to hear during my half time listen to Radio 5 that, although Danny Gabbidon and the reporter covering the game were of the opinion that Mr Atkinson got it right, the majority view on social media was that Stephens should not have been dismissed.
Having not seen the incident for a second time yet, I cannot comment any further on the validity or otherwise of the decision, but, whether right or wrong, it meant a rethink on Brighton's part as winger March.was quickly sacrificed for an additional midfielder in Yves Bissouma as the visitors settled into two banks of four with Glenn Murray, largely, forced to fend for himself up front.
Brighton survived comfortably until half time, but it was when that state of affairs continued well into the second period, that frustration started to creep in around the ground.
Harris rattled the crossbar with a lovely curled effort from twenty yards as he cut in from the right, but, that, apart, City were labouring as their passing was never good enough to move their opponents around and tire them – surely that has to be the way to wear down a team with a one man disadvantage?
City's cause wasn't helped by what looked like a head injury to Sean Morrison which saw him leave the field to be replaced by Lee Peltier. Other substitutions saw Murphy replaced by Junior Hoilett and Ralls give way to Decordova-Reid, but none of the changes altered the growing feeling that Brighton would be heading back to Sussex with a point.
In fact, it it had not been for a brilliant tip over from Etheridge to deny José Izquierdo, Brighton would have been looking at a likely three points, but then, just it appeared City would never get the winner we were being told they had to get, the game changed in the last five minutes or so.
Although there had been no real sign of City using tactics designed to tire Brighton out, they were suddenly struggling – where Dunk and Shane Duffy had presented an impenetrable barrier in the middle of the visiting defence, the ball was now being scraped clear desperately by the Brighton backline and, for the first time, they were being subjected to the waves of pressure they must have expected when Stephens was dismissed.
Keeper Mat Ryan was finally called into urgent action as he twice denied Victor Camarasa as the crowd sensed a winner might be coming and, with the game in its ninetieth minute, an almighty scramble in the visitor's penalty area saw Bamba hit the post with an over head kick and Dunk divert Paterson's follow up on to the crossbar, before Sol finally crashed the ball home from six yards to record a dramatic winner amid Brighton claims that he had been offside at some time during a madcap ten seconds or so.
Again, I've not seen the TV pictures yet, so cannot comment on the justification or otherwise behind these protests, but I can understand Brighton grievances that they might have about the way that the match was handled (the BBC's stats show they were penalized for fouls twenty one times to our seven) – I also feel a draw would have been a fair outcome, given how comfortable the visitors were and how we struggled with a one man advantage for the large majority of the time.
However, I've also got to admire City because, just as with their first win, they got the three points after going 1-0 down. Not only that, although there still have to remain questions about both their creativity and finishing, they found a way to win a game they had to on a day when, Crystal Palace apart, all of the sides around them managed to pick up at least a point.
That explains why City's win only lifted them the one place up the league, they're still in the bottom three, but they are now within one point of the four teams above them.
A quick well done to finish to our Under 18s who stay top of their league with a 1-0 win at QPR thanks to Ben Margetson's first half header in a game which saw City striker Dan Griffiths shown a red card with a minute or two left.
Once again, I'll finish with a request for support from readers by becoming my Patrons through Patreon. Full details of this scheme and the reasons why I decided to introduce it can be found here, but I should say that the feedback I have got so far has indicated a reluctance from some to use Patreon as they prefer to opt for a direct payment to me. If you are interested in becoming a patron and would prefer to make a direct contribution, please contact me at paul.evans8153@hotmail.com or in the Feedback section of the blog and I will send you my bank/PayPal details.
*picture courtesy of https://www.walesonline.co.uk/