https://mauveandyellowarmy.net/
In what I'm pretty sure was his only previous appearance at Cardiff City Stadium, Wayne Rooney put Manchester United a goal up after fifteen minutes in a Premier League match which ended 2-2 in November 2013 thanks to a stoppage time equaliser from Kimbo Kyung. Mind you, Rooney shouldn't have been on the pitch to score that goal, his viscous hack at Jordon Mutch inside the first ten minutes was an offence which should have been punished by a red card, not the yellow one he received from referee Neil Swarbrick in a decision which gave plenty of ammunition to those who believe there is a different set of rules applied to the top Premier League players and clubs compared to the rest.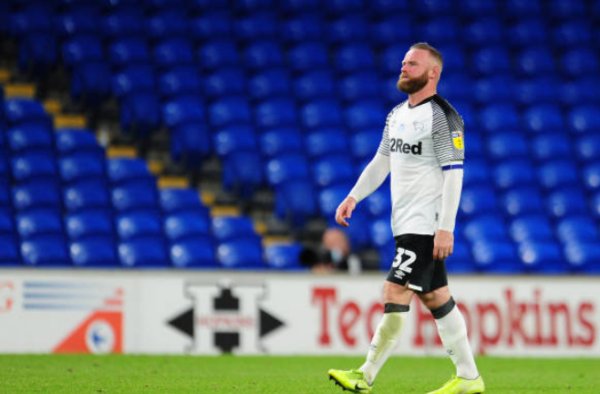 So, with his team losing three points so late, but a goal scored and what should have been a three game suspension avoided, I would say that Rooney's opinion of City's home ground would have been a mixed one going into Derby's season defining game there tonight – I'm not sure that would be the same now!
While it could be argued that that season defining tag didn't quite apply to City, it certainly did to Derby as the side which began the post lockdown programme with three straight wins to become many people's tip to take final Play Off place sought to end a run of one point from the following trio of matches which had undone all of their earlier good work.
Derby played like a side who knew it was win or bust tonight and they were often living on the edge defensively as they took the risks they thought were needed by committing more players into forward positions than you'd not normally expect from an away team in the Championship.
Derby had gifted City their opening goal, then managed to recover and score a very well worked equaliser, but there was always the possibility that they would shoot themselves in the foot again. However, I don't think anyone would have predicted it would be Wayne Rooney who would fire that bullet into his team's leg!.
Besides ensuring that the ex England captain and holder of that country's top international goalscorer record must now have a less than charitable opinion of our stadium, his blunder meant that Derby, a club that has spent massive amounts in recent years to try and build a side that would regain (some would say by fair means or foul) the Premier League place they lost in 2008 will have to wait another twelve months, at least, to do so.
For City, it may not have quite been must win territory, but it was very close to it. Successive defeats had turned the top six finish which had looked a probability after our win at Bristol City into a situation where we had to check the loss of momentum following the Blackburn and Fulham losses.
In the event, with more than a little help from their opponents, City were able to do that with a 2-1 win which, in the end, they were probably good value for.
Manager Neil Harris made three changes from the team beaten by Fulham with Dion Sanderson not surprisingly left out along with an unlucky Will Vaulks and Callum Paterson. Into the side came Robert Glatzel, Marlon Pack and Lee Tomlin, with Leandro Bacuna stepping back to right back to take over from Sanderson.
Although I didn't think Glatzel was as effective tonight as he has been in most games post Lockdown, there is, thankfully, now an acknowledgment that having him leading the line will mean that a lump it up to the big man approach does not really represent the best way to go about getting an outcome in which the team is seen at something like its best potential.
The tone was set early as City pressed Derby into errors which saw a number of promising situations develop which were not taken for a variety of reasons. City buzzed around Derby's attempts to build from the back and did enough pressing and harrying to make life awkward, but not too awkward, for the visitors.
Indeed, City were bright and eager in the opening minutes, but not to the extent that Derby were ever hanging on desperately, Instead, they were able to get through a tough first ten minutes or so and were playing their way back into things when City were presented with the so important first goal when midfielder Jason Knight passed back to goalkeeper Kelle Roos from close to the half way line. The ball would never reach the Dutch keeper though, because Junior Hoilett gratefully intercepted, took it wide of the floundering Roos and rolled it into the unguarded net in an impressively calm piece of finishing.
There was one more example of how well the team had done in the opening stages when they managed to intercept a pass some thirty yards from their goal and, within a second or two, were hurtling forwards the Derby goal with three attackers against a couple of defenders. Glatzel and Nathaniel Mendez- Laing combined to open up the visiting defence and a goal seemed certain when the ball was played towards Tomlin who was stood all alone near the penalty spot and City looked set to open up a lead which would have made a Derby comeback virtually impossible.
However, Roos, recalled to the team tonight after Ben Hamer's travails in recent games, came to his colleagues' rescue by bravely spreading himself to give the City man very little of the goal to aim at to ensure the deficit only stayed at the one goal.
Although possession increased for Derby in the minutes before the first drinks break, there was no hint of what was to come when play restarted. Within minutes, Derby were level when veteran striker Chris Martin came deep to receive a pass and then play a delightful flick which left teenager Louis Sibley tearing through the gap the forward had created with his cleverness. Sibley, scorer of a hat trick against Millwall on the day fixtures restarted, drove forward and drew home captain Sean Morrison and left back Joe Bennett towards him and the ball – perhaps, if Bennett hadn't done that, the situation could have been resolved.
However, Morrison and Bennett kept on their collision course and, although, they were able to deny Sibley a shooting chance, the ball was diverted towards the onrushing Knight who fired l emphatically into the roof of the net.
It was another of those goals where fans of the team that scored would be purring as to its quality, but those of the team which had conceded would be thinking it was all too easy for the opposition to score. Certainly, that was my feeling as I watched our lead being wiped out – especially, considering that Knight had been able to get into a scoring position by running through the gap Bennett had created in being dragged towards the ball.
To be fair, to our left back, I thought he played as well as anyone after that and was a big reason why the second half did not turn out to be as worrying for City as the rest of the first period turned out to be.
I've mentioned from time to time in the last few years how City have spells during games where they barely touch the ball for minutes on end and then compound matters by presenting it back to their opponents as soon as they regain it – well, for a ten minute spell not long after Derby's equalizer, City had one of those periods, only it's hard to remember them ever regaining the ball to give back to Derby!
Despite the improvements in ball retention and the changed attitude towards possession that have been apparent since the resumption of fixtures, City are simply incapable of retaining the ball in the manner Derby did during their period of complete domination in terms of possession.
That said, whether they would ever want to is open to debate, because, although I found it all exasperating as a watcher, City kept their defensive shape well and there was an element of passing for passing's sake in the Derby approach because I cannot really remember them doing a great deal in terms of a goal threat with all of that possession.
One of the times Derby almost lost possession came through a careless pass by Rooney who played in what has become his normal deep lying midfield, quarterback type role and it was indicative of an unusually careless night for the man who has scored most international goals for England.
I mentioned earlier that the second half panned out in a manner which ensured that my half time concerns did not come to fruition, but there was still the sort of sloppy restart from City which had seen them concede within a minute of the second period beginning against Blackburn. This time, Sibley found himself free on the left of City's penalty area to get in a shot which had the net rippling, but only because Alex Smithies had diverted his effort into the side netting.
Derby had one or two promising moments after that, but City were able to snuff them out and it's fair to say that all of the significant goalmouth action after that came at the other end of the pitch.
There was still a quiet, scrappy period where both sides were tending to cancel themselves out to go through first mind, but this changed with two contrasting moments.
The most obvious one occurred around the hour mark, when Rooney sloppily allowed himself to be dispossessed by Tomlin when he was the last man for Derby and, with Glatzel running across centreback Matt Clark to ensure that he had no chance of reaching the City man in possession, he bore down on an advancing Roos. When Tomlin decided to shoot it was from the edge of the penalty area – it was certainly no "sitter" and many would have missed the chance, but City were lucky in that the man presented with it is probably the best person at the club to deal successfully with such a situation and the low shot found the net via an upright.
That was the decisive moment of the game, but a bold and interesting tactical tweak around the same time by Neil Harris also made a significant difference, while revealing a tactical flexibility which I suspected he didn't possess and a sophistication I know some of his predecessors didn't have in their armoury.
By moving Bacuna into midfield and Tomlin further up front into a role more supportive of Glatzel, Harris effectively switched to a 3-5-2, although that doesn't really accurately describe a system which still saw one of the notional back three, Bennett, bombing down the left to join in attacks. This may be suggestive of an all out attacking approach, but a member of the reinforced midfield would usually step in to fill any gaps Bennet was leaving and the end result was that Derby were never able to find moving the ball around in the manner of the closing stages of the first half as easy again.
With Danny Ward providing another one of those highly effective contributions from the bench he specializes in when he came on for Glatzel, City certainly had chances for a third – notably when both centrebacks could not convert far post chances on a couple of the rare occasions when we got our dead ball delivery right and there was a header Glatzel might have done better with before he was replaced. Easily the best opportunity fell to joe Ralls though who showed great fitness so late in the game to get his head to a lovely Ward cross some five yards out from goal, but, unfortunately, the midfield man's header came back off the crossbar when he really should have been scoring.
Given what was at stake for both sides, the closing minutes (there were six extra added on at the end) were always going to be tense, but, Derby were never really able to fashion anything that had me panicking. Again, it was Rooney who did not make the most of promising looking free kick positions by putting his crosses close enough to Smithies for him to catch quite easily.
So, City head into their final two matches knowing that if they win them, they will finish in sixth position at least. Swansea and Preston can keep themselves well in the hunt by winning testing looking matches at Forest and Brentford respectively today, but the biggest threat for me looks to be Millwall following their 1-0 win over a Blackburn side that were so impressive in beating us a week ago, but are now resigning themselves to another season of Championship football.
If there is one side you would like to be playing this weekend based on their results and performances post Lockdown, I'd say it would be QPR and Millwall travel to Loftus Road on Saturday, followed by a game against a Huddersfield side who have almost forgotten what it's like to score a goal at the New Den.
Millwall are currently two points behind us with an almost identical goal difference (although we've scored a lot more goals than them if we were to finish level on points with the same goal difference) and I think we have to assume they'll win their last two games, so, while a win and a draw might be enough for us to finish above them, I think that would be cutting things very fine.
Our final away game on Saturday is a reunion with Neil Warnock at Middlesbrough, who continued their superb away form since he took over with a 2-1 win at Reading last night and, with fifty points now, they look to have done enough to avoid the drop. In complete contrast with their recent results on opponent's grounds, Boro's home form has been terrible, with all three games at the Riverside since the end of Lockdown having been lost. However, it would be just like Warnock to rain on our parade on Saturday and this has always been the game I was most wary of – either way, I expect it to be low scoring and hardly a game for the purist!
Providing we are still in the running for sixth after Saturday, Hull at home in our final game certainly always looked winnable even before the Tiger's calamitous 8-0 loss at Wigan yesterday. Wigan are now in a position where they would be above Hull on goal difference even if the surely unfair under the circumstances twelve point penalty is imposed on the Lancashire side for going into Adminstration.
Hull have lost their last four matches and face Luton in one of two absolutely crucial bottom of the table clashes on the weekend as Charlton also entertain Wigan. While the latter are, of course, perfectly safe if their points deduction is overturned, they will know that a win at the Valley would almost be enough to guarantee safety whatever the outcome of any appeal – certainly, for at least three of the clubs involved, a failure to win their next match will almost certainly mean relegation and with the Luton team Hull entertain having won a couple and drawn at Leeds in their last three away games. Therefore, it is conceivable that Hull will come to Cardiff having already been relegated.