Images from Jon Candy
https://www.flickr.com/photos/joncandy/sets/72157666616578086
Russell Slade:
"It was a very professional performance. There weren't many chances but we made enough use of the ball to create enough chances to win.
"But what pleased me most was that when Derby got themselves back into the game early in the second half, there was a great response from us and we got the all-important second goal.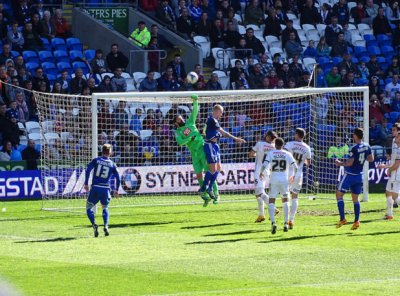 "We've got a mountain-load of character and we showed that in front of a big crowd to win a big game.
"However the challenge remains to get into the top six. Despite winning, we are still a couple of points adrift and we are running out of games.
"The first game back after the international break is always important and now we have to build on this momentum and confidence."
Darren Wassall
"We're very disappointed, particularly on the back of such a good result against Nottingham Forest two weeks ago.
"It's unacceptable to concede two goals from set-pieces. Our defending at home has been good but on the road it just hasn't happened for us.
"The lads are hugely disappointed because there was very little in a game of few chances. But that just makes conceding two goals from corners all the more disappointing.
"We came out of the blocks quickly for the second half and Chris (Martin) was brave with the header for the goal and we all thought we would kick on from there."