On Friday night Fulham traveled to the New Den to take on Millwall in the match many (including myself) had picked as the one which would see them drop points that could cost them dear come the end of the season.

At half time, it looked like those forecasts of a draw, or even a loss for Fulham, were going to be proved correct – they had ridden their luck when their crossbar was hit and a home goal was dubiously ruled out to get to the break at 0-0. If Millwall could have got the first goal, then maybe they would have held on to their lead, but, instead it went to their opponents with some dodgy goalkeeping giving them a bit of help along the way.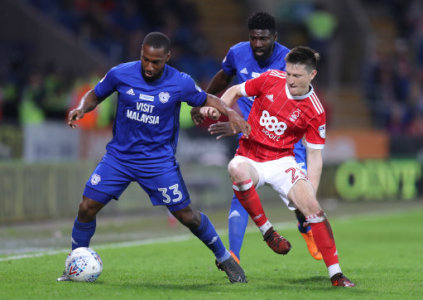 In the end, another error by the unfortunate Jordan Archer in the home goal saw Fulham double their lead and, by the end, their command was so complete that they were playing with something of a swagger as they added a third to complete what was, in the end, a comprehensive picking apart of a side which had not lost a league game since New Year's Day.

Then, during the usual Saturday afternoon Championship programme, promoted Wolves made sure they would be going up as Champions by thumping Bolton 4-0 on their own pitch and fourth placed Villa triumphed by the same score against Ipswich at Portman Road.

So, a daunting set of results from three clubs who all had their backers among the pundits in August when the season got under way. Those three big wins ensured that the pressure was squarely on Cardiff City as they took on Nottingham Forest at home in a game that had been moved, to Neil Warnock's annoyance, to a 7.45 kick off to accommodate television coverage which was put back over two hours from what is the normal start time of such games during weekends when there isn't an FA Cup Semi Final being played.

How would the fourth club involved in the scramble for automatic promotion places fare? City had lost the hold on second place they had after beating Norwich 2-0 last weekend and an iffy set of results from our perspective in the other games played yesterday afternoon (e.g. Sunderland were relegated and Birmingham won to help ensure that Fulham would be playing a team preparing for League One and another one almost certainly celebrating an escape from dropping into that league in their last two matches) meant that the Cardiff team, and I daresay, quite a few supporters may have felt somewhat intimidated.

This time though, I was not among those feeling nervous or fearing the worst before kick off. I figured a combination of our very good record over Forest in recent seasons and my conviction that they were a side that was made to be exploited by us meant that this was a game where we should be getting three points out of the nine we were needing to ensure automatic promotion.

For me, Forest at home represented our best chance of a win in our last four matches – they often strike me as a sometimes neat and effective passing side who are too lightweight and defensively erratic to be a major force in this league for now and, as far as we are concerned, they seem to me to be one of the least well equipped sides in the division to cope with the type of challenge we present this season.

Yes, I figured that there was an opportunity to make a statement which was as impressive as Fulham's, Wolves' and Villa's had been this weekend – the game didn't work out like that in the end, but, while our performance may have lacked something in terms of polish and panache, it did offer a lesson to the doubters (I'm sure we've got plenty of them dotted around all parts of the country) as to why we still hanging in there in second position and now know that two wins from our last three regular season matches and we're in the Premier League next season.

Fulham and Wolves deserve credit for beating teams with promotion aspirations and relegation fears respectively, whereas Villa's result is diminished somewhat because Ipswich are into the closing stages of a campaign which, the first four matches of the the season apart, has never really hinted at either a promotion challenge or relegation struggle.

Much the same applies to Forest and maybe they would have gone the way of Ipswich if Kenneth Zohore's dinked shot over debutant keeper, and Greece international, Stafanos Kapino had gone in at 1-0 up early in the second half instead of bouncing out off an upright to be turned off the line by Danny Fox. What we got though was a fully committed performance from Forest with an attitude shown that left none of the other sides jostling with us at the top of table with grounds to doubt their commitment.

Indeed, within about a minute of Zohore's miss, the visitors had conjured up an equaliser with a lovely move which was given the finish it deserved by Liam Bridcutt. the defensive midfielder, who has tended to be a one or two goal per season man during a ten year career.

In fact, it was Bridcutt who missed the best chance of the first half as well as Sean Morrison was caught in possession well upfield and the visitors suddenly had a four on two break, but Bridcutt's first touch after being fed by Joe Lolley was a poor one which gave Neil Etheridge a chance to dive at his feet for another save which underlined the improvements he has made as the season has progressed.

Lolley had earlier shot over from a promising position as City made a misleading start by forcing a corner in about fifteen seconds. Much of what followed though was artless and aimless long ball stuff which reached it's nadir when Etheridge came twenty five yards of so out of his penalty area to whack free kicks straight down Kapino's throat twice within a minute or two.

It was nearly all long throw ins, free kicks and corners from City as an attacking force though, but this insistence on trying to create an aerial bombardment was more understandable at least when you factored in that Forest have the worst record of any club in the Championship when it comes to defending set pieces.

Has there been a game this season where Morrison has won so many headers in the opposition penalty area as he did last night? Forest could figure that as long as they could somehow handle the aerial threat from the City skipper, their attacking superiority in open play would mean that they could be favoured to score first, but that was easier said than done as they let the man himself go completely unmarked when he nodded in a corner from within the six yards box in the thirty fifth minute.

That corner had been taken by the fit again Joe Ralls and another fine cross by the same player shortly afterwards presented the centreback with another fine chance, this time from open play, which the captain put a lot of force into, but not quite enough direction as the ball flew just wide.

I read somewhere this week that City had won all thirteen of their home matches in which they had scored the first goal and, in my mind at least, the rest of the first half was played out with City in control now after their slightly dodgy start and seemingly on their way to the so important three points.

However, Forest's swift response to City hitting the post so early in the second period changed all of that – surprisingly, City's reaction to being pegged back seemed to be to adopt a more patient approach as they put more emphasis on passing the ball, but, although I for one welcomed this, the truth was that it did not lead to much in the way of worthwhile scoring chances.

Just going back to Forest's equaliser for a short while, it came from their left and you had to wonder if it was more than a coincidence that they were, largely, kept in check down that flank in the first half and then enjoyed some success when Bruno Manga was moved to right back to cover for the injured Lee Peltier?

Manga's limitations at full back were shown on one or two other occasions, but Forest weren't doing much to suggest they had a winning goal in them either at this stage. For all that City were playing with an element of control now, there was little or nothing in the way of an attacking threat from them – with about a quarter of an hour left, I asked my mate sat next to me if he could remember a time when we had done anything to suggest we could score since Forest's equaliser – his answer was a plain and simple no.

Of course, it was then that City promptly retook the lead thanks to their old faithful – set pieces!

There was a time when Michael Mancienne was thought to be an England international in waiting, but something went wrong somewhere along the way and now he struggles to retain a starting place at Forest – here he was brought on as a straight swap replacement at centreback for Pereira Figueiredo on the hour mark, but it soon became obvious that he was struggling to come to terms with Zohore's pace and movement.

When the Dane burst free of him on the seventy six minute mark, Mancienne grappled Zohore to the floor just outside the penalty area and the home fans began baying for a red card to be shown. Referee Peter Bankes disagreed and cautioned the defender while awarding the free kick right on the corner of the penalty area. Junior Hoilett sent his free kick beyond the far post and my first reaction was that he had overhit it as I groaned about our imminent slipping back towards the pack in the promotion race. However, I'd figured without Sol Bamba nodding the cross back across goal towards where Gunnar was lurking some six yards out and he guided the ball in with a hooked finish for his first goal for us since his stunner from distance turned out to be the only goal in our win over the same opponents almost a year to the day ago.

At just the right time, the Icelandic captain had issued a reminder to those who started knocking him after our recent defeats by Villa and Wolves that, transfer speculation or not, he still had a contribution to make for us and it was not just in terms of his goalscoring.

City had hardly laid siege on the Forest goal, but they had the lead for the second time and, despite an "attacking" substitution when Callum Paterson was introduced for the hard working Craig Bryson, they were now more concerned with holding on to what they had. Generally, City were pretty comfortable until Bamba had what Neil Warnock would call a Beckenbaur moment and sprayed a cross field pass straight to Ben Osborn who worked himself free to deliver a cross which saw Gunnarsson making a great block from the resultant shot.

Put his goal, that block and the threaded pass which created the Zohore chance together with some other typical Gunnarsson defensive contributions and you have an idea why the central midfielder is an unlikely candidate for the scapegoat tag which some were looking to pin on him a week and a half ago – we'll never be stylish and easy on the eye in the middle of the park, but Gunnar and Ralls together with one of Grujic, Bryson and Paterson gives us a midfield with a bit of balance and poise.

So, while our three rivals were blowing teams away this weekend, we got the job done in a far more prosaic manner – there should be no surprise at that, because it is how we have got to second in the table with two or three to play. There is some of our manager's bloody mindedness and hunger to win in this team.

Last night's game could really have gone either way, but in a league of fine margins, it was the team which really wanted the win that made sure it came through in the end and, it was this steely determination which, for me, meant that our win was just about deserved.

Finally, a word about the teams below first team level that I have written about for the past eight and three quarter years on here, I've not got to as many matches as I would have liked to since my move. Actually, that's not really true, I've seen more than I want to of this season's Development team and will purposely give their final game, coincidentally against Forest, at Cardiff City Stadium tomorrow evening a wide steer. As for the Under 18s, they won their sixth consecutive match yesterday by 2-1 at Coventry with a very young team which contained barely any of the regulars – Dan Griffiths got both of the goals.

They bring down the curtain on their league programme on Tuesday with a visit to QPR, but then face Swansea at the Liberty Stadium in the Final of the Welsh Youth Cup – I believe the game will be played next Sunday, but I may be wrong there and will let you know when I find out for certain.