Deserved win on night of surprises for improved Cardiff writes Paul Evans
https://mauveandyellowarmy.net/
Okay, they had to improve after Sunday's horror show at Reading, but, for the first time this season, I thought City played pretty well in beating Huddersfield 2-1 at Cardiff City Stadium tonight.
A night of surprises began with the news that Lee Tomlin would be starting a league game for City for the first time since the home defeat by Preston on 29 December 2017 in our promotion campaign.
Tomlin's selection certainly came as a shock to me and given that Neil Warnock sounded like someone who thought the player's success in getting himself probably as fit as he ever has been during his time at City meant that there would be a better chance of selling him, it struck me at the time as an admission of defeat on our manager's part.
Maybe that's harsh, but it's a fact that, with only four games played, Tomlin became the twenty third player to feature in our first team this season. Therefore, I believe it would be reasonable to say that Neil Warnock is still a long way from knowing his best team.
This latest attempt to breath life into what had so far been a disappointing and curiously understated start to the campaign proved to be the most successful yet as City turned in what I would definitely say was their best half of football so far.
This brings me on to the second of the surprises of the night – City actually played some nice passing football of a type I'd virtually given up hope of seeing this season.
Any team with the Lee Tomlin of three or four years ago would have to at least try to play in a more considered way than we've become used to under this City manager. However, the 2019 version of the now thirty year old Tomlin, while not faultless by any means, proved an effective number ten in the traditional definition of that position, as opposed to the Cardiff version which lists aerial power and strength as essentials.
From the moment the erratic Josh Murphy had a curling shot from the edge of the area pushed aside by Huddersfield keeper Grabara after just ninety seconds, City were purposeful in their attacking play and, if their finishing had matched the quality of some of their approach play, they would have been out of sight at the interval.
They were helped on their way by a series of careless errors by the visitors whose passing at times matched ours on a bad day and, even though they were to improve after the interval, Huddersfield were almost exactly like you would expect a team with only one win in twenty to be.
So, as someone who had been very critical of our manager so far this season, it's only right to say that I didn't think this City squad had many of the good things which became almost commonplace in the minutes leading up to half time in them.
That they were able to string some effective and incisive passing together owed a lot to the midfield pairing of Joe Ralls and Leandro Bacuno whose selection together in central midfield was not greeted with much enthusiasm by at least one City fan I know!
That pairing had their problems against Wigan and, with Marlon Pack ruled out for some months with the injury that forced him off early at Reading, it's one I think we will get used to watching over the coming weeks.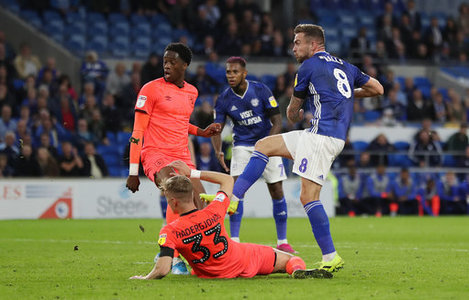 Besides his goal, Ralls was the all purpose midfielder that many feel we lack in that first half, while Bacuna also stamped his will on proceedings with a forceful showing that matched anything he'd come up with in a Cardiff shirt before.
At centre forward, Robert Glatzel was winning his fair share of headers in the manner of a traditional target man, but he once again showed that there is more to his game than that and I thought some of his link up work with Tomlin showed that he has it in him to be someone who could thrive with the sort of more considered attacks City were building.
Mind you, Glatzel was one of a series of players to miss good chances tonight. He really should have done better when Tomlin fizzed a free kick through to him and the linesman's flag did not go up and there was another effort in the second half which flew well wide after he had been found in fine style by Murphy.
Bacuna was a culprit as well when he fired over when the ball broke to him just inside the penalty area and Joe Bennett wasted a great chance when he blazed over at the end of fluent move down the left featuring Murphy and Tomlin.
Thankfully, Joe Ralls was able to provide another example of the sort of finishing which has seen him among the goals already this season when some nifty footwork after the ball had fallen to him saw him create some space for himself before bending a right foot shot from fifteen yards beyond Grabara.
The goal arrived in the forty second minute and it had been coming for a while. Indeed such was the reaction to City finally getting a goal to hang their first half superiority on to that you did not want to hear the half time whistle for feat that the team would not be able to recapture their dominance after the break.
In the event, such fears were justified. For a short while it looked like nothing had changed as City forced a quick pair of corners, but, out of nowhere, Huddersfield found an equaliser after City had given the ball away deep in their own half and Trevoh Chalabah drilled a fierce low shot from around twenty yards past Smithies on his near post – I thought the keeper should have saved it at the ground, but, having now seen it on video, I'm not so sure about that.
After that, the rest of the game proved to be something of a slog for City as Huddersfield began to gain the upper hand in midfield. This hardly resulted in the visitors carving us open at will, but there was an air of desperation about some of City's defending as the game changed from one where the question was how many we would win by to one where you began to contemplate what effect another defeat would have on the club and a manager who was probably under more pressure going into the game than at any other time in his Cardiff career.
In saying that, City continued to look dangerous at times with Glatzel forcing a good save out of Grabara and after the German was replaced by Omar Bogle, the sub crashed a shot from a free kick twenty two yards out onto the crossbar.
Both sides were chasing the win rather than settling for a point, but, with Huddersfield in such a bad run of form, they didn't quite seem to have the belief that they could come up with a winner.
With City, it was more a case of falling back to their normal routine where they struggle to create much in open play and so they had to rely increasingly on set pieces to try to fashion a second goal.
For the second successive home game, the crowd were readying themselves for a 1-1 draw when their side came up with a winner out of the blue. The goal was even more of a surprise because it came from open play and stemmed from Murphy getting the ball in front of the dug outs where the winger, who had been the same mixture of the very good and very bad as he had been against Luton, cut inside and threaded a fine ball in the inside left channel for sub Junior Hoilett to run onto. Hoilett, who had been brought on to fill the role played by Tomlin for the first seventy seven minutes of the game, managed to work a bit of space for himself and hit a shot which although well struck, would probably not have beaten Grabara without a deflection off a defender.
A side in the sort of form that Huddersfield are were never likely to come back from such a devastating late sickener and so, as someone who has been very critical of lots of things at the club in the last couple of weeks and still believes that is so much wrong there, I left the ground happy because the thing that comes above all else when I watch City play (that is, us winning) had happened.
As I walked to my car, I switched on my radio to listen to what was being said about the game on Radio Wales and it was then that I was given my final surprise of the night because Jason Perry, who finds it impossible to conceal his Cardiff City allegiance and so looks at everything very much from a City viewpoint only, was being as critical as I've heard him about our second half performance.
From what I could make out, Perry's concerns stemmed from his view that our defence had sat deep after the break, while the midfield kept on with the pressing of their Huddersfield counterparts that had been an effective tactic in the first forty five minutes. Whereas I came out of the ground pleased with the performance of Bacuna, he was saying that he was too far up the pitch and and that our opponents were given far too much room in front of our back four in the second half.
I tended to dismiss all of this as the words of an ex player out to show how much more he knew about the game than a mug punter like me – all that mattered for me was that, after a few performances that really concerned me for many reasons, we had won a game that wasn't brilliant in terms of quality, but was a lot more entertaining than I expected it to be.
The trouble is that, the more I think about it, the more I have to accept that Jason Perry was right. What happened against Huddersfield was exactly the same as happened against Wigan except that, luckily for us, Huddersfield did not have someone between the lines, to use the modern parlance (I've only just come around to describing that position as "in the hole"!), who exploited those gaps as effectively as Josh Windass did on the first day of the season.
The loss of Marlon Pack, the man who we were told never gets injured, for as long as two months is a major blow because, on the evidence of Wigan and Reading, Ralls (who I thought was the best player on the pitch tonight) and Bacuna as our deep lying midfield two is going to cause us more problems than they'll stop – it worked against Huddersfield, but our finishing needs to be a lot better than it was in that dominant first half if we hope to start challenging for the top six with the midfield that started tonight.
For now though, I'll be happy with a win – there may have been just forty per cent possession as per normal under Neil Warnock, but I'll take encouragement from the fact that, on a night where our threat from set pieces was, largely, dealt with well by Huddersfield, we still managed to have twenty four goal attempts.
Granted, only six of them were on target, but a lot more should have been a lot more. I might like to say we can't pass the ball because it suits what, I suppose, is my agenda, but, if not much is happening from long throws, free kicks and corners, it has to follow that you must be passing it pretty well if you still manage to have as many decent chances as we did.
Huddersfield had ability, but they also had the look of a side who are going to struggle this season, so allowance needs to be made for that, but we won the game because we played in a way that could hardly be called typical Warnock. In doing so, we revealed that, with someone with Tomlin's guile to bring things together, we can pass the ball better than I have been making out – especially when you consider that the man probably regarded as our best passer was out injured.