Yes, it's slowly coming back to me minute by minute, that feeling I used to get when we won a game. As someone who'll be qualified to receive the state pension for the first time in February, there are certainly a few of the pleasures of life that I won't be experiencing again and I was beginning to think that seeing my football team win was one of them!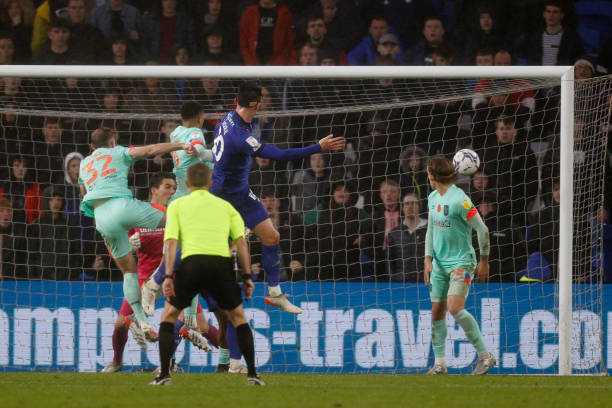 What are the best types of win? Is it a 5-0 romp when you team plays really well or a real battle with good football at a premium which is decided by a very late goal? I think possibly the former, but that is not to dismiss the latter which gives you that great explosion of joy which you didn't see coming – you don't get that in a 5-0 of the type I'm talking about, it's more of a contented purr.
Clearly though, when you've been on the sort of run that we have, the win, when it comes, is far more likely to be of the last minute winner variety than the five goal thrashing and so it was proved this afternoon as City beat a Huddersfield side that have now not won in sixteen games against us by 2-1.
City ended their horrible winless run of ten matches with the latter of those two options as they beat a Huddersfield side that are challenging for the Play Offs at the moment thanks to a quality goal, which had little in common with most of what had gone before it, in the third, and final, minute of added time.
There were definite parallels with the last time we won as well. Just as at Nottingham Forest, we won from 1-0 down thanks to a couple of goals scored by a Wales international. There was a time not so long ago when Welsh internationals just didn't play for Cardiff City, now we have four named in the Wales senior squad , four in the under 21s, four in the under nineteens, four in the under 17s and there were seven recently in the under16s.
Don't get me wrong, although that last paragraph may suggest otherwise and we won today, that doesn't mean that everything in the garden is rosey once more. The league table still tells you that this is far from the case, but it is pleasing that the club is now making a full contribution to Welsh international football at all levels in the mens game.
Steve Morison made four changes to the team beaten by QPR on Wednesday as City tried to prevent a club record for most consecutive home league defeats being extended and one for the longest time without a home league goal being created. Aden Flint came back into the side for out of sorts captain Sean Morrison, Joe Ralls' reward for his impressive late substitute showing against QPR which almost got us a point was a starting place replacing Will Vaulks (and also the captaincy) and Mark Harris and Leandro Bacuna came in for the injured Keiron Evans and Rubin Colwill who was a substitute.
To be honest, I thought we were terrible for much of the game. Having spent so long moaning about our approach down the years, I really like the fact that we're trying to retain the ball better and cut down on the route one stuff, but we look so frail at times and, like on Wednesday, we created very little – until we scored that is. The game was panning out like so many of our home matches this season have done where there was this overpowering feeling that the game was as good as lost once we'd conceded a goal.
For most of the last ten games, particularly those at home, we've been an impossible conundrum to solve – how do you get out of a losing run when you can't score a goal or keep a clean sheet? Well, we still can't keep a clean sheet and we gift wrapped Huddersfield a goal after just twelve minutes today.
Mark McGuinness has been the one central defender not to be dropped in recent weeks and rightly so as he has looked pretty solid despite being unlucky with things like penalty decisions and deflections that resulted in goals, but here he left a back pass a long way short of Alex Smithies to leave Luxembourg international Daniel Sinani with a run in on goal. Curtis Nelson came across on the cover and got a good tackle in, but the ball only rolled a yard or so away from the forward on loan from Norwich who was able to get to it and score from eight yards with a shot which flicked the post on its way in.
To an extent, City responded well to going a goal behind as their high press forced a Huddersfield team determined to play out from the back into a series of errors with goalkeeper Lee Nicholls particularly culpable with his kicking.
Unfortunately, the visitor's carelessness only served to expose Cardiff's limitations in terms of finding the pass or cross that would punish the opposition for their slackness and the overall feeling was that Huddersfield would have punished by better teams than us.
Nevertheless, City could feel unfortunate to be trailing after half an hour because they'd been on the front foot for most of the time against opponents who seemed content to put nine outfield players behind the ball and invite us to break them down.
Ralls was unfortunate to see a shot that may well have been going in deflected over, but it was noticeable that when Huddersfield did become more adventurous, they looked a lot more dangerous than we did as three times the ball flashed across the face of our goal with McGuinness redeeming himself to some extent with a block that prevented Josh Koroma, one of two subs brought on by the visitors in the first half as injuries forced off Jonathan Hogg and Duane Holmes, a tap in to double their lead.
Nicholls was finally forced into a save in the last worthwhile attack of the half when Perry Ng, a player who definitely looks to have benefited from having Steve Morison in charge, got in a good left footed shot from the edge of the penalty area after City opted for something different from what looked like being another long throw in.
The opening stages of the second period saw the pattern for much of the first half repeated with Cardiff having most of the possession and territorial advantage without ever really looking like they had an equaliser in them.
I can't begin to imagine how difficult it must have been for the players in such an awful situation where their confidence must be on the floor as everything they tried to find that elusive goal came to nothing and when last season's goalscoring hero Moore ballooned a shot high and wide after he'd done pretty well to work himself an opportunity from eighteen yards, you just had to wonder if that goal would ever come.
City were in need of inspiration and they bought on a player who would later provide it. Surprisingly, it wasn't Colwill, it was Isaak Davies, who was introduced instead of Harris who had been quiet throughout. Davies had barely got a kick when he was brought on for the final ten minutes in Mick McCarthy's last match in charge against Middlesbrough (who, incidentally, parted company with their manager, whoever he is, today) for his first team debut and he didn't do a great deal in the minutes after his introduction today as Huddersfield threatened to put the game beyond City by hitting the post twice in a matter of minutes.
New Welsh international Sorba Thomas, surprisingly playing on the right, was most noticeable today for his excellent dead ball deliveries and he produced a beauty of a corner which found on loan Chelsea defender Levi Colwill completely unmarked some four yards from goal. One of the surprises of this season where we have generally defended awfully is that we've still to concede a goal from a corner and it's down to Smithies that we still haven't as he produced a great reaction save to turn Colwill's header on to the far post and out.
Shortly afterwards, Flint, who played well overall, made a mess of a long ball forward and ex City man Danny Ward was able to lob over Smithies for what looked like a certain goal, only for the ball to hit the same post and again bounce out.
City were, somehow,still in the game and, with Colwill on for McGuinness, they stepped up the pressure again as Davies did very well to force a corner on seventy four minutes and then it happened! Some seven hundred and eleven minutes after the last City player had scored at Cardiff City Stadium, we actually found the back of the net.
Although I'd mentioned on here recently that we were looking less threatening from dead ball situations lately, it was still a very decent shout to think that when the goal came, it would be via that method and so it duly did – it really was all so simple as Ralls' on the mark delivery from the corner won by Davies was nodded in by an unmarked Moore on the near post from six yards out.
It was all set up for a storming last fifteen minutes then as a home crowd finally given something to cheer got behind their team, but, in truth, the next quarter of an hour or so was a bit of a mess – Moore got in another header which Nicholls was able to save quite easily and City were grateful to Marlon Pack and Flint for a couple good defensive blocks, but there seemed no sign of a winning goal until Davies got involved.
The goal when it arrived on ninety three minutes was satisfyingly old fashioned as Colwill fed Davies on the left and, instead of cutting in like so many do these days, he took on, and skinned, his marker on the outside to get to the bye line. If that was impressive, what came next was doubly so as a perfect left footed cross picked out Moore stood just beyond the far post around nine yards out and he gave the cross the finish it deserved with a technically perfect downward header into the opposite corner beyond Nicholls.
As I said before, it was a goal that was out of keeping with the game, but what it will do for the team's confidence cannot be over stated – it may be that we'll continue to struggle when fixtures resume in a fortnight, but that goal will have removed a suffocating black cloud that has hovered over City for a couple of months.
As to what all of this has done for Morison's chances of getting the manager's job on a permanent basis, a return of four points from the three games he was supposed to have been given is a very good return considering where we were after three quarters of his first game in charge at Stoke and I think it should be enough to make the owner think seriously about giving him the job, but I suspect that Vincent Tan will look elsewhere- surely not to Neil Warnock though after what Mehmet Dalman said about him in that notorious meeting with fans representatives last month!
Whatever, happens as far as the main job is concerned, Morison is part of what has been almost a Renaissance at Cardiff City at the levels below the senior side. Besides the all conquering under 23s, the under 18s have put their stuttering start to their season behind them. Today they made two wins in a week at Swansea for City age group sides by recording their fourth straight win as they followed up the under 23s 3-1 triumph there on Monday with a 2-0 victory this morning.
Joel Colwill and Caleb Hughes got the goals to inflict a fifth defeat in the last six games on the jacks in matches at senior, under 23 and under 21 levels between the clubs– I've also learned that, at the same time, the under 16s were winning their match against the jacks 4-1.
https://mauveandyellowarmy.net/