https://mauveandyellowarmy.net/
Something happened on Thursday during transfer deadline day which had not been seen at Cardiff City for at least thirty four months. That's more or less how long Neil Warnock has been in charge at Cardiff City and I think it's fair to say that he has had the large majority of supporters solidly behind for all of that time.
Such loyalty to a manager is very unusual because even with those who have done well for such a time, there is usually an element of familiarity breeding contempt which comes into play when the man in charge is coming up to the third anniversary of his appointment – especially in these days of managers lasting just 1.23 years on average, or they were at least in 2015.
No, Neil Warnock has undoubtedly had it a lot easier than most of his contemporaries with Cardiff fans prepared to forgive a relegation because of the enormous amount of goodwill the promotion a year earlier had earned for the veteran manager.
However, it looked for a while on Thursday afternoon as transfer deadline day was drawing to a close that all of that was changing when it became increasingly clear that Bobby Decordova-Reid was going to be leaving the club.
Initially it seemed that the former Bristol City player would be heading back to his old club, but they were supplanted by Fulham and it was the London club he eventually signed for, not for the £10 million initially reported, but on a season long loan with a permanent contract to be signed at the end of it.
I think the severity of the criticism against the manager came as a shock to all involved. It certainly did to me and I'm not sure I can only guess at what the precise reason was behind it – all I can do is relate how and why I felt like I did.
I was angry and disappointed at what was happening. Looking at it now after Neil Warnock has had his go at explaining what happened and the dust has settled, I think I overreacted a bit. However, I would say that it was the thought of one of the very few, certainly in comparison with the other sides expected to be in contention at the top of the Championship, "proper" footballers at the club leaving.
I'd say I also had a feeling of frustration that a half of the front four that had offered the promise of being something special as an attacking unit in the Championship with the way they combined to such notable effect in the win over Manchester United on the final day pf last season had left the club.
The thing was though that, in reality, Decordova-Reid had not done a great deal to warrant such an outpouring of anger at his departure from Cardiff. It was more that I feel people could see a potential there if only our manager would have shown some faith in him.
Such faith was never forthcoming, although Mr Warnock did seem to suggest that it would have been in his pre match press conference yesterday, when he said his intention had been to build his side around the Bristolian this season.
Our manager's side of the story was that Decordova-Reid's agent had contacted him last month asking what his reaction would be if a hypothetical big bid for him was received. The answer was that our manager would not sell, unless it was for something like £20 million.
The agent then reminded our manager about what had been said a couple of weeks later and when Mr Warnock spoke to the player, he indicated that he would prefer to go to Fulham – as our manager has always said he would not want to keep any player who had indicated a desire to leave, the wheels were set in motion for the move to go ahead with Warnock talking about his disappointment with Decordova-Reid's agent.
The word coming out of the player's camp was that the move was down to a difference in football philosophy between him and his manager. As to where the truth is in this matter, it's almost certainly where it normally is – that is somewhere in the middle of the two extremes as represented by manager and player.
I'll say that I have sympathy with our manager who probably has a point when he implies strongly that what we saw was an agent engineering a move for his client, but I probably have more sympathy for Decordova-Reid if he genuinely wasn't enjoying playing for us due to our manager's tactical approach – I know I wouldn't enjoy playing for a team who played like we do.
Perhaps that goes to the heart of Thursday's reaction? Is it that certain of the fanbase, while recognising that "Warnockball" perhaps offered our best chance of survival in the Premier League, were expecting something a little different in the lower standard Championship and when our manager, instead, went on putting together a squad which looked like it was designed to out Warnockball our teams of the previous two seasons, supporters just thought enough is enough?
While all of this gnashing of teeth was taking place, it didn't pass unnoticed that we were also on the brink of signing Birmingham forward Isaac Vassell for a fee of around £3 million. Unfortunately for the new boy, a lot of that attention was of the unflattering kind as he was frequently compared unfavourably to Decordova-Reid.
More on Vassell later, because with something like an hour left before the transfer window closed, it emerged that we were also trying to sign Bristol City midfielder Marlon Pack. Judging by the fact that the Pack and Decordova-Reid transfers had not been announced when the window closed at 5 pm, it must have been a close run thing, but both deals were confirmed later in the evening.
So, while Decordova-Reid was coming on in the sixty second minute to make his debut in Fulham's 2-0 win over Blackburn today, Pack went straight into the City team -Vassell, as he has done so often in his career, began the game on the bench against last season's League One Champions, Luton, a former team of his
With confirmation that Neil Etheridge is going to be out for at least two months with the injury picked up in the opening day defeat at Wigan, Neil Warnock, surprisingly, called up Alex Smithies from the wilderness of pre season with the Under 23 squad in Devon, rather than begin with last week's substitute Joe Day (has there ever been a team that has used three goalkeepers in their first two league games of a season before I wonder?).
With Nathaniel Mendez-Laing injured, Gavin Whyte was preferred to Junior Hoilett on the right wing, while fit again Callum Paterson took the place vacated by Decordova-Reid (on Radio Wales' post match phone on, Jason Perry ventured the opinion that Neil Warnock is the only manager in the Championship who would play Paterson as a number ten!) and Robert Glatzel made his debut as the lone striker.
Luton were involved in a 3-3 thriller on the opening day with Middlesbrough and they could have conceded that many in the first twenty minutes today as, just as against Nice, City were out of the blocks very quickly.
Unfortunately, all of the early chances bar one fell to Josh Murphy who showed the confidence levels with his finishing that you would expect from someone who has not scored this year by failing to find the target from three reasonable opportunities while, in between times, Sean Morrison nodded a Ralls free kick on to the crossbar and Aden Flint headed the rebound on to the top of the net.
City were unable to maintain such standards and as Luton came more into it, Smithies was tested for the first time as he got down to turn a Callum McMannaman effort away.
After a useful beginning, Glatzel spent the second quarter of the game discovering what a lonely existence being a City number nine can be and by the time the interval arrived, City definitely knew they were in a game as Luton began to win the style war which City will face many times this season against opponents who value possession so much more than they do.
City started the second half in an urgent manner which suggested that their manager had made them aware of his frustration at their first half showing. Their pressing was more impressive than it usually is in this game and this provided the momentum for Luton to come under more pressure than they had faced since those opening minutes.
It told on fifty two minutes when Murphy offered an example of the very good in his curate's egg of a performance with a wicked right footed delivery from almost on the halfway line which flew like a guided missile to the far post where Flint was the one out of a group of three unmarked City players to nudge the ball past keeper Sluga.
Murphy then showed lovely technique to hit a fierce volley from the edge of the penalty area which was cleared off the line after Sluga had been lured out of his goal. However, the substitution of Will Vaulks for Whyte with a quarter of an hour left sent out the signal that City were prepared to hold on to what they had.
Apart from a shot by last season's top scorer James Collins which flew close enough to the far post to momentarily convince the visiting supporters it had gone in, City were surviving quite comfortably as the match entered it's eighty sixth minute when Luton centreback Matt Pearson powered in a header from a corner.
Neil Warnock wouldn't be Neil Warnock if he didn't have something whereby he could question the officials after a match and this time he remarked that his players were upset because they didn't think it was a corner, but I assume they are two or three times more upset that they had conceded from a dead ball after doing the same thing so many times last season. On a similar theme, Jason Perry remarked that he was not a fan of the zonal marking Cardiff employed here, but the simple fact is that, zonal or man to man marking, this land of the giants Cardiff side should not be conceding such goals from corners full stop.
Isaac Vassell had spent the previous ten minutes or so warning up and I daresay wondering if he would get on, but he did so just as the match went into five minutes of added time and the rest, as they say, is history.
Added time was extended further as Sluga received treatment and the match had gone beyond the five minutes signalled when another sub, Junior Hoilett, checked back on to his right foot and delivered a perfect cross which tempted Sluga to come only for an unmarked Vassell to get across him and glance a header into the net.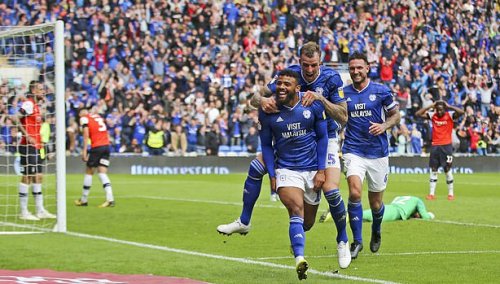 No matter how many you games yo get to see, there is something fantastic about your team scoring a very late winning goal – the victory is that much more sweet when it comes so late on and this time it was accentuated by the fact that it was Vassell's first goal since suffering an injury which kept him out of the game for eighteen months.
Vassell had suffered the anterior cruciate ligament injury which set his career back in a Birmingham derby against Villa played shortly after he and Che Adams had caused us plenty of problems with their direct running and pace in a 1-0 defeat at St. Andrews in 2017 and there were quite a few bluenose fans who were sad to see him go – the suspicion lurks that City may have got themselves a bargain if he is fully recovered from his injury.
Of the other debutantes, Whyte did okay while provoking a discussion on the phone in about how he was probably too eager to fulfil the defensive duties Neil Warnock inevitably expects from his wingers and Glatzel showed signs of a good all round game – as for goals, he had a header blocked which looked to me as if it was going in, but I heard others, perhaps with a better view of the incident than me, say that he should not have been given the chance for the block to be made.
Best of the lot though was Pack (in fact, I would say he was better than any of his team mates). I'd quite liked what I'd seen of him for the wurzels, but was surprised to hear him say he regarded himself as a midfield play maker (I thought we didn't do them!). After seeing him in the flesh, I can see why he said that and was even more impressed with him than I thought I'd be.
Luton's period of first half ascendancy did not see City struggle so badly to control and pass the ball like they so often do when the opposition get on top of them and, after their problems at Wigan, it was good to see our centrebacks looking reassuringly solid.
Now, these two things may have happened if Pack hadn't been there – we'll have to see what the next few weeks bring to start to get the answer to that, but he Pack was a reassuring presence just in front of the back four and there was more of a purpose to our passing. It's hard to talk about a new midfielder because opinion was split as to what type of player we needed, but, given the limitations having this manager places on midfield recruitment, I think we've got exactly what we wanted if Pack can keep that level of performance up.
So, Vassell's late goal has seriously deflated the pressure that was building up on Neil Warnock. Many contributors to the phone in were talking things up and praising our manager, but I reckon a lot of it was solely because we won. That header of Vassell's stays out and one point out of six against a couple of sides generally reckoned to finish the season nearer to the bottom of the table than the top, would, surely, have seen resentment at the Decordova-Read transfer and our method of playing bubbling up – he handled the awkward situation presented by that press conferencelike an old hand, but I think it's going to be more difficult for Neil Warnock to keep the genie of criticism in the bottle from now on as he attempts to earn that ninth promotion by following his own way even more closely than he has done previously at Cardiff.
Just a few words about other games before finishing. The Academy side began their league title defence with a 0-0 draw at Hull, Blaenrhondda's first game in the Highadmit South Wales Alliance Premier Division following last season's third successive promotion at Baglan was a victim of the very untypical weather for an opening day of a season and Ton Pentre began life in Division One of the Welsh Football League after relegation with a disappointing 3-1 loss at home to Goytre FC.
Once again, can I make a request for support from readers by them becoming my Patrons through Patreon. Full details of this scheme and the reasons why I decided to introduce it can be found here, but I should say that the feedback I have got so far has indicated a reluctance from some to use Patreon as they prefer to opt for a direct payment to me. If you are interested in becoming a patron and would prefer to make a direct contribution, please contact me at paul.evans8153@hotmail.com or in the Feedback section of the blog and I will send you my bank/PayPal details.
Paul Evans