Despite its sad and predictable I suppose downgrading since the formation of the Premier League nearly thirty years ago, the FA Cup can still come up with the old magic at times and yesterday proved to be one of the great days in the competition with goals galore and a sprinkling of genuine shocks as sides from the lower reaches came out on top against supposedly superior opposition that had fielded relatively strong teams.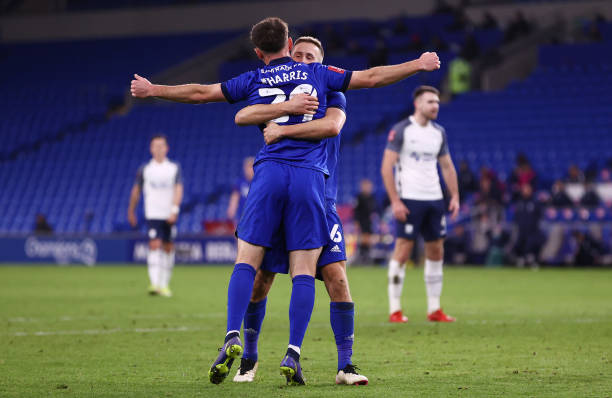 That's one of the very, very few good consequences of the Covid pandemic I guess. With clubs taking a hit with a lack of gate receipts for a season and a quarter (longer if you happen to be a Scottish or Welsh club), the rewards offered by the FA Cup, which may have regarded as pretty modest in more normal times, have become more important for clubs at all levels, especially those in the EFL.
So, it was pretty typical of the weekend that City and Preston both picked teams for today's Third Round tie at a deserted Cardiff City Stadium that may not have been quite their strongest, but they weren't too far short of it. Besides that, after so many seasons of giving the impression that they weren't too interested in the outcome of early round cup matches, I don't think anyone could doubt that City were out to win this time.
However, this doesn't mean that the game came anywhere close to matching the drama seen elsewhere (and with Forest having just taken the lead inside the last ten minutes against Arsenal as I type this, it's still not done it seems)). To be honest, a game against the team you may well have played most times in your history is hardly something to get the pulses racing and while this tie may not have been the worst game of football out of the thirty one Third Round games so far, my guess is that you could definitely count the number of ones that were worse on the fingers of one hand.
Still, City, who really need to start remembering how to win at home in the league, at least have the boost of a cup win on their own ground as they edged to a 2-1 victory against opponents who will probably believe that their better passing and poise should have given them the win, but the figure of four on target goal attempts to one in City's favour (and that single Preston on target effort was a penalty) gives accurate testimony to the fact that we probably had equal cause to argue that our more rough and ready approach troubled our opponents more than they did us.
In truth though, it was very ordinary fare between two poor sides that did nothing to disprove the notion that it is a low quality Championship this year.
What was encouraging from a City perspective was that what exciting football City came up with was provided almost exclusively by our younger players. I don't get any satisfaction in bringing up how little the more senior players are doing this season in terms of making positive contributions, but, once again, the best that could be said for most of them was that they were "solid" (I'd say this applied to Morrison, Pack, Ng and Vaulks) today, but, not for the first time, it was more a case of the younger players bailing them out rather than the other way around.
The youngsters weren't faultless – all three that started didn't totally convince. Joel Bagan, playing his first senior football in a few months was, understandably after such a gap, not at his best, Rubin Colwill was patchy and Isaak Davies started the game poorly.
However, City's only period of control (the second quarter of the ninety minutes) came when Colwill was able to get on the ball more often. Colwill's first telling contribution saw him play through Davies into the sort of position that I'd seen him score from so many times in the last few years, but this time, he snatched at his one on one chance with Preston keeper Iversen and shot a couple of yards wide – it was not the finish of a confident player and it was inevitable that thoughts would turn to what Steve Morison said about him after the Bournemouth match.
However, Davies was to show that his confidence was not totally shot on forty two minutes when he took advantage of some unconvincing defending by Preston's Van Dan Burg on their right hand side and cut in from the touchline until he reached close by the penalty spot where he fired a strong right foot shot home to score his first senior goal for the club.
It was a slightly lucky finish in that the ball went through the keeper's legs, but it was still an impressive goal out of keeping with what had gone on before it and it definitely showed that Davies' spirit had not been crushed by his manager's controversial remarks.
For a second successive home match, City found themselves 1-0 up at half time. The first time it happened, they'd played really well for five minutes or so after half time against Sheffield United before Sean Morrison's red card stopped them in their tracks, but here, they were off the pace and on the back foot right from the restart and it was no surprise when Preston were given the chance to equalise after a rash challenge by Ciaron Brown on Sean Maguire prompted referee Andy Woolmer to point to the penalty spot – notably, there were only very half hearted Cardiff protests at the decision.
Thoughts turned to last season's match against the same opponents where Dillon Phillips saved two Preston penalties in a couple of minutes in City's 4-0 win, but Daniel Johnson calmly sent our back up keeper the wrong way and so, our one clean sheet for the season embarrassment drags on for at least another week.
The equaliser was scored in the fifty fourth minute and, from memory, that was the end of any serious goalmouth action before the whistle went to send the match into extra time. From a City perspective, I'd say the most notable thing that happened during this untidy period when we gave the ball away far too much and, frankly, looked like a Mick McCarthy team after he'd signed his contract, was the introduction of Ryan Wintle into our midfield after his return from his loan at Blackpool, but it was disappointing that it was Colwill who made way for him, because it made us more defensive in our outlook.
To be fair, Steve Morison did redress this soon afterwards as Mark Harris came on for Brown on seventy five minutes and perhaps the best way to describe how turgid it had been up until then is to note that Iwan Roberts gave Harris the Man of the Match award on S4C's coverage of the game and it was hard to argue with him!
Wintle did nothing eye catching, but looked, reassuringly, a bit more reliable in possession than we've become used to from our central midfielders, but it was Harris who finally brought about some excitement with a fine curling shot from the corner of the penalty area which Iversen did well to turn away for a corner.
This was the only notable incident in the first period of extra time as both sides chased a winning goal, but did little to suggest they'd find one.
The second half of extra time could be said to have provided more talking points than the rest of the game put together. Preston sub Alan Browne looked lucky to escape with only a yellow card after his elbow came into contact with Vaulks' head and former City defender Greg Cunningham may well have done better with a headed chance from a corner than nod just wide.
However, it was City who struck the decisive blow with five minutes left when two more subs combined to set up the winner as Keiron Evans (on for Davies), burst past an opponent and took another one out of the game with a pass which sent Marlon Pack's replacement, Tom Sang clear down the left in what was a four on two for City.
It was a marginal decision as to whether Sang was onside or not, but it went in City's favour, only for the chance to have seemingly been missed as James Collins miscontrolled the cross, but the ball found its way to Harris who finished unerringly from fifteen yards.
There was still time for the ref to decide that a blatant handball by Curtis Nelson in the penalty area had been caused by a push by Preston sub Ched Evans (I think we got a little lucky with that one) and then Harris really should have given us a flattering victory margin of two when he was put through by an astute Sang pass, but, after running from half way, he allowed Iversen to deny him – it made no difference though, because Mr Woolmer's final whistle meant the corner was never taken..
The draw for the Fourth Round was made about twenty minutes after the game ended and for City the reward was a financial one I'd say rather than one which allows further progress in the competition.
An away tie at Liverpool represents almost certain defeat, but a sizeable share of gate money from what will be a big crowd and the game will almost certainly be shown on Welsh television at the very leas which will mean more money in the club coffers and a great day out for not far short of ten thousand City fans I would guess.