So, Cardiff City go into the final international break of the season on forty six points with still another twenty four to play for after tonight's 2-1 home win over an out of form Stoke City side that are now nine games without a win in all competitions.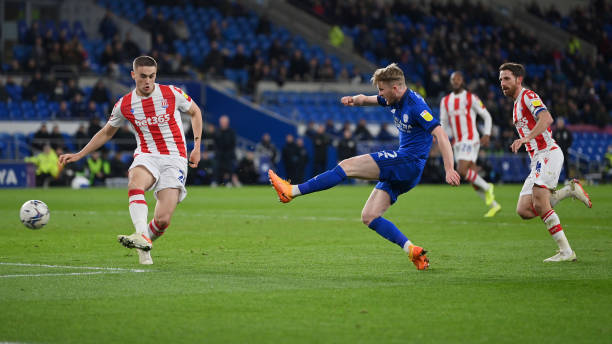 For most of the season, it has looked debatable if City would end up with forty six points come May after the last game has been played. There have been long stretches when we were averaging less than a point a game and the main hope of avoiding the drop came more from the points deductions imposed on Derby and Reading, along with the fact that Peterborough and, to a lesser extent, Barnsley were having the sort of years that would see them trailed off at the bottom in other seasons than anything we were doing ourselves.
To have now got up into a position half way into March where relegation is still mathematically possible, but it's only being mentioned because three of the bottom four need to go on superb runs while we equal the club record eight consecutive losses created a few months ago is some achievement.
In some ways what Steve Morison has done in turning the season around is reminiscent of what we saw after Neil Warnock took over in 16/17 when what had been a relegation battle became a comfortable wind down in the last couple of months of the campaign.
We ended up in twelfth place with sixty two points that season and, realistically, I think we'll struggle to match that points total now, but, maybe we can finish as high again. To do so, City will need to extend a run which has seen them in top six form over two months into one that lasts three and a half months – it's a big ask, but if anyone had set the target of forty six points by the next international break after we'd lost so poorly at Bristol City on January 22, that would have been seen as a huge, bordering on impossible, ask.
The climb clear of the bottom three has not been achieved through Champagne football with goals and thrills galore, but, realistically, when do sides in serious relegation trouble ever escape the drop by doing that?
Tonight's game was one of the more enjoyable ones in our good run because we played some good stuff at times and our opponents were grateful to their keeper for some fine saves which saved his team from a bit of a drubbing.
That would have been harsh on a Stoke side which might feel they deserved something. from the game, but, for me, the one goal victory margin was about right as City came from 1-0 down to win 2-1 for the sixth time this season. Four of those six wins have come in away games, but, even so, tonight offered some evidence of our improvement at home – it's now five wins and two draws in our last eight games at Cardiff City Stadium, the venue which saw us lose nine out of ten earlier in the season, and this, along with our rediscovered knack of being able to keep a clean sheet, is what has turned our season around more than anything elsey.
Tonight followed the script of so many of our home games this season as our opponents scored first fairly early on – too often that single goal has been enough to secure the three points, but, City didn't panic tonight when they conceded first, they kept on plugging away, pressing Stoke high up the pitch and using the speed advantage they had over their opponents in many areas of the pitch to turn their deficit into a lead before half time as they scored twice in four minutes.
There were two changes from Saturday's grim stalemate with Preston as Joel Bagan came back at the expense of Alfie Doughty who was unable to play against his parent club under the terms of his loan deal and Mark Harris, selected in the Welsh squad for next week's Play Off with Austria along with Will Vaulks and Rubin Colwill, replaced Isaak Davies.
The two replacements had great chances to score inside the first half an hour or so as Bagan found himself space in the box to receive a cross from the right by the player who I rated our man of the match on the night, Cody Drameh. Bagan side stepped a defender and hit a right foot shot which keeper John Bonham spread himself to make a great save which turned the ball onto the crossbar and over for an unproductive corner.
Before Harris had his opportunity though, we'd fallen behind a couple of minutes after Bagan had almost given us the lead. I'm afraid it was another goal that those who don't believe Perry Ng should be playing in the centre of defence will cite as evidence they are right, because the former Crewe captain made a couple of mistakes which eventually enabled Lewis Baker to score with a shot that was similar to the one which Joe Rothwell scored with to win the game for Blackburn at Cardiff City Stadium where he used a City player almost as a screen to make life difficult for Alex Smithies.
One difference was that Rothwell's shot was right in the corner of the goal, whereas Baker's was more central and as such those supporters pointing their fingers at Smithies for not stopping tonight's goal might have a point – I've not seen a replay of it yet, so can't comment any more on the rights and wrongs of the argument really.
Soon afterwards, Ng showed the positive side of him playing in the back three with a fine pass which exploited that superiority in pace I mentioned earlier as Harris raced clear only to miscue badly wide from a position where scoring was not simple, but he has managed it from similar positions in the past.
Harris did a lot better on thirty eight minutes when City scored an equaliser which showed we had more to offer than the long straight balls which Michael O'Neill referred to post game. While it was true that those type of passes caused Stoke problems, just as they had done in the first meeting between the sides in October where the lack of pace in their defence was again apparent, this was a fine move containing good work out on the left by Harris, a fine ball into space by the impressive Bagan and a neat finish across Bonham and into the opposite corner by Tommy Doyle who was much better tonight than he had been on Saturday against Preston.
Four minutes later, City we're ahead with what was something of a gift goal courtesy of their high pressing which was more evident tonight than it has been in recent games.
Of course, the non stop Drameh was at the heart of it, but Stoke still should have done better – Joe Allen rather played centreback Taylor Harwood Bellis into trouble with a short ball back to him which left him with Drameh and Jordan Hugill closing down on him, but the defender's attempt at a difficult pass forward was always going to be a risk and when Drameh was able to feed Hugill after intercepting the ball, the striker punished the error well with a shot placed beyond Bonham from the edge of the penalty area for his third goal for the club.
It had been an entertaining first half, but the second period was more attritional with City prepared to play more on the break as Stoke had more possession and forced a number of corners, one of which Smithies flapped at and got a faint touch to which sent the ball just wide of the far post..
Aden Flint, who, for me, is currently playing as well as at any time in his City career, made a fine block to deny a decent chance for Stoke substitute Josh Mata from around the penalty spot as well, but, for all that the second half was more like recent City performances with the opposition having more of the ball as we played like an away team wherever the venue, it was still us, with our superiority in pace to the fore, who had the better chances.
Harris in his last contribution before being replaced by Isaak Davies forced Bonham into action again and Flint may have thought he should have done better with a header from a Doyle corner than put it straight at the keeper. A Davies cross found Bagan in space and the wing back drilled in a fierce angled cross cum shot which just eluded Uche Ikpeazu, on for Hugill, Drameh did much the same from the other flank with Davies stretching to try and provide the contact which would have, surely, provided a goal, while Davies then forced Bonham into what was probably his second best save of an impressive night for him as he tipped over the substitute's shot following one of those long straight balls that the Stoke manager referred to.
The closing minutes said a lot for the confidence levels of both clubs as City kept the play well away from their goal for most of the time as Stoke gave their supporters very little sign that they had an equaliser in them = there have not been many occasions this season when City could be said to have gained what was a predictable home win, but this was one of them.
https://mauveandyellowarmy.net/