https://mauveandyellowarmy.net/
In terms of league position of their opponents at least, Cardiff City pulled off their best win of the season tonight as they beat West Bromwich Albion 2-1 to end their run of four consecutive home draws in all competitions.
The Baggies were top of the league going into the game but have now lost that position because Leeds recovered from a 2-0 half time deficit to beat in form Millwall 3-2 and, on this evidence, it might be a while before West Brom regain it.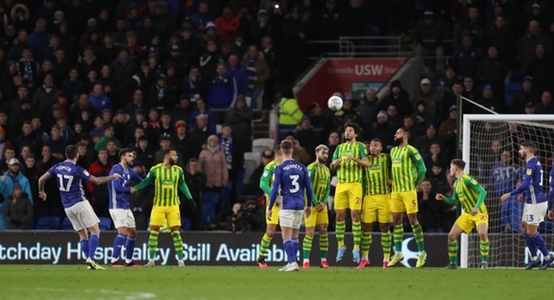 Slaven Bilic's team have hit something of a wall since their very impressive televised win over Swansea just before Christmas and struck me as being a talented, but careless and brittle outfit. That said, they would probably have been good enough to avoid defeat against most of the City sides that have taken the field this season, but tonight they came up against a home side which worked really hard and showed a team ethic which reflected well on Neil Harris.
Our manager had talked before the game about how his side would have to put a real shift in and be far more ruthless in front of goal if they were to emulate his Millwall side that had managed a League Cup win followed by a Championship draw at the Hawthorns within the space of a few days at the start of the season.
As stated above, City got the hard work bit right and it could certainly be said that they were ruthless because it was hardly as if they discovered an attacking fluency that had been missing throughout their campaign tonight. Apart from an early shot by Robert Glatzel that Sam Johnstone saved comfortably, a header by Sean Morrison I think it was from a Will Vaulks long throw that went wide and a shot by sub Lee Tomlin which was both too high and wide, I'm struggling to remember any sniffs of goal apart from the two we scored.
Yet despite the lack of goalmouth action, there were grounds for encouragement for the rest of the season in the way we shook West Brom in the early stages with the vigour and tenacity of our pressing. Vaulks, following on from his good performance on Saturday, was to the fore in this and Callum Paterson, playing in the number ten type role in which he had enjoyed success in our promotion season, was laying down markers for what was his best display in some time – you would have to go back to last season to find a comparable one I reckon.
Paterson was also racking up the free kicks against him as he tested referee Rob Jones' patience – the BBC's stats say that we committed sixteen fouls and I swear our Scottish utility man must have been responsible for at least ten of them!
If Paterson's display was a throwback to 17/18, then the same could be said to apply to the City side as a whole. This was a triumph not reminiscent of the fine stuff we played in the first dozen games or so that year, but of the grafting, disciplined and cussed fare that characterised much of our play in the second half of that season.
Of course, I was critical on occasions of the standard of football we played while we were grinding our way through these matches, but, given the nature of so much of our stuff this season, my attitude tonight is that I'm grateful for any sort of improvement from us!
In saying that, I don't believe City would have won without the help of their opponents. To be fair, they were missing some very influential players, but I found West Brom to be a truly bizarre collection of extremes.
On the one hand, they were able to pop the ball around with a poise and fluency that we could only dream of matching, but, on the other, they were often undone by shooting that was both very optimistic and hopelessly wayward – it was as if the confidence they were able to show at times in their passing deserted them the closer they got to our goal.
I should also say mind that there were wild contrasts in their passing as well. I may have given the impression earlier to people who had not watched the game that West Brom passed us off the park, but that was not true, because it wasn't just their substandard shooting that let them down, there were too many strange passing mistakes when simple looking balls went out of play for some reason or City were presented with the ball when they had done little to pressurise the passer.
This pattern was present throughout the first half, but it was never better illustrated than in the opening seconds after the interval when a cross field pass across the back by I assume the West Brom right back, Dara o'Shea landed yards away from any of his team mates and rolled into touch some twenty yards or so from their goal.
This completely needless mistake gave Vaulks the chance to send in one of his long throws from a position which Neil Harris said was a "good area" after the game. When the ball dropped loose from the throw in around the West Brom near post, Sean Morrison reacted first to hit a shot which Johnstone could only turn into the path of the inrushing Paterson who netted from about a yard out to give his side the lead with less than a minute of the second half played.
It took only three minutes for Millwall to equalise on Boxing Day after Aden Flint had given us the lead and Reading only had to wait a minute longer to draw level following Paterson's opener in Saturday's cup tie.
This time though, it looked for a short while if City had learned from their errors because they continued to harry West Brom and generally unsettle them, but, eventually the visitors were able to play themselves back into things and they were able to increasingly force us back.
As mentioned earlier, the 17/18 spirit permeated through this performance and, initially City defended both resolutely and adeptly, but individual errors began to mount and not long after Vaulks had headed a hospital pass to Morrison which was just about dealt with, Jazz Richards was faced with a dropping ball with two opponents close by. The full back allowed Felipe Krovinovicto to gain possession and cut in from the left menacingly, Richards responded in panicky fashion with a tackle that looked a stonewall penalty even from my position some hundred or so yards away.
West Brom had only just introduced our old boy Kenneth Zohore as they chased an equaliser and with Charlie Austin also now on, they had no shortage of candidates to take the penalty.
Austin duly sent Alec Smithies the wrong way from the spot and ii had taken West Brom all of fifteen minutes to get on terms.
City had to endure an awkward few minutes while they suffered from their periodic inability to retain possession for more than a few seconds, but, largely, they did a good enough job in nullifying opponents who were now sensing three points could be there's.
With just under fifteen minutes left, West Brom's carelessness again reared its head as Kyle Bartley got into a mess close to the corner flag and hacked the ball high up into the stand to concede an avoidable throw in. Bartley then swung at the corner flag in frustration and proceeded to demolish the thing as the flag came off and the pole fell to the ground.
This clumsy error had consequences when West Brom tried to move upfield after they had regained the ball, because possession was again surrendered and Tomlin burst forward, was fouled and City had a free kick in the kind of area that had him licking his lips with anticipation.
There is a popular theory that free kicks right on the edge of the penalty area are hard to score from because of the difficulty of getting the ball up and over a wall stood so close to the goal, but I remember Neil Ardley making it look ridiculously simple when he scored at Leicester to earn us a draw in our ultimately successful bid to stay up in 04/05 and here Tomlin did the same.
His delicate, clipped shot was so precise that Johnstone was a yard or more away from it as the ball gently went past him and into the net – It was the one moment of genuine high technical quality City came up with on a night where sweat and attitude had been crucial.
It was a goal fit to win any game, but it wouldn't have done so without a tremendous save from Smithies in added time from Zohore after Richards had again erred out on the right.
A minute or so later, the final whistle blew to end one of the more memorable home matches of this season and the question now I suppose is can the team maintain this new level of intensity be maintained on Friday against Reading?
One last thing, although I was convinced that he would never get on the pitch, it was heartening to see Academy forward Taz Mayembe on the bench for a couple of reasons. First, it offers proof that Neil Harris is willing to select players straight from the Under 18s into the first team squad without going through the Under 23 side first – I believe Development team football as it currently stands is of little use to our youngsters. The other reason is that Mayembe has the pace that we are beginning to look a little short of – whether, he is good enough at this stage in his development to fit straight into the first team is debatable, but we can only find that out if there is the will to give him his chance – I'd love to see him play some part in the Cup game next week.
Once again, can I make a request for support from readers by them becoming my Patrons through Patreon. Full details of this scheme and the reasons why I decided to introduce it can be found here, but I should say that the feedback I have got so far has indicated a reluctance from some to use Patreon as they prefer to opt for a direct payment to me. If you are interested in becoming a patron and would prefer to make a direct contribution, please contact me at paul.evans8153@hotmail.com or in the Feedback section of the blog and I will send you my bank/PayPal details.