http://mauveandyellowarmy.net/
Almost two years ago, Wolves' Matt Doherty, with a little help from Ben Amos, fired his side in front at Cardiff City Stadium with barely a minute on the clock. It took the Irish wing back seventeen minutes longer to find the net tonight, but, if we end up playing his team again down here next season, I hope he puts his side one up again because what happens after that is terrific if you are a City fan!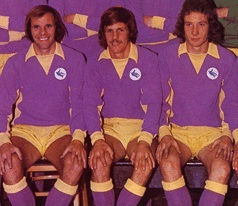 Back in 16/17, City found themselves a goal down at half time having done little to suggest they had an equaliser in them. It was then that Neil Warnock pulled off a tactical masterstroke and sent on Kenneth Zohore, a player who seemed to be on his way out of the club, with the instruction that he prove that he had a future at Cardiff.
Zohore rose to that challenge and played a big part in a dramatic turnaround, but the whole team seemed inspired and, two of the club's forgotten men currently, Matt Connolly and Anthony Pilkington scored the goals to give us what I have always thought was a very important pointer towards what could be possible under a manager who had only been here a couple of months.
We'd had impressive wins against Bristol City and Huddersfield under Warnock already, but we demolished Wolves in those second forty five minutes – for the first time we saw the intensity, drive and sheer will to win which has proved to be too much for so many opponents over the past couple of years.
We battered Wolves that night and as the City team trudged back to the centre spot tonight after conceding yet another set piece goal, I lamely mentioned that we ended up winning 2-1 the last time Doherty put Wolves 1-0 up down here – it was an attempt to sound confident when, in truth, I felt nothing like that.
After all, Zohore (after reports which suggested the Danish striker could be off to Fenerbache in January, "sources close to the player" stated that he wanted to stay at Cardiff and fight for his place) was, like Connolly and Pilkington, nowhere to be seen tonight having failed to recover from the calf injury sustained following a start to the campaign which could charitably be described as nondescript.
It was hard to see anyone on the City bench who could come on and play a part in the sort of transformation that cracked Wolves a couple of seasons ago and Neil Warnock, seemingly, felt the same way because he kept the same players and formation in place for the third quarter of the game.
Frankly, it was a surprise to see us keeping to the same system because, certainly by our manager's standards, it was a bizarre one as we decided to match Wolves', largely successful, three centreback formation.
Now, I have been an advocate of playing Sean Morrison, Bruno Manga and Sol Bamba as a back three quite often on here in the past – my reasoning being that it was a way of getting three of our better players into the team in their best positions. Results, and performances, have been patchy when the three have played together as centrebacks in the past and so it seemed a big ask to take Wolves on using the formation that they were so familiar with, especially when you considered who we had as wing backs tonight!
I think it's fair to say that Neil Warnock's instincts when it comes to the wing back role in a three centreback formation would be to use players who are, essentially, full backs there – that is, say, Jazz Richards and Joe Bennett.
Our manager revealed after the game that his hand had been forced to some extent because Greg Cunningham and Richards were injured and Bennett had been unable to train for most of the week. Even then though, Lee Peltier was available for selection and someone like Joe Ralls had done a decent job as a left back occasionally during his early days as a first team player.
What I mean here is that we were hardly at a stage where Victor Camarasa and Junior Hoilett had to play as wing backs because no there was no else who could. In his post match press conference, Neil Warnock revealed that he was pretty confident that Hoilett could do a decent job in what was a strange position for him, but he was honest enough to say that he had no idea what to expect from Camarasa.
Apparently, the plan was to "have a go" at Wolves. This was understandable in a way because, for the first time in Nuno Espirito Santo's time in charge "Wolvesalona" were experiencing a distinct dip in form and fortunes. Last Sunday, unfancied Huddersfield had given Wolves something of a football lesson at Molineux as they won convincingly by 2-0.
Huddersfield were good last weekend, but it was one of those matches where it was hard to decide how much the outcome had depended on how good the winners were or how bad the losers were – certainly, Wolves were as poor as I've seen them under Nuno.
Most worrying for Wolves was that this was the latest setback in a run which had seen them take just the one point (from a visit to Arsenal which they dominated) from five matches and, while it would be wrong to claim that they were in freefall towards the bottom of the table, this hardly ties in with the way the club and their fans perceive themselves these days.
It was mentioned during the commentary on the Huddersfield match that the Wolves squad had been offered a considerable bonus if they qualified for Europe this season. That just sums up what Wolves have become under their current owners and it was not surprising to read that Doherty had been talking in terms of them having to beat teams like us and Huddersfield after the game – Wolves think they are a top half Premier League team and Doherty has been talking winning the Premier League title within five years this week.
To be fair to them, they were deserving and commanding winners of the Championship last season and, although there was a lot about the entitled attitude coming from the club which grated with me throughout 17/18, some of their play during the early weeks of this season was very easy on the eye.
That's why it came as such a surprise to see them look so ordinary last week and it seemed to me that their attitude tonight was very much one of let's return to basics.
The early minutes saw City having the go that our manager had told them to. That's not to say that Wolves were creaking in the face of our explosive attacking play, but we were generally on the front foot as we forced a few corners with Josh Murphy, operating up front alongside Callum Paterson in a 3-5-2 formation, causing the odd problem or two.
There were still concerns stemming from the fact that the way we were set up in wide areas seemed to leave us wide open to the sort of quick counter attack Wolves are adept at and the inclusion of the lightening quick Adama Traore in what was a rare start for him only increased that feeling – I must say that I was pleased to see Traore, like Murphy, deployed through the middle, rather in the wide open spaces down our flanks.
I also did not like seeing centrebacks Morrison and Manga taking defensive throw ins when we had two wing backs whose instincts are to go forward rather than back, but all of my concerns stemmed from how I would normally expect Wolves to play – the truth was though that there was very little of the smooth passing game that was their trademark last season and for most of this campaign.
It was as if they were thinking that they had to just get a result no matter how it came – Wolves were almost as direct as us, only had fifty two per cent of possession and they were happy to sit back and contain us, probably figuring that, given the way we have been defending, the chances would come along if they were patient.
It was from the second corner they forced that Wolves took the lead and for a team who were so good at defending set pieces on their way to promotion, it's a shock to see how susceptible we have become to them in such a short space of time. I've not seen any video action of the game yet, but, apparently it was Aron Gunnarsson who let his man go this time as Raul Jimenez flicked a header goalwards, Neil Etheridge saved well and deserved better than seeing the ball drop to the unmarked Doherty who crashed the ball in from close range.
This latest giveaway means that we have still only scored the first goal in a match once this season. That came at Chelsea, for all the good it did us, and, although it says a lot about the squad that their three wins have all come in matches in which we conceded first, it is surely true that we are going to have to rediscover the knack of keeping clean sheets if we are to win enough matches to stay up.
To be honest, apart from blowing one or two very promising counter attacking opportunities through poor control or passing, Wolves offered little going forward in the first half, but, with City again showing how much they need a proper striker, they didn't have to do much more than that – the half time highlights package on the big screen showed a Ralls shot which flew not too far wide and an excellent snapshot from Harry Arter from twenty yards which crashed back off a post and that was it as far as we were concerned.
There were spells in the first half where City really struggled. Despite having Camarasa, Ralls, Gunnarsson and Arter all in the starting line up at Everton last wekend, our pass completion rate was a worst in the Premier League this season fifty two per cent and it didn't feel as if it was much higher than that in the opening forty five minutes tonight as the ball was given away with frustrating regularity. You'd never expect us to be high in any pass completion rate table at this level, but the four players I mentioned above should have been able to ensure that we could pass to another Cardiff player more often than we were.
So, with no inspired half time substitution at 1-0 down to a Doherty goal this time, it was hard to see a way back into the game especially considering that Wolves were unlikely to over commit while they were ahead.
There was some encouragement seconds after the restart when Camarasa found himself in space on the right, but what I think was meant as a cross flew harmlessly across goal as, not for the first time, you sensed a tension in the way we were reacting to the sort of half chances from which you at least need to work the keeper.
However, that one incident apart, there was nothing in the early stages of the second period to suggest this was a game City were going to win. Indeed, we went through another one of those dodgy ten minutes spells seen in the first half – as an example of what I mean, Hoilett was left to look after two Wolves players from a short corner routine and, criminally, there was still no support for him as the visitors took an age getting a cross over which was headed not far wide.
As the match got closer to the hour mark, Wolves were in control and it began to look as if a second goal was there for them if they wanted it. However, they seemed reluctant to go for the jugular and, imperceptibly at first, the balance of power began to edge back towards us.
The momentum shift first started to show itself in us winning a few throw ins in areas which gave Gunnarsson the chance to get involved and this helped get the crowd more involved. However, it was after Arter's second fine shot of the night, this one was deflected for a corner, that I first detected that the home support was believing again.
Now there was a feeling that an equaliser was coming and when Arter hooked a half cleared corner back in Morrison nodded on, keeper Rui Patrício (was he fouled when Paterson blocked him?) failed to reach the ball and Gunnar hooked into the Canton Stand net in much the same manner as he did late last season against Forest in another 2-1 win.
Wolves were paying for their lack of attacking ambition at 1-0 up or perhaps, with their self belief at a low ebb, they hadn't had the confidence to push on at that stage?
Either way, it had now become the sort of game we are pretty good at. With the crowd right behind them, City are relentless when they sense the sort of soft underbelly Fulham showed here in October and, possibly, there was an element of that with Wolves currently because they definitely looked to be wilting.
When the winner came, it was a triumph for Hoilett who, along with Zohore, has been the big disappointment of the season so far for me. Having done no more than okay in his wing back role, Hoilett was the player I nominated to be taken off when I saw Kadeem Harris stood ready to come on, but, instead it was Arter who made way and, within a minute, the manager's faith in his winger was vindicated.
Hoilett has scored some good goals for us, but the curling right foot strike from the corner of the penalty area, which flew in off the underside of the crossbar for added dramatic effect, is surely the best of them.
Not only was it the best goal the Canadian has scored for City, but I would argue that it was the most important because in providing his manager with the ideal present for his seventieth birthday tomorrow, Hoilett's effort was sufficient for us to offer proof that there are certain types of games in this league that we can now go into with a degree of confidence that we can win them.
Fulham, Brighton and Wolves may not finish the season contesting a top six spot so we have to be realistic in assessing what the three wins in our last four home matches mean and it needs to be remembered as well that, despite the euphoria of this latest win, there were long spells in it where we definitely looked like bottom three candidates.
However, having reached the eleven point mark with a mere seventy two more to play for, we are showing that we can give go into homes games with about two thirds of the teams in this league with a decent chance of beating them – now, as we enter a period of away games against sides in mid to lower table, we need to provide evidence that we are not going to be almost wholly reliant on points from home fixtures to stay up.
Once again, I'll finish with a request for support from readers by becoming my Patrons through Patreon. Full details of this scheme and the reasons why I decided to introduce it can be found here, but I should say that the feedback I have got so far has indicated a reluctance from some to use Patreon as they prefer to opt for a direct payment to me. If you are interested in becoming a patron and would prefer to make a direct contribution, please contact me at paul.evans8153@hotmail.com or in the Feedback section of the blog and I will send you my bank/PayPal details.
*picture courtesy of https://www.walesonline.co.uk/