https://mauveandyellowarmy.net/
Well, the first thing I'd like to say about the 2-2 draw at Cardiff City Stadium against Brentford is that I thought it was one of the most entertaining Cardiff matches of the season. Yes, okay, I could qualify that statement with something along the lines of "not that it had much to beat", but chawrae teg and all that, it was a match played in horrible windy conditions with regular heavy downpours of hail and or rain between two sides who approached it just as they should have – they both really needed a win and they both went for it.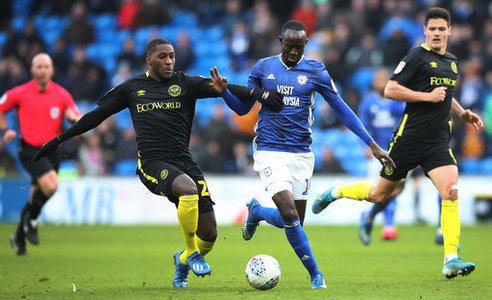 I say that mind, but it's not quite true – City were passive, if not downright negative, in what was yet another poor start in this season of poor starts and conceded the first goal for the fourth home league match on the trot. This one was not from the first corner we had to defend like the ones against Wigan and Stoke, it was from the second, but it all gives more evidence to those who berate our concentration levels early in games and, for such a big side, we are alarmingly susceptible at corners.
Still City had little in the way of a positive response and a second Brentford goal soon arrived – it was only after a scuffle in front of both benches and the fourth official around the half an hour mark that got the fans going and seemed to fire up the players that we shook the visitors out of their unhurried control of proceedings.
That incident I mentioned earlier was the first in what were many which thrust referee Simon Hooper into the spotlight. Mr Hooper was, far and away, the main topic of conversation with the Cardiff fans who rang Radio Wales' Rob Phillips phone in tonight and I think it's fair to report that very little of what was said about the official was complimentary!
Conversation on the phone in tended to centre on three incidents where it was generally felt that Mr Hooper had got things wrong by making no decision, but I'm afraid I'm going to have to come over all Arsene Wenger here and say that I didn't have a good view of two of them and wasn't even aware of the third one happening!
In fact, I came out of the game thinking that Mr Hooper and his assistants were the latest in a growing list of poor performances from the men, and women, in charge which saw us coming off a lot worse than our opponents. John Brooks was very poor I thought in the Wigan game and his assistant on the Grandstand side of the ground had a shocker, Steve Martin was only a little better in Tuesday's game with Nottingham Forest and now we have Simon Hooper with an assistant on the Ninian Stand side who got what was an obvious throw in decision wrong as well as giving Brentford the benefit of the doubt in the first half in a series of offside claims.
I was convinced we had got next to nothing from the referee and his linesmen today, but it seems I may have been wrong on that score if some of the opinions expressed on the phone in were correct.
Getting down to specifics, the incident that I referred to earlier which led to Brentford Head Coach Thomas Frank being warned by the referee was, apparently, sparked by a Will Vaulks challenge on Brentford's Christian Noorgard that saw the City man allegedly leading with his knee when making contact with the visiting player's back.
Rob Phillips and one or two callers were of the view that Vaulks was lucky to stay on the pitch as the referee, on the advice of the fourth official it seems, decided not even to administer a yellow card.
I can't comment on this decision because I was on the wrong side of the ground and basically didn't have a clue as to what had happened. When it came to the penalty appeal at my end of the ground, there were a lot of bodies between me and the ball as a Vaulks long throw came into the box, but I saw Sean Morrison go down heavily as he tried to jump up – it looked like a penalty to me, but I've become reconciled to the fact that we only get about one in ten given in incidents like this involving our skipper.
However, it was what then happened that got the pundits criticizing Mr Hooper – unfortunately, my view was obscured for what was an absolute stone waller of a penalty according to Jason Perry and Ivan Roberts when Junior Hoilett was brought down a few seconds later.
Roberts also stated his belief that Brentford were denied a clear penalty when Morrison handled inside his own area, but this was news to me as I had been completely unaware of any such appeal at the time.
Besides those three incidents, there was one more that provoked a discussion between pundits and callers and that was when Callum Paterson jumped for a header with Brentford keeper Raya. Paterson was looking only at the ball as he managed to get above the goalkeeper to win the header, yet he was penalised!
An exasperated Roberts gave his opinion on the phone in saying it's just not worth forwards jumping for the ball with goalkeepers these days because they'll nearly always be penalised. Similarly, there was an inevitability about what happened when Paterson chased a through pass as Raya advanced.
The pair slid for the ball on the wet surface and Paterson appeared to have gained possession only for Mr Hooper to award a free kick to Brentford as their goalkeeper rolled around in "agony" caused by I know not what – again, the goalkeeper being protected when he shouldn't have been.
For me, both of these decisions went to exactly why I felt like I did on the final whistle. The BBC's match stats say that we committed fourteen fouls to Brentford's six, many of those fourteen were dubious in my opinion and, just as in the Wigan and Forest matches, I had the feeling that the referee was not being even handed in his decision making.
Furthermore, based on our last three home league matches, I have a feeling that Paterson is becoming something of a marked man with officials. The man City keep on returning to play centre forward for them has a couple of habits which I do not feel do him any favours when it comes to match officials in that he goes to ground very easily when challenged by an opponent and also that he has a habit of "letting the opposition know he's around" with a series of niggly, late, challenges on defenders just after they've cleared the ball.
Such things are hardly designed to maim or seriously injure anyone, but I'm sure referees notice and remember these things and Paterson suffers accordingly.
There's a lot more I could write about today's officials, but I won't at this stage, I'll just close by making a few observations about the reaction both online and in the mainstream media to Simon Hooper. First, I cannot go along with the theory that he is a part of some anti Welsh element among the refereeing community that is deliberately making decisions against us and Swansea.
Secondly, the line expressed by a few people online that Hooper has some sort of personal agenda against us seems very far fetched to me. A penalty not awarded against Watford in a game we lost 5-1 is the proof offered by those who stick to the view this one official has it in for us, but when you consider our overall record in games Simon Hooper has reffed us in, it seems pretty unlikely.
Today was the thirteenth time Mr Hooper has done one of our matches and, as of this evening, our record reads won seven, drawn four and lost two – as someone who generally tends to favour the cock up explanation over the conspiracy one in all walks of life, I just think he is one of a few officials we've had lately who had "a bad day at the office".
Back to the game, I'd say Brentford are perhaps my second favourite Championship team because I like the way they play, admire their recruitment policy and we always seem to have good games against them, but I must admit I was a little disappointed by them today.
For me, the reasons why we were able to come back from 2-0 down to get a point were almost as much down to them as us. Having benefited from a goal scrappily conceded by us from a corner very early on and then a free kick cheaply and needlessly given away by Junior Hoilett which made the score 2-0, they tended to wait for things to happen rather than pursue the clinching goal.
The visitors, if anything, played better in the second half, as they largely controlled the game and carried more of a cutting edge, but, Alex.Smithies, unfairly blamed by some for being beaten by Mbeomo's excellent free kick I thought, made some good saves when called upon and although we wasted many counter attack opportunities with the careless and clumsy passing which has been a bane of our season, we still troubled Brentford a lot when we broke.
Indeed, it was Joe Bennett who had the best chance of the second period when he did very well to get so far forward to get into a position where he was unmarked in front of goal some five yards out and then not quite as well to knock the ball wide.
I'm not really convinced by a three man midfield of Vaulks, Joe Ralls and Leandro Bacuna because they seem too similar in style to me, but they did give us more energy. In some ways, we were like a lower league side giving a good account of themselves in a cup tie against a Premier League side because Brentford were much the more accomplished team when it came to ball retention and creativity.
However, from somewhere, we conjured up a lovely goal on thirty four minutes when we worked the ball patiently down the right and Albert Adomah was able to put over the best cross by a City player in our two home matches this week which Hoilett managed to nod in from eight yards out.
Our equaliser just over ten minutes later was not as easy on the eye, but it did offer further proof that Vaulks' long throw is much more effective than anyone else's at the club. Perhaps it's something to do with the trajectory, or maybe it's down to the pace he gets on the ball, but I make it that five of our last seven home league goals have come from them. This one was quite simple as Morrison back headed to the far post where Ralls got ahead of his marker to show again that he is, by some way, our,most likely goal scorer from central midfield by netting with a close range header.
Although it does grate with me somewhat that, as a team that has spent more on transfer fees than the large majority of clubs in this division over the past three seasons, we still look less proficient technically than virtually every side we play – I'm afraid that's what comes of having a previous manager for whom sophistication meant having a slice of lemon with your cod and chips. This is a squad put together very much in Neil Warnock's image, but today offered a tiny glimpse of what we saw in 17/18 that proved this isn't altogether a bad thing.
It was postponements all the way apart from that with the Academy team's match at Charlton, Blaenrhondda's home cup tie with Cefn Cribbwr and Ton Pentre's home league match with Risca all falling victim to this weekend's named storm – it was Jorge this time, but I have not had confirmation yet as to what next weekend's is named.